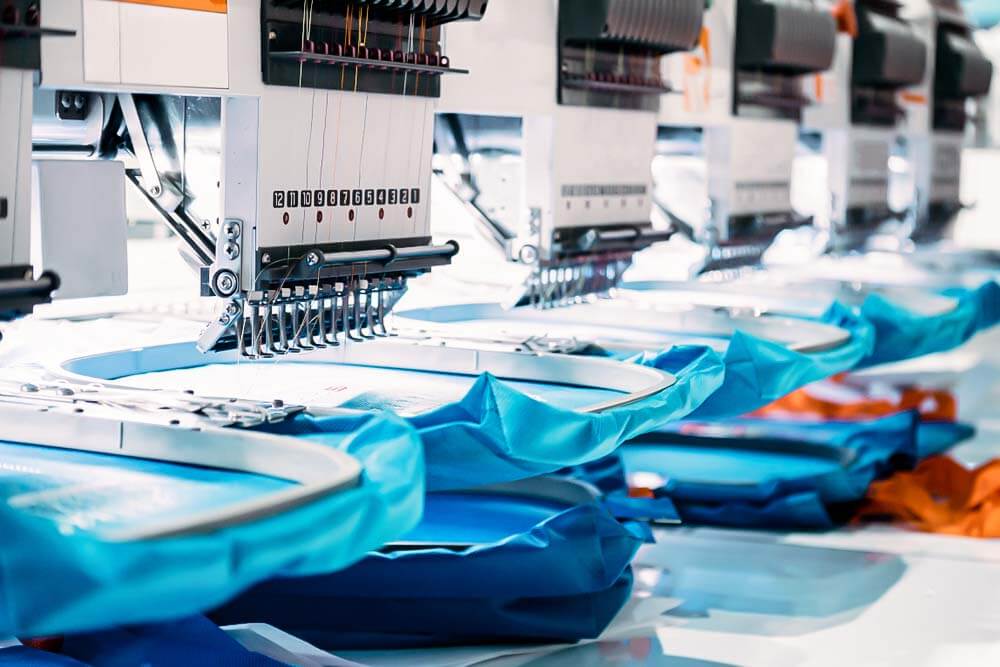 Are you planning to take your embroidery business to the next level? Well, it is time to think of investing in a commercial embroidery machine, then. They have become the primary choice of hobbyists and enthusiasts who love to turn their utopia into reality through embroidery. Carrying larger embroidery projects within a stipulated time becomes a breeze as you select one from these models. Customers love to purchase them for business purposes as they lend a helping hand in completing those bulk orders with utmost clarity within the deadline. After all, what more you could have asked for to enhance the ROI of your embroidery business!
To make the purchase decision of commercial embroidery machines easier for you, we have spent several hours where we have reviewed the best industrial embroidery machines, available in the market along with their set of features. The below mentioned seven machines are the top choices, following their extensive features and quality.
Best Commercial Embroidery Machines Reviewed
CAMFive EMB HT1501 Single Head Commercial Embroidery Machine
This model tops the list of embroidery machines, available in the market because it comprises of almost every feature, they look for in a commercial embroidery machine. You can opt for this model for embroidering on Caps, t-shirts, polos, sports, camps, leather, hoodies, jackets, leather products, towels, bags, sweat suits, backpacks, to name a few.
It features high speed of 12000 spm and a large working area of 22 X 14 inches. People who intend to start a small business with promotions and personalizations as the primary focus should go for this model without a second thought. By purchasing this unit, you can embroider on different kinds of mediums, such as fabrics, blankets, towels, and other types of clothing.
This unit is equipped with the HD touchscreen LCD of 8 inches which allows you to scroll through different designs at ease. In addition to this, it provides the privilege to bring an adjustment to different settings by pressing a few times so that you can achieve the prerequisite results without any fail. Operating this machine is easy owing to which people are fond of this machine.
On top of this, it has a memory capacity of 100 million stitches which helps in maintaining the variety. Choose from 15 colors or needles to bring out the most unique designs like never before. Plus, it has the Instant Punch which is believed to be an excellent alternative for embroidery letters, names, words, and numbers.
The design preview function is another positive attribute of this unit which is beneficial in performing the embroidery motion test before the beginning of the new design. This ensures that the embroidery design is done in the right location. So, you do not need to ruin any garments for the tests anymore. This unit also comes with the standard USB port which enables the porting of different types of design from the computer for the completion of different customization options. Because of the semi-compact design, you can work 24 hours daily by choosing this model.
Features
8 inches HD LCD touch screen
Humanized Control Panel
100 million stitches of the memory capacity
12000 spm high speed
22 X 14 inches large working area
15 needles
Instant pitch
Standard USB Port
PROS:
Minimal noise
Easy to navigate
User friendly
Durable
Higher working efficiency
Large memory capacity
back to menu ↑
Janome Horizon Memory Craft 12000 Embroidery and Sewing Machine
It contributes to being one of the exceptional commercial machines for embroidery which offers the ultimate efficiency and comfort for sewing. Since buyers can make the best use of it for embroidery and sewing objectives, you do not need to purchase any additional pieces of equipment. This machine brings to you 425 ready-made utility, decorative, and embroidery stitches.
It also mesmerizes the end-users with the aid of the 13 varieties of the one-step buttonholes, 338 ready-made embroidery designs, along with 10 fonts which have 2 and 3 letter monogramming function and European characters.
It encompassed a full-color LCD touch screen which can be navigated around easily. In case the stitch you are looking for is not available on the screen, you will get the red circle at the bottom part of the screen. The user needs to move the finger around the specific circle until you get the desired stitch.
People are buying this machine due to the presence of stainless steel bedplate which in amalgamation with solid and large frame assures that it stays completely stable while use. It provides precision and professional finish which is going to be beneficial for sewing and embroidery. Other prominent characteristics of this model are Stitch Composer, AcuFeed Flex, and Advanced PC connection.
Features
Stitch Composer
AcuFeed Flex
Advanced PC Connection
LCD touch screen
425 built-in embroidery stitches
338 built-in embroidery designs
PROS:
User-friendly software
Real-time computer connection
Can operating with embroidery hoops of extra large size
Easy to use
back to menu ↑
MakeIT Products and Equipment Commercial Embroidery Machine
Users earn big bucks by buying this commercial embroidery machine. It is furnished with auto variable speed mode, 1,200 stitching speed in every minute. With 15 needles, you can navigate between different designs easily and thus it has turned out to be one of the most efficient embroidery machines, available in the market.
Users are amazed by the wide assortment of hoops and thus you can start various kinds of work and projects. You will get 10 different lettering fonts in this embroidery machine which aids in producing the customizable embroidery from the scratch, after few taps. This machine includes the laser engraved hoop system as well. The small footprint and compact size are other notable attributes of this model which makes it an excellent choice for businesses, running from the home.
This unit provides the suitable options for embroidering on towels, large sheets, and other clothes with a size of about 510 X 360 mm. Because of the versatile support table, it has been appreciated by the users a lot. The 3D Puff function happens to be the other vital aspect of this model which provides the privilege for achieving the utmost embroidery results in bags, caps, hats, to name a few.
This embroidery machine has also received a lot of fame due to the touch LCD panel of 10 inches along with USB interface lettering capability. It also possesses a cap driver safety sensor, hoops, and cap drivers. Moreover, it constitutes LED lighting strip Ethernet connectivity to ensure PC Full tension adjustment so that there are the lesser breaking of threads. The warranty of 5 years speaks of the confidence of the manufacturer into the product.
Features
3D Puff High-speed embroidery
15 needles
10 inch Touch LCD panel
USB interference lettering capability
Onboard LED lighting strip Ethernet Connectivity
1200 stitches per minute embroidery speed
PROS:
Compact
Budget-friendly
Digital touch screen
Includes a bunch of hoops
Easy to use the on-screen keyboard
CONS:
The functions appear to be a little complicated for the beginners
back to menu ↑
Janome MB-4S Four Needle Embroidery Machine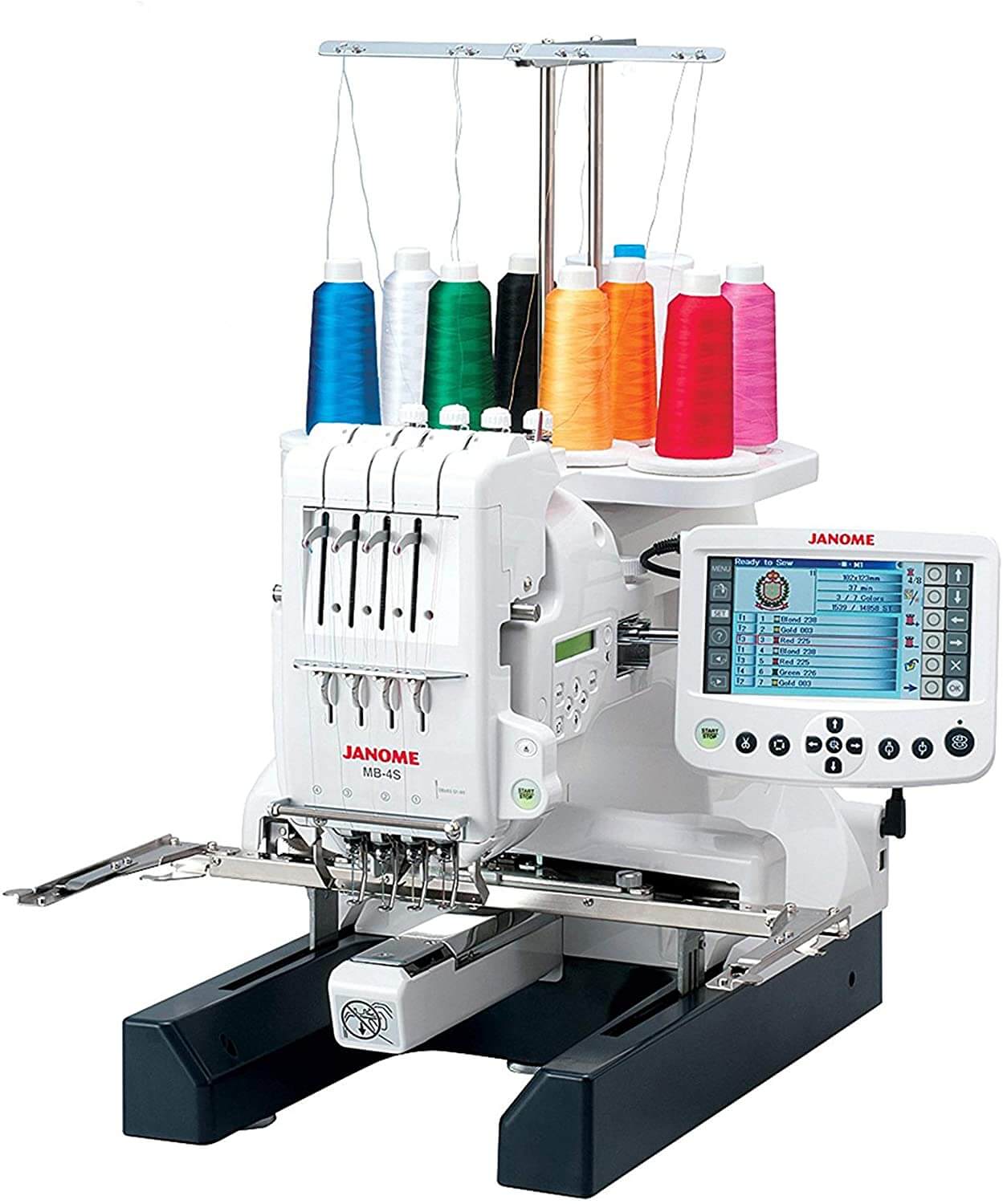 This embroidery machine is considered to be an excellent alternative for people who are looking forward to starting their own embroidery commercial business from the comfort zone of their home. The RCS or Remote Computer screen confers the options to choose from 65,536 colors which can impart the total set up and editing control. This feature bestows the power for several machines, thereby saving the price of the extra controllers.
Equally important is the Automatic Thread Cutter which reduces the jump threads between the letters. This is beneficial in saving an ample amount of your time. The LED light happens to be another optimum feature of this unit which provides precise lighting to ensure stunning results. With a memory of 3MB, it offers sufficient space for saving about 100 designs or 1,500,000 stitches. This model has grabbed many eyeballs with the presence of a dedicated bobbin winding motor.
Users can utilize the four needle machine for setting the embroidery so that they can carry on with the other projects. You can consider using this model with the four janope hoops and six Tajima hoops for getting more creative options. The Backlit LCD screen is another primary aspect of this model. This model enables the end-users to embroider at the speed of 800 stitches in every minute.
Choose from 2 and 3 expandable ready-made memory, 10 monogramming, 50 fonts, to bring out the best embroidery designs like never before. Other notable aspects of this model are the Ball-bearing precision, Manual thread tension control, pressure foot sensors, counter upper thread, stitch out time indicator, Lettering Hoop Holder Unit, 9 lettering hoop, to name a few.
Features
Backlit LCD screen
Remote Computer Screen
LED light
Bobbin Winding Motor
Automatic Thread Cutter
2 & 3 letters Expanded built-in memory
Ball Bearing precision
Manual thread tension control
Upper thread and pressure foot sensors
Stitch out time indicator
PROS:
Easy to learn
Lightweight
Large memory space
Higher embroidery speed
More built-in designs
Small footprint
CONS:
Not the best option for newbies
back to menu ↑
Janome MB-7 Embroidery Machine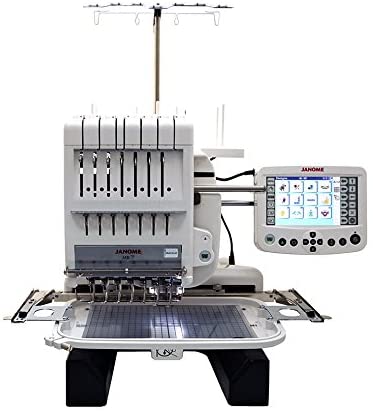 It is recognized to be one of the most popular commercial embroidery machines which are meant for home-based and commercial businesses. This embroidery machine from Janome is loaded with a bunch of top of the line features which provide quicker production times and ease of use. On top of this, this product is considered to be an ideal alternative for different kinds of fabrics, such as the natural ones, like canvas, knits, denim, plastic, upholstery, to name a few. This model is believed to be the best choice for embroidering jackets, hats, and similar machines.
After thorough research, we have concluded that it is hard to find such a top-rated model within the given price range. As you take a closer look at this model, you will get seven needles. Coupled with the remote computer screen, this unit provides a visual image to the end-users with the presence of 10 monogramming fonts and 50 built-in designs. This unit is furnished with the large embroidery field which lends a helping hand to the needs of a bulk design.
Use this unit with different types of frames and hoops and various applications. While taking a look into this unit, you will find the readout of thread colors, the total count of the stitches which are necessary for every thread color. It also tells you the total amount of time, needed for the completion of the design. It accommodates a bundle of accessories like USB cable, spool pads, seam reaper, and a comprehensive manual so that you can operate it accurately.
This model remains quiet during the operation which aids in producing quality and crisp stitches. This unit offers different on-screen design editing which is inclusive of re-editing, grouping, rotating. With this unit, you will earn the privilege to embroider at the speed of 800 spm. This unit involves a large embroidery area of 9.4" x 7.9".
This machine is meant to work with various embroidery formats, like .jef, .jef+, .dst. Other exclusive features of this model are 6 white LED lamps, extra-large bobbin, adjustable hoop positioning, stitch-out time indicator, pressure foot, and upper thread sensors.
Features
Pressure foot and upper thread sensors
Stitch-out time indicator
Adjustable hoop positioning
extra large bobbin
6 white LED lamps
9.4" x 7.9" embroidery area
50 built-in designs
10 monogramming fonts
PROS:
Smoother
Faster
Portable
USB connectivity
Comprehensive manual
CONS:
Does not include a learning curve
back to menu ↑
SINGER Futura XL-550 Computerized Industrial Embroidery Machine
This machine is the perfect blending of embroidery and sewing in one. Choose this unit to embroider on a variety of large formats like bedspreads, table cloths, dresses, to name a few. This high-end embroidery commercial machine is loaded with one endless buttonhole, six different fully automatic 1-step buttonholes. You do not need a lot of manual intervention any more as you accomplish embroidery with this unit.
This product is ruling the market with 125 ready-made embroidery designs, 215 built-in sewing stitches, and 5 fonts and outline lettering. The blending of automatic needle threader and SwiftSmart threading system makes setting up of this model a breeze. It beats the competitive edge with the Drop and Sew bobbin system which helps you in loading and changing the bobbin faster without picking the bobbin thread.
After sewing is completed, the automatic thread cutter is found to load as well as change the bobbin in no time. For those who want to sew or embroider on large garments or big quilts, should choose six LED lights which maintain the sewing space of extra-large size. It offers a sufficient choice for personalization of the embroidery on the computer design.
The integration of multi-hooping capabilities and large embroidery hoop option is ideal in producing designs to about 12 X 20inches. You will also encounter limitless possibilities with the presence of HyperFont, AutoPunch, and Advanced Editing Software.
Features
SwiftSmart threading system
215 built-in sewing stitches
125 built-in embroidery designs
Automatic needle threader
Drop and Sew bobbin system
6 LED lights
PROS:
Multi hoop capabilities
Large embroidery area
Easy to set
Durable
Quiet
CONS:
The design of this model is flawed
back to menu ↑
Janome MB-4N 4 Needle Industrial Embroidery Machine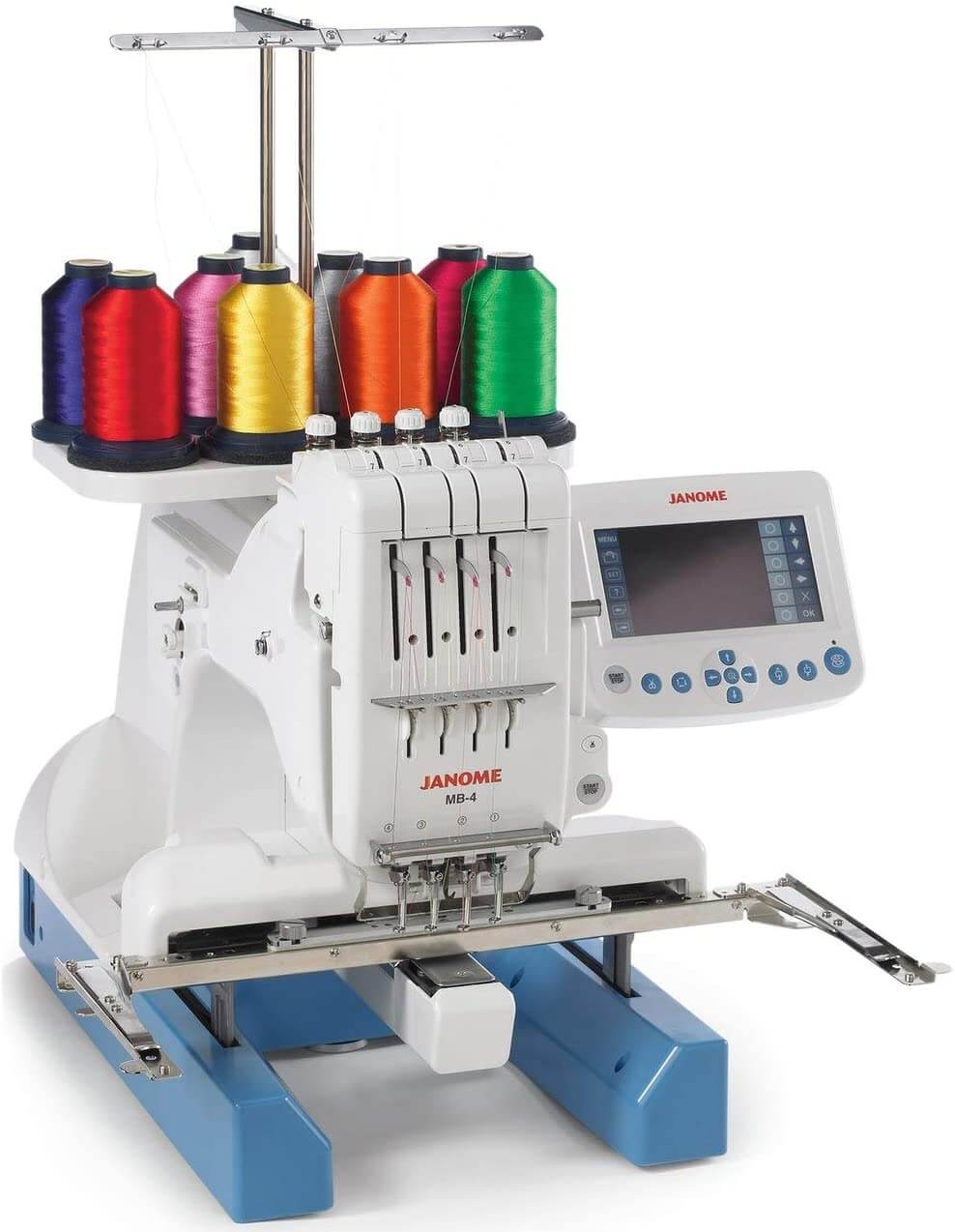 This multi-needle embroidery machine is going around the market for a while for commercial and home business use. In addition to providing an amazing look, it is locked with useful features. This model embraces 4 different needles because of which you will finish several designs at once. However, it has sufficient space for 8 different pools of the thread. So, you will get the extra thread colors at ease.
This is useful as you try to work with the designs which involve the use of several thread colors. The right part of the product is integrated with the large LCD display along with the controls that are present just under the screen. Because of the large screen, using this model seems to be a walk in the park.
This machine is coupled with few USB ports which provide the options to connect this device to the external devices. The remote screen control is another notable attribute of this model which offers full control over the embroidery work, such as embroidery pattern, embroidery speed. So, you will save your precious time as you can accomplish the embroidery work faster.
The automatic threader cutter is the other top aspect of this model which is beneficial in cutting the jump thread automatically. Customers become a fan of this model due to this function as it decreases the time on embroidery. This specific model adds 3MB of memory which is sufficient for preserving 100 different embroidery designs and 15,000 stitches. The LED light of this model renders clearer and brighter area so that you can embroider clothes of larger size.
Features
Automatic Threader cutter
Remote Screen Control
LCD Display
LED light
15,000 stitches
100 embroidery designs
PROS:
Great display
Amazing design
Larger embroidery space
Great performance
Affordable
Easy to maneuver
CONS:
The thread seems to be a break after some time frequently
Guide to Choosing the Best Commercial Embroidery Machine
Industrial embroidery machines constitute a bunch of useful features that cannot be found in regular devices. But, the market is filled with a lot of these products and it is not an easy thing to make the right purchasing choice. Henceforth, we have introduced a comprehensive purchase guide which includes the factors, you need to keep in mind while purchasing the commercial embroidery machines:
Efficiency
We all should purchase an industrial embroidery machine which is highly efficient and has the optimum working speed. Go for those models in which the embroidery machines are higher, in comparison to the casual embroidery machines. Do not purchase a product with a speed of fewer than 650 stitches in every minute. People who want to opt for a commercial embroidery machine with a higher speed should have a machine with a speed of about 1000 stitches per minute.
Different Types of Fonts and Designs
Potential buyers buy commercial embroidery machines over the traditional models as it provides sufficient opportunities for creating different built-in fonts and designs. Thus, you will get the luxury to create a bunch of different designs, according to your preferences. You should make sure to purchase a commercial embroidery machine with a minimum of 50 ready-made designs. Some of the models enable the end-users with above 250 built-in designs.
Choose the Right Kind of Machine
Few users look for machines that can perform embroidery only whereas some people want a machine that can be utilized for both embroidery and sewing. While selecting the machine, you should understand whether you require the machine for small or large scale use. Few home models cannot support excessive embroidery designs daily. Hence, you might not earn a sufficient return on investment from your business.
The Availability of Needles
The regular embroidery machines, found in the market, have 1-4 needles. However, most of the commercial embroidery machines comprehend about 16 needles. Thus, you will use one of the needles for sewing whereas the other ones are important for making a plethora of color changes. These needles are applicable for embroidering on various types of fabrics.
Embroidery Bed Size
You should take the size of the embroidery bed into account while purchasing the commercial embroidery machines. You need to make sure that the embroidery bed's standard size is 4 X 4 inches. It is better to select commercial embroidery machines which include the embroidery bed of 5 X 7 inches. It is suitable for dealing with fabrics of larger sizes.
LCD Touch Screen
It is one of the must need features, you should look for in a commercial embroidery machine. This feature provides a prerequisite alternative for previewing, and making the right edits in the design. So, it lets you finalize the design before accomplishing the same on the actual fabric. It helps in preventing any kind of mistake in the design. Henceforth, you will have the opportunity to showcase the design to the clients before starting the work.
Different Types of Connectivity Options
At times, the users intend to connect the embroidery machine to the laptop or PC. To achieve this, you should choose a commercial embroidery machine that covers a bunch of connectivity options. It imparts the prerequisite choice for uploading the latest designs in no time and editing the already existing ones. Few of the models accentuate the USB ports for the import of the designs on the USB stick.
Weight
Those who want to move the machine regularly from one room to the other should choose a commercial embroidery machine with reduced weight. It helps to store the machine while it is not in use. Do not purchase a machine which is heavier as it might make carrying the machine very difficult.
Throat Width
Throat widths reflect the amount of space, present between the machine body and the needle. Several models of embroidery commercial machines are present which possess throat widths. This specific feature provides sufficient space for navigating around. It also enables the usage of the larger hoops. It is considered to be an excellent machine for different types of machine quilting.
Hoop Size
You should check out those models of commercial embroidery machines in the market which include the hoop size, in the range between 100 X 100 – 360 X 350. Do not forget that if you buy a machine with a hoop size of 100 X 100, it might restrict the size of the projects and designs; you want to accomplish the embroidery machines.
Do not Forget the Advanced Features
As you think of buying commercial embroidery machines, never ignore modern technological features. So, you should make sure to select a machine that has a variety of advanced features like automatic functions, multi-headed models, multiple needles, to name a few. You need to take a look at whether the commercial embroidery machines found in the market are inclusive of different features, which are necessary for the completion of the specific project.
FAQs
Here are some of the frequently asked questions, people often ask while purchasing the commercial embroidery machines along with their answers.
Do I Need to Lubricate the Embroidery Machine?
It is vital to lubricate the embroidery machines to ensure the durability of the machine. If you intend to use this machine daily, it is desirable to oil it once every week. If you do not have enough time for oiling every week, it is necessary to oil it once every month. It is also important to utilize the lubricant, which is ideal for the device.
Why is PC Connectivity Necessary for the Commercial Embroidery Machine?
As you choose an embroidery machine with PC connectivity, it is possible to preview all types of designs on the PC screen. You can make the best use of PC connectivity for bringing a change in the colors, editing the designs, and storing them for later usage.
What are the Ways to Produce Unique Machines with Commercial Embroidery Machines?
Commercial embroidery machines, found in the market, are inclusive of different embroidery fonts and patterns. This font is useful for the creation of the design. At times, you can utilize the combination of the ready-made patterns for the creation of an elegant embroidery machine.
What are the Various Types of Hoops, Available for Commercial Embroidery Machines?
Different kinds of hoops, which are an integral part of the commercial embroidery machine refer to the size of the design, you intend to embroider. Aftermarket research, we found that the common size of these embroidery hoops is 5 X 7 and 4 X 4. At times, larger hoops are also present which are of 6 X 10 inches. At times, people intend to select the larger hoops to bring out a specific design.
What are the Types of Threads, I Should Use for Commercial Embroidery Machines?
Often people adopt threads of poor quality threads to prevent excessive expenditure. But the fact is that you might end up breaking your wallet as you require redoing the designs. A few of the well-renowned options for thread, used for commercial embroidery machines are rayon, polyester, cotton, nylon. But, you should choose the thread, according to the type of fabric, on which you are planning to create the design.
What are the Benefits of the High-Speed Feature of Commercial Embroidery Machines?
Once you choose the commercial embroidery machines at a high speed, you will complete more stitches per day. It helps in increasing the revenue of the business. The high-speed machine is useful in achieving a lot of stitches in every minute, thereby ensuring that you can produce a bunch of designs in each hour. It is useful in boosting the productivity of your commercial embroidery business.
Why does the Thread Break After Some Time?
Several times, users have across such situations when the thread keeps breaking frequently. There might be several reasons behind this. As the needle becomes older, you need to replace it. Damaged, gold and obsolete threads should not be used as they break more easily. Also, you need to store them in a dark and cool place. It is also advisable to check the tension. The tension might break if it is too loose or tight.
Conclusion
You need to keep in mind that selecting the commercial embroidery machines is not a walk in the park. The quality and type of machines, you select, determine the look and quality of the embroideries. So, you should make sure to choose the product wisely. We have chosen the above-mentioned models after thorough and critical research. The customers are highly satisfied with these models as they include a plethora of useful features. The number of disadvantages, included in them is visibly less. Hence, people pick them over other brands in the market. Provide the ultimate success to your business by investing in either of these commercial embroidery machines.