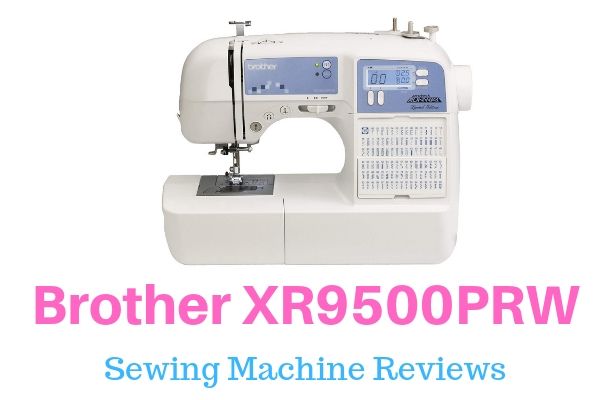 Sewing is fun for every design lover who just wants to explore the inner design sense. This can be done if you have a sewing machine like the limited edition XR9500PRW project runway model. Those who want to increase their creativity to the next level, boy does Brother has a product for you! You can simply get started with this cool machine on your runway creation.
The awesome tool has all the necessary features to be a top-class machine and be the ultimate assistant for your design world. The super-easy needle threading and bobbin winding, the cool collections of unique built-in stitches and auto-size buttonholes, the LCD screen display are one of the few things to mention on top of other features. So, read the full review and have a deep understanding of the sewing machine before you rush into any decision.
Brother XR9500PRW Project Runway Limited Edition Sewing Machine with 100 Built-in Stitches and Quilting Table
Table of Contents
Key Features
We will discuss the machine in detail by explaining the key features one by one. So, we will be asking you to bear with us on this journey and have a wonderful experience. Let's start then?
Big and Spontaneous LCD Display
You can clearly see the stitch and the settings of your stitch on the larger LCD display screen. There would be no hassle for that. To get that clear view, you only have to choose the stitches and the settings with the help of the intuitive stitch selectors. The amazing part is that the button is push type. So, the zero difficulty level is there for the user. The LCD screen is a back-lit system that enables the top-quality display you deserve! Simply put, it can't be any easier than that!
Built-in Stitches are 100
This awesome sewing machine has 100 built-in unique stitches that can be used for utility, heirloom, and decorative purposes. This is the ultimate tool for you to have everything done with perfection which may be home décor or regular clothing or even designing the unique types of quilt designs. There is also a flip-stitch guide that comes along with the machine. It's a multi-purpose machine with lots of features and qualities.
55 Alphanumeric Stitches
The machine has an amazing collection of alphanumeric stitches. It has 55 of them. You can either use them for lettering purposes or for basic monogramming. It's your choice!
8 Types of Sewing Feet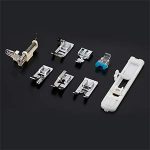 There are 8 types of quick-change presser feet that are included with the machine. So, you can tackle any kind of project with the machine, if you want. The feet types are buttonhole, zigzag, button sewing, zipper, blind stitch, overcasting, quilting feet and monogramming. It's huge if you think about it, isn't it?
8 Styles of Buttonholes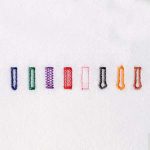 You can choose from 8 gorgeous-looking buttonholes when you are sewing with the machine. They are so cool and each one of them has a different look from the other. The amazing part is that it's a one-step operation and the buttonholes are auto-sized when you are having one of them. Through this process, you will have virtually perfect types of buttonholes.
Weight
The machine weighs around 9.92 pounds. So, it's a very lightweight machine. Because of that, it's a very portable machine for anybody. You can easily move the sewing machine from one place to another if needed. Transportability is a big bonus for the machine. So, it has an upper hand in that aspect.
Free Arm
There is a free arm for easy sewing of the cuffs & sleeves. That comes really handy for easy sewing operations as the cuffs and sleeves are really difficult to have a grip on.
Bright LED Work Area
There is a LED lighting system for your easy and comfortable working experience. You can easily see the whole operation, along with the needle and threads. So, you can check out on the accurateness of the sewing operation. The alignments can be controlled very easily with this bright LED working system. So, what are you waiting for? Go get one of them right now!
Needle Threader and Bobbin Winding
There is an automatic needle threader system accompanied by the machine. The needle threader uses a lever that is pushed by touching the lever connected with it. The built-in system will push the thread through the needle eye with accuracy and perfectness. The bobbin winding system is another superb feature for the sewing machine. It has a quick-set drop-in bobbin system for the user, which is very user-friendly. Its automatic winding will allow the user a perfect experience. The bobbin system has a jam-resistant drop-in character that helps smooth handling and quick operations.
Hard Cover
The sewing machine comes with a hardcover. So, you can keep the machine away from dust when you are not using them. It is also very useful when you are moving the machine from one place to another. As a whole, this is really cool to have.
back to menu ↑
Why this Sewing Machine?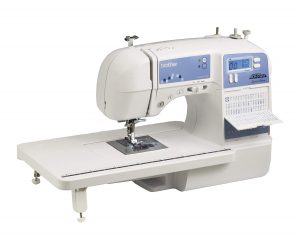 If you are one of those people who want to explore the inner designer self of yours, then this is the sewing machine for you. This computerized sewing machine is easy-to-use, durable for a long time, is flexible in every situation and will help the creative power of every individual to flourish. The machine comes with unique types of utilities i.e. alphanumeric stitches, heirloom, auto-size buttonholes, and many more. Why are these important? Because this will allow you to construct every type of garment very easily and beautifully. Not only that, it will help you to have good control over quilting operations. In conclusion, this is your go-to product for achieving excellence.
If you think this review is not helpful for you then you can check out our top 7 sewing machines for quilting, article. We hope that you will find the expected results there.
back to menu ↑
Frequently Asked Questions (FAQs)
Will the XR9500PRW work with upholstery fabrics?
Yes, it will. You just need to read the instruction manual clearly before working on different thick fabrics.
Will the XR9500PRW sew through denim for hems?
Yes, it will. This one is a heavy-duty type of machine that can do a good job on denim hems types. You just need to make sure that you are using a thick needle for that. If you do, you are good to go.
PROS:
Unique 100 built-in stitches
140 cool stitch functions
Bobbin winding super easy
Free arm for cuffs and sleeves sewing
Bright LED work area
Bobbin drop-in jam-resistant
Protective hard cover included
The LCD screen for easy visibility
Unique flip-stitch guide
Easy-to-use needle threading
Lightweight and portable
Built-in alphanumeric stitches
Hardcover included
Oversized wide table
Computerized machine for easy handling
CONS:
Maybe a bit less sturdy for some
Bobbin thread may be difficult to control
Speed control is tricky to use
Let's Watch a Video Review
back to menu ↑
Final Words
Brother has a huge reputation for bringing high-quality products on the market, and this XR9500PRW is no exception. My personal opinion on this product is, you can go for it with your eyes closed. No single product is perfect and this one also has some. But, you don't need all the big and glamorous types of features that have a necessity level close to zero. I think, after reading this Brother XR9500PRW sewing machine review, you can have a clear understanding of the features and facts that a quality sewing machine can offer.