Leather – The Timeless Fabric
It is hardly possible to find a person who does not love leather. No matter whether it is for men, women or children, leather is a timeless fabric that wins the heart of millions. If you are a DIY lover, you may try to sew leather or want to make something unique with leather. Worry no more. Here we have presented some tips and techniques that you may follow for sewing leather perfectly with your sewing machine.
How to Sew Leather With a Sewing Machine?
Yes, it may seem tricky when it comes to sewing denim or leather. Most people think that these fabrics can only be made in the garments and found in the market. One of the common misconceptions is that you cannot make a dress or clothes with these fabrics. Surprisingly, modern sewing machines make it possible to make your dream true. Yes, you may need specialized equipment, accessories, or sewing instruments for sewing leather. Let's have a look at some of the areas for sewing leather:
Pick the Perfect Needles
The first thing you should focus on while sewing leather is that you need leather needles. Leather comes with different thicknesses and color. However, all the leathers are thicker than any normal fabric. Apart from this, leather is not highly elastic and stretchy, making it difficult to sew. Therefore, the only solution is to use a leather needle which is specially designed for sewing any natural leather. The leather needle has a triangular cutting point, almost like an arrowhead that helps the needle to create a clean large hole. Most of the synthetic leather needs Microtex or sharp needle. However, you have to be conscious while using a leather needle as the needle creates a large and permanent hole in the leather.
No matter whether you are sewing genuine leather, suede or faux leather, at first install leather needle before staring sewing leather.

Choose the Right Thread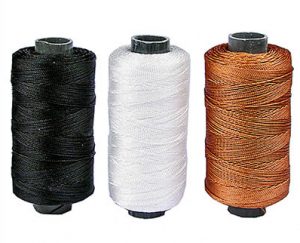 As leather is a thick fabric, you should use nylon or polyester thread. Another reason for using nylon or polyester is durability. The tannins present in the leather cause rotting over time, causing the cotton thread to erode. It is suggested to use heavier thread for leather and denim. However, you don't need to choose heavy-duty and heavier threads. But, polyester and nylon go perfectly nice with leather. It not only ensures durability but also gives longevity.
Never use cotton thread while sewing leather. Leather may disintegrate the cotton thread.

Install the Right Presser Foot
As leather is sticky, you will face difficulty if you are using the regular presser foot. Because of the stickiness, the presser foot may stick to the leather and obstruct the leather from feeding correctly. Fortunately, there are solutions for you. Just simply replace your regular presser foot with other presser foot that perfectly goes with leather. You may choose Teflon foot, roller foot, or walking foot. 
Teflon Foot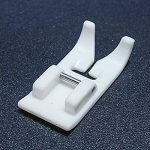 The first option can be Teflon foot which is made with Teflon coating that does not stick no matter which type of leather you are using. Also known as a non-stick foot or an ultra-glide foot, this allows the leather to glide through the machine easily.
Roller Foot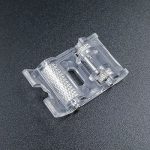 Secondly, you can choose roller foot that allows you to sew any sticky or shifty fabric easily. As the name indicates, this presser foot includes two metal rollers that roll against the fabric and makes sewing easily. It's like a bulldozer that makes the path easier to remain straight and smooth.
Walking Foot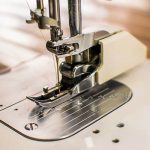 Lastly, you may select walking foot or even-feed foot that includes built-in feed dogs. It helps to guide two or more fabrics to pass through the sewing machine. It works along with the machine's feed dogs and feeds the leather perfectly through the machine.
Select Long Stitch Length
It is wise to choose a larger stitch while sewing leather. Basically, I prefer 3.5-4, which is also the largest. However, it may vary from machine to machine. Be sure that your stitch length will cross at least 3-4mm (1/8in). Smaller stitch can lead the leather to tear. You can choose any longer length than normal stitch, but be sure – the stitch should be smaller than the basting stitch.
How to Hold the Pieces? – Never Use Pin
Basically, for sewing two fabrics together, we use a pin to connect and then we sew. But never use a pin for attaching two pieces of leather. It will leave a permanent hole in your fabric. Rather you may use

Double-sided tape
Plastic clip
Or even glue
The double-sided tape is an excellent way to hold two pieces of leather together. You can also attach the leather with glues or you may use quilter's holding clips but be sure that there is no harsh edge that can cause cutting or scratching.
Find a Well-Lit Area
You should always find a well-lighted area for sewing. In my case, I also add a small LED light above the needle part. It helps me to view perfectly.
Test Before Starting With Your Desired Leather
Sewing leather is different than other fabric. In other fabric, you may repair your past sewing. But while it comes to leather, you cannot change the sewing once it is done as the holes and marks are permanent in leather. Before starting with your targeted project, test the thread, sewing setting, sewing length, etc with scrapped leather. If everything goes well, you may start your actual project.
Secure the Thread Ends
It is wise to secure the thread at starting and at the end by using a simple knot. Whenever you start a new row, try to secure the threads with a knot until few stitches are done. After that, you can rely on the machine to continue the next stitching.
End Words
In conclusion, you can perfectly do sewing in leather if you are conscious enough to follow the instruction. Yes, at first, it may seem difficult. But, trust me, once you will go through it, you will never fear sewing leather. Be sure to follow the above tips and always remember the techniques whenever you try to find the answer to how to sew leather with a sewing machine.
Always Remember:
Use a leather needle. You will find it easily in the shop or on Amazon.
Us polyester or nylon thread. Never go for cotton.
Set the larger stitch length.
Practice before starting your original project.
Choose a well-lighted area
Use binder clips, double-sided tape, or glue for attaching two pieces of leather. Do not use a pin.