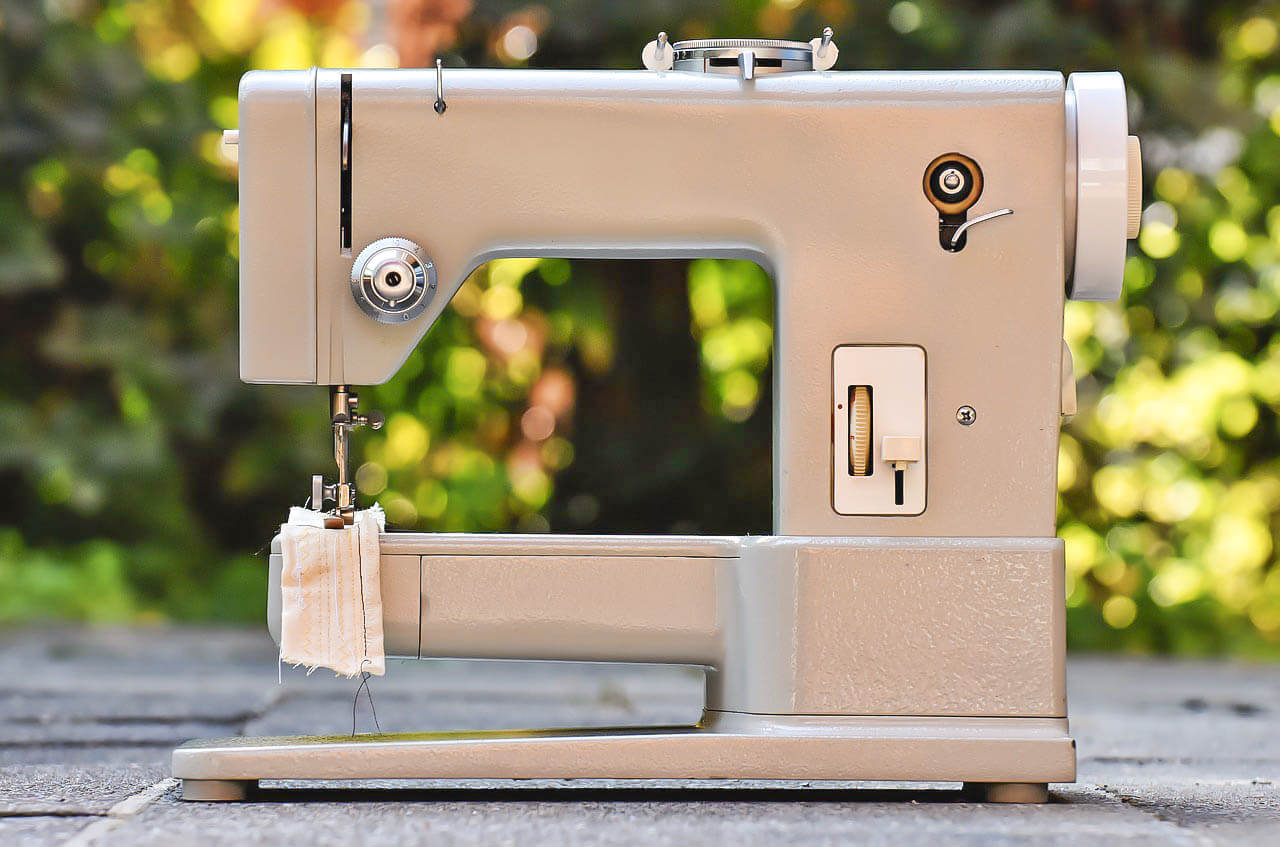 Do you sew a variety of fabrics? Are you handling a lot of sewing jobs regularly? Would you love to deliver your jobs faster and easier? If the answer to these questions is yes, then, it is high time you upgraded to an industrial sewing machine.
Let's face it. The thought of owning an industrial sewing machine can be overwhelming but the reality is that the best commercial sewing machine is ideal for dressmakers, tailors and even sewing hobbyists who sew at home.
Another reality is that you don't have to be an industrial-size clothing manufacturer before you can make use of industrial sewing. You need it as far as you handle a large volume of work. They are accurate, fast and highly dependable than the regular machines.
The only problem is how to choose the right machine since there are hundreds of them. You don't have to worry. Our job is to make sure you don't make a bad choice. We have found out some durable and sturdy machines and any of them will make a worthy investment. Take a few minutes to go through our review of the 10 best industrial sewing machines to make a memorable choice.
Our Picks of the 10 Best Industrial Sewing Machines
JUKI DDL-8700 Servo Industrial Straight Stitching Sewing Machine
The Juki DDL-8700 is a super quiet industrial sewing machine ideal for home use. This machine sews different fabrics such as appliqué laces, knit, chiffon, velvet, sequins and other materials. It comes with a powerful servo motor that is the brain behind its whisper-quiet operation. However, it will be noisy if it is placed on an uneven surface or if you make use of a clutch motor.
Measuring 48 x 20 x 48 inches when the machine head is mounted, there is no doubt this tool is a space saver. The machine is well recommended for tailors who handle different types of materials on a large scale. With a single-needle operation, this tool is designed for light and medium-weight materials. The machine has a stitching speed of 5,500 stitches per minute. It is compact and lightweight making it easy to use. This is an incredible machine for beginners.
The complete unit includes machine head, drawer, sewing light, table, stand and motor. It has a 5-year limited warranty. The machine table is adjustable but comes without wheels. This machine comes with different accessories which include machine oil for its lubrication. Other accessories include screwdrivers, needles and bobbins to give you a perfect start.
PROS:
Low noise and vibration
Intuitive design
Excellent stitching speed
Powerful servo motor
Adjustable table
Lightweight and compact
CONS:
Not designed for the sewing of heavier materials such as leather and denim.
The table has no wheels
back to menu ↑
JUKI DDL-5550 Industrial Straight Stitch Sewing Machine
JUKI DDL-5550 is a showstopper when it comes to sewing light and medium-weight materials. Being a servo-powered machine makes it ideal for in-house use and business. The servo motor is powered by 110 volts. Its ultra-quiet operation stands it out from the rest. The heavy-duty machine is equipped with a 5,500 stitching speed per minute.
It weighs 250 pounds and measures 48 x 20 x 48 inches making a perfect choice when space is a constraint. This is a complete industrial sewing machine. It comprises a table, stand, motor, working light, drawer and the machine head. It is a self-oiling machine. Just fill up the reservoir and it will oil itself. The machine does not have a thread cutter. You have to make use of the scissors to cut thread.
PROS:
Delivers quality and incredible stitches
User-friendly and ideal for beginners
Quiet operation and less vibration
5,500 stitches per minute
Sews multiple layers of material
Durable and well made
CONS:
Heavy and not portable
Not designed for heavier materials like leather and upholstery.
back to menu ↑
Brother PQ1500SL Commercial Quilting Machine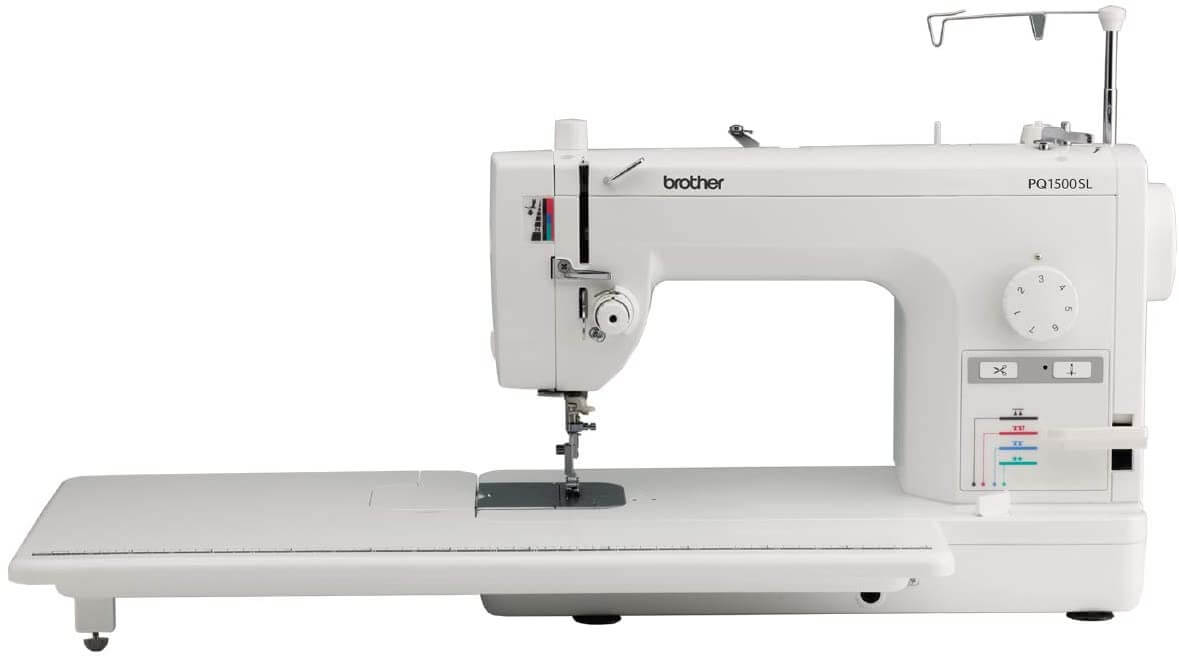 If you have tons of sewing tasks to handle and you are experiencing difficulties sewing some certain fabrics, then, the Brother PQ1500SL is highly recommended for you. The heavy-duty construction of the machine enhances its stability. This quilting industrial sewing machine is fast as it can sew up to 1,500 stitches per minute. It measures 25 x 11.8 x 14.8 inches making it suitable for space-saving. This is the best commercial sewing machine for beginners.
It has built-in needle threader, auto thread trimmers with a push button, a knee lever and an auto needle positioner. This machine also offers a 12 x 18 inches extension table with a retractable drop feed dog control. The bobbin system allows you to quickly and easily change bobbins effortlessly. With this wide range of foot control adjustments with the needle threader, the JUKI DDL-5550 is no doubt an industrial sewing machine that is convenient and easy to use than other machines in its category. It is durable, reliable and dependable.
Above all, this tool is a time-saver. The LED light is bright enough to make it easier for you to work on dark materials. With the fabric separator, you can smoothly handle different fabrics that are difficult to join. The thread tension control allows you to control the thread tension with ease by using the dial.
PROS:
Durable and versatile
Comes with thread trimmers
Auto needle positioner
Built-in needle threader
Versatile and reliable
1,500 stitches per minute
CONS:
Needle threader and cutter are a bit difficult to adjust
It can be time-consuming for beginners
Handles only straight stitches; not zigzag stitches.
back to menu ↑
CONSEW 206RB-5 Walking Foot Industrial Sewing Machine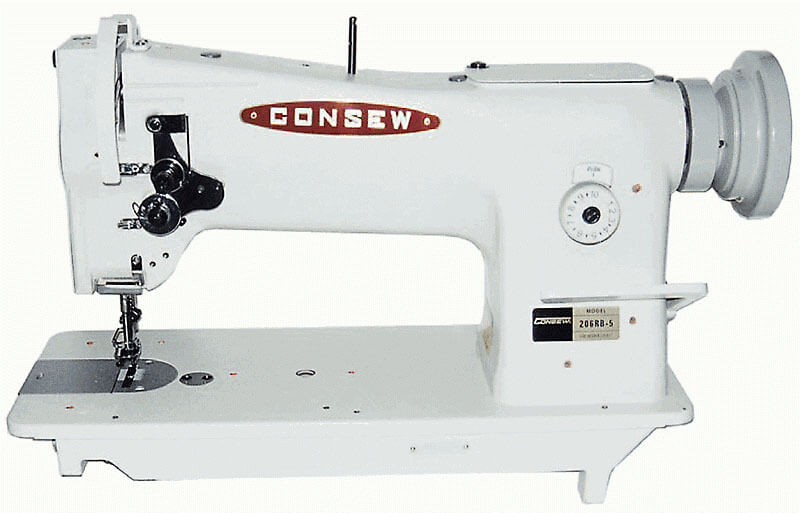 If you are looking for a walking foot industrial sewing machine that sews upholstery, the Consew 206RB-5 will be a great option. It comes with a machine table and a servo motor. Apart from upholstery, this machine is constructed to handle light to heavy materials such as vinyl, canvas, synthetics and even leather.
The machine is built tough and durable to accomplish different tasks such as furniture and auto upholstery, handbags, shoes, tarpaulin stitching, umbrellas and tents. However, there are thin materials that this tool cannot handle well such as taffeta, silk and knit. This is a straight stitch only sewing machine with one pedal that comes with an adjustable stitch length of up to 10mm. It is a fast and furious machine.
The Consew 206RB-5 sews at a lightning speed of 3,000 stitches per minute. Not too many industrial sewing machines in its category have this type of speed. Speed, precision and accuracy are some of the reasons why this tool will be a worthy investment.
PROS:
Perfect for the sewing of thick or dense fabrics of different types
Easy to use and operate
Durable and sturdy construction
Reliable and dependable
High-speed machine
CONS:
It is bulky
Complicated for beginners
Owner's manual is difficult to comprehend
back to menu ↑
JUKI TL-2000Qi Sewing Machine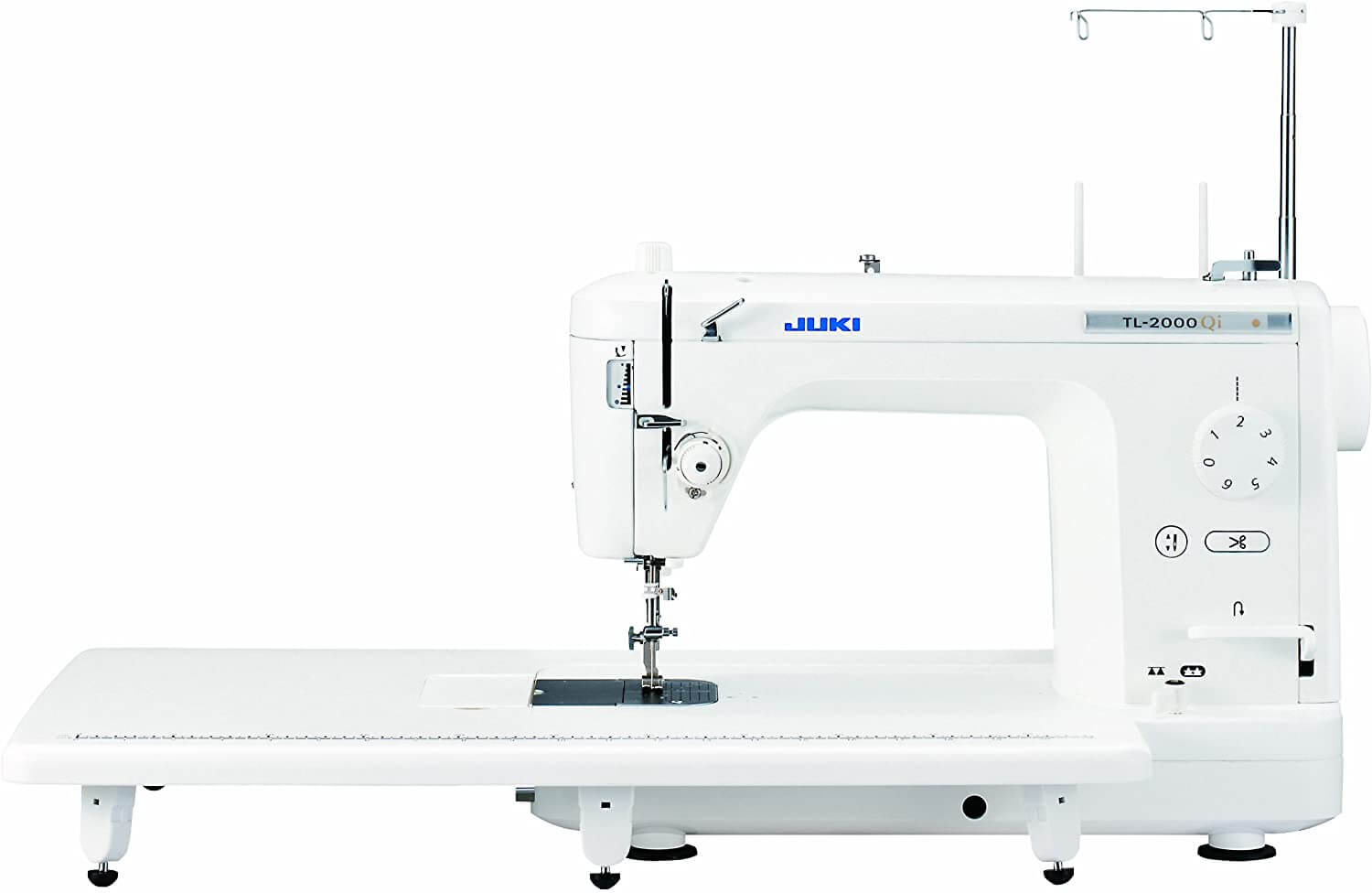 When it comes to construction, the Juki TL-2000Qi is an outstanding machine that is built to last for a long time. It is durable, sturdy and reliable. This machine is highly recommended for industrial sewing. It is constructed from aluminium with no plastic parts at all. With 1,500 stitches per minute, this is one of the speediest industrial sewing machines you can find anywhere.
The machine's speed makes it ideal for quilting and sewing home décor. With an aluminium die-cast arm and bed, vibration is reduced to the barest level. The arm of the machine is 9 inches apart from the needle making it enough space perfect for large scale quilting projects. This machine is built with one pedal and comes with LED lights to properly illuminate your working area for precision.
PROS:
Automatic needle threader and cutter
Wide workspace table
1,500 stitches per minute speed
Low vibrations
The table can be extended up to 23 inches
Great for quilting of large projects
CONS:
It is heavy
Handles only straight stitches
No storage case
back to menu ↑
JUKI HZL-DX7 Sewing Machine
The JUKI HZL-DX7 is a highly rated quilting and sewing machine. It features 277 stitch patterns, 8-inch throat space; box feed system and 4 different types of fonts. Its accessories, high speed and control make it great for both business and home use. This tool is a workhorse that works very quietly.
The machine is very generous with 12 presser feet which include blind-stitch foot, buttonhole foot, quilt foot, open toe foot, smooth presser foot, manual buttonhole foot, edge sewing foot, zipper foot, overcast foot, patchwork foot, walking foot and the standard presser foot. There are also 3 bobbins and an extension table for convenient sewing. It comes with an enclosed oil system thereby requiring no manual oiling.
PROS:
Fast sewing speed
Excellent machine for making garments
Comes with a feed box system
Intuitive control
277 stitches to choose from
Perfect for quilting
CONS:
It is expensive
Manual oiling is not required
back to menu ↑
Brother DZ1500F High-Speed Straight Stitch Sewing Machine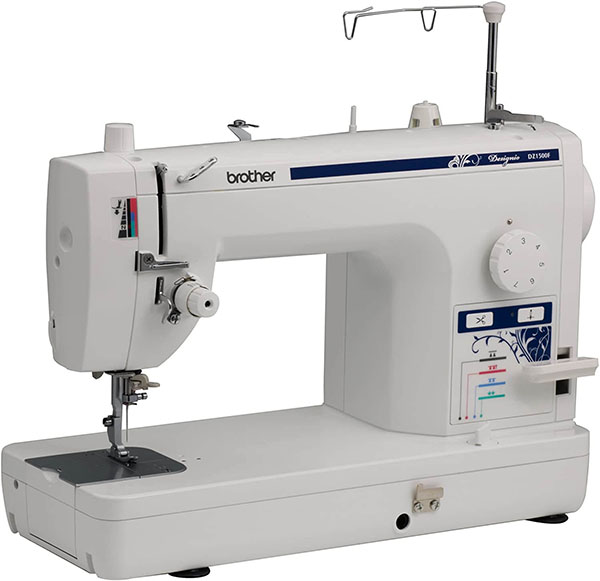 The Designio DZ1500F is a semi-industrial sewing machine that should be found in the sewing room of any serious seamstress and quilter. This is a high-speed straight stitching machine. It sews at 1,500 stitches per minute making it ideal for the sewing of garment pretty fast and comes with an automatic thread cutter button that cuts the lower and upper thread with ease.
The heavy-duty construction makes the machine durable and sturdy for long-lasting use. With its unique pin feed system, you are sure of having a smooth feeding of your material. There are 6 sewing feet which include straight stitch foot attached to the machine, narrow hemmer foot, needle felting attachment, invisible zipper foot, free motion quilting foot and ¼ inch quilting foot.
The full set of accessories includes a large extension table with a protective case, a fabric separator, foot controller, small and large screwdrivers, a knee lifter, 6 sets of needles, 5 metal bobbins, feed pin kit, power cord and manual. The feed dog adjustment and presser foot pressure have 4-coded levels for visible and excellent maximum fabric control. This machine has a 25-year limited warranty which is great peace of mind for the user. It has a throat area that is 9 inches. There is no doubt this is a feature-packed machine that comes at an affordable price.
PROS:
Exceptional performance with heavy fabrics
High-quality stitches
Automatic thread cutter
Feed dog height adjustments
Large extension table with the bobbin case opening
25 years limited warranty
CONS:
Not ideal for sewing leather materials
No automatic threader
Makes noise at full speed
back to menu ↑
JUKI DNU-1541 Industrial Walking Foot Sewing Machine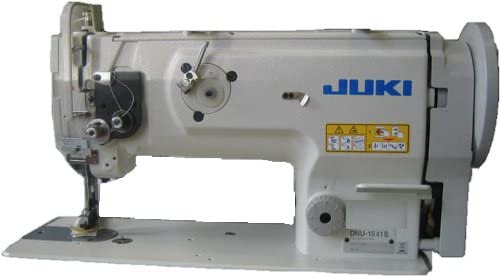 The JUKI DNU-1541 is an impressive industrial sewing machine that works efficiently on different types of fabrics. It is constructed with durability and sturdiness in mind. This machine runs at a maximum of 2,500 stitches per minute making it one of the fastest industrial sewing machines in its category if not the fastest. It has a maximum stitch length of about 9 millimeters.
The tool responds incredibly to the sewing of heavy materials such as leather and upholstery. The walking foot does a great job sewing multiple layers of material effectively. This tool does not use a servo motor but uses a clutch motor that operates at a fixed speed that ranges between 1725 to 3450 RPM.
The knee-lifter mechanism is built into the bed thereby helping to reduce the pressure that is usually associated with operating the knee lifter. Manual oiling is completely unnecessary with the JUKI DNU-1541. This is because the machine is designed with a central lubricating system. The reverse feed system makes the machine a must-have. With the reverse feed system, you can go back over your seams and properly secure them. This is necessary for upper-level sewing.
It is sold as a complete unit that comprises the machine head, motor, sewing light, table, stand, drawer and other vital accessories that makes it ready to use. The table has an adjustable height with caster wheels. To cap it all, the package comes with an informative instructional manual that guides you adequately on how to handle the machine.
PROS:
Heavy steel construction
The high sewing speed of 2,500 SPM
Extremely sturdy and durable
Produces excellent results
Comes with a central oil wick
CONS:
It is expensive
A bit difficult for beginners
back to menu ↑
JUKI DU-1181N Industrial Top and Bottom Feed Sewing Machine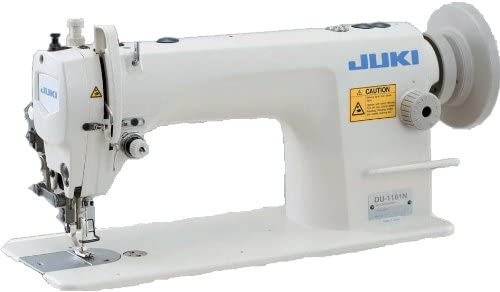 This Juki DU-1181N is a single-needle, straight stitch machine with the top and bottom feed mechanism. The machine smoothly feeds a difficult material without issues. This enhances the seam quality of the material being sewn. It has an automatic lubricating mechanism that helps to improve its overall maintenance. If you are used to machines with clutch motor, the Juki DU-1181N will be your favourite plus it comes with a table too.
When it comes to speed, the machine has a maximum of 2,000 stitches per minute. You can adjust the stitch in both normal and reverse directions. This is a machine with a maximum stitch length of 9 millimetres which helps greatly in the sewing of heavier materials. The feed dog height and inclination can also be adjusted with ease.
With a self-lubricating system, you don't have to worry about manual lubrication. The top feed mechanism makes use of a grease tank and oil wick lubrication mechanism for effective oiling. There is low noise and vibration because the machine's head is optimally balanced for a quiet operation thereby allowing the user to work in a comfortable environment devoid of noise.
The presser foot is high up to 15mm for effective support. Both the walking foot and the presser foot are adjustable to a range between 2mm to 5mm. It comes as a complete unit that includes the machine head, table, clutch motor, drawer, sewing light, cotton and wheel stand. With the large capacity bobbin, it is capable of holding twice as much thread. It makes use of 110 volts.
PROS:
Self-oiling
Reduced vibration and noise
Perfect for home use
The fast sewing speed of 2,000 SPM
Durable and sturdy construction
Top and bottom feed system
CONS:
It is expensive
Handles only straight stitches
back to menu ↑
Yamata FY8700 Industrial Sewing Machine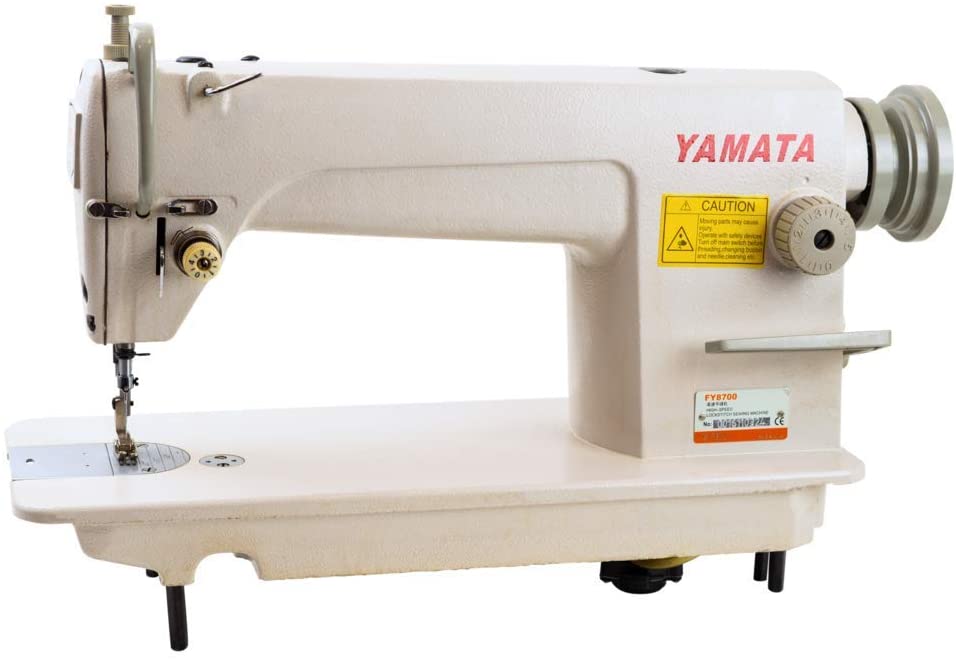 If you are looking for an industrial sewing machine that is budget-friendly, you can take a look at the Yamata FY8700. This is a machine that handles thin to medium-weight fabrics. Built with a heavy metallic frame, the machine is built to last for a long time. It is designed with a ½ HP clutch motor. With the clutch motor, you can work for many hours at a high speed without any interruptions. The clutch motor is designed for quiet operation.
It is made with a self-oiling system that improves the machine's lubrication greatly. Built with an advanced noise-reduction device, the machine becomes an excellent choice for home users. You cannot go wrong with a speed of 5,500 stitches per minute. It can also run at a maximum speed of 1,725 rotations per minute (RPM). It creates 5mm long stitches that are capable of holding fabric fibres tightly in fine seams. This is an incredible speed to accomplish large projects. The 13mm foot lift brings convenience with every job.
A combination of the 13mm presser foot lifter and 5mm hand presser foot lifter helps you to fit both light and medium fabrics with the utmost ease. The pressure foot pedal effectively controls the motor speed. Measuring 48 x 20 x 48 inches, the machine is portable and can be used anywhere. Some of its important features include thread stand bobbin, knee lifter, 5 extra bobbins, 10 extra needles and a manual guide. The complete component includes the machine head, motor, table, drawer, belt and tools.
PROS:
Low noise
Ideal for thin and medium-weight fabrics
High-speed machine
Reverse sewing
Portable and durable
Built with powerful ½ HP clutch motor
CONS:
No walking foot
Comes unassembled
Not suitable for quilting
Buyer's Guide for Best Industrial Sewing Machine
Going ahead to purchase an industrial sewing machine without making some basic research will only make you get a product that is not fit your work. As such, this buying guide has been made to help you make a good choice. There are some factors to consider before you purchase an industrial sewing machine. Take note of the following.
Purpose
The first thing you must ask yourself is: what purpose is the machine going to serve? Understand that a person that makes dresses and an upholstery maker won't use the same type of machine. Some machines like the Yamata FY8700 is suitable for thin and medium-weight materials while a machine like Consew 206RB-5 can handle heavier fabrics such as canvas and leather. Some of the manufacturers would list some of the materials their machines can handle. But this may not always be the case. The best way to solve this problem is to look at the presser foot and ensure it is 3mm higher than the thickness of the material you want to sew.
Size
Next is to look at the size of the machine. Industrial sewing machines are larger than the regular machines used at homes. Find out the dimension of the machine you are willing to purchase and be sure to have enough space to accommodate it.
Speed
Speed is everything as they say. Working on large projects will require a lot of speed. The machines in our review have a speed range of between 1,500 and 5,500 stitches per minute. Choose the right speed for your type of project. But everything is not about speed. For heavier materials like leather, sewing slowly gives you the desired results.
Noise
You would want to work in a conducive environment that is devoid of noise. Industrial sewing machines are usually noisy especially those with clutch motors. If you want to use your machine at home and you need a machine with low noise and vibration, you should choose a machine that comes with a servo motor rather than a clutch motor.
Motor Type
The type of material you sew determines the type of motor you are going to choose. For hard and thick materials such as leather, you have to choose a clutch motor and you have to contend with the noise because clutch motors are usually loud. For light to medium materials, the servo motor is ideal. Servo motors are quiet in operation but they are not as powerful as clutch motors.
Power
You cannot overlook the issue of power when buying an industrial sewing machine. These kinds of machines make use of a lot of power and that can result in high electricity bills if you are using it at home. There are some of these machines that consume less power because of their eco-friendly nature. Some come in 110 or 220 volts, choose the one right for your power output.
Bed Type
The bed of the machine is the actual working area of the machine. The working surface is an important aspect in choosing the right machine. There are 3 types of beds depending on the type of material you are handling.
Post Bed –This is a type of sewing machine bed that has raised column. This raised column is located above the actual surface of the table. That platform is where both the fabric and needle come in contact. This type of bed is usually perfect for shoes, boots and bags with a lot of curves.
Cylinder Bed – The cylinder bed sewing machines have a round shape making it easier to work on difficult-to-reach areas. This type of bed is suitable for the handling of caps, footwear, bags and shirt cuffs.
Flatbed – This type of bed is similar to the ones found in the regular home sewing machines but with a wider space. It is the perfect choice for the handling of large projects with a variety of fabrics that need to be laid flat.
Lubrication
Industrial sewing machines require regular lubrication because of their speed and power. Some of the machines do self-lubrication while others are made for manual lubrication. It is dangerous to do manual lubrication with these types of machines. This is why it is recommended you choose a self-lubricating machine. It saves time and ideal for easy maintenance. The good news is that there are many models with the self-lubrication feature.
Machine Feeding
There are different ways to feed an industrial sewing machine with fabrics. Here are some of them.
Manual Feeds – This type of machine has an upright motion presser foot that holds a fabric even before the needle goes for the fabric. It is known as free motion feeding. This type of feeding gives the operator a lot of control. It is perfect for quilting and embroidery
Drop Feeds – Drop feeds are usually referred to as feed dogs. They are usually placed under the throat plate. The feed dog passes through the throat plate with each stitch and holds the fabric to the presser foot to move it to the front and return it to base.
Differential Feed – A differential feed makes use of two feed dogs underneath the throat plate. There is one at the back and one in the front. Two of them can go at different speeds to stretch the fabric that you are sewing.
Top Feed – The top feed mechanism makes use of a presser foot that is divided into two parts. One part holds the material by the needle while the other part is responsible for moving the materials following the position of the needle.
Warranty
Just as with other products, industrial sewing machines come with warranties. This is as important as the other factors you must consider before purchasing a sewing machine. Look for a machine with a 25-year limited warranty. It gives you peace of mind
Price
Industrial sewing machines are generally expensive. Depending on their features, the range is from $400 to $1,500. Choose a machine that fits your budget with enough features.
FAQs
I can't Afford a New Industrial Sewing Machine; Can I Buy a Used One?
It depends on the condition of the machine. If the machine is still in good condition, it will be a good option but if it is in a terrible state, it is better to avoid it. Always buy from a reputable reseller.
How Much Space Do I Need to Create to Accommodate My Industrial Sewing Machine?
It all depends on the size of the machine you want to buy. First, you need to know the dimension of the machine. If you have a lot of space, you can buy a large machine. But if you have limited space, choose a machine that is portable and compact.
How Can I Maintain My Industrial Sewing Machine?
Periodic maintenance is very important for an industrial sewing machine. Always clean up the bobbin area and use a dust cover to protect the machine from dust. Oil it regularly. Only call in a technician if there is a mechanical issue.
Conclusion
It can be difficult making a choice even after reading our review of the 10 best industrial sewing machines. Our job is to help you to make a good choice. We recommend the JUKI DDL-8700 for being a robust industrial sewing machine. It is great for thin and medium-weight fabrics. The speed is excellent and it has low noise and vibration making it perfect for home use.
If you want something that handles heavier materials such as leather, vinyl, and canvas, we advise you to choose the CONSEW 206RB-5.
The JUKI TL-2000Qi is another great option for home use. It is lightweight, durable and sturdy.