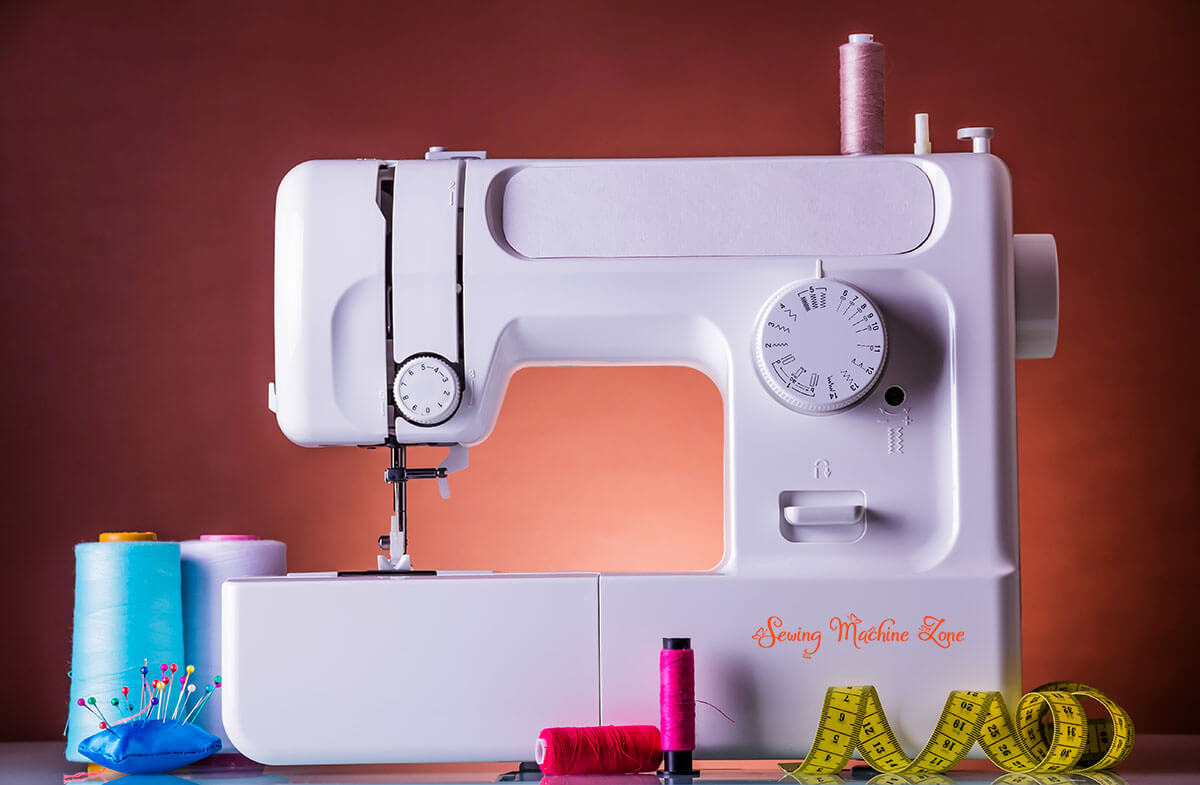 There is no doubt that sewing is a fun and exciting hobby for many people. The joy and fulfillment that come with making different items such as clothing, curtains and throw pillows are out of this world. It can be very heartbroken when you hear the cost of high-end sewing machines.
But you don't have to empty your pockets before you can purchase a decent machine that can handle a variety of simple sewing tasks. Many affordable sewing machines cost less than $100 in the market. These inexpensive machines may not have a high speed, too many built-in stitches, or other excellent features that you see in the high-end models. But, the fact is that they can still get the job done.
Choosing the right sewing machine under 100 can be a daunting task. You don't have to worry. We have done the entire hard job for you so you can make an informed choice in the end.
We have selected some of the best sewing machines after 72-hour extensive research. These machines were chosen based on their durability, sturdiness and functionality. Read on as we review the 7 best sewing machines under 100. Let's get started without much ado.
Our Picks of the Best Sewing Machines Under 100
Luby Sewing Machine
If you don't care about brand names but need a functional machine, we recommend the Luby sewing machine. This machine is great, especially for beginners. Apart from being lightweight, it is also extremely portable.
When you are new to the world of sewing, you may not be able to cough out above $500 to purchase a machine. Having a Luby sewing machine that is below $100 is a good start.
The sewing machine has got 12 built-in stitches. Just turn the knob to choose the right stitch for your project. With a 4-step buttonhole presser foot, you can easily fix buttonholes without a sweat. The bobbin is made of metal to make it durable and sturdy. This is the perfect machine to sew DIY projects like trousers and sleeves. With the free arm, you can easily have access to the sleeves, pant hems, collars, cuffs and other hard-to-reach areas.
When it comes to speed, the machine can only boast of 350 stitches per minute (SPM). Its low-speed makes it ideal for beginners. The height can be adjusted to suit different individual needs. It can be used with 4 AA batteries. This allows you to sew projects no matter the location you find yourself. The fact that the machine features auto threading makes it stress-free. With the auto-threading, the headache that comes with manual threading is eliminated. The accessories include 1 presser foot, 1 threader, 1-foot pedal, 4 needles, 3 bobbins and 4 spools.
PROS:
Simple and easy to operate
Automatic threading
Lightweight and portable
Comes with user guide and tutorial videos
Ideal for everyday projects
CONS:
Limited features
Not good for sewing leather
back to menu ↑
DONYER POWER Electric Sewing Machine
Whether you have been sewing for many years or not, the DONYER POWER electric sewing machine is capable of undertaking different sewing projects like the sewing of your suit. The machine is compact and rich in features. It has got 12 preset stitch patterns which can be used for buttonholes, lock stitching and pattern stitching. Both the stitch length and width can easily be adjusted. Either the foot pedal or hand switch can be used to make the adjustments.
At 300 stitches per minute, there is no doubt this is the appropriate speed a beginner can contend with. Choose between two speeds of High or Low. Needle threading will longer be an issue since the sewing machine comes with a built-in needle threader. The bobbin which can be found under the foot is another threading option. The machine has got a LED light for project illumination especially when you are handling dark fabrics or working in the dark. There is a switch behind the needle to turn on the LED light.
The free arm gives you all the space you need to handle difficult-to-reach areas when sewing items like cuffs, collars, pant hems and sleeves. You will find the on-board accessory storage very handy. It helps you to store items like needles, threads, bobbins, scissors and others. This machine comes with a 1-year warranty and it is a perfect gift for children.
PROS:
Easy to use and operate
The built-in needle threading system
Adjustable stitch length and width
Portable and lightweight
Great for beginners
CONS:
Batteries can't be left in when the wall plug is being used
It has just one foot but can do zigzag stitches
back to menu ↑
Sew Mighty Multi-Sewing Machine
You cannot go wrong with the Sew Mighty portable sewing machine. It is small in size but mighty in functionality and delivery. This is a user-friendly machine with two speeds. You can control the speeds with a foot pedal or by hand. It also has reversible stitching. The machine is highly recommended for both beginners and expert users too.
Some of the notable features of the Sew Mighty mini machine include 12 pre-programmed stitch patterns alongside a 4-step buttonhole pattern that stands it out from the crowd. The machine offers double threading which can either be done using the drop-in lower bobbin or through straight stitching. Other extremely useful features are automatic thread cutter, automatic bobbin rewinder, built-in work light, top and bottom bobbins and cuff notch that helps to conveniently repair cuffs and sleeves.
This is a very versatile sewing machine. It can be used anywhere since it works well with 4 AA batteries. You can operate it in either AC or DC power. A standard AC adapter comes with the package. The machine is not just user-friendly, but also kid-friendly. All the accessories you need have been included. They include 2 pre-wound 1-inch bobbins, foot pedal control, 110V AC adapter, black and white thread, 2 replacement needles, thread snips, buttonhole foot gauge, needle threader and tape measure.
PROS:
Comes with a sewing table
Durable and efficient
Functional and user-friendly
Lightweight and portable
12 stitch patterns
CONS:
The tension makes it a bit difficult to thread
Can get tangled once in a while
back to menu ↑
BTY Portable Mini Sewing Machine
Small tailoring and mending tasks don't usually need bulky and costly sewing machines. The BTY portable sewing machine with 2 speeds and 12 built-in stitches is all you need. With a double power supply, it becomes a lot easier for you to choose a suitable power mode. Even sewing a button is a breeze. The presser is replaceable. It comes with an automatic winding system that allows all threads to be wound automatically. There is also a reverse stitch function.
This machine has got exceptional features such as a metal threader, foot pedal, thread cutter and a LED lamp for proper illumination in case you are sewing a dark material. The machine is safe to use and energy-saving. It is made with a non-slip bottom pad that makes it stay steady. The machine is equipped with a 6V 4 AA batteries which are not included in the package.
This is a sewing machine that suits different DIY sewing needs such as pet clothes, prom dresses, crafts and home decoration. It is easy to carry with a built-in carrying handle to move from one point to another easy. The minimum sewing thickness is 2.5mm. Some of the accessories included in the package include 4 needles, 4 thread bobbins, 1 button foot presser, 1 metal thread cutter, 1 AC power adapter and a manual.
The package also includes an instructional guide and DVD video to help you learn about the machine.
PROS:
Thread cutter
12 built-in stitches
Portable and lightweight
Equipped with a LED lamp
Comes with a storage drawer
back to menu ↑
NEX Sewing Machine
If you are looking for a sewing machine for kids, look no further than the NEX sewing machine. It is the perfect sewing machine for those who are new to the world of sewing. Thanks to its 12 built-in stitches and 2-speed options. You can control it either through the switch or foot pedal. The machine is lightweight and can be operated using a power adapter or 4 AA batteries.
Sewing is super easy with the NEX sewing machine. The safety feature makes it more ideal for kids. The needle area has a safety cover so you don't worry about your kid's finger getting caught up. This is a big plus. It has a top drop-in bobbin and an automatic winding system. It is easy to carry for even kids since it is fitted with a carrying handle.
You will love the LED light that helps to increase the visibility of the working space. Its portability helps you to save space while the reverse sewing feature makes it easy to sew without having to adjust the fabric. The accessories are 4 needles, 1-foot pedal, 1 needle threader, 4 thread spools and 1 DC power supply. It comes with a video and instructional guide so you can understand how to use the tool for longevity.
PROS:
Ease of use
Extremely lightweight
Portable and compact
Two speeds and two power options
Built-in LED light for visibility
CONS:
Cannot handle thick materials
No automatic thread cutter
back to menu ↑
Janome Graceful Gray Basic Sewing Machine
The Janome Graceful is truly graceful when it comes to performance and functionality. With 11 preset stitches, you can handle all general household sewing projects. Choose your stitch option by just turning a knob. This makes it a very versatile machine. Its ease of setup sets it apart from other mini sewing machines under 100. The machine is specifically designed for both beginners and experienced sewists.
Weighing just 5 pounds, there is no doubt this machine is extremely light and portable. It comes with threading diagrams to make it super easy for beginners to thread. The machine is easy to set up since it has a top drop-in bobbin with a visible cover. With the finger guard, this sewing machine is safe to use for kids.
The free arm allows you to sew different items like cuffs, sleeves and collars. The Janome Graceful has an extra high presser foot lift. This means you can place any fabric such as light denim under the needle. While the advanced sewists may not like this machine because of its limited features, it is however the right tool for beginners who want to learn the craft.
PROS:
Perfect for learning
Lightweight and versatile
Comes with finger guard
Great for kids
Accessory storage and free arm
CONS:
No built-in lamp
Not made for heavy materials
Cannot use batteries
No buttonhole stitching
back to menu ↑
Best Choice Products 6V Multifunctional Sewing Machine
The 6V multifunctional and compact sewing machine gives you a blend of functionality and durability. The machine has 12 different stitches to provide you with different options. There is no guesswork when it comes to sewing since all the stitch patterns are printed right in front of the machine. The machine has two speeds – Low and High. Users can make use of the low speed for convenient sewing.
The machine can be operated in two ways. It is either you use the foot pedal or hand switch. With an integrated thread cutter, you don't have to worry about using a pair of scissors. Just use the thread cutter to cut off the thread at the end of every seam. This machine is not recommended for kids since it has no needle guard.
The LED light makes life easier. With the bright LED light, you don't need extra light when working on dark materials. It features a storage compartment which can be used for the storage of important items like threads and needles.
PROS:
Lightweight and portable
Storage compartment
12 stitching options
Built-in LED light
Compact and space-saving
CONS:
Cannot use batteries
No extra foot
No needle guard
Buyer's Guide
Sewing machines are handy for the creation of trendy patterns for quilts, throw pillows, or clothing. It is a nice tool for making quick adjustments or mending torn clothes. But some of these machines can be very exorbitant.
It is not everyone that can afford to buy these sophisticated machines. If you are on a budget, the better option is to go for cheaper machines without the need to sacrifice some of the important features that you need to make the sewing tool functional. Here are what you need to expect from the purchase of low-end sewing machines.
What you Should Expect from Purchasing the Best Sewing Machine Under 100
When you start searching for a sewing machine, you will realize that the different models have different prices. When you see a sewing machine that costs between $800 and $1,000, you will understand that a machine that costs $100 is quite cheap.
There is no doubt you can get a new sewing machine at under $100 but there are important features that you must look out for. Some of these features include a free arm, top-loading bobbin, many built-in stitches, automatic needle threading system, adjustable foot pedal, two speeds, etc.
You must know that cheaper sewing machines cannot withstand a lot of rigor. If you want them to last longer, they must not be used to sew tough materials like denim. But some of the machines come with a warranty which means you are well covered in case there is a problem. However, they have the necessary functions that you require to accomplish some sewing projects. The fact is that they are even better than handheld sewing machines.
Tips for Maintenance
These models of sewing machines must be well cared for since they don't last long compared to the high-end ones. The following are the tips you can practice to increase the longevity of the machine.
Use the case to cover it when not in use. This is because dust can affect its functionality. Always clean it and keep it free from dust.
Clean it thoroughly after every project. This includes the removal of lint which is usually from fabric. You must also get rid of threads which may get stuck in the machine's internal parts.
Always dust the outside of the machine using a soft cloth. Remove stains with a damp cloth. Never spray any form of liquid directly on the machine
Blow out the lint with a compressed air tool. Remove lint with a vacuum.
Take out the needle plate. Use a small brush to clean up the bobbin area and feed dogs. To remove stuck pieces of cloth inside the machine, it is best to use tweezers. Also, clean the bobbin case to remove lint.
Ensure that the needle plate is not damaged.
To find out if oiling the internal parts of the machine is necessary, you need to check the user's manual. Clean up excess oil with scrap fabric.
Allow a professional to service the machine at least once in two years
Always use a sewing table to have a stable position for the machine
What to Consider Before Purchasing the Best Sewing Machine Under 100
Choosing a portable sewing machine under 100 is not like picking a book of the shelf. There are a lot of things to consider before making a choice. Below are the features you need to look out for.
Stitch Options
There is no question expensive machines have more stitch options. But the cheaper machines also have some stitch options. A lot of the under $100 sewing machines have between 11 and 12 stitch options. With this, you can handle decorative and normal stitches. All the models reviewed in this article have 12 built-in stitches except for the Janome Graceful Gray Basic Sewing Machine which has 11 stitch options.
Compact and Lightweight
For those who constantly move their sewing machine from one place to another, they must choose a compact and lightweight machine. Portability is another important consideration. For this purpose, the machine should have a carrying handle at the top.
Threading System
Generally, threading a sewing machine can be a tough task for people with bad sight. As such, always ensure that the machine you are about to purchase has an automatic needle threader.
Bobbins
Choose the drop-in bobbin over a top-loading bobbin. Drop-in bobbins are easier to use. You just drop into its compartment instead of doing manual threading. It gets better if the machine comes with automatic bobbin winding.
Thread Tension
An inappropriate thread tension can make your life hell. The thread tension is a critical consideration for both bobbin thread and sewing thread. When the two are not in sync, you could have wrinkled fabric or broken thread. So, using the tension adjustment knob helps you to solve this problem.
Free Arm
A sewing machine without a free arm can be frustrating. Without a free arm, it will be difficult to work on items such as cuffs, collars and sleeves.
Sewing Speed
Sewing speed helps you to get the job done pretty fast. Most of the mini sewing machines under 100 have two sewing speeds which are High and Low. The Low setting is good for beginners who need to be in control when sewing their fabrics. Some machines come with a foot pedal for easy control of speed.
Accessories
Most sewing machines have accessories that come along with the package. Some of the accessories include a dust cover, scissors, brush, screwdriver, measuring tape and more. Others include extra needles and bobbins.
Warranty
You cannot overlook the importance of a warranty when purchasing a sewing machine. The least is a 2-year warranty. You are covered by a warranty just in case the machine gets damaged. A replacement can be made if you are still within the warranty period.
LED Light
Machines with built-in LED light helps you to find your way around the dark fabric. This is why a LED light is important. The LED light is usually behind the needle. The light should be bright enough to avoid the use of extra light.
Noise Level
Even the cheaper sewing machines can make a lot of noise. This is why you must carefully choose a machine that won't cause some level of noise pollution. Noise level is measured in decibel. In most cases, the noise level is written on the label of the machine. Make sure the noise level is within 66 to 88 decibel. Anything outside of this won't be good for your mental health.
Stitch Length
For cheaper sewing machines, the stitch length should not be more than 2mm. Check the user manual for the right stitch length for your machine.
Sewing Table
It is a great deal if you purchase a sewing machine with a table. The table makes for convenience. It helps the machine to stay in place.
Storage Compartment
You cannot go wrong with a storage compartment. It makes it handy for you to store items such as scissors, needles, screwdrivers and others.
Ease of Use
The machine should come with knobs for speed adjustment or tension adjustment. It makes a lot more sense if the machine comes with a user manual or a DVD video guide to help you with the machine setup and usage.
Frequently Asked Questions (FAQs)
Is an under $100 sewing machine ideal for a beginner?
Yes, the cheaper sewing machine is perfect for beginners. The fact that they have two speeds makes it convenient for beginners. The LOW speed puts a beginner in control. Some nice pieces of work like throw pillows and other home projects can be created with these cheaper machines.
How can I safely carry my sewing machine when traveling?
The best way to safely carry your machine when traveling by car is to use a well-padded protective case. You can also pack some clothes around it for more support. If it is air travel, use the original packaging that the machine came with to pack it. Ensure that the needle stays up to prevent damage.
Conclusion
A cheaper sewing machine comes to the rescue when you are tight on budget. Our review has shown you the 7 best sewing machines under 100 so you can make an informed choice.
The DONYER POWER Electric Sewing Machine is an excellent machine with 12 built-in stitches, 300 stitches per minute, LED light and a free arm. This could be the ideal machine for you. 
Another option is the Janome Graceful Gray Basic Sewing Machine that comes with a finger guard to protect kids from getting their finger injured. It has 11 preset stitches with a knob for stitch adjustment.
Choosing any of these two sewing machines will make a good buy.