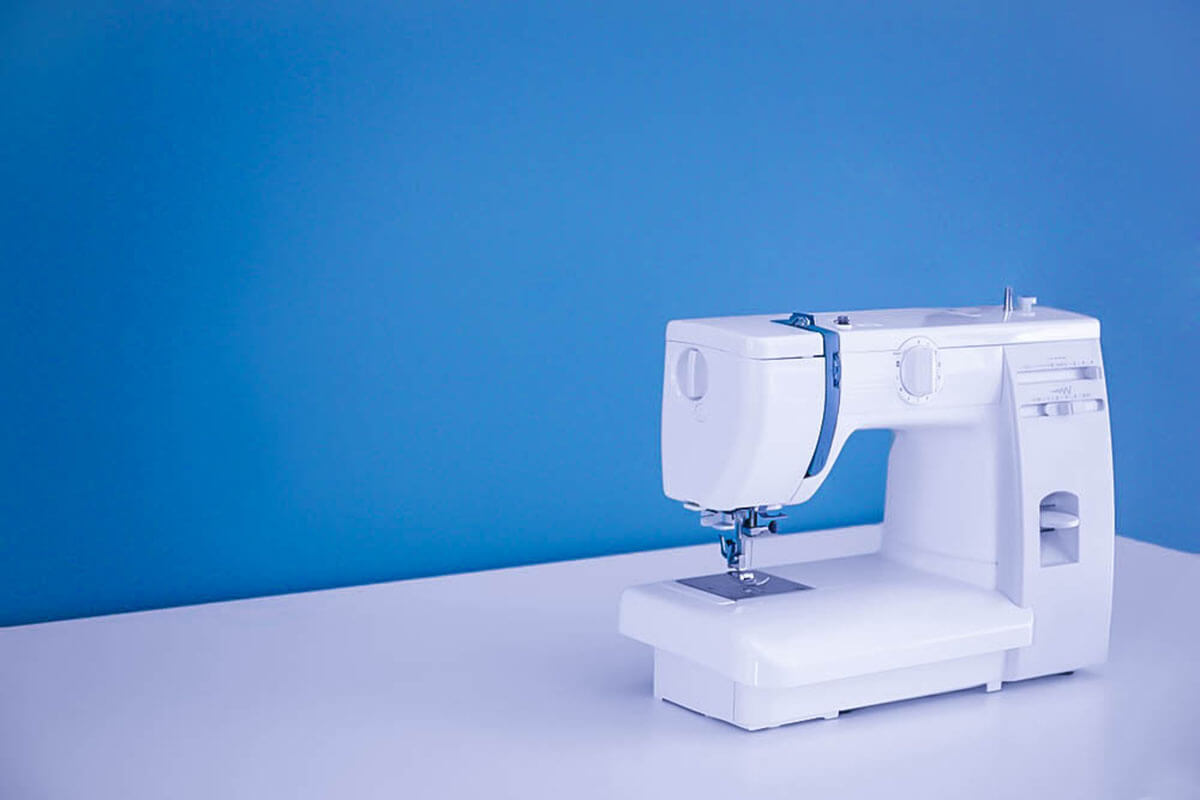 What is the best mechanical sewing machine? This is the question many beginners and sewing enthusiasts are asking right now. In this article, we shall be reviewing different types of mechanical sewing machines suitable for both beginners and experts alike.
With the complications that come with computerized and automated sewing machines, many people still prefer the mechanical sewing machine because of its ease of use and simplicity.
Mechanical sewing machines have a lot of advantages which include enhanced productivity, high speeds, low cost and low maintenance.
Even if you are not an expert in sewing, this type of machine helps you learn with ease. They are ideal for beginners and handling of large projects.
With the thousands of mechanical sewing machines in the market, choosing one that suits your needs can be a challenging task. This is why this review is made for you so you can make an informed choice that is worth the investment in the long run.
Read on as we review the 7 best mechanical sewing machines for your sewing comfort.
Our 7 Picks of the Best Mechanical Sewing Machine
Janome HD3000 Heavy-Duty Sewing Machine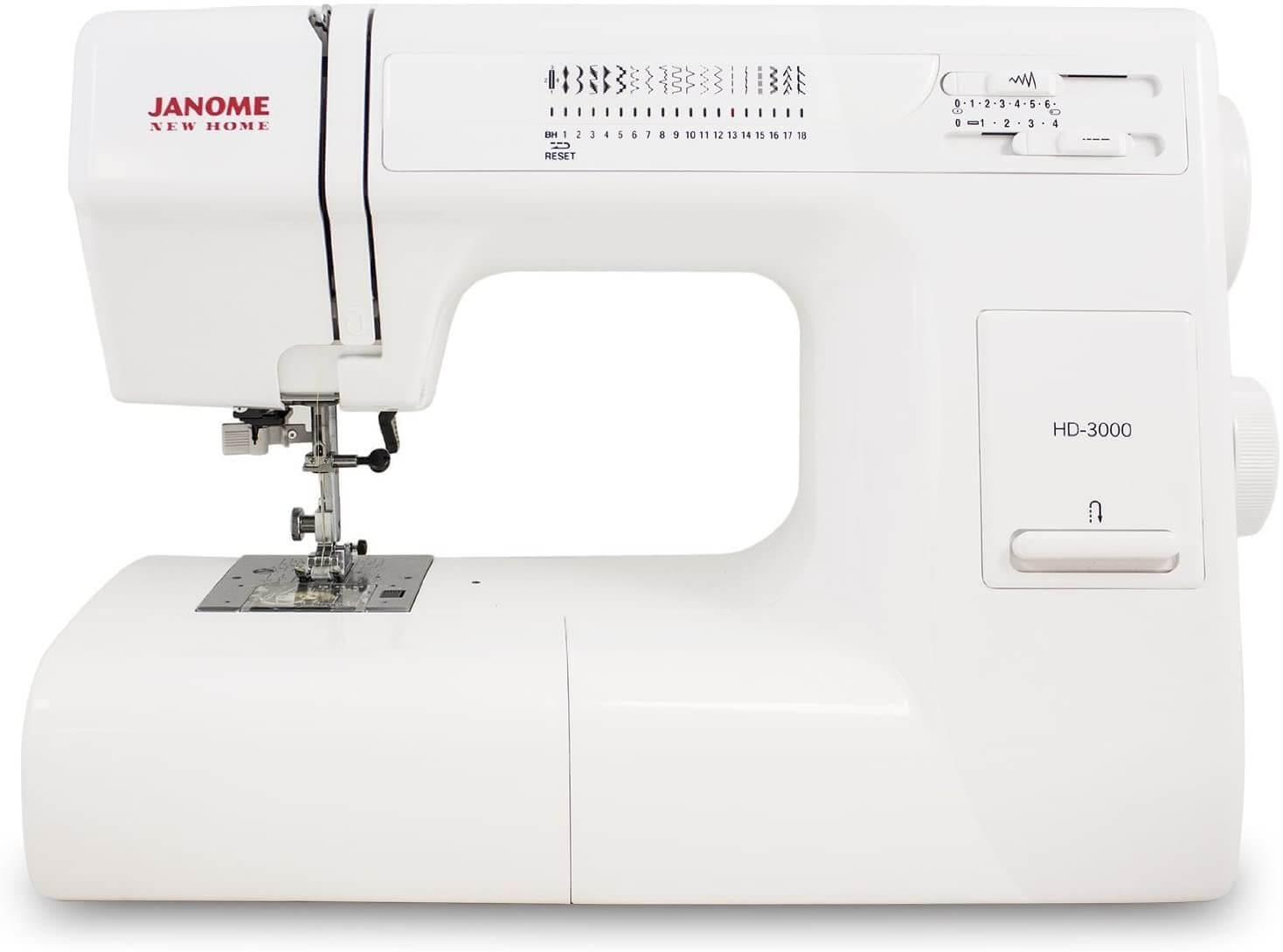 If you are looking for a sewing machine that is sturdily built, the HD-3000 is your best bet. It features 18 built-in stitches, an automatic needle threader, 1 step automatic button, a solid metal frame and a built-in thread cutter.
The HD-3000 is a user-friendly mechanical sewing machine that is well recommended for both beginners and experts alike. It is super easy to operate with excellent stitching quality.
When it comes to sewing heavy-duty fabrics, you can always count on the HD-3000. It is not only reliable; it is also durable and built to last. The machine is very functional with excellent performance. It enables you to do reverse stitching and is capable of sewing four layers of denim altogether.
This is a very versatile sewing machine that allows you to unleash your creativity to the fullest. The pressure on the presser foot is adjustable. Just turn the dial for quick adjustment.
With the pressure on the presser foot, the machine is able to accommodate all types of fabrics.
Talking of strong construction, most part of the machine is made from metal to guarantee sturdiness and durability while the rest is made from hard plastics. The sewing machine makes use of Janome needle and generic Schmetz needle. Its speed can easily be controlled from the foot pedal.
It comes with an instructional guide for easy setup and use.
PROS:
Sturdy and durable construction
Perfect for the sewing of heavy-duty materials such as denim and upholstery jobs
It includes automatic bobbin winding
Casing to prevent dust and debris
CONS:
It is a bit expensive
Not compatible with Singer needles
It is noisy and loud
back to menu ↑
SINGER Heavy-Duty 4423 Sewing Machine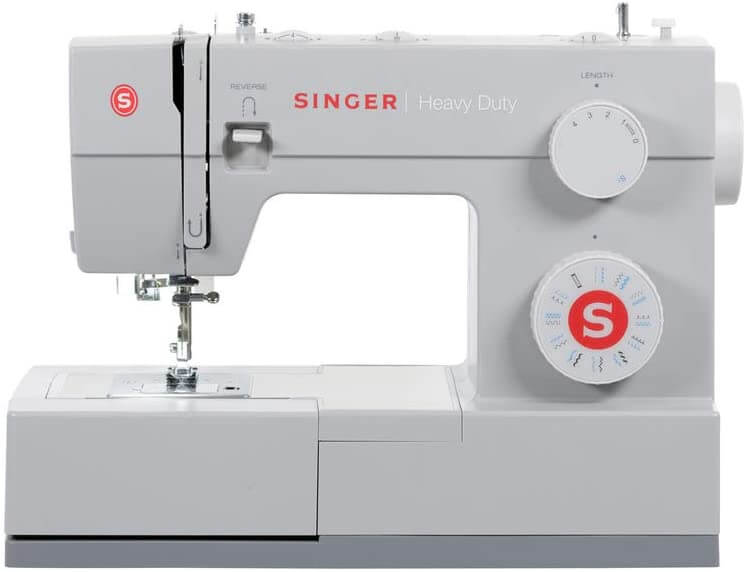 The SINGER 4423 is an excellent machine that combines high speeds with quality stitches to deliver impressive performance.
This machine sews 1,100 stitches in a minute. The speed is faster than most machines built for professionals. It is capable of handling different types of fabrics such as denim, corduroy, canvas, upholstery and vinyl. It sews leather too. For delicate fabrics like rayon, silk and satin, the SINGER 4423 handles them exceptionally with quality stitches.
When it comes to construction, this machine is made from a heavy-duty metal interior frame to ensure stability and durability. It always stays in place making it skid-free.
This is the ideal sewing machine especially for beginners because of its ease of use and operation. It is capable of quilting with a presser foot which is sold separately.
It comes with amazing features to meet your needs such as an extra-high presser foot lifter, 3 needle positions, fully automatic 1-step buttonhole, reserve sewing, 6mm wide stitch, free arm, snap-on presser foot, adjustable stitch length and an automatic needle threader.
Accessories include quilting guide, soft-sided dust cover, spool spin felt, auxiliary spool pin, screwdriver, bobbins, needles, zipper foot, all-purpose foot and button sewing foot.
PROS:
Solid and powerful motor
Made from heavy-duty metal frame
Portable and durable
Maximum sewing speed of 1100 stitches per minute
CONS:
Not designed for industrial sewing
Bobbin casing is made of plastic; not metal
back to menu ↑
Janome 2212 Sewing Machine
If you have been using a thread and needle since you were a child and you are looking for a sewing machine to start with, the Janome 2212 is your best bet.
This is an entry-level model of Janome sewing machines made perfectly for beginners. It features 12 built-in stitches and 4-step buttonhole making it a fully mechanical sewing machine.
The sewing machine is capable of handling a variety of fabrics such as satin, knits, velvet, polyester, taffeta, wool, linen, cotton, rayon, silk, upholstery and blends.
Some of its extremely useful features include 12 stitches, 1 4-step buttonhole; 5-piece feed dog, snap-on presser feet, and vertical oscillating hook bobbin, extra-high presser foot lift, push-pull bobbin winder, maximum stitch length 4mm and maximum stitch length 5mm.
PROS:
Easy and simple to use the free arm
Stitch selector dial
Easy to set up with instructional guide
Lightweight and portable
Built-in thread cutter
Suitable for beginners and experts
CONS:
Not suitable for some fabrics such as suede, leather, rubber, twill, fur, canvas, plastic and multiple layers of fabric.
Not enough workspace
The machine jams sometimes
back to menu ↑
SINGER Heavy Duty 4432 Sewing Machine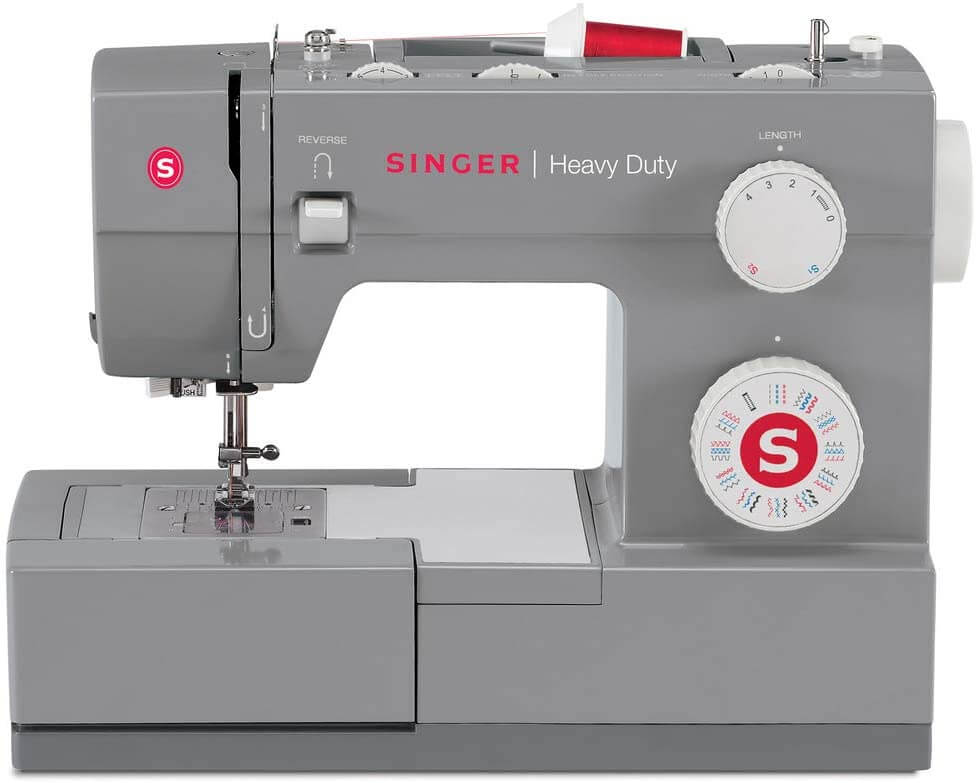 The SINGER heavy-duty 4432 sewing machine is an extremely high-speed sewing machine that is the darling of experienced sewing enthusiasts and novices. It maintains the old-fashioned durability of Singer with its modern ease of use. This model can virtually handle any sewing tasks.
Whether you are a professional tailor or you occasionally amend your pair of jeans, the Singer 4432 will deliver satisfactorily. This is a very versatile model that can sew anything from silk to leather.
It features 32 built-in stitches which include 7 stretch stitches, 18 decorative stitches and 6 essential stitches. It also comes with 1 fully automatic one-step buttonhole stitch. There are 3 needle positions to help you easily adjust from stitches to zippers.
This model handles lightweight and sturdier fabrics such as denim, vinyl, canvas, wool and many more. It meets your sewing needs no matter the situation. It can handle garment making, quilting, crafts and heavy-duty repairs such as belts and purses.
Other important features include a drop-in bobbin, a free arm and top-loading to help you make cuffs, collars and hems effortlessly. You will also find four pressure feet that are placed in the hinged drawer. The four pressure feet include zipper, all-purpose, buttonhole and button.
When it comes to stitching, the machine makes quality stitches at the rate of 1,100 stitches per minute. This machine has a reverse lever to make it easy to sew in the reverse position. It is able to perform effectively due to a 60 percent stronger motor. It gives you a factory-like finish especially when you hem jeans.
The SINGER 4432 is extremely quiet and sturdy.
PROS:
Portable and durable
Powerful and strong motor
Perfect for beginners to learn with
Stainless steel bedplate
1,100 stitches per minute
Heavy-duty metal frame
Easy operation
CONS:
No needle-down feature
No automatic bobbin winding
back to menu ↑
SINGER Start 1304 Free-Arm Sewing Machine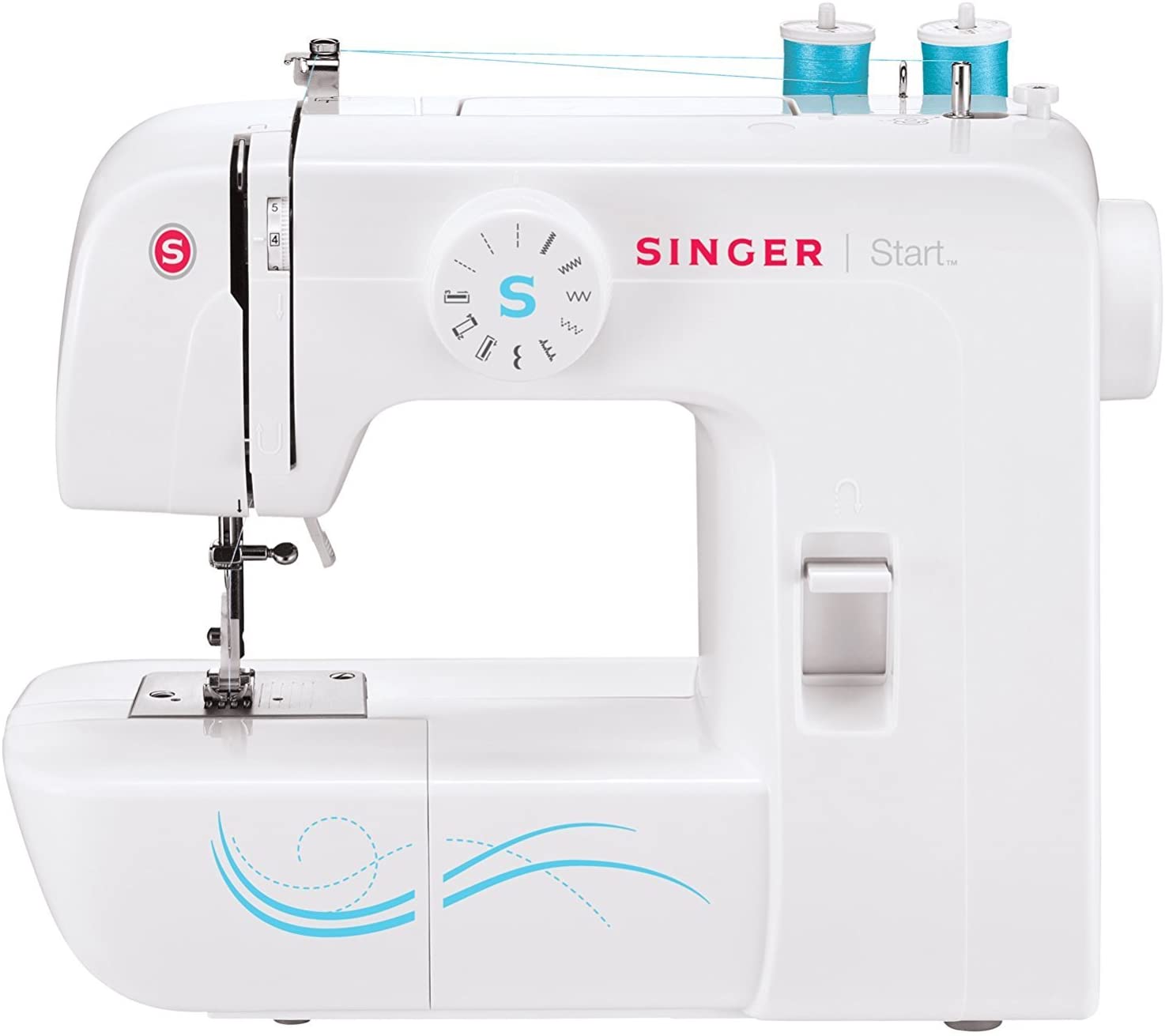 If you are on a tight budget but need a sewing machine that can be used to effectively handle daily domestic work, the SINGER Start 1304 is your best choice. Apart from being a low-budget machine, this machine is a great companion for beginners.
The SINGER Start 1304 features 6 basic built-in stitches. It comprises 1 scallop, 1 buttonhole, 1 blind hem, 1 zigzag stitch, 1 satin stitch, and 1 straight stitch. There is a rotating dial to help you choose your desired stitching option. You can decorate garments with the zigzag stitches, the hemstitches are ideal for the hemming of dresses while the straight stitches are perfect for basic sewing.
As a beginner or professional, you have no business setting the width and length of the stitches. It has already been pre-set by the manufacturer.
It has a free arm that is very useful when you need to hem trousers, sleeves and other stuffs. This is a machine that is easy to thread. It makes use of twin needle sewing that is pretty easy and quick with the assistance of the two vertical spool pins.
Despite being a budget sewing machine, the SINGER Start is built to last for a long time. It is sturdy and durable. Its internal frame is constructed with a heavy-duty metal frame which helps to perfectly hold the entire machine's mechanism for a skid-free performance.
There are 3 types of presser feet which include buttonhole, purpose foot and zipper foot. More buttonholes can be added. You can also make extra lots for more ribbons.
PROS:
Ease of set up and use
It is beginner-friendly
Sturdy and durable
Easy to thread
Affordable and compact
CONS:
Limited feature
Not ideal for advanced users
back to menu ↑
Janome HD1000 Heavy-Duty Sewing Machine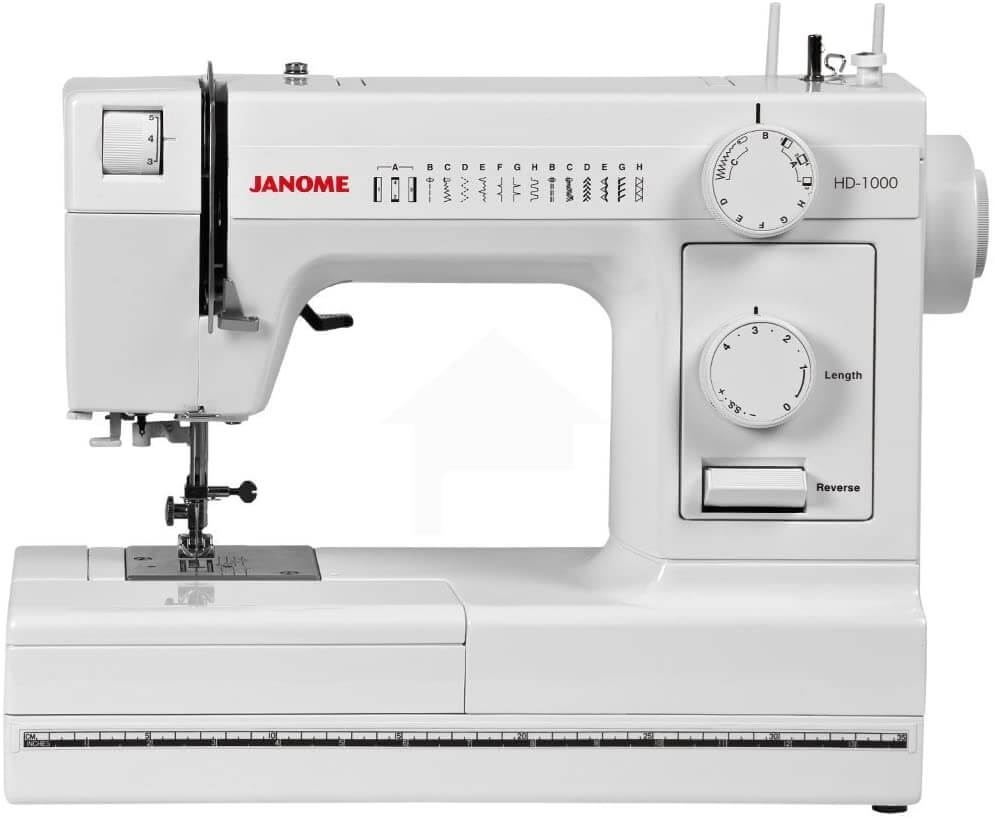 The Janome HD 1000 sewing machine feels like an industrial machine and it easily sews through multiple layers of heavier fabrics such as denim and upholstery. It can frequently have needle jams but it is still a good machine for beginners especially for children.
Janome HD 1000 is able to produce high-quality stitching no matter the fabric with 14 built-in stitches. Choose the right stitch by just pressing a dial. It has two different dials to help you adjust the stitch length and width. There are 4 different presser feet and it uses 4-step buttonhole.
Other great features of the machine include free arm sewing which is perfect for pants, drop feed which is ideal for attaching buttons, double spool holders for twin-needle work and easily adjustable thread tension control. The machine has a powerful motor to power through difficult materials.
Threading the sewing machine is a bit tricky. The threading is not as easy as the newer sewing machines. The threading goes from left to right while most machines threading moves from right to left.
This machine is excellent for sewing different fabrics such as natural fibers like cotton, linen and wool; fine fabrics such as silk, satin, taffeta and velvet; knits both medium and heavy fabrics; synthetic fabrics like polyester, rayon and blends; leather, suede, and fur.
It is difficult to use the machine to sew fabrics such as reptile skin, canvas, twill, plastic and rubber.
What is included in the package includes the Janome HD 1000 sewing machine, screwdrivers, bobbins, hardcover, spool pin felt, needles, seam ripper, zipper foot, hemmer foot, and blind stitch hem guide. There is also an instructional guide.
PROS:
Powerful and heavy-duty
Lightweight and durable
Easy to use and operate
Cast aluminium body frame
Metal chassis
CONS:
Not suitable for delicate fabrics
Improper use of the manual tension could cause frequent jamming
back to menu ↑
Bernette 35 Swiss Design Sewing Machine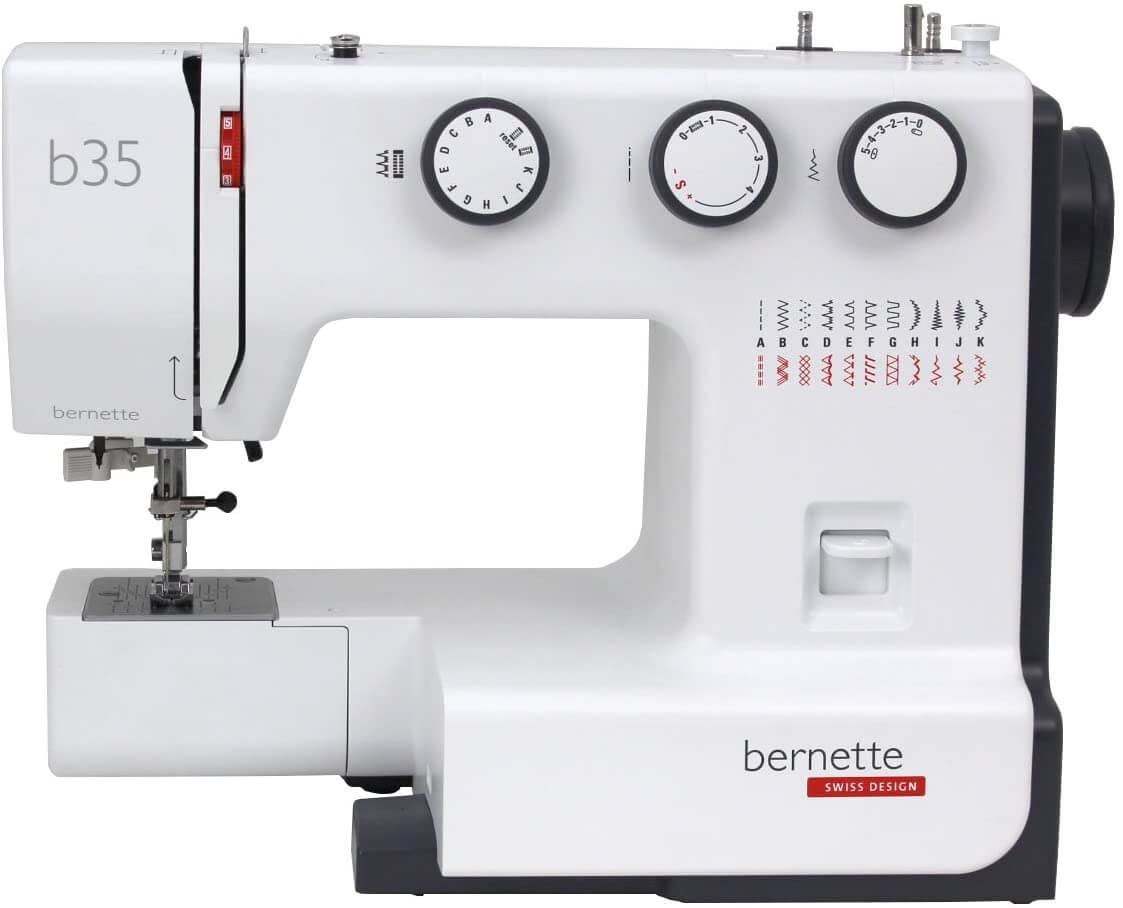 As a beginner, if you have been yearning to lunch yourself into the world of mechanical sewing machines, the best way to start is with the Bernette 35 sewing machine. This appliance is a beginner's best companion.
The machine is well equipped with the necessary basic accessories and basic stitches to help you make a good start to accomplish your sewing goals.
When it comes to design, the machine looks appealing and aesthetically designed. It is reliable and comes with many easy-to-use sewing possibilities.
With 23 stitches and 7 presser foot, what you get is hassle-free sewing. The width and length of the stitches can easily be adjusted. This allows you to make decorative stitches and other types of stitches. It makes beautiful stitches at speeds of up to 860 rpm.
For easy and convenient sewing, Bernette 35 has a built-in threader, an automatic winding tool for bobbin thread and a rack cut-off system. Bobbins are not always easy to find for your brand of sewing machine but in the case of Bernette 35, it compatible with universal bobbins helping you to save money and time.
The performance is extraordinary. The soft running of the sewing machine and its power drive deliver high-quality seam when sewing different types of fabrics from organza to silk to denim.
This is a durable and sturdy machine. It has a metal frame with a wide base for stability and comfort.
The features include 23 sewing operations, reverse lever, free sleeve, vertical shuttle, upper thread tension regulator, smooth adjustment of stitches, 4mm maximum stitch length, 4mm maximum zigzag width, additional lift of the presser foot and more.
The package includes a buttonhole opener, small and large screwdriver, zigzag foot, satin stitch foot, blind stitch foot, hemmer foot, assorted needles, bobbins and buttonhole foot with slide foot control.
PROS:
Affordable and pocket-friendly
Solidly constructed with metal frame
Ease of operation
Compatibility with universal bobbin
Stitching is done at a faster rate
Appealing and aesthetic design
CONS:
Vibrates while sewing
Makes noise when sewing heavy fabrics like denim
Buyer's Guide
Purchasing a mechanical sewing machine is not like picking a book of the shelf. Before choosing a machine of your choice, there are many things to consider if you want a long-lasting and durable appliance. Below are some of the considerations before purchasing a sewing machine.
Width and Length of the Stitch
Having the ability to control the length and width of your stitches will go a long way in helping you to produce neat and quality stitches. When width and length are well controlled, beautiful stitches are made on both sides of the fabric. Bad stitches are caused by the pulling of clothes when making stitches. So when looking for a mechanical sewing machine, it makes sense to look for one that has a variety of widths and lengths to suit your stitching needs.
Sewing Speeds
Speed is everything if you want to finish off the sewing of fabrics pretty quickly especially if you are a professional. Choosing a mechanical sewing machine with high sewing speeds will do you a lot of good. Don't waste time on a fabric that will take just hours to finish only to spend days due to the slowness of the machine. This will be counterproductive. You will end up having an awful experience if you purchase a machine that operates at snail speed.
Built-in Stitches
When looking for a mechanical sewing machine to buy, the number of built-in stitches matters a lot. A machine with limited built-in stitches won't allow you to express yourself to the fullest. As a rule of thumb, make sure you go for a machine that has at least 14 built-in stitches. But choose speed over the number of stitches. It makes no sense to have a machine with 25 built-in stitches for instance only for the machine to be very slow.
Purpose of the Machine
What is the purpose of buying the machine? What do you want the machine to do for you? This is something you must ponder about before purchasing a machine. It will amount to a waste of money if what you usually sew are heavy-duty fabrics but bought a machine that is specifically made for light materials. This will eventually lead to frustration. If you are a beginner and just want to learn with a mechanical sewing machine, it is advised you go for an entry-level machine but if you are an expert, you don't have to settle for less. Go for a highly functional machine that sews both light and heavy-duty materials excellently.
Free Arm
This is another important consideration that you must look into when you are buying a mechanical sewing machine. The free arm allows you to easily sew cylindrical areas and allows for enough room for the manipulation of some fabric areas such as the cuffs and collars. It also allows for quick repairs. Free arm machines are portable and can be carried anywhere without any hindrances. It can go with you on vacation or holiday.
Weight
Weight is crucial to choosing a good sewing machine. Durability does not translate to heaviness. You would like to choose a machine that is light so you can carry it from place to place with ease. If you do not have a permanent place to keep the machine, you will have to look for a machine that is easy to carry. It is better to choose a machine with a handle for easy carriage.
Cost/Budget
There are mechanical sewing machines that are under and above $100. Machines with advanced features will definitely cost more than others. Machines that are made from plastic will be cheap while the ones made of the metal frame will cost more. Choose a metal frame machine that is within budget. Plastic machines can break down easily while machines with metal frames are sturdier and more durable.
Built-in Automatic Needle Threader
This is something that you must not overlook when contemplating buying a sewing machine. Threading a needle is very difficult. It requires a stable hand and a sharp eye to put the thread through the eye of the needle. This challenge is completely eliminated with the automatic needle threader. It helps you to thread a needle in a matter of seconds. The automatic needle threader comes with drop-in bobbin which makes it jam-resistant. With an automatic needle threader, there is no time to waste. It is something beginners will cherish a lot.
Ease of Use
You do not want a complicated sewing machine that will affect your work by affecting your productivity. Even if the machine is made for experts, the learning curve should not be difficult. Your machine should be easy to work with. As such, you must choose a machine that makes work interesting. Many of the machines have a user manual for ease of setup. Ensure that the user manual is easy to understand and not complicated. A mechanical sewing machine should be easy to use and should also be a breeze for beginners.
Top Loading Drop-in Bobbin
When choosing a mechanical sewing machine, ensure that it has a top-loading drop-in bobbin. If the bobbin is hidden, you won't know when the thread is exhausted. If you have a top-loading drop-in bobbin, then, you can see when the thread is running low so you can roll up the thread again. A hidden bobbin can make you waste your time. The machine may continue to run without knowing that you are sewing without a thread. That can be really annoying and disgusting. With a top drop-in bobbin, there is no need to disassemble the machine before loading the thread. It has a see-through plastic that helps see when the thread is running low. A machine with this feature will be great for both beginners and experts.
Nice Ergonomics and Controls
The machine should be easy to handle. This includes being responsive to pressure on the foot pedal. There should be no stalling or tangling when sewing heavy-duty fabrics with multiple layers. The controls should be easily accessible. The symbol on the LED light should also be easy to read. Ensure that the machine is roomy enough to the right of the needle to provide enough space for your hands and fabric.
Presser's Feet
First of all, find out how many presser feet comes with the machine that you want to purchase. For basic use, a machine may have a multi-purpose foot that can handle straight and zigzag stitches. It makes sense to look out for a sewing appliance that also has a zipper foot and buttonhole foot. An adjustable presser foot helps to regulate the tightness of a fabric on the machine when being sewn. This helps to prevent the tangling or roughening of the fabric. There are many machines with specialty presser feet in the market. Look out for one of them.
Power Switch
A sewing machine with a power switch is safe to use especially if you have children around you. The ON/OFF switch will always come in handy. If your machine does not have a power switch, look for a safer way to use it without causing injuries or hazards to people around you.
Noise Level
If you hate noise, it makes sense to avoid a noisy machine. Some machine noises look like a train is passing by. That is not good for anyone's health. Choose a machine with a low noise level. The noise levels of machines range from 65 to 80 dB. Going for one with 60 dB will do you a lot of good.
Feed Dogs
Feed dogs are jagged teeth that are found under the needle. The feed dogs control the movement of fabrics. The more the feed dogs, the easier the control. Choose one with a minimum of 7 points.
Knee Lifter
This feature does not come with most machines. The knee lifter is a very helpful function. Using the knee lifter allows you to lift the presser foot and drop the feed dog with your feet rather than using your hands. It is perfect for free-hand embroidery when you need your hand to be free so you can guide the fabric appropriately.
Sewing Bed
The sewing bed is the main sewing area under the presser foot and needle. It is good for the sewing of tabular pieces such as a trouser or sleeves. It is also useful when sewing large items such as curtains.
Stitch Selector
These are the dials that allow you to choose your stitch type, length and width. This feature is pre-set in most machines.
Twin Needle
Twin needle helps in creating two parallel rows of stitching to give you a stronger seam. It allows you to use two colors of threads if you want to do so.
Warranty
This is important for any device; not just a sewing machine. Warranties give you the right to return a product if it is still covered within the warranty period. Luckily, for mechanical sewing machines and other types of sewing machines, they come with at least 25 years of warranty.
FAQs
How Often Do I Need to Lubricate My Machine?
Answer: A mechanical sewing machine does not require frequent oiling. If it is used once a week, then, oiling once a month is fine. When used once in a month, lubricating it once in 3 months won't be bad. In case you are using the machine regularly for business, oil it weekly.
Why So I Need a Machine With Many Stitch Options?
Answer: A machine with many stitch options help you to be creative. As a beginner, it allows you to experiment with different stitch options so you can become an expert in stitching.
Should I Choose a Machine With a Metal Frame or Plastic Frame?
Answer: If you need a durable and sturdy machine, it is advised you go for a machine with metal frames. It is more rugged and more stable than plastic frame machines
What is the Best Mechanical Sewing Machine Under $200?
Answer: If you are looking for a machine that is under $200, we recommend the Janome 2212.
Conclusion
This concludes our review of the 7 best mechanical sewing machines. It is hoped that our review has helped you make an informed choice. While we can vouch for the quality and durability of the above 7 sewing machines, we think our recommendation will help you in case you are finding it difficult to decide.
We recommend the Janome HD3000 Heavy-Duty Sewing Machine or SINGER Heavy-Duty 4432. If your budget is really tight and you need a mechanical sewing machine, you can go for the SINGER Start 1304 or Bernette 35 Swiss Design Sewing Machine.