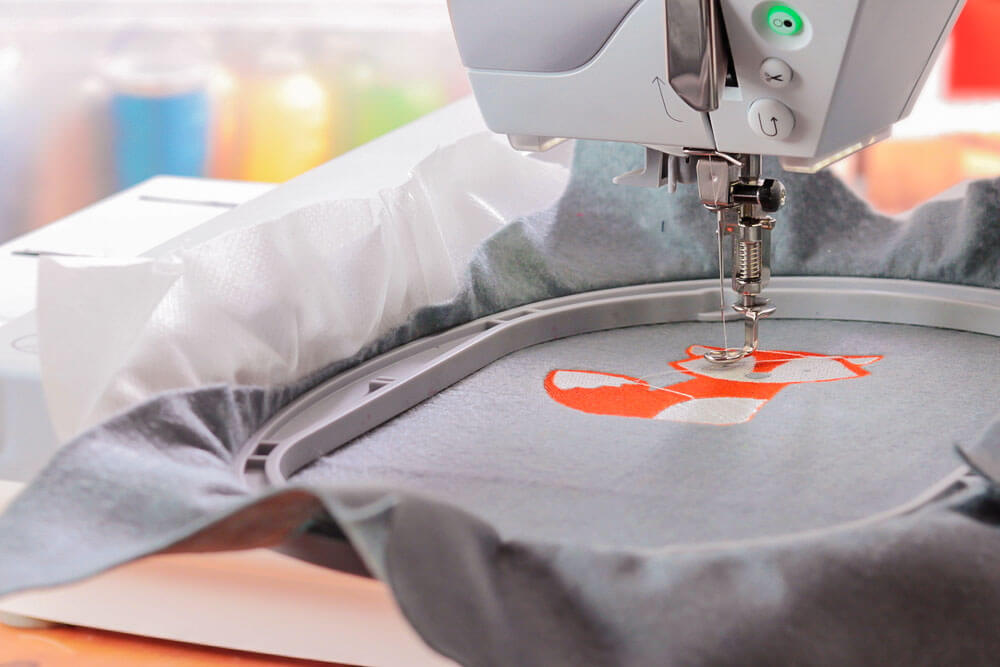 Whether you intend to sew a new dress for yourself or want to surprise your mom with a superb elegant sweater, the embroidery machine for monogramming is regarded as an excellent choice. At present, they have become an integral part of the commercial fashion industry and residential homes. With a monogrammed embroidery machine, users can stitch different designs without causing any harm to the fabric. With a plethora of ready-made designs, you can come up with your unique piece.
It is possible to add a signature design to a piece of cloth with the aid of the embroidery machine for monogramming.   We have included the reviews of the best embroidery machine for monogramming along with their extensive features in this comprehensive guide which will help you in taking an informed purchase decision. Check out!
Brother SE600 Embroidery Machine | 80 Designs | 103 Built-In Stitches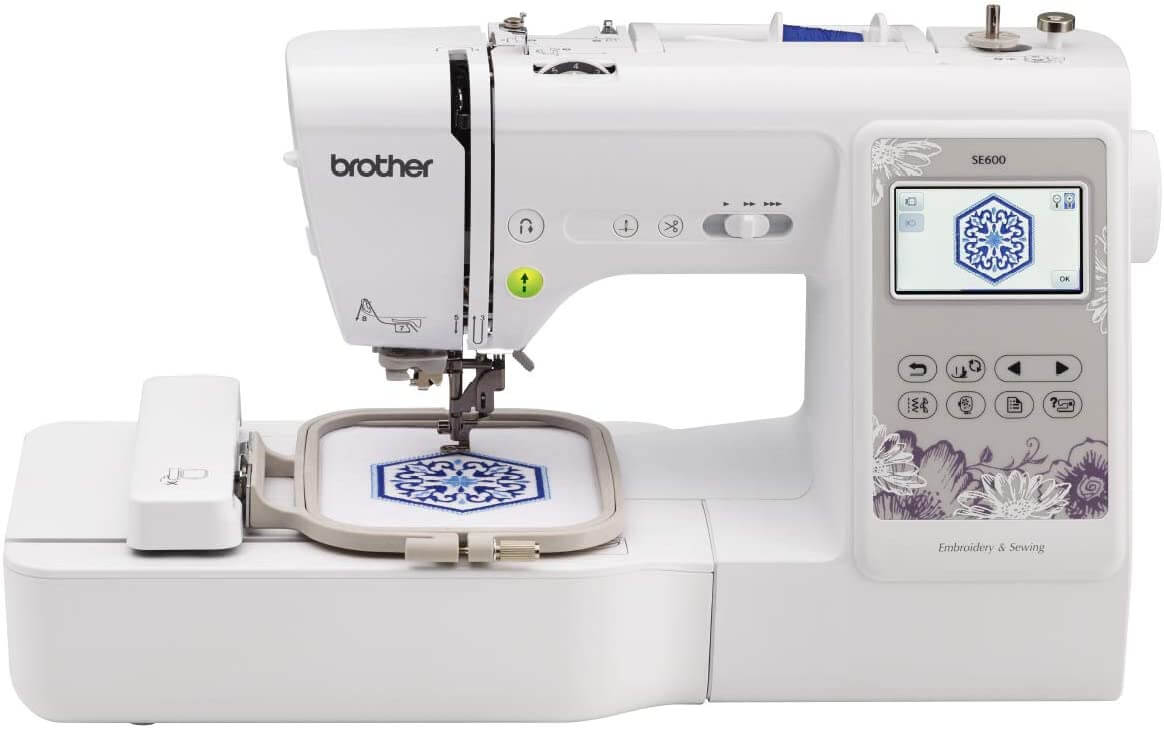 With the right advanced technological makeup, this product can transform your utopia into reality. This product incorporates a lot of bells and whistles which help you to develop ultimate fashion masterpiece without burning a hole in your pocket. It is the perfect combination of a sewing and computerized machine. So, you do not need to spend additional bucks for getting a sewing or embroidery unit. There are options to save the designs in the internal memory of the unit. With this model, users can complete amazing stitches like waves, scallops, and hearts, to name a few.
For the desired embroidery design; you require downloading the same from the internet after which the same should be transferred with a USB 2.0 port and stick connected. Also, this model boasts of the 80 ready-made embroidery designs to give decor to the product. Users have the luxury of 103 built-in stitches which is beneficial in making the right stitch pattern for the craft. With this specific feature, this unit can beat the competitive edge.
The presence of LED lights illuminates the working area to embroider and sew the garments. This feature is ideal for elderly people who have poor eyesight or those who have to work in low light conditions. Thus, you will be able to do the free motion to sew the quits or view the dark-colored fabrics without any hassles. This unit also accommodates the top drop-in bobbin, resistant to jam. Due to the presence of this feature, people love this product instead of those sewing machines with the side-loaded bobbins.
At times, because of poor eyesight, it becomes challenging for people to insert the thread in the needle eye. The automatic needle threader comes to the rescue in this aspect as it helps in threading the needle in the blink of an eye.
It features an LCD touch screen in the front part where you can view the embroidery design, you have chosen. It also allows you to edit the design on the screen for previewing it and get an idea of how it is going to look after sewing. Likewise, with the 6 lettering fonts, you have more options for decorating the garments with numbers, symbols, and small and capital letters.
When you plan to work on an embroidery project, you should choose a large area for spreading the fabric. This monogramming machine from Brother comes with a 4 x 4 embroidery work area which opens the door which makes working on the fabric a piece of cake. With the Free Arm, you can make sleeves and cuffs without any hassles. Other accessories that have lured the attention of the end-users are embroidery foot, foot controller, needle pack, dust cover, embroidery hoop, and 7 sewing feet.
Features
Free Arm
LED lights
top drop-in bobbin
LCD touchscreen
6 lettering fonts
80 built-in designs
103 built-in stitches
PROS:
Portable
Easy to set up
Versatile
CONS:
A bit pricey for some users
back to menu ↑
Brother PE535 Machine | 80 Built Designs 9 Font Styles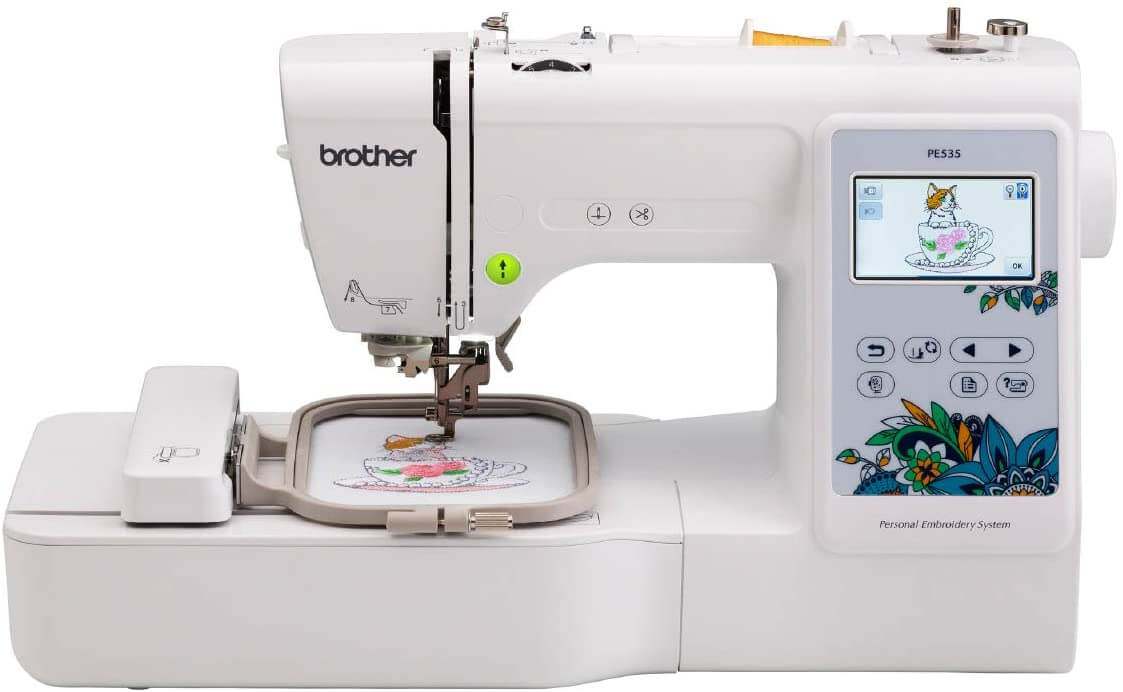 This model is an excellent choice for completing home embroidery projects without encountering too many hurdles. You can create designs of premium quality with this model. There are options to choose from 80 ready-made designs, such as holiday, floral and kids styles, ten different nice frame patterns and superb alphabet for lettering.
The LCD display happens to be another exclusive feature of this unit by which you can check out the design, you have selected. Users can change the colors of various parts of the design. The LCD touch screen is available in full color which allows you to view as well as edit various details of the design, before applying it. The automatic needle threader is yet another feature of this unit which saves an ample amount of time.
You can select from any of the 9 built-in fonts (3 Japanese lettering fonts and 6 English fonts)for customizing a creation. The Embroidery Pattern Drag and Drop function happens to be an exclusive feature of this unit which allows you to come up with a unique design of your own with the single touch of a finger. To apply the design, you require clicking on a specific design, move the same to the other design for creating a combination and then drop it.
The built-in LED light is another worth mentioning feature of this unit which brightens the area around the needle. Moreover, the bobbin thread sensor sends notifications in the form of alerts as the machine is out of thread and low. This feature makes embroidering easy for the newbies. A potential user can upload as well as store the embroidery design in the ready-made memory via the USB port.
This unit has an embroidery area of 4 "X 4" inches which lets them create patterns on various pieces of clothes such as bed sets, curtains, tablecloths. A worth mentioning reason why end-users prefer it over other brands is that it comes with a warranty of 25 years and so you do not need to worry about replacing the product any time soon.
Check out top 5 best embroidery machine for samall business here.
Features
80 built-in designs
Automatic needle threader
LCD display
4″X4″ embroidery area
Ready-made LED light
9 built-in fonts
USB port
PROS:
Easy to edit
Ease of use
Great user experience
Good price
Ideal for beginners
Portable
Quiet in operation
CONS:
Not a suitable choice for the advanced sewer
Embroidery machine only
back to menu ↑
Brother PE770 Embroidery Machine with Built-in Memory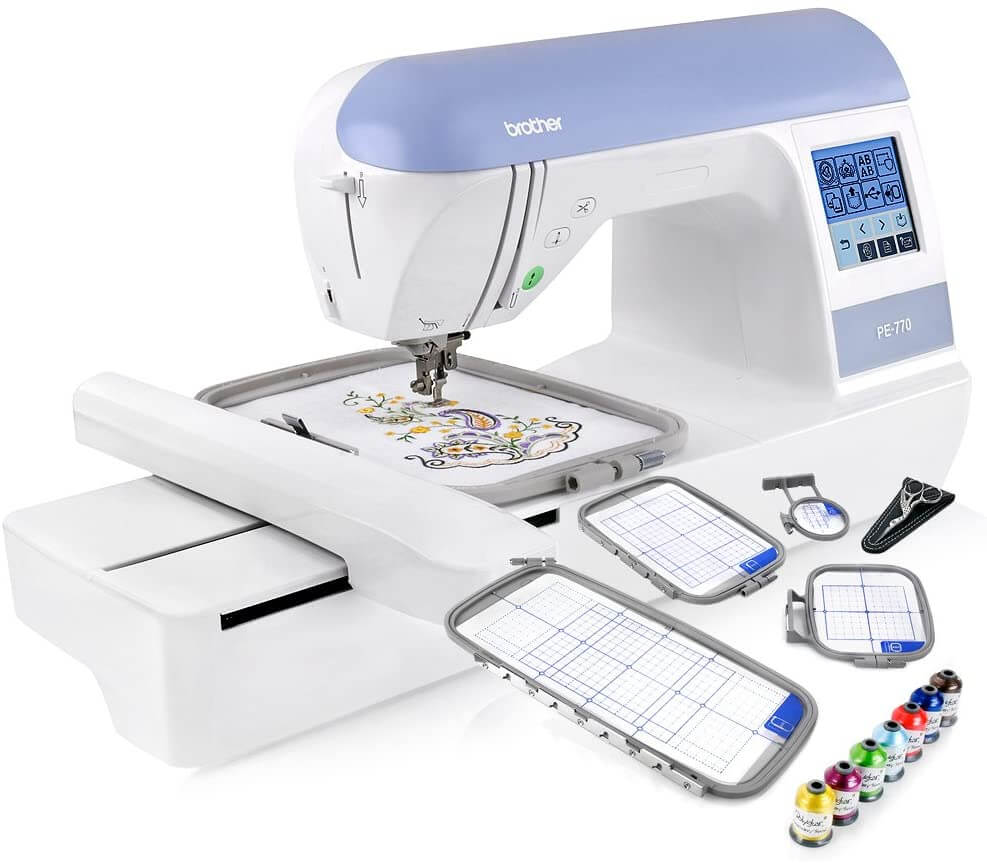 People who want to take their embroidery work to the next level are sure to reap a lot of benefits by investing in this machine. With a wide assortment of seamless design, it allows you to do the embroidery work without any hassles. The built-in memory contributes to being a crucial feature of this unit which helps you in importing the image, you want, with the aid of a USB.  The Auto thread trimmer is a unique attribute of this model that cuts the lower and upper thread for the user with the single touch of a button.
The backlit LCD screen is another worth mentioning feature of this unit which boasts of several easy to navigate editing features along with a sophisticated design. A plethora of people favors this model owing to it's out of the ordinary design editing features like enhancing and rotating the size of the image. It is possible to view the mirror image and introduce changes in the design, as per your requirements.
The printed numbered chart feature, present on the machine allows the potential user to thread without encountering any challenges. Furthermore, the automatic needle threader is another crucial feature of this unit which ensures ease of threading. It is equipped with 11 different sewing feet which are inclusive of zipper, overcasting, and blind stitch, to name a few.
Another prominent reason why people prefer this model over other traditional models is that it comes with a large embroidery area of 5×7 inches. Thus, you have sufficient space for creating bigger jacket backs, monograms, to name a few. As you take an in-depth look into this unit, it features 184 sewing stitches of different variations, like the drawn work.
Additionally, you can also find 136 ready-made designs, which are inclusive of 12 border styles and 10 frame shapes. The on-screen help feature of this unit allows you to check out the tutorials on the screen and hence you do not need to take the trouble of reading the user manual anymore while sewing. The Quick-set bobbin lets you start embroidering in no time.
Equally important, are the other exclusive features of this unit are a dust cover, power cord, operation manual, embroidery arm, and embroidery hoop, an accessory bag that contains a power cord, bobbins, scissors, spool caps, screwdrivers, and self-cleaning brush.
Features
Embroidery Area of 5*7 inches
184 sewing stitches
136 built-in designs
LCD Touch Screen Display
Design editing features
Automatic needle threader
Built-in memory
PROS:
Great stitch quality
Quiet operation
Flexible
Easy to use
Budget-friendly
CONS:
Limited options for editing
back to menu ↑
Brother PE550D Machine | 125 Built including 45 Disney Designs 9 Font Styles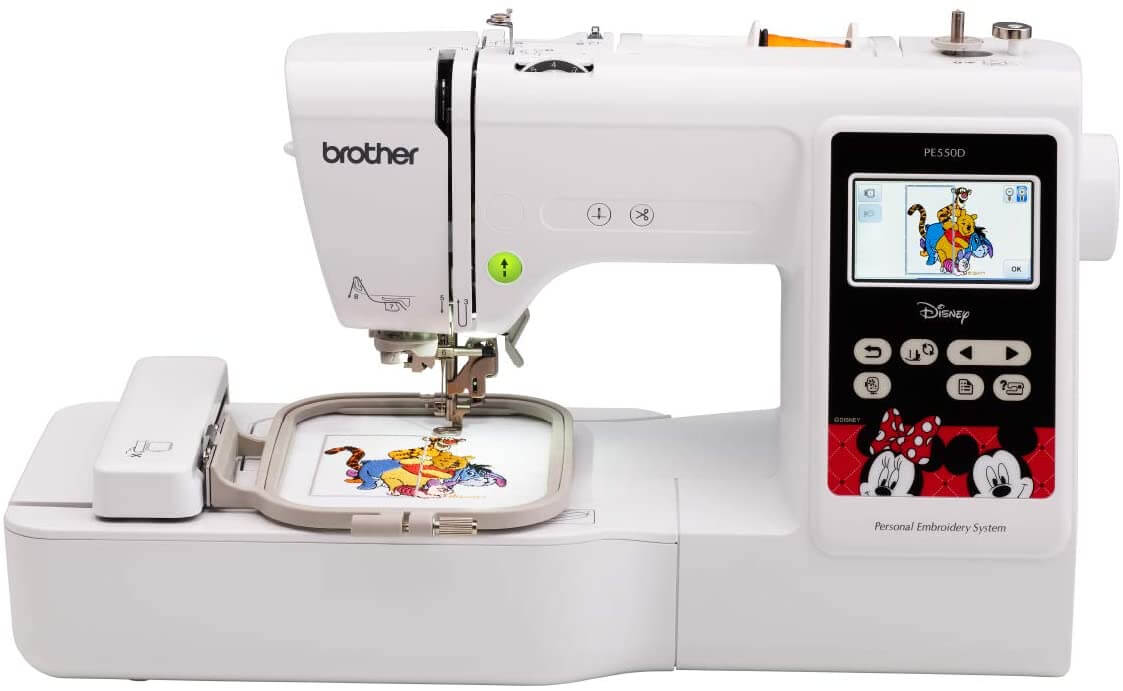 It is an easy to use and lightweight embroidery only machine which can be availed at the least cut off from the pocket. The Disney theme is the USP of this product which allows the end-user to select between 45 ready-made Disney themes which constitute modern stories such as frozen classics such as Winnie the Pooh. A specific section is present for Disney on the color screen. Besides this, you can select from the various decorative alphabet, holiday, floral, borders, and kids' design. With 6 ready-made embroidery lettering fonts, it is possible to customize the creation and bringing out the most perfect design. Users can align the text at different angles, produce curves, decrease or raise the space between different letters, put text on several lines.
The automatic needle threader is going to save you from a lot of hurdles as it does not strain the eyes. This works best for the styles which need a plethora of thread designs. By the same token, the drop-in bobbin can be winded at ease whereas the clear bobbin case cover lets you monitor the use of thread at ease. This model has received a lot of appreciation due to the built-in memory which is capable of storing 125 unique embroidery designs. Thus, you can store a bunch of premium and personalized patterns of embroidery. Once the memory gets full, you need to use the USB port for the transfer of unused designs to the flash drive.
Likewise, it has an LCD touch screen of 3.2 inches which furnishes a display of the selected font and design. This screen lets you control different functions of the device without any hassles. With a work area of 4 x 4 inches, you can execute the design of your choice at much ease. This model also encompasses a design alignment tool along with a grid sheet for the successful implementation of the design. Due to the lightweight construction, you can carry it from one place to the other without any hassles.
Again, this computerized monogram machine comes with a dust cover which prevents the dust to get accumulated on it. Users are purchasing this product on a wide scale as it is handy for stitching various kinds of fabric and creating soft toys, curtains. In addition to this, you will get various accessories like 2 screwdrivers, 3 needles, 3 bobbins, spool net, spool caps, 2 screwdrivers, power cord, dust cover, cleaning brush, and scissors.
Features
4″x4″ embroidery field
LCD touch screen display
9 ready-made fonts
125 built-in designs
Automatic needle threader
PROS:
Easy to operate
Budget-friendly
Lightweight
Unlimited choice of designs
Easy to use
CONS:
You cannot use this machine for sewing
back to menu ↑
Brother LB5000M Marvel Computerized Sewing and Embroidery Machine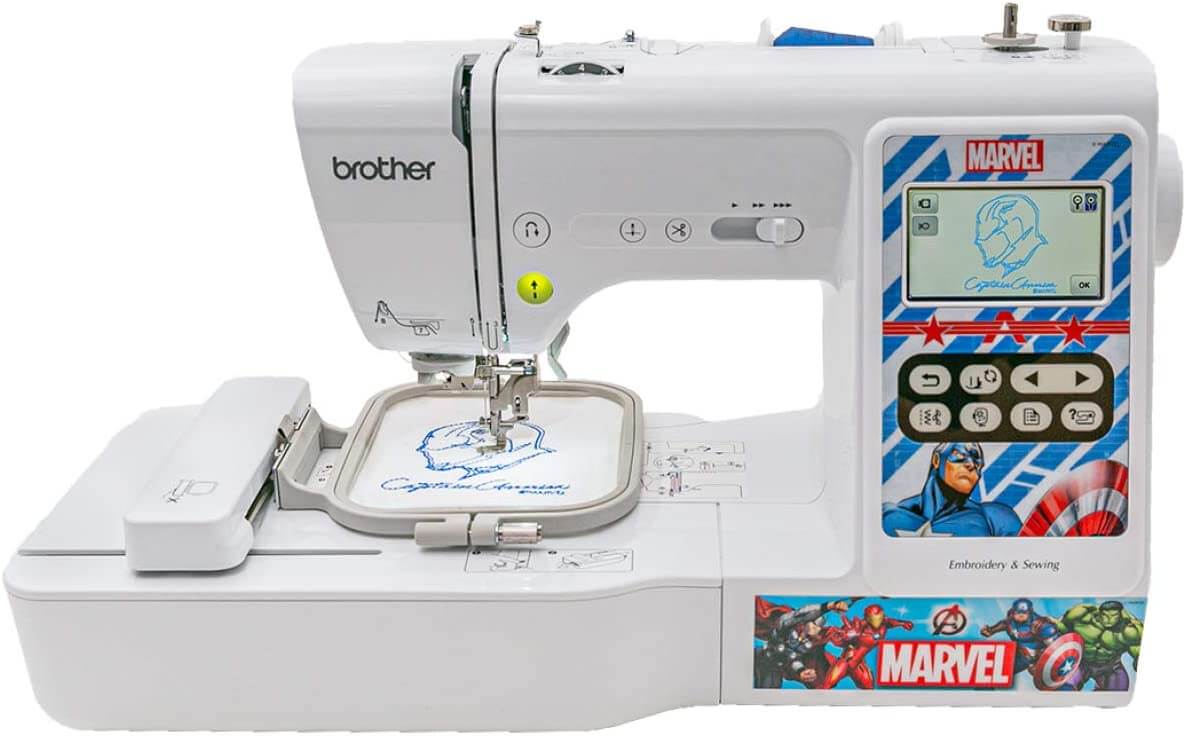 This brother embroidery machine incorporates the features of embroidery and sewing machines into one. It allows you to create impressive, amazing and beautiful styles, patterns, designs on a simple fabric. It has three different interchangeable Marvel character faceplates along with the Marvel Avengers faceplate to take your creation to an advanced level. Thus, you can personalize the machine in no time by switching between The Iron Man, The Hulk and the Captain America faceplates within a short period.
It also has a ready-made USB port by which you can transfer the embroidery designs out of the machine, in case there is no remaining space in the memory. At the same time, the 103 ready-made sewing stitches are the other worth mentioning features of this unit which include the quilting, utility, and decorative stitches. The color touch LCD is the other optimum feature of this unit which offers the options for previewing, editing and choosing the kind of stitch. It helps you to ensure that the designs are at per your imagination.
Due to the Automatic bobbin winding feature, you can create an amazing bobbin to ensure optimal sewing. Other than this, it has 80 ready-made embroidery designs that are inclusive of the amazing decorative alphabet, holiday, border, kids and floral design. Potential users can choose from 10 different frame designs, 14 border styles, and 11 lettering fonts along with hassle-free access to iBroidery.com from different user-friendly designs.
Due to the ready-made tutorial, the users do not encounter any hassles while creating the design. The amazing editing features allow you to personalize the design. Hence, you can rotate, reduce, enhance, or mirror image the size of the design, catering to your needs. With an embroidery space of 5″ x 7″, it provides sufficient room for the lettering and larger designs.
Apart from this, it confers enough needle-to-arm workspace to fold the bulky projects and make sewing easy. The automatic needle threader is another positive feature of this model by which you can thread the needle with the single press of the level. The package comprises 7 sewing feet along with a blind stitch, spring action zigzag, zipper, over casting, buttonhole, 1 embroidery foot, button sewing feet, button sewing feet, embroidery arm, hoop.
Features
LCD touch screen display
80 ready-made designs
103 sewing stitches
4 X 4 embroidery field
3 interchangeable character
Ready-made USB port
Automatic needle threader
PROS:
Easy to use
Powerful
Large embroidery space
Ease of threading
CONS:
Cannot achieve the best results on thicker fabric
back to menu ↑
Guide to Choosing Embroidery Machine for Monogramming 
As you research the market, you will come across different models of the embroidery machines for monogramming. To make the purchasing decision easier for you, we have introduced the features; you need to take into account for finding the best monogramming machines. Take a look!
Whether you will use it for sewing as well
A wide array of the computerized monogram machine, available in the market does the embroidery only whereas a lot of them has the combination of sewing and embroidery features. If you want more versatility and plenty of room to create the most effective designs, it is recommended to opt for such a combo machine.
Whether you are going to use the machine for professional or commercial use
People who want a machine for professional and commercial use can go for a high-end embroidery machine. But if you are a person who wants to sew in bulk, you should invest in a commercial machine. The advanced commercial machines generally possess 15 needles and are the optimum choice to bring out the best embroidery design with a bunch of colors. For monogramming, single or few colors are enough and in such cases, you can pick a machine that boasts of six needles and a commercial single head.
Color touch screen
It is another worth mentioning feature that is preferred by users, looking for an embroidery monogramming machine. Such machine confers a lot of options which include dragging and touching the designs around the screen, choose various functions. Each of the brands of the machine is known to have a different setting. You should make sure that the machine can be navigated around at ease and thus you can bring out the best of your designs without any hassles.
Larger embroidery area
It is another prominent feature; you need to take into account while buying the embroidery machines of your choice. As the machine has a larger embroidery area, you will gain success in sewing larger pieces of clothes without any hassles.
USB connection
You should go for an embroidery machine for monogramming which has a USB port. It allows you to download the designs of your choice from the internet so that you can import them at ease in the machine. This feature is particularly used if the memory of the machine becomes full. In such cases, you can download the designs into a drive via this USB port.
Weight
This feature is particularly useful if you do not have sufficient space in your home. As the embroidery machines, you are going to buy, are lighter in weight, you can carry them from one place to the other without any troubles, thereby preventing any sort of interruption in your sewing.
In-built designs
The total number of in-built designs in these machines differs from one model to the other. You should pick an embroidery machine, with about a hundred designs and various fonts of monogramming. Thus, you can choose from a variety of styles and patterns and bring out the best embroidery designs.
Warranty
The embroidery machines are recognized to be high-end gadgets and you do not want to replace them every other year. Hence, you should pick an embroidery machine for monogramming with a lot of features. Make sure that the unit, you are going to buy have at least three years of warranty so that you can use them for a prolonged period.
A worth mentioning reason why people are preferring these machines over the manual embroidering is that they are capable of working faster without any sort of mental and physical fatigue. You do not need to spend hours while embroidering a single piece of cloth by hand as these products can reduce the time drastically.
Wrap up
These machines are also loved on a wide scale by the potential buyers as they offer the ultimate luxury for producing the best in class embroidery garments in bulk at the least cut off from the pocket. Since these machines are known to work with higher accuracy, it offers you the prerequisite choice to design the garments with the correct symmetry, thereby enhancing the aesthetic appeal of your garments