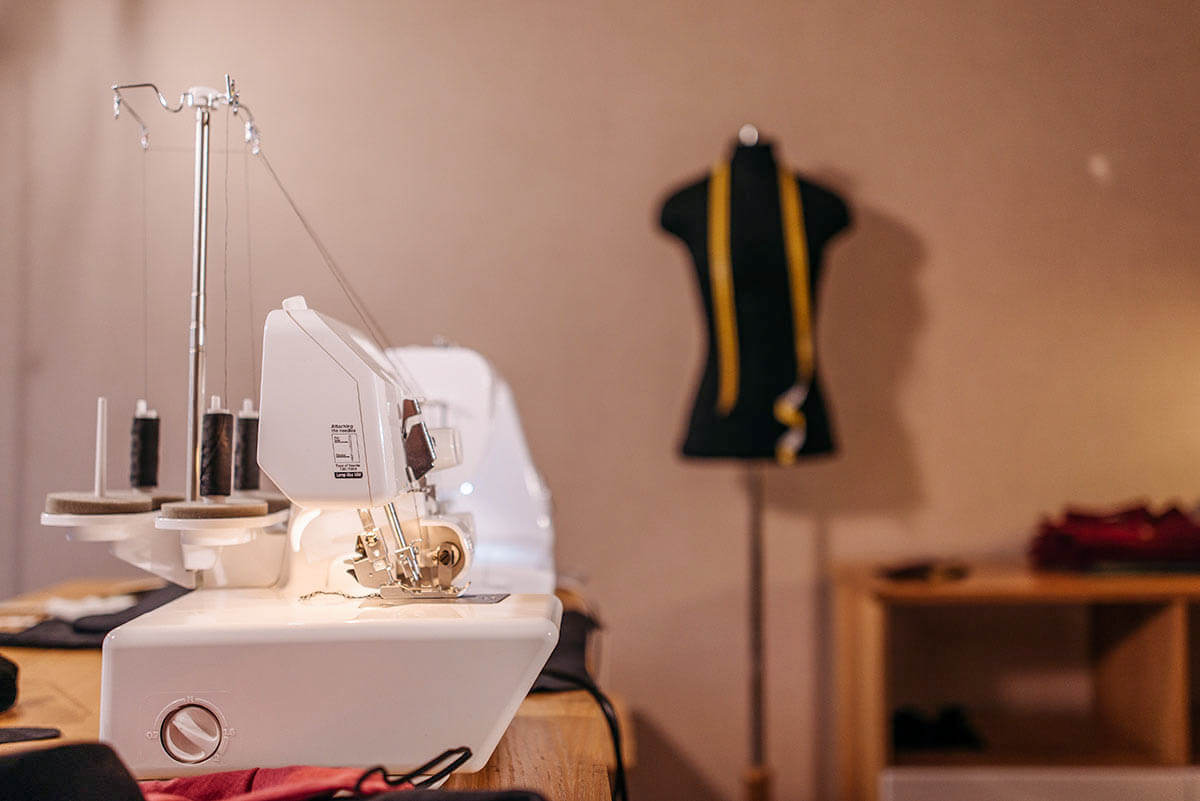 In this post, we shall be discussing some types of sewing machines – what they are used for and whether you need them. This brings us to the comparison between coverstitch and serger.
What is a Coverstitch Machine? 
A coverstitch machine is a machine that is made to give you a professional finish on hems. It is a machine that helps in making even, secure and stretchable seams that move along with the fabric. The machine finishes hems beautifully on different types of garments, especially on knit fabrics.
A lot of seamstresses don't like sewing knit garments because it is very tricky doing such with the traditional sewing machine. While a serger can be of assistance, no machine handles knits better than the coverstitch machine.
What is a Serger?
A serger, also known as an overlock machine is a kind of sewing machine that makes use of multiple threads to seam fabric. A serger is designed to add clean and professional finishes to your seams, hems, sleeves and other items that you are sewing.
The machine trims the allowances of the seam and securely encases the raw edges. It is used for both construction and finishing.
Difference Between a Coverstitch Machine and a Serger
There is a lot of difference between a Coverstitch Machine and a Serger. Below are some of them:
A coverstitch machine has a looper for threading while a serger has two
The coverstitch has no cutting knives to trim uneven fabric edges while a serger has two cutting knives.
The coverstitch has got three needles while a serger has two but the newer versions of sergers offer the option of three or four needles
A coverstitch work area is larger than that of the serger
A coverstitch does just one thing which is to make a professional finish on hems but a serger does two things – serge fabric edges and trims edges. This helps to save you a lot of time.
Coverstitch vs. Serger: Comparison Table
| | | | | | | | |
| --- | --- | --- | --- | --- | --- | --- | --- |
| Machine | Can trim fabric? | Buttonholes | Looper | Work area | Needles | Control knob | Purpose |
| Coverstitch | No | No | 1 | Large | 3 | Yes | For specialized seams and finishing edges |
| Serger | Yes | No | 2 | Small | 2 | Yes | For specialized hems of two rows |
Similarities Between a Coverstitch Machine and a Serger
There are a lot of similarities between a coverstitch machine and a serger. Here are a few of them:
These two types of machines don't use the normal needles used by the traditional sewing machines. Their type of needles is usually specified in the user manual.
They both make use of strong threads; not the ones used by the sewing machines.
They have a free arm feature that allows you to easily work on small areas and sleeves.
They both have a dial or control knob which is used for the adjustment of the differential feed mechanism.
Both machines cannot make buttonholes.
What About Combo Machines?
Combo machines, also known as combination machines are machines that sew fabrics and do embroidery. You can also quilt and do home décor with a combo machine.
These are great machines for professional sewers. It increases your creativity and helps you to enjoy both worlds of sewing and embroidery.
They come with a variety of built-in stitches and embroidery designs. An example of a combo machine is the Brother SE1900.
With a combo machine, you can upload your embroidery designs into the machine through the USB to increase your embroidery design options. It comes with an LCD touchscreen to help you view your stitch selection.
Frequently Asked Questions
Is there any difference between a serger and a sewing machine?
Yes, there are a lot of differences between the two. A sewing machine is generally used for the stitching of different types of fabrics. Though a serger is a type of sewing machine it has got a lot of features that you cannot find in the traditional sewing machine.
One clear difference is that the normal sewing machine can make use of just one thread and a bobbin while the serger uses between 3 to 5 bobbins with up to 4 different types of threads.
Sergers come with blades for the cutting of fabrics. The traditional sewing machine has no blades. Sergers are faster for quilting than the normal sewing machine.
Can a serger be replaced with a traditional sewing machine? 
The serger is not designed to be replaced with the traditional sewing machine. They serve different purposes. Although some sewing projects can be handled by a serger, there is still the need for a sewing machine.
Some sewing tasks cannot be handled by a serger. Tasks like adding zippers, buttonholes and topstitching are better handled by a traditional sewing machine. This means a serger can't be replaced with a sewing machine but it can be used to complete some projects that a sewing machine cannot accomplish.
Can a serger be used to make a coverstitch? 
Yes, a serger can make beautiful cover stitches. Some sergers come with coverstitch features.
Can a serger cut fabric? 
Yes, a serger has a knife to cut the fabric.
Is having a coverstitch machine worth it? 
Yes, having a coverstitch machine is worth it if you will be working on a lot of knit garments. It is also perfect for the making of jeans, decorative seams, neckline finishes and attaching elastic.
What is the best coverstitch machine? 
Janome Cover Pro 1000CPX
Conclusion 
There is no doubt that both the coverstitch and serger machines will be a great addition to a professional or amateur tailor or seamstress' sewing room. But it will amount to over-spending to purchase a coverstitch machine when a double-needle sewing machine can do the same.
However, a serger is inevitable since it helps to produce strong and secure seams.