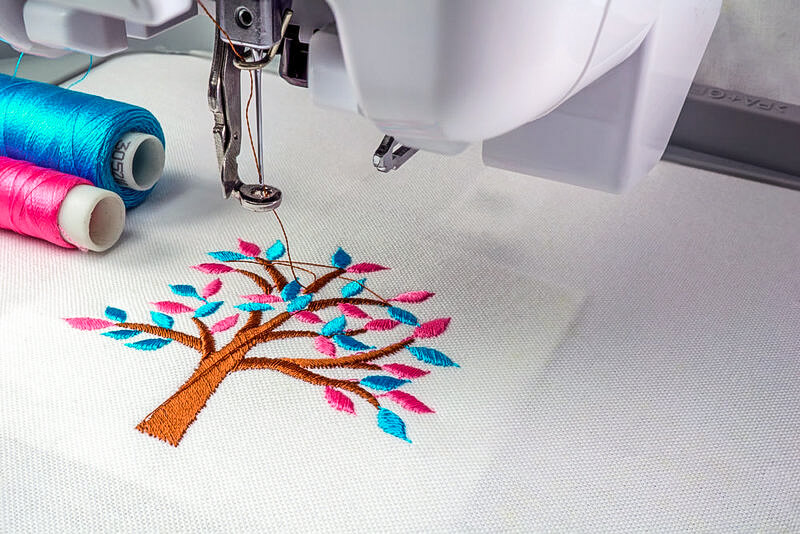 If you are going to open a new embroidery home business and wondering on which machines will be perfect for your new endeavor, then you are just in the right place. Finding the best embroidery machine for home business isn't an easy task and you need to be very wise and careful before you pick one. Because it would be a huge investment for you and you simply don't want any mishap to happen to your machines as well as your business.
There are certain aspects of choosing the right embroidery machines for your home business. We have discussed that part in detail in our buying guideline portion. We recommend you to go through that very carefully before you choose any machine. Some may not need those assistances. For them we would say, go to the review part straight to have the view of our shortlisted ones. We have selected these machines considering many aspects and situations that may arise when you are running your business. So, enjoy the articles and have a good time!
Best Embroidery Machine for Home Business Reviews and Comparison Table
| Model | Product Dimensions | Embroidery Area | Built-in Designs | Lettering Fonts | Price |
| --- | --- | --- | --- | --- | --- |
| Brother PE800 | 21.8 x 19 x 19.1 | 5" by 7" | 138 | 11 | Check Price |
| Brother SE600 | 21.2 x 15.5 x 16.5 | 4" by 4" | 80 | 6 | Check Price |
| Singer Futura XL-580 | 21.5 x 9.5 x 13 | 10" by 6" | 250 | 5 | Check Price |
| Brother SE1900 | 17.6 x 9.5 x 11.8 | 5" by 7" | 138 | 11 | Check Price |
| Brother PE500 | 20.2 x 15 x 15.1 | 4" by 4" | 70 | 5 | Check Price |
Brother PE800 Embroidery Machine with Color Touch LCD Display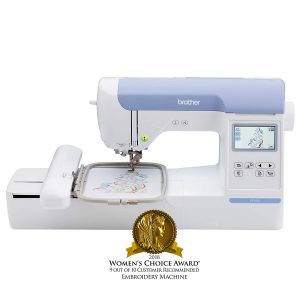 The PE800 features a mammoth 138 built-in designs with it that includes 10 frame designs, 11 lettering fonts comprising of 7 English, 3 Japanese, and 1 Cyrillic font. It also has 14 border styles for accumulating a mixture of design. You will be amazed to see the beautiful quilt, floral, and scrollwork patterns the machine offers with it. This unique machine has a large sew smart touch screen color 3.2" LCD display to give a full view of your embroidery design in color format. You can have a look before you choose what to do with your design.
The embroidery thread color can be changed easily by using the built-in color palette. So, there is an advantage for previewing your design before stitching is done. There is an ample space to do the larger design on the 5"x7" embroidery field. So, you can combine the design with minimum re-hooping. By using the design editing features, you can mirror-image, rotate or increase and decrease the size of the design.  There is an automatic needle thread which takes care of the threading part on behalf of you through the touch of a lever.
It's a real eye saver for you because during the embroidering part there are multiple thread changes done. There is a built-in LED light area which provides a workspace with a bright light around the needle area. It comes real handy when the sewing fabric is dark or you are positioning multiple embroidery designs on it. It has a built-in memory and a USB port facility. So, you can easily store any custom design to use it in the future. As a whole, this piece of beauty is your next level home embroidery tool.
PROS:
Unlimited design options
The wide and expansive field
Large LCD color touchscreen
138 built-in designs
Numerous design editing
Automatic needle threader
Step by step tutorial
25 year limited warranty
Fast and versatile design
CONS:
Hoop isn't interchangeable
back to menu ↑
Brother SE600 Computerized Sewing and Embroidery Machine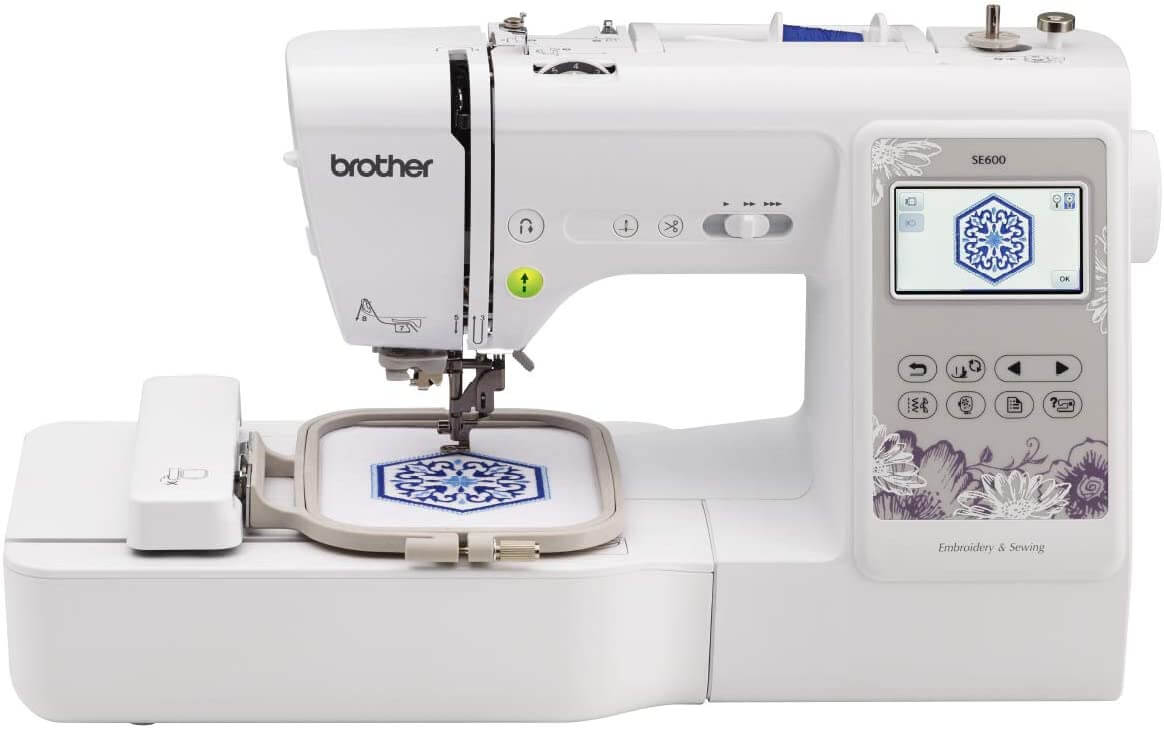 If you want to bring your creativity to life with the utmost ease, then Brother SE600 is the go-to embroidery machine for you without any doubt. This superb tool is full of enhanced technology and custom-made features that will streamline your embroidery and sewing. It has a wide 4"x4" embroidery field that capacitates various design options. It's the most popular size for embroidery design. The built-in alignment feature will help you align the design during re-hooping. That is always helpful because of the multiple design positioning.
There is an automatic needle threader for taking care of the needle for you through the touch of a lever. It's a real eye saver for you. There is a beautiful array of decorative stitches if you want to customize your creations. Among the high-quality stitches, the decorative scrolls, waves, scallops, greek key, feather, hearts, and stars are the mentionable ones. There is a super bright LED lighting system that illuminates the area around the needle. It helps you during the free motion quilting, embroidering regular designs or sewing on darker fabrics.
You can personalize your creations through the selection process of 6 built-in embroidering lettering fonts. You can select from either capital, lower case, symbol characters or numeric. The fonts are available in all sizes: small, medium or large. So, suit yourselves. Free arm for cuffs and sleeves is a good feature to have. You can import different designs through the USB port. The bobbin is jam-resistant and quickly settable. So, no worries at all. There are lots of options for fresh and inspiring design importing as you can visit the iBroidery.com for unlimited design options. Lots of thoughts were given for the awesome design of this tool for sure.
PROS:
Spacious embroidery field
Large color touchscreen
Enhanced embroidery features
Custom embroidery imports
Built-in sewing stitches
6 built-in lettering fonts
Jam resistant drop-in bobbin
back to menu ↑
SINGER Futura XL-580 Embroidery and Sewing Machine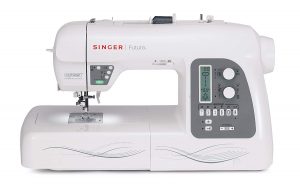 If you have this Singer Futura XL-580, then you don't need to have any other machine for sewing and embroidery purposes. The set-up is virtually effortless because of the swift smart threading system that has an automatic needle threader. The change and load of the bobbin take no time because of the drop and sew bobbin system. When you are done with your machine then the automatic thread cutter cuts the top and bobbin thread at once with the help of a button. There are six stay bright LED lights that will keep your working area bright and clear when you are working on big sewing and quilting projects.
This spectacular machine offers you with 215 popular and built-in sewing stitches that has two fully automatic buttonholes. They are one-step types. You will also find there 250 built-in embroidery designs that have five fonts and outline lettering. Amazing or what? This workaholic machine has a large embroidery hoop option i.e. 10" by 6". It also has a multi-hooping capability through which you can create a design with a dimension of 12 by 20 inches! So, you can work on a dress, table cloths, bedspreads or dresses if you want because of this feature.
The machine offers you auto-punch, hyper-font and advanced editing software that will create a lot of possibilities for any embroidery lover. Get the same amount of quality embroidery results as that of the high-end embroidery machines through the smart way. And that is by using your own PC. The cost will be minimal and you will get high-quality work. To do that you need to connect your PC to the sewing machine through the USB cable provided with it. You can then use the software to send the design to the machine. Just push the button.
PROS:
A large number of built-in sewing stitches
Superb LED option for sewing
Simple automatic needle threader
Customizable computerized embroidery system
Best for exploring your creativity
Built-in embroidery design
Spacious work area
Drop and sew bobbin system
CONS:
The guiding manual should be better
back to menu ↑
Brother SE1900 Computerized Sewing and Embroidery Machine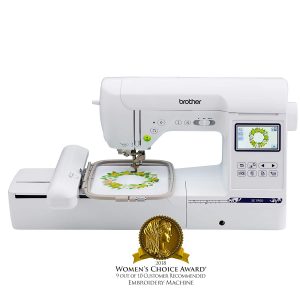 Like all other Brother products, this SE1900 is a real gem in the sewing and embroidery field. You can have a full-color view of your embroidery designs through the 3.2" sew smart color LCD touch screen. By using the built-in color palette, you can easily change the individual embroidery thread color. So, the preview can be seen before you start stitching. There is a large 5"x7" embroidery field that will provide you with ample space if you want any larger designs and lettering. Also, you can combine the designs with minimum re-hooping through this field. For that to happen, you need to preview the combined designs on the color LCD screen and decide if that is okay or not.
There are built-in stitches for your embroidery options which consist of many impressive arrays of decorative stitches. You can have ten styles of buttonholes with one step design. Also, they can be automatically sized for the fitting of your buttons. There are around 138 built-in designs that include some beautiful floral designs. Besides, there are 10 frame shapes with 14 stitch patterns. You can use the design editing features if you want to rotate, mirror-image, increase and decrease your design size. Check out Brother's awesome XR9500PRW review here.
There is also the USB port facility to offer you the transfer of numerous designs of your choice. You can also visit the manufacturers' site where there are hundreds of designs exclusive for Brother customers. Although, you need to have an additional purchase to avail that. Still, it's a good opportunity for the user who loves to have that. There are 7 embroidery fonts for the user. You can choose from the built-in script, serif, outline and san serif fonts. Through the combining process, you can have your own personalized creations.
PROS:
Multi-purpose tool
Sew smart color touchscreen
Spacious embroidery field
Massive amount of built-in sewing stitches
Possibility of combining multiple designs
Import option for exclusive designs
Multiple font options
Best embroidery machine for small business
Free-motion sewing
Brightwork area
Many accessories included
CONS:
A bit noisy
A little bit of practice needed
back to menu ↑
Brother PE500 Embroidery Machine with 70 Built-in Designs
Brother always offers you with the ultimate options for having a good quality machine. When you want a machine with a budget option then this new exciting PE-500 can be the difference creator for you. This is the first time where Brother has launched a feature-rich and easy to use the machine that does embroidery only. The price is also very low for the budget people to buy. If you are concerned that this moderate-priced machine doesn't offer the top-of-the-line features, then you are so wrong! Here, you can have all the options and features that can be found in the expensive machines. This will make your embroidery fun and easy.
The PE-500 machine will be perfect for those people who may be a sewer eager to try his/her hand on embroidery for the first time or a crafter who is looking for a new challenge or an advanced level embroider who is looking for a gem producer. You can use it to recycle your clothing by adding fashionable and new embellishments. You can turn your everyday pillows and blankets into many customized gifts for friends and family. With this PE-500 embroidery machine, the options are literally limitless.
In spite of its lightweight, the PE-500 is a true workhorse that is capable of doing embroidery works on everything from silk, denim, sturdier fabrics, and delicate materials. If you are a newbie in the embroidery world who doesn't know where to start, then this is the product you need. You can use the machine for personalizing accessories with monograms, embellishing home décor, upcycling clothing, and many more. It offers affordability for everyone to do their clothing and home décor. This easy assistant is your ultimate choice for sure.
PROS:
Spacious work area
Design importing ability
Wide range of accessories included
Easy to learn
Touch screen LCD display
Multiple lettering options
Automatic needle threader
Easy bobbin preparation
Reliable quick set bobbin
CONS:
Limited embroidery area
Fabric holder is a bit difficult to handle
back to menu ↑
Buying Guideline of Best Embroidery Machine for Home Business
If you are looking for the best embroidery machine for a small business, then there are few things that need to be checked before you start. In your personal level of work, you can take all the time you need to finish your job and do it repeatedly according to your whims and desire. But, in case of a home business that could not be the case. As the customer would give you a deadline to finish your work, you need to be very careful and sincere to finish on time. No excuse is allowed in that scenario.
As for that to happen, you need to find the best options for embroidery machines for your business and follow some strict rules and regulations. You can also start with some top beginners embroidery machines too. You need to consider all the important features of an embroidery machine and pick wisely. Otherwise, you will end up with the wrong ones and suffer for that. So, let's find out what are those important features.
Reliability
As we have already mentioned above, you don't have unlimited time when it comes to business. Failing of deadline could cost you a fortune as customers don't want to wait for long. You may lose them for good and never see them at your storefront again. That is why a reliable machine is a must for every want-to-be business person. There may be some other reasons too for not meeting the deadline. But, for now, we need to consider the embroidery machines aspect to become a reliable owner. You have to have a machine which can be reliable enough for you to start the business. In our shortlist of five best machines, we have accumulated the most reliable ones for you. So, choose whichever ones you like.
Reliability is a big factor for your own comfort and belief. Many of the customers would complain against the machines they purchase for not performing well. You can't have that luxury to go here and there to pick random ones and get an experience of them and then choose. Too much time, energy and money need to be invested for that.
Number of Features
Before you go for any particular machine for your embroidery home business, you need to select the features for your machines. Write down them in details and match those features from the available ones in the market. Don't be so choosy when you are selecting the features and don't be so restricted too. If you need a feature, then you need that feature. There are many features that you will see as additional and fancy. If you oft for having those too, then obviously the price will go up. So, be very specific for which features you want to settle for.
Sometimes embroidery only machines are best because of their simple job characteristics. They tend to be more skilled for better embroidery results as their machine setup is designed simply for that. Other multi-purpose machines have so many functions that complexity may occur frequently in those cases. You need to be sure whether you need a machine with computer connectivity or without that option.
There are also many built-in options designed for easy access to many choices and variations. You need to select those with care. The latest technology machines are really cool and advanced that can do many complex designs within a very short time. The machines have a touchscreen display to have a preview of your chosen design options. Isn't that amazing?
Types of Grade
A personal grade machine can't do the work repeatedly so many times. If you are going to buy a commercial purpose machine, then you need to be careful to pick the right ones. The machines must be very sturdy and capable of taking loads a lot. As you will be doing so much embroidery works on that machine, they must be very capable of that. Some personal machines can take pressure like commercial ones. If you study enough and know where to find them, you may have some good quality machines.
Although, I would suggest having some machines that are commercial grade. You can also mix things up a bit by having both kinds of them within your area and choose accordingly. Sometimes the pressure isn't that much. So, you can take the help of a personal type of machine. And, you can have the commercial ones when you need to meet a lot of deliveries for your customers. The commercial ones are very heavy duty types and can be used with maximum comfort. But, they are very costly and that can be an issue for you. So, decide very wisely before you make any purchase. Mixing both types are really good for all.
The Area of Embroidery
Why are you buying an embroidery machine? Because you want to do embroidery tasks on many objects. That is why you need to consider the embroidery work area that every machine offers. There are many sewing machines that offer you the 4 by 4-inch work area. Some have less work area and some have more. Although, some high-quality sewing machines have more areas to have your embroidery work done there.
Most of the good quality embroidery machines have 5 by 7-inch work area. That is really a good frame to get your things started. If you are not working on a large fabric, then these types are very capable of giving you a satisfactory result. Most of our chosen machines are in that category.
Combined or Dedicated
What type of machines you will like for your work? Dedicated embroidery machines or combined with stitching ability also? You need to consider that very seriously. You will find that there are many machines in the market that offers both of these options. They are more expensive than the ones with embroidery only option.
As the dedicated machines can do the work very accurately, they are much more suitable for embroidery only option. In your business, you will need some dedicated machines. They can help you with your orders as dedicated ones are best for the same kinds of work in a repeated manner. You will find both of the types in our shortlist.
Updated Version
Now a day, every type of machine is modern technology equipped. Let some days pass and you will get a new updated version with new features and technology. Because of that, you will need to acquire the most advanced machine that is available. There are many modern options available for that situation. The USB port availability has made things really amazing because of the possibility of having hundreds of design within your grasps. You can just choose whichever design you like and can get that with the push of a button.
There are computer connectivity facility and memory stick support. Some manufacturers have custom made designs on their website for their customers. Doing embroidery cannot be much more fun and easy than now. So, avail the best ones and have a blast of a time.
Price
Budget is a very important matter when it comes to buying any item you want. For purchasing any embroidery machines, you need to consider your budget too. As you are opening a home business, then you need to plan very wisely and accurately on how many machines do you need and what are the types of them. Then you can have an idea about the total budget of your machines. After fixing your budget and specifications up, you will be able to pick the options from the market.
When the feature selection is done, go to the marketplace and see what are the prices of those machines. If any discrepancies are there for the budget and price range, then you need to recheck your lists and make corrections. Either feature sacrifice or budget up-gradation may need to be taken. According to your decision, you need to choose which one is the perfect option for you.
Fabric Type
Another very important aspect is the fabric type of worksheets. Depending on the fabric type and quality, your decisions may need to be taken
Hoop Requirements
You should always look for the desired hoop-delivering machine. If the machine cannot take on bigger types of design, then you need to consider a split design process. In that type of design, you need to reposition the hoop and do the work manually with a little rearrangement. It's time-consuming and manual labor is required. But, that is worth the price if you can manage it.
Specific Demand
According to your customer demand and necessity, you will need to have a lot of options readily available within your reach. When you are going all out for your business to boom, then there would be so many different requirements and orders. So, the flexibility of the machines and performance guarantee would be of high importance in those situations. Good performance machines are required in those situations.
If that is not the case, then an inexpensive type of machine is recommended to buy. Single needle type of machines is perfect in those situations. Otherwise, multiple needle machines are a must.
The Accessory Cost
There are many accessory items related to embroidery works that need to be considered. When you are starting a business, you need to be very strict in detail works. The small items are often neglected in budget making. Like the embroidery machine will need the purchase of software, thread, digitizer, needles, special hoops, and fabrics. Most of the time, these kinds of additional costs add up quickly. All of a sudden, you may realize that the machine cost was only the start of chain spending.
To avoid that, you must pick your budget illustratively and stick to it.
back to menu ↑
Conclusion
The person who loves embroidery works is really passionate about it. They love this artwork from a very early stage. It can't be generated forcibly on a person, rather they need to be born with the flair of it. Using the best embroidery machine for home business will only help you to sharpen that knowledge and desire. The most intelligent people will work with smartness when it comes to machine work. They will pick the right tool for them and work passionately to take the situation within their favor. You also need to choose the best options for your home business as that is a huge decision.
We have selected the most unique and perfect ones from hundreds of them so that you can make a good fortune with that. The illustrative guideline will also help you to understand the basic topics and things that you need to consider before buying a new one. Hope our effort will make your work easy and successful!