Choosing the right sewing machine can be laborious unless you know the appropriate features and essential elements to focus on while buying a sewing machine. When it comes about sewing machine for quilting, it will be more daunting as quilting requires several other additional pieces of equipment. On the other hand, markets are loaded with many famous brands that come with various essential features. Fortunately, the article will discuss the areas that you need to consider while purchasing a sewing machine for quilting. If you are looking for a long run of profitability from your considerable purchase, you should understand how to choose a sewing machine for quilting.
The Features to Check While Choosing a Sewing Machine for Quilting

When you decide to buy a quilting sewing machine, you need to focus on various elements and features. No matter whether you are a beginner or a pro, you must know how to choose a sewing machine for quilting as 50% of your quilting success depends on the machine that you are using. Here are some of the mandatory features that you should look on while purchasing a sewing machine for quilting:
Stitch Variety
The first thing that you need to check when looking for a quilter's sewing machine is the types of stitches. Many sewing machines feature a vast number of various types of stitches as their marketing strategy. However, a study shows that most of the quilters including the long-time quilters use only a few stitches along with the three basic types- the straight stitch (the most common type), the zigzag stitch, and the blanket stitch. So, don't fall for the advertising that features a great number of stitch varieties as their selling points or top features. Remember, stitch variety should not be the reason for your purchase.
Lightweight
A good quilting sewing machine is lightweight enough to carry in the quilting class and heavy enough for longevity. While buying a sewing machine for quilting, let the seller know that you are looking for a lightweight sewing machine which is easily portable so that you can take the device to your class. However, this does not mean that the sewing machine will be small. Instead, it will be heavy enough for home use but portable. However, while searching for a lightweight quilting machine, do not compromise the harp space.
Types of Bobbin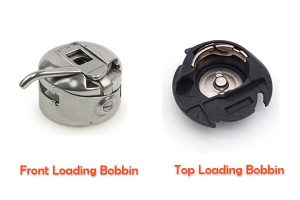 Bobbin, a kind of reel, is an integral part of the sewing machine. A bobbin holds the thread and helps you in quilting, sewing or any other sewing works. Some machine comes with a bobbin case while others do not. Basically, there are two types of bobbin: Front Load Bobbin and Drop-in Bobbin or Top Loading Bobbin.
Front Load Bobbin
It is the older type of bobbin system, requiring you to remove the additional accessory to change the bobbin. Therefore, it is quite tricky for beginners to change the bobbin. However, most of the front-loading bobbin use metal bobbin, allowing holding more threads. AS a result, it is useful for significant and lengthy quilting works.
Drop-In Bobbin/Top-Loading Bobbin
Most of the modern sewing machine use "drop-in bobbin" system. It comes with a built-in bobbin case, and it is easy to insert the thread. As it has clear cover, you can easily track the rest of the thread left in the bobbin. Moreover, most of the time, drop-in bobbin uses plastic bobbin.
Front Load Bobbin vs. Top Loading Bobbin or Drop-In bobbin:
| Front Load Bobbin | Drop-In Bobbin |
| --- | --- |
| Comes with separate bobbin case | Comes with the built-in bobbin case |
| It is harder to change the bobbin | Easier to change |
| Most of the time, use a metal bobbin | Most of the time use a plastic bobbin |
Which One to Choose?
Try to choose a "drop-in bobbin" as it is more relaxed and comfortable to use. Fortunately, most of the modern sewing machine comes with a "drop-in bobbin" system. Just pull the needle higher and open the slide. Then take the empty bobbin and fill it. That's it. To me, changing a drop-in bobbin is as simple as ABC.
Harp Space
The area behind the needle, encompassed by the main body of the sewing machine or the length of the quilting arm is called Harp space or throat space. The larger area allows you to quilt larger patterns easily. Among the various sewing features, harp space is one of the essential elements to check while you are purchasing a sewing machine, especially for quilting. For standard sewing work, you do not need large harp spaces. In fact, one of the main contrasts between a normal sewing machine and a quilting sewing machine is the harp space. As quilting require larger worker area, choose the brands or sewing machine that offer larger harp space. The wider the work area, the better the device. Try to buy a sewing machine with a harp space of 8 inches or more. These types of tools may cost approximately $1000, but you will surely work comfortably.
Automatic Thread Cutter
Using scissors for cutting may waste your time as well as the amount of thread. Try to find the sewing machine with an automated thread cutter. Many modern sewing machines come with an automatic thread cutter that makes your quilting cleaner and easier for stopping and starting quilting paths. You need to press the button on the machine or use the foot pedal for cutting thread. 
Needle Up/Down
A sewing machine with a 'needle up or down' is as effective as a sewing machine with larger harp space. Have you ever noticed the stopping scene of your sewing? Where did the needle stop? Actually, it depends on the sewing machine, some stops all the way up while others stop all the way down. The best sewing machine is the one that stops needle down by default as it increases accuracy and saves a lot of your time. You will easily understand the difference between needle down and no option when you quilt or do appliqué work. You can comfortably rotate the fabric or quilting. However, if you find a machine with needle up but you can set "needle down' can also be handy than a machine with no default option.
Needle Left/Right
Having a sewing machine with the ability to move the needle to the right or the left can be handy. This feature will allow you to increase the edge stitch presser foot or edge joining foot. You can increase the seam allowance or the width of fabric left to the right of a sewn seam to ¼".
Speed Control
Speed control, a universal foot pedal replacement, is an excellent feature for the new quilters. You can easily set the dial for your required speed. It makes your work more comfortable, especially for free-motion quilting where you have the total freedom for quilting and do not need the help of feed dogs.
Knee Lift Control
Knee lift is a fantastic feature that replaces the foot panel of the sewing machine. It is a lever that allows you to adjust your machine's starting, stopping, and speed by lifting your knees. So, if you find a sewing machine with knee lift control, go for it as it saves your time and allows you to use your two hands for achieving excellent quilting patterns.
Presser Foot Pressure Adjustment
Presser foot pressure means the amount of pressure you apply to the fabric by using the presser foot. Some sewing machine comes with presser foot pressure and can be set to four different levels (between 1 and 4). – The larger setting means stronger pressure or presser foot while smaller setting indicates less pressure. You should select setting 1 or 2 for thick fabrics while for thinner fabric, you should go for either 3 or 4 settings. If you do not have the right pressure adjustment, straight-line quilting will be difficult for you.
End Words
In short, you need to evaluate various features for picking the appropriate sewing machine for quilting. Apart from the above mention features, you may also look whether your sewing machine offers larger spool for threads or not. So, choose a sewing machine with larger harp space, have needle top or down feature, knee lift control, speed control, etc.