Jeans and denim have become popular fabrics over the years. These fabrics are tough and are difficult to be sewn using regular sewing machines. What do you do? The solution is going for sewing machines specifically made for the sewing of jeans and denim. These are heavy-duty machines made to tailor tough materials effortlessly. They have a lot of speed and strength.
But choosing the appropriate machine to sew jeans and denim can be a tough task. This is why we went to town in search of the best sewing machine for jeans and denim.
After a lot of research, we have figured out the best sewing machine for denim. Our selection is based on 5 criteria – speed, durability, versatility, quality and performance.
Going through this review takes just a few minutes and will no doubt help you make an informed choice. So let's get started. Here are the 7 best sewing machines for denim and jeans.
Top 7 Sewing Machines for Denim and Jeans
SINGER 4423 Sewing Machine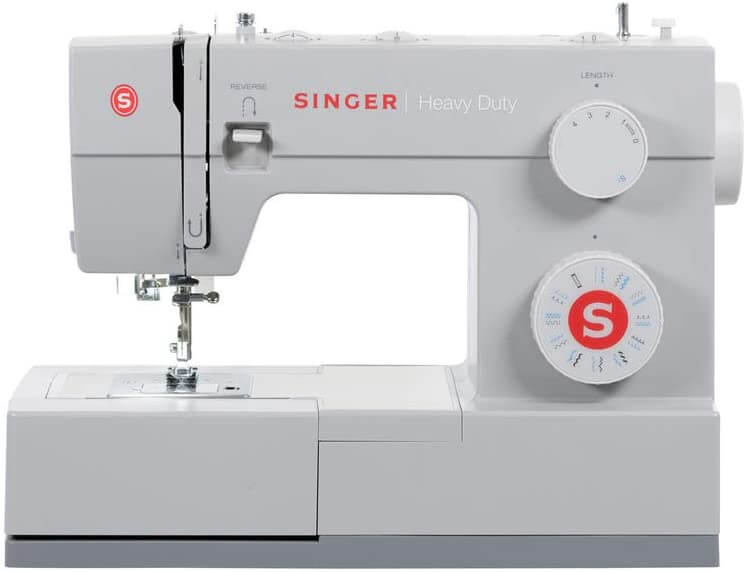 Quality products don't necessarily need to be expensive. This is what SINGER has proved with their SINGER 4423 machine. So this is a sewing machine that fits into your budget. It is not just pocket-friendly; it also comes loaded with a lot of features. The machine has an impressive speed with 50% more power to sew through thicker materials such as denim and canvas. Made of all-metal frame, the SINGER 4423 boasts of sturdiness and durability. The solid construction and a powerful motor ensure that you sew through different types of heavy fabrics effortlessly.
When it comes to features, the machine sews at 1,100 stitches per minute to let you tailor through thicker fabric with ease, 23 built-in stitches include 4 Stretch Stitches, 12 Decorative Stitches and 6 Basic Stitches to help you to sew a variety of fabrics such as quilt, crafts, fashions and home décor, the automatic 1-step buttonhole makes buttonholes with ease. There is also an easy stitch selection and 4 presser feet inclusive.
Others include a built-in needle threader, drop-in bobbin system with a clear cover. The automatic needle threader helps you to thread the eye of the needle saving you a lot of eye stress that is usually experienced with manual threading. There are also assorted accessories such as buttonhole foot, zipper foot, button sewing foot, all-purpose foot, quilting guide, screwdriver, bobbins, auxiliary spool pin, seam ripper and a dust cover. The portable sewing machine comes with a 25-year limited warranty.
PROS:
Incredibly sturdy and durable
Automatic needle threader
Great stitching speed
Easy to use for beginners
Powerful motor
CONS:
No automatic thread cutter
Limited built-in stitches
back to menu ↑
SINGER 4411 with 69 Stitch Applications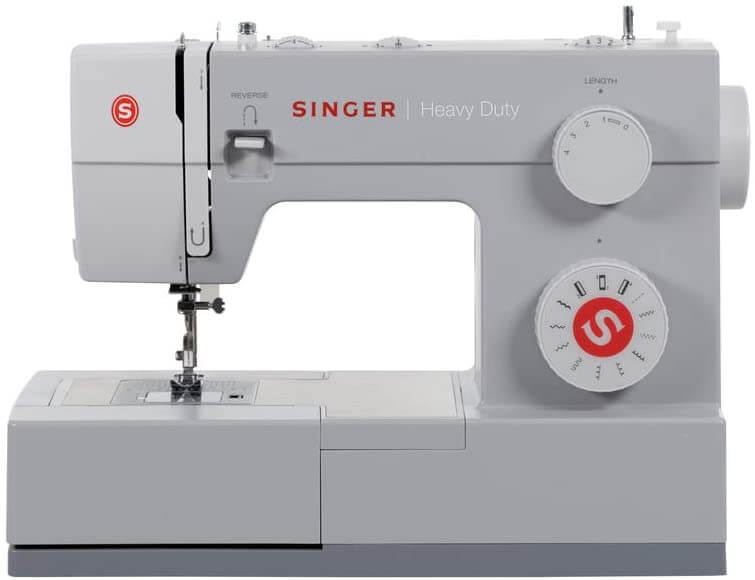 The SINGER 4411 sewing machine is constructed sturdily with a metal frame to withstand the rigour of everyday use. With the rigid construction, this machine can support and hold all mechanisms in place with perfect alignment which helps to give you skid-free sewing.
It comes with a powerful motor that is 60% stronger than other standard machines made by SINGER. The motor ensures continuous sewing without losing power. Fabrics slide easily across the arm of the machine because of the well fitted stainless steel bedplate. It has a speed of 1,100 stitches per minute so you can deliver any tasks pretty fast. The machine can handle thicker materials with ease.
There are 11 built-in stitches altogether – 6 basic stitches, decorative stitches and an automatic 4-step buttonhole stitch to help you create buttonholes automatically. With 4 presser feet, you can handle any type of sewing project. The presser feet include all-purpose foot, zipper foot, buttonhole foot and button foot. Other features include free arm which perfectly helps you to hem pants.
You can remove the extension table to have access to the free arm from the two sides. The extension serves as an ideal storage area that always comes in handy. Beginners love a drop-in bobbin system that just drops in place. There is also plastic cover so you know when the thread is running low. It has a 25-year warranty.
PROS:
Sews fabric very fast at 1,100 stitches per minute
Made from a solid metal frame
Highly powerful motor
Built-in thread cutter
Adjustable presser foot pressure
Ease of use for beginners
CONS:
It is a bit loud
No automatic needle threader.
back to menu ↑
Brother ST371HD Sewing Machine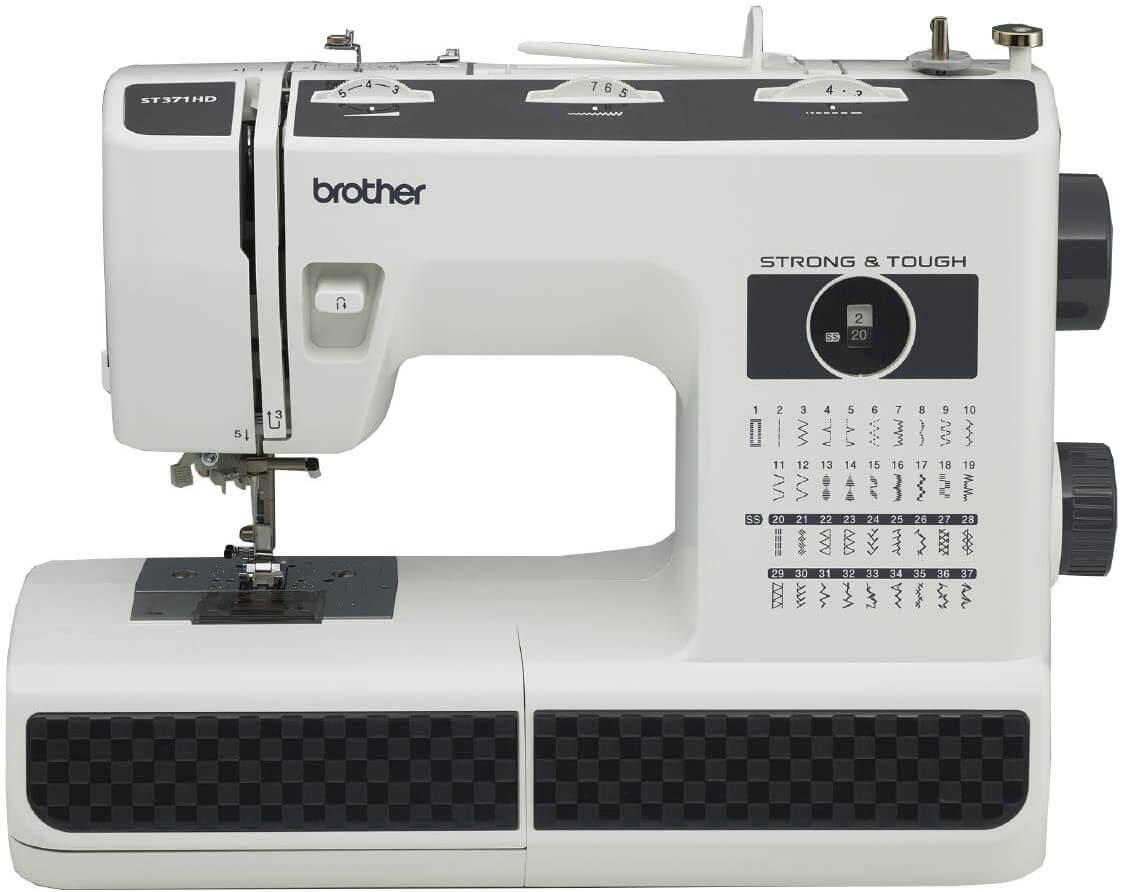 The Brother ST371HD is a perfectly constructed heavy-duty sewing machine made for people who are looking for unparalleled durability and flexibility. Its strength and durability make it the perfect sewing machine for everyday sewing and mending of light and thick fabrics. The metal feeding plate guarantees efficient fabric feeding and heavy-duty needles.
There are 37 decorative and utility built-in stitches which include an auto-size buttonhole. These built-in stitches are perfect for blind hems, stretch stitches and zipper insertion to give you a great sewing experience. The automatic needle threader makes it super easy for you to thread needles. With jam-resistant drop-in top bobbin, you can never be caught unawares when the thread is running low. There are 6 sewing feet which include blind stitch, buttonhole, button sewing foot, zipper, nonstick and zigzag foot. With the table, you can convert it from a sewing table to a storage space without any stress.
The speed of the machine is more than average. Operating at a speed of 800 stitches per minute, the machine can effectively and efficiently accomplish different sewing projects without any issues. It comes with a versatile free arm that is ideal for a wide range of sewing tasks. Some of the accessories include 6 sewing feet, manual and instructional DVD made in English and Spanish to get you started with using the sewing machine. With the dust cover, dust and debris are prevented from causing harm to the machine. The sewing machine has a 25-year limited warranty. This is complete peace of mind for any user.
PROS:
Rubber base for stability
Automatic needle threader
Fast and reliable
Comes at a good price
Free arm for sewing of sleeves and cuffs
CONS:
No push buttons
Not suitable for leather handbags
back to menu ↑
SINGER 4432 Sewing Machine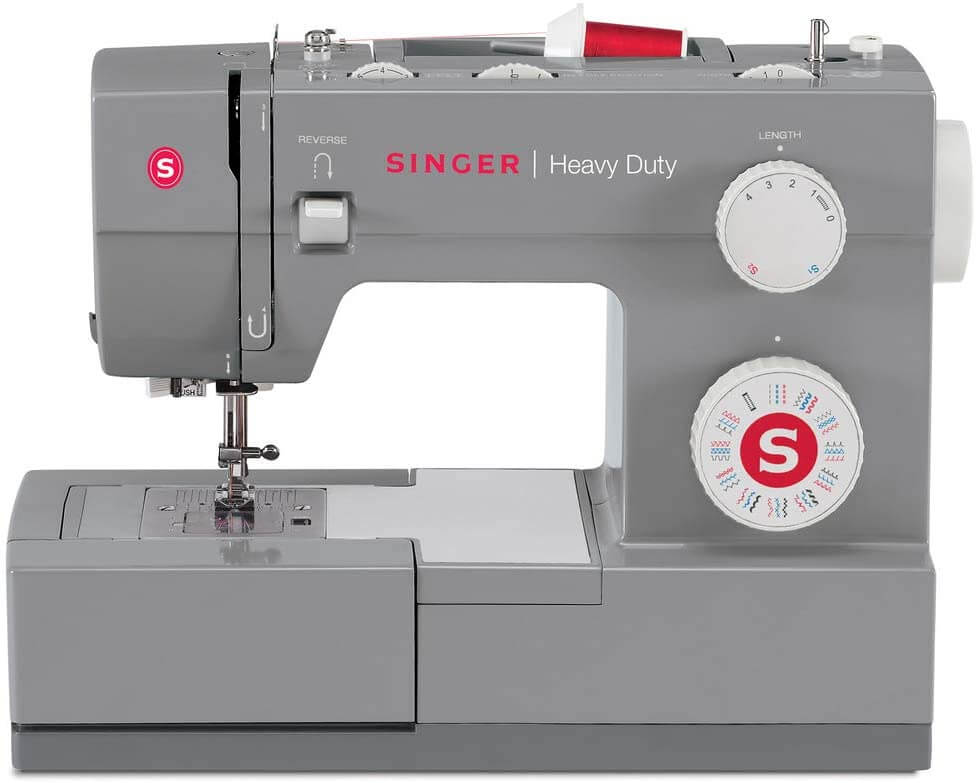 Whether you sew every day or you just mend your jeans occasionally, the SINGER 4432 is up to the task. The machine is constructed to last for a long time. It is made from a metal frame that holds the entire machine's mechanism in place to guarantee durability and sturdiness. This is a heavy-duty sewing machine that offers a high speed of 1,100 stitches per minute to get the job done in no time.
With 32 built-in stitches, you can produce outstanding results with different sewing projects. It comes with an automatic 1-step buttonhole that makes it easy to make buttonholes in different fabrics. The biggest timesaver is the automatic needle threader. It lets you to thread the needle with the utmost ease. There is no longer a need to strain your eyes when you want to put the thread through the eye of the needle.
It features a top drop-in bobbin with a clear cover. The bobbin is easy to remove and insert while the clear cover lets you see clearly when the bobbin is running out of supply. The stainless steel bedplate ensures that you smoothly feed the machine with fabric for even sewing. To make the SINGER 4432 convenient and easy for beginners, it comes with a mobile app where you can find tutorials and assistance in case you need help. Some of the accessories that come with the machine include all-purpose foot, button sewing foot, zipper foot, button foot, seam ripper, auxiliary spool pin, spool pin felt, soft dust cover, power cord and instructional manual.
PROS:
Easy operation
Metal frame construction
Durable and sturdy
There is a drop feed for quilting
Automatic needle threader
CONS:
No automatic thread cutter
The lighting is not bright
back to menu ↑
Brother XR9500PRW Sewing Machine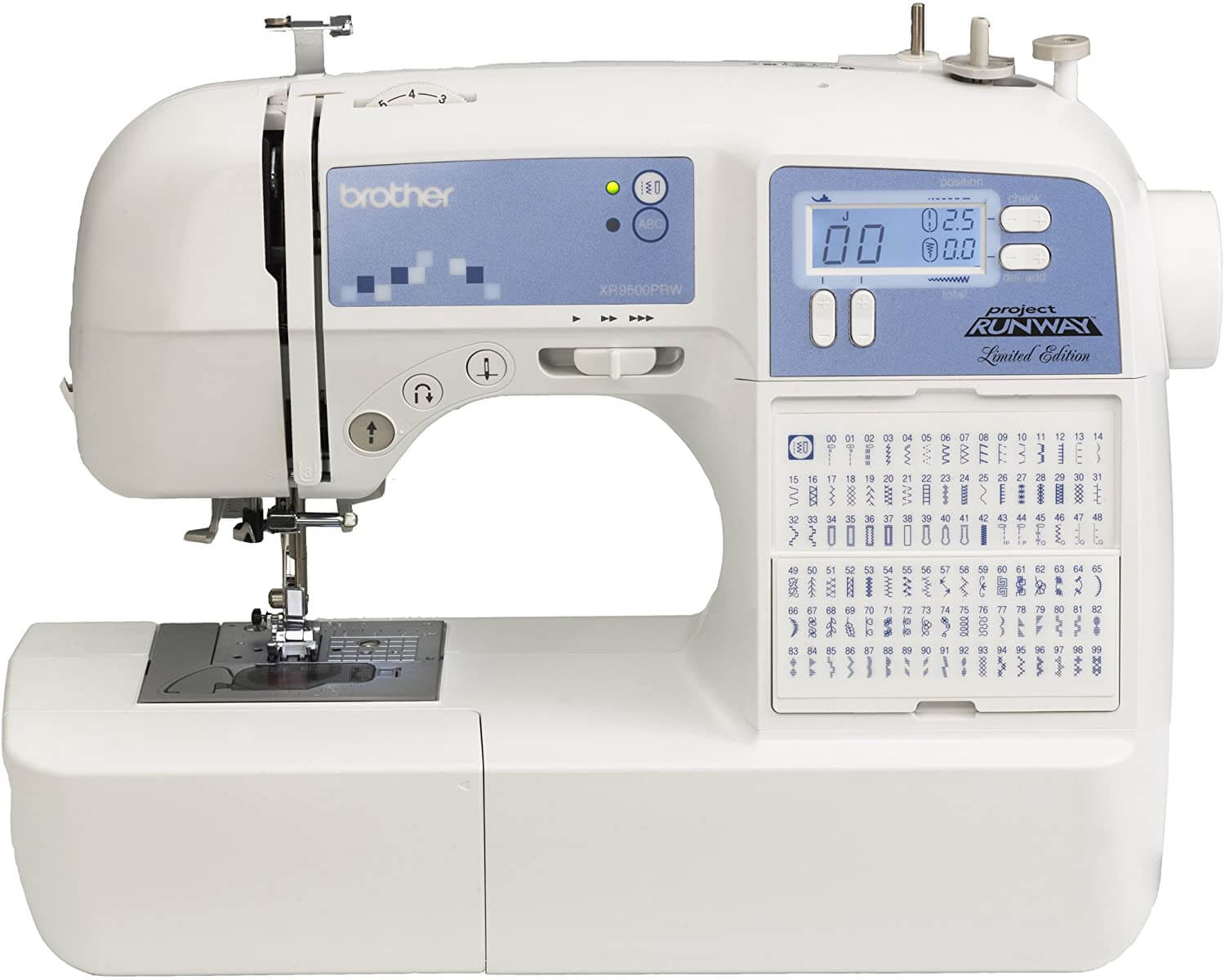 The Brother XR9500PRW is a low-price, high-performance sewing machine perfect for the tailoring of denim and jeans. This computerized sewing machine is built with flexibility and durability in mind. It comes impressively with 110 decoratives, utility, heirloom and alphanumeric built-in stitches with a wide table and hard case.
There are also 8 styles of 1-step auto-sized buttonholes. All these features help to complete a variety of sewing projects from sewing garments to quilting embellishments. The automatic needle threader brings a lot of convenience to every project. It pushes the thread straight into the eye of the needle with just a touch of the lever. This feature makes this machine an excellent choice for both beginners and advanced users. With a large backlit LCD screen, the working area is well illuminated for clear visibility so you can easily make use of the computerized stitch selection.
The powerful motor comes with an impressive speed so you can handle any fabrics from clothing to home décor. Other wonderful features include extremely easy bobbin winding system, needle positioning, free arm for sewing of sleeves and cuffs, jam-resistant drop-in bobbin, and hardcover.
There is also an assortment of accessory feet which includes zipper foot, zigzag foot, overcastting foot, button sewing foot, buttonhole foot, blindstitch foot and monogramming foot. Other accessories included are twin needle, extra spool pin, and ballpoint needle, cleaning brush, 3 bobbins, needle set, power cord and instructional manual.
PROS:
110 built-in stitches
LED for visibility
Sturdy and durable construction
Easy-to-thread needle system
Lightweight and portable
CONS:
Not made from a metal frame
back to menu ↑
Janome 7330 Magnolia Sewing Machine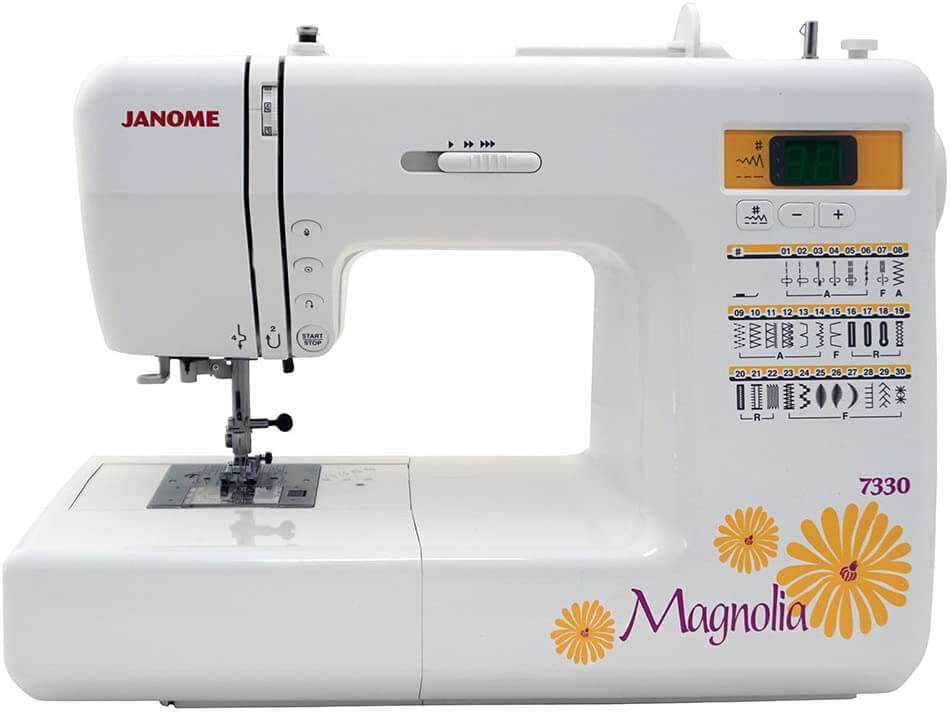 The Janome 7330 is a reliable and durable computerized sewing machine. It is the most advanced sewing machine in the Magnolia series specifically designed for beginners and intermediate users. This sewing tool is designed to tailor any type of home décor or sewing projects. The machine comes with 30 built-in stitches and 6 one-step buttonholes to effectively handle different tasks.
With a built-in needle threader, threading needles become a stress-free task. You have the backlit LED screen that illuminates the workspace for visibility especially when you are working on dark fabric and it allows you to see what stitch you are using at any point in time. The speed controller slider makes this machine the perfect choice for beginners. With a top-loading drop-in bobbin system, you will always know when a thread is running low. It runs quietly and requires less lubrication.
The pushbuttons bring a lot of ease and convenience into your life. There is the start/stop button to help you sew without using the foot pedal. This feature is ideal for quick mending or making long seams. Use the reverse button to stop a stitch pattern before it is completed. It can also be used for the backstitching of locking seams. With the locking stitch button, you no longer need to tie the end of the thread yourself. The memorized needle up/down button allows you to set the needle to either stop in the up or down position. Other features include 7-piece dog feed, free arm, snap-on presser feet, extra-high presser foot lift, drop feed and more.
PROS:
Large workspace
Sturdy construction
Durable and powerful
Easy to use for beginners
Stitch speed controller makes it perfect for beginners
CONS:
No carrying case
Not suitable for the sewing of thick leather
No automatic thread cutter
back to menu ↑
Toyota Super Jeans J34 Sewing Machine
The Toyota Super Jeans J34 is made by Toyota, the well-known carmaker. This sewing machine is heavy-duty and made to last. It is powerful enough to glide over 12 layers of denim comfortably and effortlessly. It features an automatic needle threader, adjustable presser foot pressure, free arm, easy stitch selection and more.
With the gliding foot, you can easily run over denim with multiple layers. The adjustable presser foot pressure dial allows you to set the foot pressure to the right setting required for the fabric weight you intend to sew. There is no limit to what you can do with 34 built-in stitches that include decorative stitches, stretch stitches, blind hem stitches, appliqué stitches, overlock stitches, 4-step buttonhole stitch, 4-way smock stitch, zigzag stitches and utility stitches.
The Toyota Super Jeans J34 is versatile. In case you intend doing free-motion sewings such as darning and stippling, all you just need to do is drop the feed dogs and you can start sewing. The stitches panel in front of the machine shows you all the stitches at a glance with the correct number or letter. With the free arm, sewing pants, sleeves and cuffs become a lot easier and simpler. The top-loading drop-in bobbin system makes it convenient for you to change the bobbin whenever it is running low. This is a workhorse that comes at a good price.
PROS:
Heavy-duty construction
Automatic needle threader
Powerful motor sews through multiple layers of denim
Ease of operation
Lightweight and durable
CONS:
It is noisy and loud
No automatic needle cutter
Buyer's Guide
Choosing the best sewing machine for denim is not like walking into a grocery store. There are factors to look out for when you want to buy such a machine if you want something durable and long-lasting. This is why making a lot of research is imperative before you make a purchase. The buyer's guide will help you to be armed with the right information so you can make a worthy investment. When looking for the sewing machine for jeans, here are the things to consider.
Sewing Speed
Speed matters a lot if you want to achieve more pretty fast. This is why you must choose a machine at high speed. But some people handle fabrics better when sewing at a slower speed. Speed is nothing without control. So to create a balance, choose a machine with a variable speed. A machine with variable speed is easier to control. The speed can easily be adjusted and monitored to suit your desired sewing speed. It makes sense to choose a machine with up to 1,100 stitches per minute.
Motor Power
When you work with a sewing machine for tailoring a fabric like denim, you will need a sewing tool that has a powerful motor to run through such fabric with ease. The regular sewing machines don't have a strong motor. This is why it is slower sewing on those types of machines. A sewing machine for denim has an impressive motor for optimum performance and ensures fast speed when sewing denim.
Metal Frame
Some sewing machines are made of plastic. This does not enhance the durability of the machine. Choose a machine with a metal frame so that it can withstand the rigour of daily use. Metal frame machines are also able to withstand vibration and the reverberation of the motor.
Automatic Needle Threader
Avoid the stress of threading a needle manually. People with bad sight find it difficult to thread a needle. Even those with good eyesight can have their eyes strained when struggling with threading a needle. To avoid all these issues, look for a sewing machine with an automatic needle threader. The feature makes life very easy. It threads the needle automatically. This is an extremely important feature that both beginners and experts would love
Leveling Button and High Presser Foot Lift
The leveling button has a great significance to the performance of the machine in its entirety. When working with heavier fabrics, the leveling button lifts the front of the presser foot so you can place a thicker material underneath it. Without the leveling button, it will be difficult to insert thicker, heavier and multiple layered fabrics.
Automatic Thread Cutter
It is not every time you will be in the mood of cutting threads from the machine with scissors. This is where the automatic thread cutter comes in. It cuts threads automatically each time you sew to the end of the fabric.
Length and Width Stitch Adjustment
Denim is a heavier and stronger fabric compared to other fabrics. This type of fabric needs longer and wider stitches. As such, it is important to look for a machine that has stitch length and width adjustment. No matter how long the stitch becomes, it will still be easy for the needle to sew through the fabric and create a strong and firm stitch. Most machines come with adjustability option but you have to look for one with the widest adjustability range.
Bobbin System
Choose a machine that has a bobbin that is easy to thread. The bobbin should be easy to remove and should have a clear cover so you can see when the bobbin is running out of thread. Choosing an opaque cover means you would never know when you run out of thread and you may continue running the machine not knowing that the thread has finished. There is nothing as frustrating as this.
Ease of Operation
There is no doubt a machine with buttons makes for a better sewing experience. A machine with a start/stop button, reverse button and locking stitch button makes life easier.
Straight Stitch Plate
This ensures that the fabric does not get jammed under the stitch plate. It provides some level of stability and security for the stitching. This feature also helps when delicate fabrics are been sewn.
Adjustable Presser Foot Pressure
Whenever you are sewing a thicker fabric and you notice that the fabric is not moving smoothly under the presser foot, what you need to do is to adjust the presser foot pressure.
Noise Level
Generally, heavy-duty sewing machines are noisy but you should look for a machine that is not loud. It is difficult to choose a machine that is not noisy and loud online. But it is important to look for the decibel. Decibels are the noise measurement of a machine. Choose a machine that the decibel falls within 65 to 80 decibels. Anything outside of this range means the machine will be very loud and disturbing.
Accessories
Don't overlook accessories when choosing a sewing machine. The accessories create extras so you don't spend more money buying them. Some of the accessories include extra bobbins, extra needles, LED lights, screwdrivers, extra table space, manual and more. Accessories make life easier.
Warranty
Sewing machines should last a long time. So you have to choose a sewing machine with a warranty for extended life. Of course, the warranty for parts will be shorter since some parts may wear out earlier but the warranty for the entire machine is of importance. For peace of mind, pick a machine with a 25-year limited warranty. Most heavy-duty sewing machines made from metal frame come with 25 years limited warranty.
Cost/Budget
The cost of the machine will largely depend on its functionality and construction. Look for a machine that is within the budget that also meets your needs considering the machine's speed, motor, automatic needle threader and other features. Don't compromise on quality just because you want to save some money. Choose a machine made from a metal frame instead of plastic.
FAQs
Does One Need a Special Sewing Machine to Sew Denim?
Yes, you need a special sewing machine to sew denim if you sew regularly. The standard sewing machine is not designed for denim. If you want to sew through 12 layers of denim, a standard sewing machine would break down but a sewing machine for denim will tailor through multiple layers of denim without any problem.
Is a Special Needle Needed for the Sewing of Denim?
Yes, a special needle is needed for sewing of denim. It is not all needles that can sew denim. For denim, choose needles that are specifically labeled for denim or jeans. The ideal needle size should be 100/16 or 100/18. Also, choose threads made for denim.
When is the Right Time to Oil My Sewing Machine?
If you don't use your machine regularly, it makes sense to oil it every 6 months. But if it is used daily, oil it every 3 months.
What is the Right Setting for Sewing Denim?
The right settings for sewing denim is 3.5 or 4
Which Sewing Machine is Ideal for Sewing Denim?
Denim is a tough fabric that requires a strong machine. Using a less powerful machine will create a lot of headaches. If you intend to sewing multiple layers of denim, choose the Toyota Super Jeans J34.
Conclusion
Choosing the right machine after reading this review and the buyer's guide can still be a complex task. This is why we recommend the Toyota Super Jeans J34 for its durability and excellent construction. It is capable of going through 12 layers of denim without any difficulties. For beginners who want to handle heavy-duty projects for a start, the Brother ST371HD is simple and easy to use. The SINGER 4423 Sewing Machine is another great option. Any of these machines won't disappoint you.