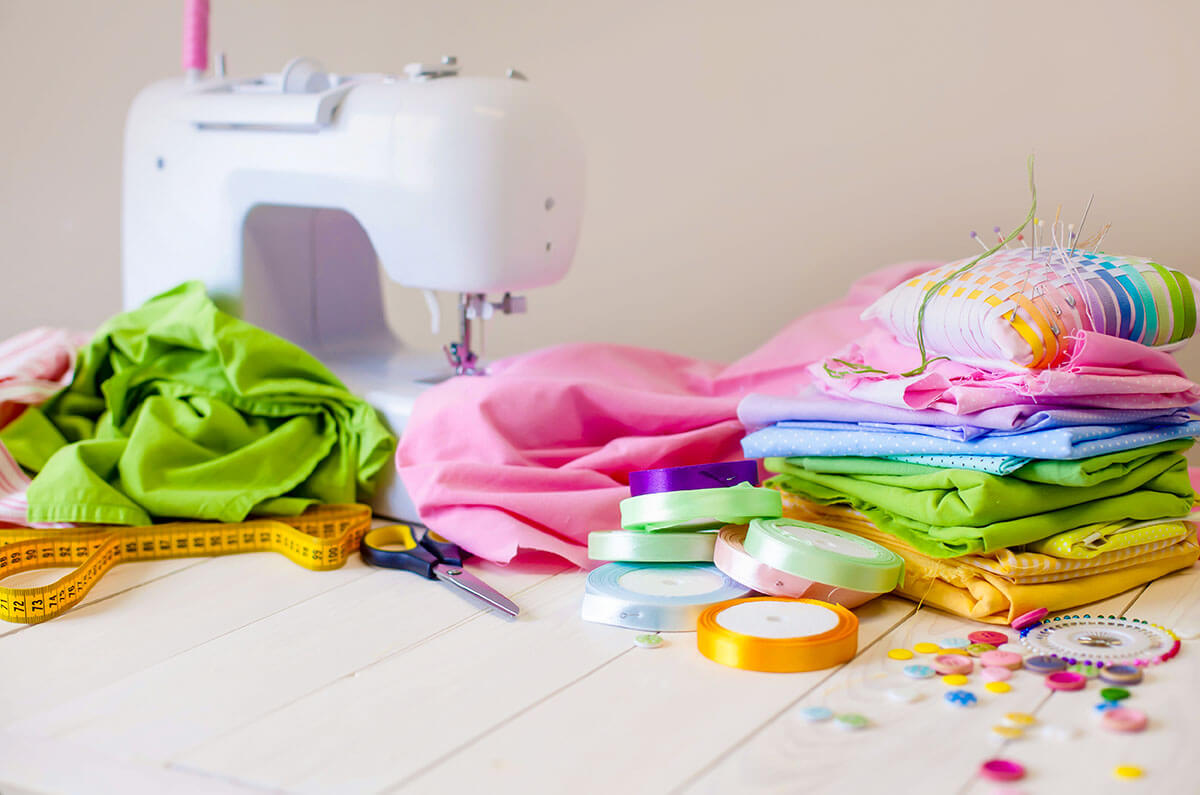 Are you thinking of making custom clothing yourself? If the answer is yes, then, this article will help you get started the right way. Making custom clothing has become a trend in recent years. But to succeed in the business, you will need the best sewing machine for making clothes within a budget. With plenty of sewing machines in the market, it can be difficult to make a choice. You don't have to worry because we are going to save you the stress so you can make an informed choice.
It does not matter if you would want to use the sewing machine for business or just sewing for the family. Any of the machines in this review is up to the task. After more than 72 hours of research, we have selected the best sewing machines with a wide range of features such as sewing speed, built-in stitches and an automatic needle threading system. Others are weight, dimensions, warranty and many more. Read on as we make a review of the 7 best sewing machines for making clothes.
Top 7 sewing machines for making clothes
Brother CS6000i
If you are interested in investing in a sewing machine for the long term, the Brother CS6000i is the ideal machine for you. It remains the favorite sewing machine for both beginners and experienced sewists. The machine can handle a wide range of sewing and quilting projects such as the sewing of cuffs, making of zipper, pleating and quilting. The Brother CS6000i comes with 9 types of feet such as a zigzag, zipper, blind stitch, walking, monogramming, buttonhole, button fitting, spring action quilting and overcasting foot. Others are sewing decorative stitches on sleeves, making costumes and clothes with a myriad of materials.
Some of the great features of the Brother CS6000i include 60 built-in stitches that comprise 20 decorative stitches, 7 quilting, 7 styles of one-step automatic buttonholes, 6 heirlooms and 20 garment construction. The machine has 850 stitches per minute sewing speed so you can get projects done pretty fast. There is an automatic needle threader that allows you to thread the needle without the frustrations and eye strains that comes with manual threading. You can make use of the Start/Stop button in case there is no foot control or if there is a need to reposition the needle.
The machine has variable controls so you can easily adjust the speed at each stretch. With this feature, you can keep a consistent rate without the need to maintain the same pressure on the foot pedal. Making a reverse stitch is just a matter of pressing a button. It comes with a quick-set top drop-in button that is jam-resistant and easy to thread. You cannot go wrong with an LCD that displays an error anytime you do something wrong. Use the needle position key to stop the needle either at the lowest or highest point. There is a built-in free arm to help you handle pant legs, sleeves and cuffs. Some of the accessories you will find in the box are a cleaning brush, bobbins, eyelet punch, ripper, needle set, accessory pouch, an oversized table and 9 different presser feet. The machine has a 25-year limited warranty. Note that Brother CS6000i is not recommended for countries that don't have support for 120 Volts AC.
PROS:
A wide table with detachable foot
Drop-in bobbin and automatic needle threader
A wide range of 60 built-in stitches to choose from
Easy to set up and great for beginners
Adjustable tension control
Adjustable stitch length and width
850 stitches per minute sewing speed
CONS:
No automatic needle threader
The bobbin is a bit tricky to thread
The foot pedal is too sensitive
back to menu ↑
SINGER Quantum Stylist 9960
The SINGER 9960 allows you to fulfill your creative dreams with a lot of easy-to-use features. You can select from different stitch options such as stretch, basic and decorative stitch which is perfect for fashion sewing, home décor, quilting and crafting. With 600 built-in stitches, you are never constrained when it comes to stitching options that comprise 5 alphanumerical fonts, 13 built-in one-step buttonholes alongside a remarkable buttonhole underplate. The sewing speed is also decent at 850 stitches per minute. This makes it an impressive sewing machine for both beginners and experts alike.
Other incredible features include an automatic needle threader which eliminates manual threading that causes eye strains and frustrations. When the machine is stopped, you can use the needle up/down button to change the needle position. You don't have to worry about using a pair of scissors to cut the thread. The SINGER 9960 has an automatic thread cutter to cut threads with ease. If you feel uncomfortable using the foot control, the Electronic Auto Pilot saves you a lot of stress. This feature reads an error and shows exactly where the error occurred. There is also the speed slider that controls the maximum speed of the machine. With the LCD lights, you don't have problems sewing dark fabrics. There are plenty of accessories to help you get things done with the utmost convenience.
The information advisor is a digital advisor that includes length and width, the selected stitch type alongside the suggested presser foot. Some of them are bobbins, needles, screwdrivers, thread spool caps, auxiliary spool cap, spool felt pin, enclosed quilting bar and brush. Others are darning and embroidery foot, zipper foot, cording foot, all-purpose foot, satin stitch foot, open toe foot, braiding foot, blind hem foot, buttonhole foot with underplate, rolled hem foot, singer welt cording foot, presser foot shrank, overcasting foot, fancy trim foot, stitch-in-the-ditch foot and many more. To cap it all, there is a 25-year limited warranty.
PROS:
An abundance of stitches (600 stitches)
Automatic needle threader and thread cutter
Two bright light for proper illumination of the work area
The moderate sewing speed of 850 stitches per minute
Versatile and user-friendly
A lot of free accessories
Heavy-duty internal metal frame construction
CONS:
Bobbin cover is made from plastic and loses easily
Tiny allowance markings on the throat plate
back to menu ↑
SINGER 7258
The SINGER 7258 is a computerized sewing machine with 100 stitch options. More than 70 decorative stitches help you to explore your creativity to the fullest. This machine is ideal for anyone who wants to pick up sewing as a hobby. The features include 6 automatic buttonholes, an automatic needle threader, a snap-on presser and 6 segment feeding system amongst other great features. It is made with a sturdy internal metal frame for durability and stability. The sewing speed is not bad for a beginner. 750 stitches per minute are good enough to help complete projects in good time.
Once the lever is set to your desired speed, you no longer need a foot pedal to control the speed of the machine. This makes the machine to automatically sew at the selected speed. You have to look at the LCD to see your chosen stitch, width and length. Other features are the free arm that makes it easy for you to sew cuffs, sleeves and pant hems. The free arm also comes with a storage area where you can keep things like needle, thread, scissors and screwdrivers so they can be handy.
You cannot do without lightning. This is a wonderful feature that lets you work on dark fabric conveniently. The LED lights are bright enough to illuminate every angle for unparalleled visibility. A 25-year limited warranty guarantees peace of mind for the user. The rest of the features are built-in reverse, programmable needle up/down, speed control with a lever, automatic bobbin winding clutch and automatic presser foot pressure control.
When it comes to accessories, you can find plenty of them such as the 10 presser foot that comprises all-purpose foot, gathering foot, satin stitch foot, blind hem foot, buttonhole foot, zipper foot, overcasting foot, narrow hem foot, darning/free embroidery foot and quarter-inch foot. Other accessories are a needle plate, screwdriver, pack of needles, darning plates, bobbins, thread spool caps, seam ripper/lint brush, foot pedal, power cord, spool pin felt, dust cover, instruction manual and DVD.
PROS:
100 built-in stitches for different patterns
The speed is adjustable using the lever
Excellent illumination with the bright LED lights
Automatic needle threader
Easy to read LED display
Start and stop button to avoid using the pedal
750 stitches per minute sewing speed
CONS:
No automatic thread cutter
The machine can be noisy sometimes
back to menu ↑
Brother SE400
Brother is known for making high-quality sewing machines for both beginners and advanced sewists at an affordable rate. The Brother SE400 is not an exception. It is a combination of sewing and embroidery machine. When it comes to features, this machine is rich. There are 67 built-in stitches, 70 built-in designs, 98 stitch functions, 5 lettering fonts, 8 styles of auto-size buttonholes and 55 alphanumeric stitches. There are 8 sewing feet altogether. They include zigzag foot, overcasting foot, blind stitch, button fitting, buttonhole foot, embroidery, zipper and free-motion monogramming.
The Brother SE400 has USB support so you can download patterns from the internet into the machine. You will also find a free arm to allow you to sew stuff like a collar, sleeves and cuffs. The quick setup top drop-in bobbin is easy to thread and also jam-resistant. You will have to frequently clean the bobbin case to avoid issues due to the built-in sensors. With backlit LCD, you can conveniently view your stitch selections. Say goodbye to all the frustrations and stress that come with manual needle threading.
The automatic needle threading system threads the needle effortlessly. Using the scissors is no longer necessary with the automatic thread cutter. To control the sewing speed, you can make use of the slider. The full assortment of accessories includes softcover, embroidery arm, 8 accessory feet, operation manual written in both English and Spanish. It comes with a 25-year limited warranty.
PROS:
Offers plenty of designs and patterns
The free arm design increases versatility and functionality
Automatic thread cutter
Automatic needle threading
Backlit touchscreen LCD
Connectivity to the computer
Built-in tutorials and quick-start guide
CONS:
The presser foot pressure cannot be adjusted
Black and white LCD touchscreen; instead of coloured
back to menu ↑
Brother HC1850
If you are in search of a computerized sewing machine that sews and quilts, the Brother HC1850 is highly recommended for you. Apart from handling sewing and quilting, it also does basic monogramming and decorative stitching. This machine is packed full of features that increase functionality and versatility. There are a total of 130 unique stitches alongside basic monogramming sewing fonts with 8 styles of one-step buttonholes. The 55 alphanumeric sewing stitches are ideal for basic monogramming. For quilting, there are 14 quilting stitch functions, free-motion quilting plus a detachable table.
With the Brother HC1850, threading the needle manually is a thing of the past since it comes with an automatic needle threader. The sewing speed is not an issue. The sewing machine has 850 stitches per minute sewing speed to ensure that projects without wasting much time. It is a great machine especially for beginners because of its speed adjustment feature. Use the slider to adjust the speed so you can be in control. You don't have any problems when sewing dark fabrics. This is because there are LED lights to illuminate the work area. The LCD screen allows you to view the current stitch pattern you have selected alongside other details. Thread tension can be adjusted. This can be done by pushing the roller backward or forward. The length and width of the stitches can also be adjusted as per your choice.
There is no fidgeting when you want to change the needle. Just press the needle position button to raise the needle. Before removing the needle, make sure you turn off the power, then, release the presser foot. Take a screwdriver to loosen the screw, remove the needle and replace it. Some of the accessories are a cleaning brush, needle set, seam ripper, twin needle and foot control. Others are pedal, ballpoint needle, bobbins, detachable table, instruction DVD, 3 spool caps and more. The machine has a 25-year limited warranty.
PROS:
Automatic needle threader
Easy to setup bobbin
Adjustable sewing speed
Well-lit work area with LCD lights
850 stitches per minute sewing speed
DVD instruction guide
Perfect for beginners
CONS:
No automatic thread cutter
Most parts are made from plastic
back to menu ↑
SINGER Tradition 2259
If you intend to make sewing a hobby, the SINGER 2259 will be a good companion. When it comes to design, the machine stands out from the crowd. The all-white design makes it appealing and attractive for most home sewers. It comes with a lot of user-friendly features that make it ideal for beginners. You will love the automatic bobbin winding that allows you to fix the end of a bobbin within seconds without having to manually labour with the spool. With the top bobbin, you can easily attach threads without any issues. This helps to save time and accomplish more in less time.
Its internal construction is made of a heavy-duty metal frame to provide stability and support. The SINGER 2259 has got 19 built-in stitches which comprise 6 basic stitches, 7 decorative stitches, 5 stretch stitches and one 4-step built-in buttonhole so you can creatively handle any projects with ease. There is no need to thread the needle manually. The machine comes with an automatic needle threader. One superior advantage of this machine is the high presser foot lifter which makes it convenient to sew through several layers of thick fabric. You can raise the high presser foot lifter to a higher position to allow thick fabrics.
The free arm allows you to sew items such as cuffs, pant hems, collars and other hard-to-reach areas. There is also the onboard storage that gives you access to handy accessories such as needles, scissors, tape and others. 750 stitches per minute is a moderate sewing speed to complete any task within the shortest possible time. Other features that are worthy of mention include stitch selector dial, adjustable tension, twin needle, automatic reverse lever and snap-on presser foot. For accessories, 4 presser feet includes button sewing foot, buttonhole foot, zipper and general-purpose foot. Others are oil bottles, needles, foot pedal, bobbins, screwdriver, darning plate, power cord, dust cover, spool cap holders, seam ripper/brush, instruction DVD and manual. It is backed with a 25-year limited warranty.
PROS:
Compact and lightweight
Automatic needle threader
Decent sewing speed (750 SPM)
Easy to use for beginners
Low budget and affordable
High presser foot lifter
Adjustable stitch length and width
CONS:
No automatic thread cutter
Highly sensitive presser foot
back to menu ↑
Brother CE7070PRW
The Brother CE7070PRW is a computerized sewing machine that is built with a wide range of stitches. There are 70 built-in stitches in all. This includes important stitches for zippers, blind hems, scallop stitches, decorative stitches, 7 styles of the built-in buttonhole and many more. The display and stitch selection makes the machine a versatile and easy to use the tool. With the stitch selector, you can choose your desired stitch and it can be viewed on the LCD screen. You have a well-lit work area that enables you to sew dark fabrics.
The wide table provides you with a wider space. This makes it convenient to sew long dresses and formal wear. Using the automatic needle threader helps you to thread the needle without any worries. Just push the thread through the eye of the needle and that is all. The drop-in bobbin is easy to setup. It provides you with even stitching with a lot of reliability. If you care about speed, then, this is the machine for you.
With 1,100 stitches per minute, you can achieve a lot. There is a stitch chart that is printed in front of the machine. At a glance, you can see all the available built-in stitches that come with the machine. For free-motion quilting, you can make use of the drop feed system. The various accessories are monogramming foot, blind stitch foot, zigzag foot, overcasting foot, buttonhole foot, zipper foot and button fitting foot. Others are bobbins, twin needle, needle set, cleaning brush, foot control pedal, screwdriver, extra spool pin, seam ripper and spool caps. It comes with a 25-year limited warranty.
PROS:
Automatic needle threader
Bright LED lights to illuminate the work area
Easy to use with an intuitive control system
Wide table for the convenient making of long dresses
LCD with stitch selector
1,100 stitch per minute sewing speed
Reliable quick-set bobbin
CONS:
No automatic thread cutter
No automatic tension control
No start/stop button
Buyer's Guide
There are different types of sewing machines in the market. This is why you need to know what to look out for when buying a sewing machine. The buying guide is to help you make the right choice that will be worth your investment in the long run. Follow the guide below to choose the best sewing machine for making clothes.
Built-in Stitches
As a beginner, you may not need plenty of stitches. But you must have some basic stitches like the zigzag stitch, straight stitch, button stitch and backstitch. These basic stitches help to expand your capability and creativity so you can get the most of the sewing machine.
Automatic Buttonholer
This eliminates the making of buttonholes manually. With the automatic buttonholer, buttonholes can be made with ease and buttons can be fastened without any issues. As such, there is no need to adjust the fabric many times before making a buttonhole which is common with making buttonholes manually.
Foot Pedal
Having a foot pedal feature helps you to work hands-free. This means you can use your two hands to hold and adjust fabrics to conveniently sew. Look for an anti-slip foot pedal to ensure a strong grip with your feet when sewing.
Automatic Needle Threader
Manually threading the needle can be frustrating. It can also put a strain on the eyes. This is why the automatic needle threading system is useful. The machine threads the needle automatically.
Portability
If you are buying a machine that has to be moved from one place to another frequently, then, portability should be the first feature you should look out for. Choose a compact-size sewing machine that is easy to carry. Also, ensure the machine comes with a handle.
Extended Workspace
This may not be an important feature for some sewists. But if you will be handling large projects such as curtains and long dresses, you will need this feature. It allows you to work on large projects conveniently.
Automatic Thread Cutter
You don't want to be picking up the scissors again and again to cut the thread each time you sew a piece of fabric to the end. The automatic thread cutter cuts off the thread automatically at the end of the fabric. This is a great feature for beginners and experts.
Top-loading Bobbin
The days where you have to open the recessed compartment every time to check if the thread is still running low or not has passed. With the modern sewing machine, all you have to do is to slide the panel open and drop the bobbin in its compartment. The bobbin cover is transparent so you can monitor the level of the thread without removing the cover.
Noise Level
On average, the noise level of a sewing machine ranges from 65 and 80 decibels. This will depend on the working mechanism and build quality of the machine. A sewing machine at 70 decibels is very loud. So, look for one that is around 65 decibels or below. The decibel rating is usually written on the label.
Sewing Speed
If you want to get the job on time, the sewing speed of the machine should matter to you. On average, don't buy a sewing machine that is below 650 stitches per minute (SPM). 650 SPM is ideal for a beginner. But for a professional, look for a machine above 1,000 SPM.
Free Arm
You cannot work with cuffs, sleeves and pant hems without a free arm. This makes the free arm an important feature. It also helps you to work around difficult-to-reach areas on the fabric.
Warranty
Any product that comes with a warranty gives you peace of mind. This is why you must choose a sewing machine with a warranty. Brands like Brother and SINGER offer a 25-year limited warranty. The warranty covers you when anything happens to the machine.
LCD Screen
If you choose a computerized sewing machine, you must ensure it comes with an LCD screen. The screen shows you the stitch you have selected while sewing. A colored screen makes sense than a black one.
LED Lights
There are times you will have to work on dark fabrics. If the work area is not well lit, you can run into some trouble. This is the reason you need to choose a machine that has a well-lit work area. Proper illumination helps you to work without any hindrance.
Adjustable Speed Control
You can easily adjust the speed while sewing. Choose how fast or slow you want to sew so you can be in charge.
Needle Up/Down
With this feature, you can stop the needle in the up or down position. This allows you to pivot and turn the fabric.
FAQs
How do I avoid needle breakage?
Answer:
Ensure that you use the proper needle size for the type of thread that you are using.
Make sure that the presser foot or attachment is well fastened to the bar and the needle should go straight through the centre of the hole
Don't pull the fabric while sewing. This can bend or break the needle
Choose a needle that is of the right length. If the needle is too long, it may be having contact with the bobbin case.
Be careful when sewing over pins.
Why is the lower thread breaking?
Answer:
Check the bobbin. It may not seat properly. If this the case, you will have to reinsert the bobbin
It is possible the bobbin has been threaded wrongly or the thread is tangled. You will have to rethread the bobbin
If the bobbin is too full, it can cause thread breakage. This prevents the bobbin from turning smoothly. You will have to remove some of the thread
Check for lint in the bobbin case. Lint can prevent the bobbin from functioning properly.
What are the ways to maintain a sewing machine?


Answer:
Always cover your sewing machine when it is not in use. This keeps dust at bay. You will also have less cleaning to do if the machine is well covered.
Clean the machine. Over time, lint from the thread starts to affect the performance of the machine. This is why you have to clean out the lint after every 8 hours of working on the machine.
The bobbin area should also be cleaned. Also, clean under the needle plate
The machine should be oiled once in a while
Conclusion
Choosing the right sewing machine can be a herculean task. This is why doing some research is important before buying a sewing machine. If you are still very confused after reading this review, we recommend the SINGER 9960. The SINGER 9960 has 600 built-in stitches. This is perfect for professionals who are looking for a lot of stitch options. The sewing speed is moderate at 850 SPM. If you are looking for a machine with a lot more speed, choose the Brother CE7070PRM. It has 1,100 SPM and 70 built-in stitches.