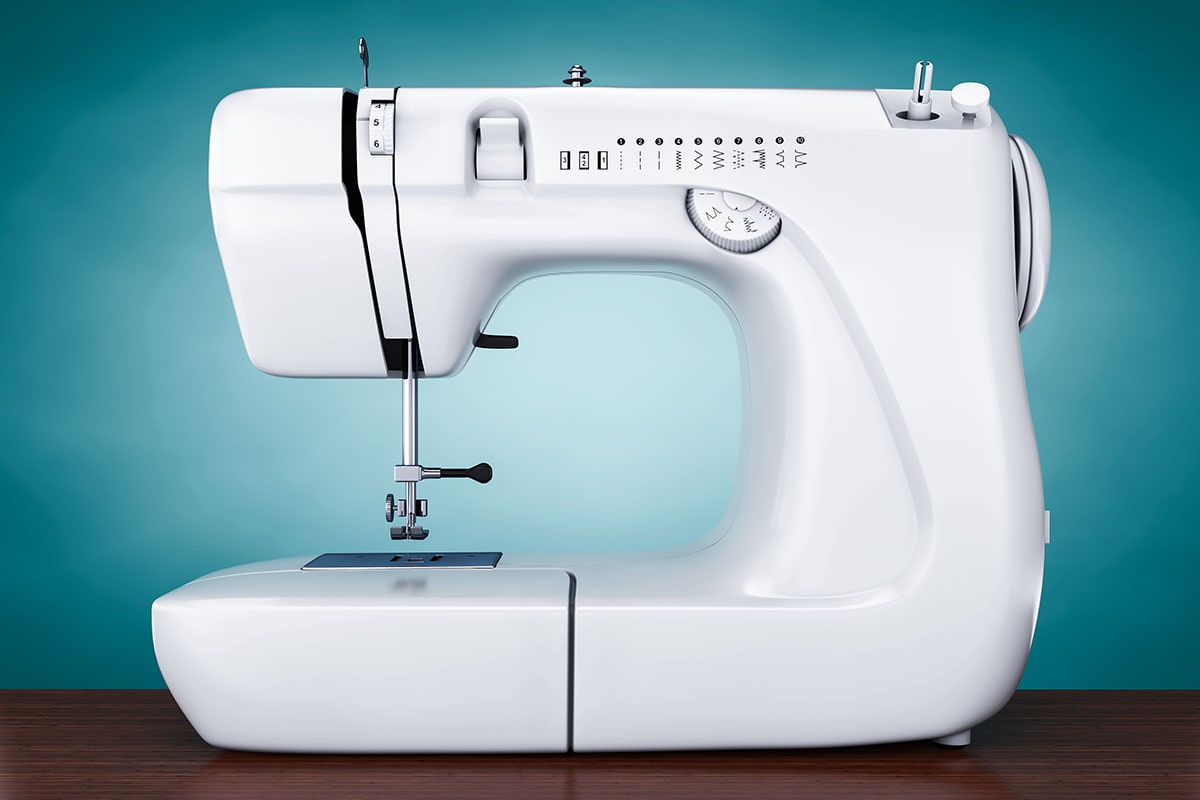 Sewing is both fun and practical. If you own a sewing machine, you can sew your clothes, mend your quilts and make different products from any fabric. The problem is that most high-end sewing machines are expensive. But that is not going to stop you from making your clothes yourself.
If you are on a budget, we have selected some of the most affordable sewing machines you can find in the market. These machines may not be full of features like the expensive ones but you will still get the job done with any of them.
Our criteria for choosing these machines are based on functionality, durability, sturdiness, reliability and ease of use. These machines are made by the best brands in the world.
Reading this review will help you make an informed choice in the end. So, let's get started. Here are the 7 best sewing machines under 200.
Check the Comparison Table Below to See the Sewing Machines Up for Review
Image
Automatic Needle Threader
Table of Contents
Brother CS6000i
The Brother CS6000i is a multifunctional machine for both sewing and quilting. It is an excellent choice for beginners and intermediate sewists. The machine is light and highly functional. When it comes to features, this machine has a variety of stitches. This includes decorative stitches and 7 styles of auto-size buttonholes. You can't go wrong with 60 built-in stitches. The LCD screen is perfect for the selection of stitches at the touch of a button and you can view the selected stitch on the screen to be sure you have chosen the right stitch.
You can say goodbye to manual needle threading since the machine comes with an automatic needle threader. The bobbin is also easy to thread. This is a big relief for people with bad eyesight. The built-in free arm assists you with the sewing of sleeves, cuffs and pant legs. With a brightly lit area, you don't have any problems when sewing dark fabrics. Threading is a breeze since the machine is built with easy-to-follow threading diagrams. The adjustable speed control puts you in complete control. You can adjust the sewing speed to suit your pace.
Accessories include 3 bobbins, a set of needles including twin needles, 10 sewing feet, a wide sewing table and a hard protective casing. To cap it all, the Brother CS6000i comes with a 25 years warranty. There is also a quick-start guide and complete instructions written in English and Spanish to help you understand how the machine works. The machine is versatile and kid-friendly.
PROS:
Ease of use
Well-detailed manual
Perfect for quilting
Automatic needle threader
60 built-in stitches with a well-lit work area
CONS:
Not ideal for free motion quilting because of its small throat
Not ideal for thick-layered fabrics
back to menu ↑
Brother CS5055
If you are looking for an affordable computerized sewing machine, the Brother CS5055 is your best bet. It is the perfect sewing machine for both beginners and sewing enthusiasts. The machine is loaded with 60 built-in stitches so you can have a myriad of choices when it comes to stitching options. You can view your chosen stitch from the LCD screen right in front of you. This includes utility, decorative and heirloom stitch functions. It also includes 7 one-step auto-size buttonholes.
No more manual threading with Brother CS5055. It has a built-in automatic needle threader to make needle threading hassle-free. It pushes the thread into the needle with ease. The jam-resistant drop-in top bobbin system is fast and also easy to thread. The workspace is large enough to accommodate larger projects. You don't have any issues when sewing dark fabrics because the work area is well lit with a LED light.
When it comes to the construction of the machine, it has a metal frame construction that enables the sewing tool to handle different types of projects. It is lightweight and extremely user-friendly. The interesting part is that the CS5055 is capable of tackling both thin and thick fabrics such as denim. Some of the accessories include a needle set, 4 bobbins and 7 sewing feet. The user manual is written in three languages – English, French and Spanish.
PROS:
Durable and easy to use
Handles denim and other thick fabric perfectly
Automatic needle threader
60 built-in stitches
Large and convenient workspace
CONS:
No automatic thread cutter
It comes with no sewing table
back to menu ↑
Brother CS7000X
The Brother CS7000X is another computerized sewing and quilting machine. This model has more features than the Brother CS5055. It has got a huge 70 built-in stitches which includes decorative, utility, heirloom and quilting stitch functions. There is also the inclusion of a 7 one-step auto-size buttonholes. With the LCD screen, you can view your selected stitch. The automatic needle threader brings a lot of ease into your life. With the automatic needle threader, manual threading of the needle is longer necessary. That is goodbye to eye strains. The top-loading drop-in bobbin is jam-resistant and easy to load.
Its construction is durable since it is made with a metal frame that gives the machine a great level of stability and sturdiness to tackle big projects. You don't have to struggle with space while working on larger projects such as quilting. This is because the workspace is large enough to help you conveniently sew any projects. The free arm allows you to handle tight projects like the sewing of sleeves and cuffs.
This is a sewing machine that is ideal for beginners and experienced sewers because it has an adjustable speed control to help you sew fabrics at a comfortable speed. The accessories include a sewing table, quilt guide, 10 sewing feet, protective hard case and user manual written in English, French and Spanish.
PROS:
Easy to thread
Automatic needle threader
Strong and durable
70 built-in stitches
LCD screen
CONS:
No automatic thread tension
No automatic thread cutter
back to menu ↑
Brother XM2701
The Brother XM2701 is an everyday sewing machine. It is lightweight in design and comes with a lot of user-friendly features. The machine's versatility makes it the perfect choice for beginners and advanced sewers. It offers 27 built-in stitches which include quilting, decorative and blind hemstitches. It also includes an automatic 1-step buttonholer to perfectly handle almost all kinds of buttonholes. The machine offers reverse stitching. The reverse stitch button can be found where you have the stitches.
The other features are built-in needle threader for quick and easy needle threading. The top drop-in bobbin is resistant to jams with an automatic bobbin winding system that makes bobbin threading also easy. With the LED light, you longer have to worry when working on dark fabrics. The Brother XM2701 is backed with a 25-year limited warranty for peace of mind.
It has 6 sewing feet which includes narrow hemmer, blind stitch, button sewing, buttonhole, zigzag and zipper feet. The built-in free arm comes with the ease of sewing cuffs, sleeves and pant legs. It comes with a DVD instructional guide to help you get started.
PROS:
Extremely lightweight
Easy to set up and use
Automatic needle threader
Reverse stitching
It is user-friendly for beginners
CONS:
No adjustable speed control
LED light not bright enough
back to menu ↑
SINGER Start 1304
The SINGER Start 1304 is an entry-level sewing machine. Most of the features are manually operated. It has a limited stitch option but the 4-step buttonholer can at least be a consolation for the fewer stitch options. There are just 6 stitch options which include scallop, blind hem, buttonhole, straight and satin stitches. Just turn the dial to select a stitch and start to sew. All of the stitches have preset width and height. The machine is built to last for a long time since its interior frame is made of metal. When it comes to sewing speed, it has a decent speed of between 300 and 400 SPM. It operates quietly and very user-friendly too.
It comes with an automatic bobbin winding system for the easy threading of the bobbin. For the winding of the bobbin, you just have to look at the numbered diagram that is printed on top of the machine. The bobbin stops automatically when it is filled up with thread. This machine is extremely light and portable. It weighs just 7 pounds making it easy to be transported from one point to another. The extensive sewing table is removable and the free arm can be accessed after it is removed. With the free arm, you can easily handle tasks like the hemming of trousers, sleeves, cuffs and other hard-to-reach areas in any fabric product.
The 3 presser feet help you to increase your capability which allows you to apply a myriad of techniques for any project. Sewing dark fabrics is not an issue because the workspace is well illuminated. Other exceptional features are reverse stitching, adjustable tension settings and extra-high presser foot lifter. The package comes with loads of accessories like zipper foot, all-purpose foot, buttonhole foot, darning plate, bobbins, pack of needles, needle plate screwdriver, foot control, power line cord, spool pin felts, ripper/lint brush, quick-start guide and instructional manual. It comes with 25-years limited warranty.
PROS:
Ease to use
Extremely lightweight and portable
Durable and powerful
Reverse stitching
Automatic bobbin winding system
CONS:
Limited stitch options
No automatic needle threader
back to menu ↑
Brother HC1850
If you are an advanced sewer and looking for a basic sewing machine with a great number of features, we recommend the Brother HC1850. The machine comes with endless possibilities with 185 built-in stitches. This comprises 130 sewing stitches that include 8 styles of auto-size one-step buttonholes with 55 alphanumeric sewing stitches. Some of the stitches are heirloom, decorative, clothing and quilting stitches. This is an abundance of choice especially for experienced sewers. Threading is super easy with the advanced needle threader and drop-in top bobbin. The bobbin is jam-resistant. With the one-push button selector, you can simply choose the right stitch suitable for you.
The super bright work area helps you see what you are working on in detail. With the LED light, dark fabrics can be seen especially at night. You don't have to struggle for space since the machine comes with a wide sewing table. This allows you to easily maneuver when handling any projects. With the large backlit LCD screen, you can use the push-button stitch selector to select a stitch and watch the screen to be sure you have chosen the desired stitch. The built-in flip-chart helps you to quickly view all the available stitches in a jiffy.
There are other excellent features like automatic needle threading that eliminates the need for labor-intensive threading. Adjustable sewing speed allows you to sew at your desired speed. Its exceptional feeding system lets you sew almost any fabric. There is also the detachable foot controller. Some specialty quilting feet includes spring-action quilting foot, a detachable foot controller and the ability to handle free-motion quilting with ease.
PROS:
Light and portable
Adjustable sewing speeds
Perfect for quilting projects
Smooth and quiet operation
Easy to change stitch length and width
CONS:
The light is not very bright
No automatic thread cuter
back to menu ↑
Brother XR3774
Affordability and quilting capability is what the Brother XR3774 brings to the table. Apart from being a machine for beginners, it is also great for kids. The machine features 37 built-in stitches which include a decorative stitch, a blind hem, quilting stitches and a one-step buttonhole. Finding these stitches is made easy with the stitch selector. The stitch selector is large and can be found in front of the machine. Turn the dial to choose the appropriate stitch that you so desire. Both the length and width of the stitch can be adjusted.
The automatic needle threader and drop-in top bobbin are both easy to thread. It comes with a free arm that is very versatile for the handling of a wide range of quilting projects and everyday sewing. This makes the machine a great choice for both beginners and advanced users. The wide quilting table makes quilting effortless. As such, the table helps to handle all sorts of quilting projects. With a bright light, you don't have to stop working for a moment. The light illuminates the workspace for great visibility especially when working in the dark or with dark fabrics.
There are a few accessories that come with the machine such as a wide table, 8 sewing feet, a machine cover to prevent dust and an instructional DVD to get you acquitted with the usage of the machine. The sewing feet include zigzag, zipper, buttonhole, blind stitch, narrow hemmer, button sewing, walking and quilting feet.
PROS:
Beginner-friendly
Automatic needle threader
Very versatile
Well lit with LED light
Easy to use and maintain
CONS:
No automatic bobbin winder
A bit noisy
The dog feed cannot be dropped
back to menu ↑
Buyer's Guide
Choosing the best sewing machines under 200 is not a jamboree. It is something you have to do very carefully. A wrong choice will amount to a waste of time and money. There are important considerations to make when looking for a sewing machine under 200. Here are some of the factors you have to consider before you choose one.
Electronic VS. Mechanical
There are electronic and mechanical sewing machines. What choice is better? It all depends on you. The electronic machines come with a lot of automatic functions and are usually computerized while the mechanical ones are manual. Electronic sewing machines are perfect for advanced users while mechanical machines are for beginners. If you are a beginner, it is advised that you go for a mechanical machine and move to an electronic one when your skill levels improve.
Maintenance and Ease of Use
You don't want a complicated sewing machine. Choose a machine that is easy to use and maintain. How do you one that is easy to maintain and use especially if you are buying online? The best way is to read reviews from people who have already bought the product.
Stitch Options
Too much stitch options is not too good for beginners. Choose one with less number of stitch options. Starting with six stitch options will be a great start. However, there is nothing wrong for advanced users to go for a machine with plenty of stitch options. Whether you are a beginner or an advanced user, you cannot do without basic stitches like zigzag, decorative, blind hem, and buttonhole. Others are satin, straight and quilting stitches.
Weight and Size
This is an important consideration if you will be moving your machine from one point to another very often. As such, you must choose a lightweight and portable machine. But if the machine will be permanently stationed at a particular location, then, you don't have to worry about weight and size.
Stitch Width and Length
Adjusting the stitch width and length is necessary when sewing any fabric. It helps you to conveniently sew your cloth. Choose a machine with adjustable stitch width and length. Check the user manual for the right adjustments.
Extended Workspace
You will require a large workspace especially for quilting. This is why a large work area is vital so you can work conveniently without any discomfort.
Automatic Needle Threader
Older people with poor eyesight don't joke with this feature. So, of you have bad eyesight; choose a machine with the automatic needle threader feature.
Sewing Speed Control
What is speed without control? Though the beginners don't need to sew at a high-speed but advanced users need to speed up their projects. This is why you must choose a machine that is easy to control.
Free Arm
You can't do without a free arm. With a free arm, you will be able to work on sleeves, cuffs and hems. It helps you to conveniently work on difficult-to-reach areas of your fabric.
LED or LCD Screen
A computerized sewing machine must come with an LED or LCD screen. This screen helps you to view your selected stitch to be sure that what you have chosen is what you are using. You may not get a color screen since a black one will do.
Accessories
You don't want to buy extra accessories when they should have come with the package. Check what comes with the package. This is how you will find out what accessories are available in the package. Some of the accessories that may be included in your package are a dust cover, scissors, brush, screwdriver, measuring tape and more. Others include extra needles, sewing feet and bobbins.
LED Light
Avoid a sewing machine without a LED light like a plague. The light enables you to continue working on a dark fabric in the absence of an improvised light. It helps to illuminate the work area so there will be clear visibility. However, you have to choose one with a very bright light.
Drop-in Top Bobbin
Choose a machine with a drop-in top bobbin. This is because it is easy to thread and placed into its compartment. Also, ensure that the machine has a bobbin winding system.
Reverse Stitching
Reverse stitching brings a lot of relief to a sewer's life. This helps you to sew in reverse position instead of adjusting the fabric.
Automatic Buttonhole
You don't have to turn a fabric before making a buttonhole. The automatic buttonholer makes the button with ease. Just insert the button into the slot to make a button that fits perfectly.
Noise Level
The normal noise level of a sewing machine is between 65 and 80 decibels. Anything within this range is considered very noisy. Check the label to see the decibel of the machine. Something around 65 decibels and below will be perfect.
Warranty
This is one of the most important considerations when purchasing a sewing machine under 200. Look for sewing that comes with at least 2 years warranty.
Sewing Table
A sewing machine table helps you to conveniently sew your fabric. Without it, you will experience some discomfort. It is cost-effective to purchase a sewing machine with an extended table.
Instructional Manual
A sewing machine that comes with an instructional manual guide you on the usage of the machine. This will help you not to use the machine wrongly.
Storage Compartment
The storage compartment comes in handy for storing accessories like needles, scissors, bobbins and other items. It is a big plus if you get a sewing machine with a storage compartment.
back to menu ↑
Frequently Asked Questions (FAQs)
Which under 200 mechanical sewing machines is the best?
The SINGER Start 1304 is the best amongst the under 200 sewing machines. It offers the most value for beginners with 6 stitch options and has a sewing speed of between 300 and 400 SPM.
Which under 200 computerized sewing machines is the best?
The Brother HC1850 is the best computerized sewing machine. It is perfect for especially the advanced users with 185 built-in stitches.
What are the best under 200 sewing machines for beginners?
For the mechanical sewing machine, the SINGER Start 1304 is recommended and for the computerized version, the Brother XM2701 is ideal since it has fewer built-in stitches.
Are there good sewing machines sold at under 200?
Yes, there are plenty of sewing machines sold at under 200 and they are also good. Brother and SINGER brands are highly recommended.
What are the things one should not do with a sewing machine?
A sewing machine requires maintenance. Always keep it on a flat surface and cover it when not in use. Avoid pushing fabric under the sewing machine needle. The machine should be able to take the fabric itself. Your foot should not be rested on the pedal. Keep all accessories clean and well stored.
back to menu ↑
Conclusion
When you are on a budget, going for a cheaper sewing machine becomes the only option available. But if you want to choose the best sewing machine under 200, you must do a lot of research. This is why we made a buyer's guide so you can make an informed choice. Here is our recommendation. As a beginner, if you are looking for a computerized sewing machine, you should go for the Brother XM2701. If you want a mechanized sewing machine, choose the SINGER Start 1304.
However, if you are an advanced user, we recommend the Brother HC1850. Our selection of the best sewing machines below 200 followed international best practices. This is an assurance that any choice that you make will be a durable and long-lasting one.