Sewing is an art and when it comes to sewing in the form of quilting, then that is something high-quality stuff. In this article on the best sewing machine for quilting, we will be exploring the quilting world for you so that you can have a clear understanding. We will be presenting you with 7 awesome sewing machines for quilting that are handpicked by the experts.
Those machines have great reviews from the customers and are the best quality products on the market. We will also discuss the features to check that are important for making a buying decision, what to do for maintaining a machine etc. If you read those guidelines, you will be able to pick the right kinds of choice for you. So hang tight guys. We are going for a ride!
Best Sewing Machine for Quilting Comparison Table
| Model | Dimensions (Inches) | Weight | Rating | Price |
| --- | --- | --- | --- | --- |
| Brother CS6000i | 16 x 6.7 x 11.4 | 13 Pounds | 4.9 | Check Price |
| Juki TL-2010Q | 25.7 x 14 x 18 | 38 Pounds | 4.7 | Check Price |
| Brother DZ2400 | 11 x 11.7 x 13.2 | 17.89 pounds | 4.4 | Check Price |
| Brother HC1850 | 16.3 x 7 x 12.5 | 10.14 pounds | 4.8 | Check Price |
| Brother XR3774 | 17.5 x 7.6 x 14.6 | 19.5 pounds | 4.4 | Check Price |
| Brother XR9550PRW | 20.3 x 12.7 x 17.6 | 9.92 pounds | 4.4 | Check Price |
| Juki HZL-F600 | 14 x 23 x 16 | 33.4 pounds  | 4.7 | Check Price |
Brother CS6000i Sewing and Quilting Machine
This super affordable and user-friendly sewing cum quilting machine offers you so many sewing and quilting features that you will be amazed. It is easily movable from one place to another, so portability isn't an issue for it. The CS6000i has a built-in sewing stitch capability of 60 that includes many decorative stitches as well as 7 one-step buttonhole styles! There are 9 different presser feet that come with this beauty, yes that's right, 9! You can use zipper, buttonhole, monogramming, overcasting, walking, button fitting, blindstitch, zigzag, and spring action quilting foot. So many varieties.
It also has a detachable wide table that helps for doing any large projects of quilting. It was designed for your easy handling and smooth workability. You will have an automatic needle threader, a simple to view backlit LCD display along with it. Also, there is a sewing speed control system that is adjustable and easy to follow threading diagrams. The LCD display will help to see the dark fabrics when you are sewing. The automatic needle threader helps to get the thread alignment right through the needle. Besides, the free arm will help to assist the pant leg, sleeve and cylindrical other item's sewing.
For your perfect traveling experience, the sewing machine includes a hard machine case. There is a printed quick start guide that comes along with it. Also, there is an instruction manual written in Spanish and English. The company doesn't entertain the idea of using it in any country that doesn't have 120V AC. Even a voltage adapter wouldn't be a good idea. You will get an instructional DVD, a user manual in two languages, a limited 25-year warranty, and free technical customer support for the life of the product through phone and online.
PROS:
Very simple to use
Best sewing machine for quilting
Sewing speed is adjustable
Threading is super easy
The needle threader is automatic
An oversized table gives extra space
The work area is brightly lit
Easy bobbin winding
Built-in free arm helps to make cuffs and sleeves
Hard protective case for an idle time
Big oversized table
8 super cool sewing and quilting feet
CONS:
Not recommended where 120V AC isn't available
All 8 feet are difficult to get
back to menu ↑
Juki TL-2010Q Portable Sewing Machine with Automatic Thread Trimmer for Quilting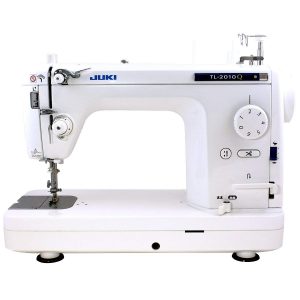 Our next big thing is the Juki TL-2010Q model that is really a gem for sewing and quilting lover. The machine is really easy to use because of the microcomputer-controlled and speed controlled mechanism. You can operate the machine at a lower speed which facilitates accurate feed as well as perfect stitching. It is equipped with a thread button which is automatic and trims the bobbin and needle threads by lightly pressing the pushbuttons. The thread tension scale helps to get any adjustment needed for the respective thread and material used.
Its new speed control helps to give you control over the speed you want. When sewing heavy and weighty fabric, you will get perfect stitching and accurate feed. There is a regulator at the top of the machine that helps to adjust the presser foot presser according to the sewn fabric. Also, a simple needle up/down button is there as after stopping the machine, the needle will be in the down position for accurate free motion work and pivoting purpose. You also get bright-white LED lighting that helps to see the stitching process perfectly and have perfect control.
There is also an automatic needle threader to help you get your stitching quick and easy. It also helps to keep your eyestrain zero. The removal and replacing of the bobbin is super easy and comfortable. You can have your curved stitches sewn with precision and ease because of the drop feed option. Then, you will have free-hand embroidery and free-motion quilting by lowering the feed dogs. You will get beautiful seams when you are sewing even georgette, velvets and leathers because of the reliable feed it has. The knee lifter lever is another awesome feature to add.
PROS:
Super cool automatic thread trimmer
Adjustable thread tension scale
Complete control over your sewing
Microcomputer speed control mechanism
Regulated presser foot presser adjustment
Needle control system
LED illuminating light for precise sewing
Zero eyestrain
The needle threader is automatic
Bobbin replacement is easy
Curved stitching is done with precision
Even feed for beautiful sewing
Comfortable knee lifter lever
back to menu ↑
Brother DZ2400 Designio Series, Computerized Sewing and Quilting Machine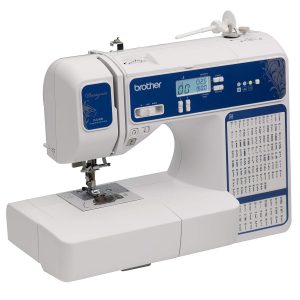 Next, on our top list, there is Brother's DZ2400 for those people who really want their sewing and quilting talents elevating to the next level. You will agree with me that the DZ2400 is really exceptional because of its uniqueness. If you want to explore the talent that has always been there within you, then this product is for you. The machine is computerized to give you top-class sewing and quilting experience. It has an astonishing 185 built-in stitches among which 55 are alphanumeric stitches.
The machine is really value-oriented that expands the horizon of the opportunity in sewing and quilting fields. It has 8 built-in and one-step buttonholes styles that enable you to have an elegant cum professional buttonholes. Thus you will get a true designer finish product for your specific items. It has an advanced and easy needle threading system that is computerized. If you simply press the lever that is located at the side of the machine, then the Designio Series will easily push the thread through the needle eye accurately.
It comes with a large and wide table enabling you to have a lot of working space which is ideal for sewing any kinds of quilts, costumes, and formal wear. Like any other cool products, it has a built-in LED lighting system that really helps to have a clear and easy view of the work you are doing. You can see the easy adjustable and stitch selection tool which is displayed on the LCD screen. The start/stop button allows controlling speed. You will get a foot controller, a wide table for bigger projects and an operating manual in English and Spanish. The warranty is 25 years and technical support is there too for any issue.
PROS:
Easy advanced needle system
Big space for larger projects
Awesome foot controller
Easy to understand operating manual
Super bright working area for easy operating
Easy selection of stitch
Adjustment button-through touch
Pro-level buttonholes with an elegant look
Start/stop button to control the speed
The backlit LCD screen for easy view
185 built-in stitching that includes 55 alphanumeric ones
8 built-in stylish one-step buttonholes
CONS:
Plastic foot controller may seem a bit hard
Monogramming isn't the best
back to menu ↑
Brother HC1850 Computerized Sewing and Quilting Machine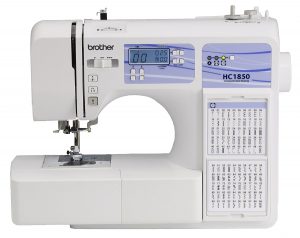 This exceptionally designed HC1850 sewing and quilting machine are for those who love versatility in their work. This cool product is packed with awesome features and benefits. It does the sewing, quilting, basic monogramming, and superb decorative stitching like no other machine. For people whose target is to learn the basic monogramming techniques, this HC1850 offers 130 stitches and a sewing font! Like all other top-class Brother products, they include 8 one-step unique styles buttonholes that are auto-sized.
The machine simplifies your sewing and quilting experience like a pro. There are 55 alphanumeric sewing stitches that help basic monogramming. It comes with a built-in flip-chart that helps in stitch reference. There is a detachable and wide table for larger projects. A quilting foot which is spring actioned in work and the ability for free motion quilting makes it a gem among the sewing and quilting world. You will get an adjustable sewing speed through this machine as well as a threading system which is automatic. It has an exceptional feed system that can sew on almost all fabrics.
The machine is very light in weight which makes it super easy for moving one place to another. The backlit light is really large which is made of LCD. It helps to see the threads really closely by enabling to take your work to the next level. The stitch selector is a push-button. If you want a high-quality stitching result for your work, then this HC1850 is the real deal for you. The machine is reliable and allows top-quality easy threading. Like others, you are not recommended to use it where there is no 120V AC support. An instructional DVD and super easy manual come with it. There are 25 years' warranty and technical support as well.
PROS:
A large LCD display for easy stitching selection
A bright working area to view details
Adjustable sewing speed by the speed slide control
Built-in awesome monogramming sewing font
Wide table area for larger projects
Automatic needle threader for easy threading
Flip chart for handy stitches
The bobbin is quickly settable
130 built-in stitches
42 garment construction stitches
8 presser feet
CONS:
Light isn't top class
Decorative stitches may be a bit inconsistent
Legs are not strong enough to be firm in one place
back to menu ↑
Brother XR3774 Full-Featured Quilting Machine
It is one of the cheapest and awesome sewing machine that Brother provides for the people. It comes with some wide varieties of features and cool design. The XR3774 is a top-notch when it comes to learning to sew for the beginners. The expert sewers will find versatility through this quilting machine. It has 37 built-in stitches that encompass a blind hem as well as a decorative and quilting stitch. Also, it features one-step buttonholer which is automatic to get buttonholes that are virtually perfect.
Like the other Brother's product, this machine comes with 8 sewing feet including zigzag, zipper, narrow hemmer, walking, button sewing, buttonhole, blind stitch, and quilting feet. The built-in free arm will let you enjoy making sewing cuffs, pant legs and sleeves with maximum comfort. The machine is built for the ease of use of the users. This is a budget choice for the user who wants to enjoy the sewing when they are using one. The XR3774 has an easy needle threader like any good ones which are built-in.
It has a jam-resistant and quick-set bobbin which is drop-in mechanized. Bobbin winding system is automatic. It comes with an instructional DVD and a user manual written in both English and Spanish. No need to mention that the warranty is 25 years, as you guessed! Their free technical support through phone and online is really top mark. If you want to expand your creativity and potential, then this is the product to do so. This easy-to-use machine is my go to one product round the year.
PROS:
Perfect for the beginners
Versatility
37 cool built-in stitches
Good for decoration
One-step automatic buttonholer
Perfect for large scale projects
8 awesome sewing feet
Built-in free arm
Ease of use
Jam-resistant drop-in bobbin
Bobbin winding system automatic
Instructional DVD for easy use
Auto-sized buttonholes
CONS:
Speed may seem difficult to control
May need some practice before getting used to it
back to menu ↑
Brother XR9550PRW Computerized Sewing Machine, Project Runway Limited Edition
This Project Runway™ computerized sewing and quilting machine by Brother is a limited edition introduced into the market for celebrating your inner designer self. The XR9550PRW is a computerized and easy-to-use machine that has been built for flexibility and durability. It helps to improve the creative capability for the sewing enthusiasts. It offers a wide variety of 110 unique and decorative utilities with heirloom stitches. Needless to say that it includes eight stylish and one-step auto-size buttonholes.
The ultimate result is that; you will get masterpiece construction easily from garments to quilting ones. The larger LCD screen will enable your computerized stitch selection very easy. As a pro, it helps to get sewing of cuffs and sleeves comfortably through free arm capability. There is drop feed for enabling your free-motion when sewing and quilting. When you choose the settings and stitches with the help of the intuitive button, you will see that on the LCD display screen clearly for your easy operation.
We also review the old model of Brother XR9500PRW Sewing Machine. You can check that out.
The XR9550PRW has also 8 quick-change presser feet as usual. Most famous ones are the buttonhole, zigzag, zipper, blind stitch and monogramming. This magnificent tool comes with a protective hard case for easy transportability and keeping it unharmed when not using. For any larger quilt project, there is a wide table. So comfortable use is utterly ensured for this lovely creation. The machine is backed by a 25-years warranty period like all the other items and free technical phone and online support is also there for all.
PROS:
Easy to use
Durable and flexible
110 unique and decorative stitches
8 auto-size buttonholes
Easy construction
The LCD screen for easy stitch selection
Free arm for cuffs and sleeves
Drop feed enables free motion in sewing
Intuitive push button for stitch selection
8 quick-change presser feet
Comes with protective case
Bobbin filling easy and fast
Wide table for larger projects
CONS:
Light may seem less bright
Lightweight, hence not sturdy
back to menu ↑
Juki HZL-F600 Computerized Sewing and Quilting Machine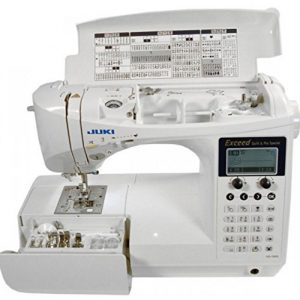 Last but not least, we have a product of Juki with supreme performance and user-friendliness. The machine has a one-touch pattern selection process that helps to quickly start your machine. There are 10 popular sewing patterns to select from by simply pushing a button. They include the popular blanket stitch and applique stitch. With the help of Juki's industrial and modern technology, the machine automatically measures while sewing perfectly on both sides, right and left. They have 16 buttonholes to choose from! For any fabric, there is a buttonhole to choose from.
They have adjustable cutting widths that help to keep the stitching size perfect. Through this, you are able to get thin and wide buttons. You won't have to worry about the bobbin case insertion as that is super easy. You just need to follow the clear mark of the threading path. Also, there is separate bobbin winder that allows to sew and wind the bobbin at the same time. With the help of a lever, you may thread the needle with ease because that is automatic. There is an exceed series that cuts and trims the thread in three ways. By pushing of a button, by programming or by foot controlled system.
Through the LCD screen, you will get full control of the operation. You can control the needle up/down position, change the machine buzzer volume, select the 8 language settings or open the sewing guide which is on board. Perfect control is what this machine gives you with utmost pleasure. Its 7-point feed dog system made of surgical steel can handle the heaviest projects too. The machine memory can save decorative stitches or pattern sequences. It can save 70 patterns in 10 folders! Recall any pattern with just a touch of a button.
PROS:
Awesome pattern selection quality
16 buttonholes styles
Cutting widths are adjustable
Fool-proof bobbin case insertion
Separate bobbin winder
A quick and easy threading system
Exclusive and advanced thread trimming
Easy-to-understand onboard guide
Both manual and auto tension settings
Powerful feeding system
Memory folder for pattern saving
Needle and stitch placement is perfect
Easy to drop the feed dogs
CONS:
A bit noisy
Adjustments may seem too much
back to menu ↑
Buying Guide of Best Sewing Machine for Quilting
When you are opting for a new quilting machine for you, there are certain things that you need to keep in mind before making any purchase decision. Those factors are:
Stitch Function
Stitch function is proportionate to the ability to make any fancy and complex design. So, the more it is better for you. In the available machines that are advanced technology supported, you will find that they have around one hundred stitch function. But, it's not the only criteria that make your quilting machine a great one. There are many other factors that play a role in that.
When you start as a beginner, you start with a low category. And, when you make your way up, you increase the number along with it. Besides, there are other things that are important too like stitch length and adjusting the width. The stitch function is required when you find long stitch length.
There are some machines too where you will find a font function. This feature will help you to have a mark on the design. If this is important to you, you can go for that also.
Stitching Rate
High stitching rate isn't recommended for beginners. As that may end with imperfect stitching lines. This happens because most of the lines are very curvy and maintaining those types of lines isn't very easy for a beginner. But, you can do that when you are working on any borders or garments.
As you practice more and more, then you can adjust the SPM accordingly because of your expertise. So, work on that.
Table and Free Arm Area
These two factors, table length, and free arm area are very important. Quilting is normally done on thick clothes. So, it is not wise to place them in a small area under the machine arm. Also, the short table makes it difficult for having the work done on any large pieces of crafts. So, it will be really wise to go for the wide arm area and large table-type machines.
Bobbin Winding and Needle Threading
If you want to wind the bobbin and thread the needle, doing it manually isn't a good thing to do. The reason behind it is, it will cause great stress on your eyes and take a lot of time. So, going for a machine which is automatic in doing those operations would be a good idea for you.
Vibration
You must already assume what I will be telling you now. Yes, vibration isn't good for your quilting operations. So, you need to find machines that are really heavy-bodied with less vibration. You can't have any machine that produces zero vibration as the circular movement of the sewing machine always creates a vibration. What you can do is reducing it to a minimum level.
For that to happen, you can go for a heavy metal bodied machine. That will create some problems for you when you transport it from one place to another. But, those are the pros and cons that you need to consider before making a buying decision.
Controlling
The last thing to remember is that you need a machine which is really good to control. A good controlling system is a superb thing to have for any kinds of machines and instruments. As those fancy features and benefits are nothing but crap when you don't have a bad control system.
A good control system will ensure the smoothness of your work and design. So, you need to make sure about that before being crazy to go for any fancy-looking items.
How to Set a Quilting Machine
As quilting machines are different from a normal sewing machine, you need to set the machine first before doing any work. Lets' learn those things first that need to be done for setting any machine.
Oiling the Machine
As quilting needs a smooth kind of machine, oiling is the first step that can be done for having a smooth one. Learn about the places that need to be oiled through the manual guide. Different machines have different parts mentioned needed to be oiled. So, follow those instructions perfectly.
Place it Rightly
The next thing to do is to place the machine in the right place of the room. You may pick it according to your need. But, my favorite one is the corner of the room. You can operate the machine either by foot or by hand, totally up to you. Find a comfortable position for you through testing.
Low SPM
One thing not to forget that you are quilting through a sewing machine, not by a quilting one. So, the SPM needs to be kept within control. Fail that and you get stitching that isn't very dense and the end product is really low quality. So, be very aware of that.
Selecting the Foot
As quilting is done on thick types of clothes, you need to have a special foot for your work. An excellent type of that is the darning foot a.k.a. free-motion foot a.k.a. hopping foot. This special type of foot is unique because the foot goes up when the needle also does the same.
Lowering Feet Dog
Lowering the feet dog is important as it will help to improve the quilting performance of your machine. That happens as the feet dog will hold the cloth perfectly. When you are using a new machine, you can use the leaver for that. So, adjust the feet dog nicely for good quilting performance.
Lower Stitch Length
Some may have a wrong notion that a large stitch may be good for quilting. Which is really wrong. Large stitch can't hold the cloth strongly resulting in a bad quality of the end product. So, lowering the stitch length is really good for your work.
Thread Cutter Stopping
The thread cutter is really bad for quilting operations. But it is good for garments working. When you are working on quilting operation, you need to trim the threads after finishing the work. So, shut off the thread cutting option for your quilting machine.
Stop the Needle Down
This is a really simple function that makes the machine stop while the needle is still inside the quilt. So, you have to remember the option when you do the quilting.
Selecting Stitch Plate
You need to select a stitch plate with only one hole as you are using a single needle not multiple ones. So, all types of needles aren't perfect for quilting work.
Reducing Foot Pressure
This option isn't always necessary for you when you are quilting. You have to check other setups for having this option ready for you.
Disabling Fix Stitch
When quilting, you need to stop the fix stitch function. You may need knots in the thread when quilting.
All those steps are important to have a good setting for quilting operations. Follow those steps and you will have a great result for your quilting.
Maintenance of a Sewing Machine
You need to take care of your sewing machines if you want a long life for it. Without proper care and maintenance, it can become obsolete within a very short time. Which, of course, isn't the desired situation for any of you. So, what are the things that need to be done for the proper maintenance of a sewing machine?
Always Use a Cover
Now we have modern types of sewing machines which are controlled by a computer system. Also, they have many small micro-level parts. So, dust is a real threat to your machine. We can't see with our naked eyes but they are there. That is why we need covers for protecting that sensitive instruments from being jammed by air dust. Always use a cover.
Cleaning the Machine
Although you use a cover for your machine, there will be dust on it. So, the cleaning of the machine is a regular task that needs to be done. Besides the dust, the microfibers created through the needle piercing of the cloth is another dirt that goes into the machine.
As a result, cleaning is a must for your machine on a regular basis. That will ensure your machine life to be a long-lasting one.
Excellent Accessories
Excellent quality accessories are really important to have a super performance for your tool. You have a good machine, but don't use quality accessories for it. What do you think will happen then? A performance decrease for the sewing machine. So, keep that in your mind.
Oiling the Machine
There is no need to emphasize on this topic I think. Take proper care of your machine through regular oiling of it. It will keep the machine smooth for any operation. That can be done by pouring oil into a specific hole of a machine. The old versions are different as they need to be oiled in separate parts. After that, run it without any cloth for around four minutes.
If you want to know more about cleaning and oiling your sewing machine then visit our article.
Changing the Needle
Most of us change the needle when it is broken or gets damaged. This is a bad practice. As the broken or damaged needle can tear your clothes and damage it. So, change your needle when it is old enough or used enough. In that way, you can have good work on your clothes. Regular changing of your needles is highly recommended.
Removing the Lint
There are some microfibers produced through the threads and needles. When they are stuck within the machine parts and increase in numbers, they are called lint. You need to clean that by brush and sometimes need to cut them because they may be clogged tightly.
Servicing
Although you take very good care of the parts of your machine, still there would be some frictional things happening to it. As a result, the performance of the machine will decrease over time. So, at one point, there may be a time to take care of the parts.
Changing the parts of the machine is important to have a long-lasting service from your machine. So, get your machine serviced from time to time.
back to menu ↑
Conclusion
Hope this guideline will help you to choose the best sewing machine for quilting. Always keep in mind that, you don't need all the features that look fancy to you. Pick the right types of machines according to your need. There goes a wise saying, all that glitter is not gold. We have selected the machines accordingly for you keeping in mind the best interest. We believe that you can pick anyone from the lists and that will support you for a long time. Go quilting!