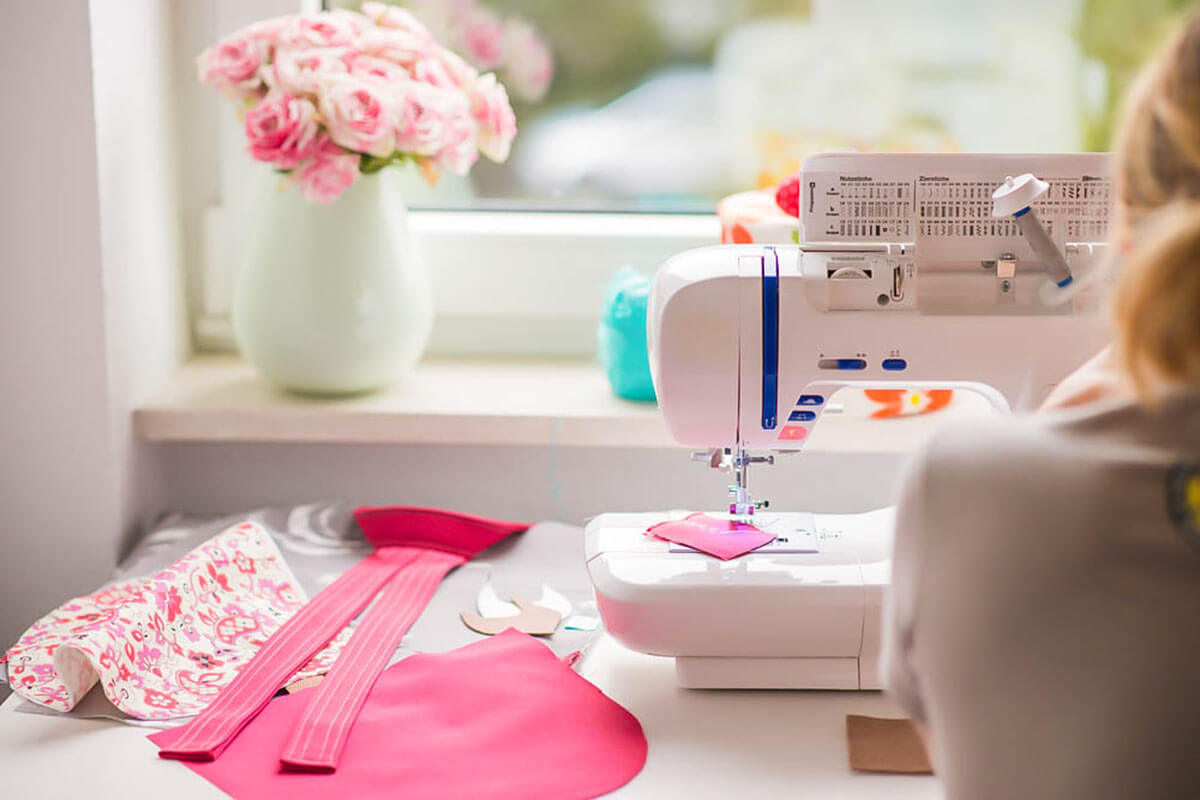 If you desire to improve on your sewing skills, it is high time you considered using a computerized sewing machine. The only problem here is that computerized sewing machines are expensive but they are worth the investment in the end. Apart from that, they are super easy to operate with greater precision compared to manual machines. Computerized sewing machines do the hard work with less effort from you. All you need is to choose your setting, press the button and see the machine sew impressively.
Choosing the best computerized sewing machine amongst the hundreds of them out there can be a herculean task. You don't have to worry. We have helped you to ease your stress. After 72 hours of research, we have picked quality and durable machines that are made to last. It only takes a few minutes to read our review of the 7 best computerized sewing machines to make an informed choice. So let's start!
Top 7 Best Computerized Sewing Machines
Brother CS6000i Computerized Sewing Machine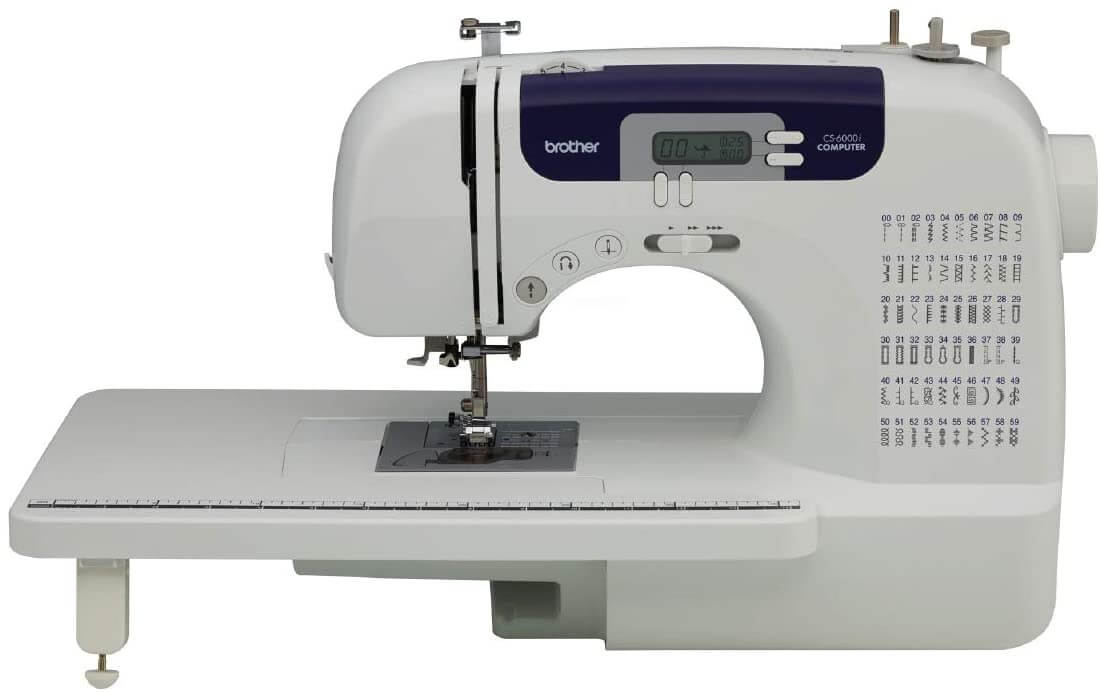 The Brother CS6000i is a high performance and functional sewing and quilting machine. This machine will help you achieve every sewing dream. It is extremely easy to use and very user-friendly. Some of its wonderful features include an LCD, automatic needle and 60 built-in stitches. Other features are the start-stop button, reverse sewing button, needle up/down and variable speed control. All of these make the CS6000i a feature-rich machine that will take your sewing skills to a new level.
When it comes to speed, this machine can be said to be one of the fastest sewing machines in town. It can make up to 850 stitches in a minute. There are a lot of patterns to choose from with 60 patterns that include 7 buttonhole styles. All of the stitches come with automatic settings and the settings can be accessed through the LCD. You don't have to manually adjust the width and length of the stitch, just dial the corresponding number to the desired stitch and get the job done. You can avoid using the pedal altogether by pressing the start/stop button intermittently. It comes with jam-resistant technology to help minimize jamming.
Brother CS6000i accessories include a wide table, a protective case to protect the machine when not in use and 9 sewing feet which includes monogramming, overcasting, buttonhole, zipper, zigzag, blind stitch, button fitting, walking and spring action quilting foot. The needle set has a twin needle and 3 bobbins.
PROS:
Ideal for beginners
Great for quilting
Automatic needle threader
Adjustable speed setting
LCD control panel
Easy and quick to set up
CONS:
The machine doesn't work well on multiple layers of fabric such as denim.
No automatic tension control
back to menu ↑
SINGER Quantum Stylist 9960 Computerized Portable Sewing Machine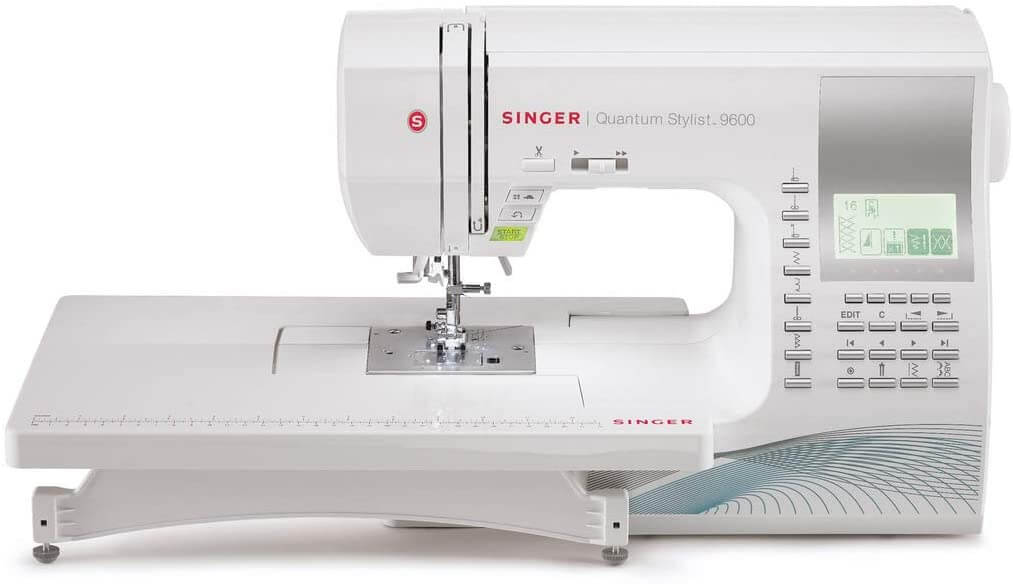 The SINGER Quantum Stylist 9960 is an excellent choice for both beginners and experienced sewers. With 600 built-in stitches, you are sure of choosing different stitching patterns that suit you. And to be honest, 600 stitches are massive at the price of the machine. The ease of setup and use is also why you should consider investing in this machine.
When it comes to speed and speed control, the Quantum Stylist 9960 provides fast sewing at 850 stitches per minute. There is also a slider bar which can be used in controlling the machine's speed. This is a powerful machine that uses a DC motor. It provides consistent power whether you are sewing a light fabric like silk or a heavy fabric such as denim. It is also good for quilting. You can find different built-in decorative stitches which are appropriate for quilting.
The SINGER Quantum Stylist has a total of 13 presser feet. This makes it stand out from the rest. The feet include darning and embroidery foot, cording foot, open toe foot, walking foot, all-purpose foot, zipper foot, buttonhole foot, satin foot, overcasting foot, blind hem foot, narrow hemming foot, patch quilt foot and button sewing foot. These feet give you a satisfactory finish no matter the fabric.
The automatic thread cutter is amazing. This is a lovely feature. With just a tap of the button, the machine cuts your bobbin and needle threads with ease. You don't always have to use the foot pedal all the time. This is because the machine has a start/stop button. This gives you greater control when you are using the machine. The LCD screen has a standard black and white backlit that displays stitches and other information concerning the feet.
PROS:
Comes with 13 presser feet
600 built-in stitches
Made with strong DC motor
Automatic needle threader
Stable and sturdy
Ease of use
CONS:
No USB ports
Low-quality needles
back to menu ↑
Brother HC1850 Computerized Sewing Machine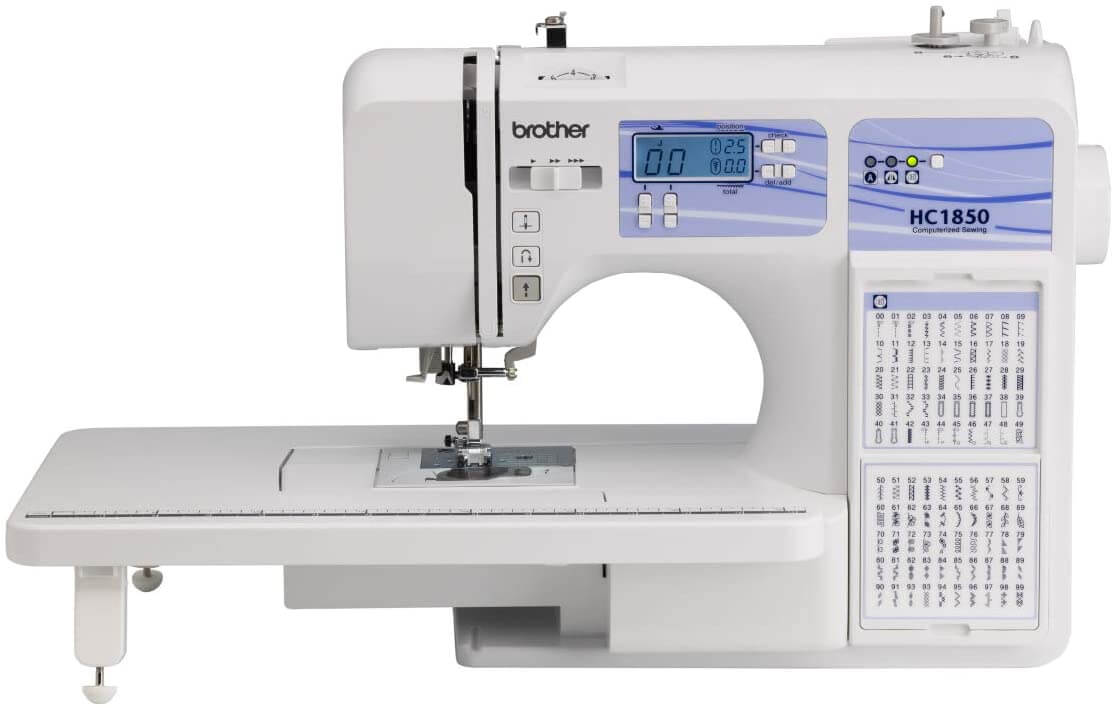 If you are looking for a machine that can sew, quilt and do basic monogramming, the Brother HC1850 Sewing and Quilting Machine is your best option. The machine has a lot of features making it ideal for beginners, intermediates and experts alike. It features 130 stitches which include 8 styles of 1-step buttonholes and 55 alphanumeric sewing stitches which are great for basis monogramming. There are also 8 presser feet, detachable foot controller, automatic threading system and an impressive feed system that can sew different fabrics such as denim and silk.
You can choose a stitch from the flipchart to program the stitch number from the LCD screen. This machine is excellent for sewers who are looking for more features. With a maximum sewing speed of 850 stitches per minutes, the Brother HC1850 helps you get the job done faster. The length and width of stitches can be adjusted with ease.
Beginners will find the adjustable speed very comfortable. There is also the thread tension adjustment which helps users to easily adjust the thread tension of the machine. Easy needle replacement is another useful feature that stands the Brother HC1850 out from the crowd. The automatic needle threader helps simplify your sewing tasks. It takes just about five minutes to get is done. Just push the thread and lever to hit the needle's eye and that is it.
The free arm option is fantastic when you want to work on sleeves, collars, legs and other hard-to-reach areas. When it comes to quilting, the machine quilts exceptionally. It has a quilting foot, 14 quilt stitching function, and drop feed dogs. The detachable wide table makes quilting extremely comfortable.
The package comes with a VCD that helps to get you started with the machine. It is advised that you watch the VCD to make things easier for you.
PROS:
Ease of set up
130 unique stitch patterns
Easy speed controller for beginners
Lightweight and portable
Great for quilting and basic monogramming
Affordable
CONS:
Noisy when used for embroidery
No case cover
back to menu ↑
Juki HZL-F600 Computerized Sewing Machine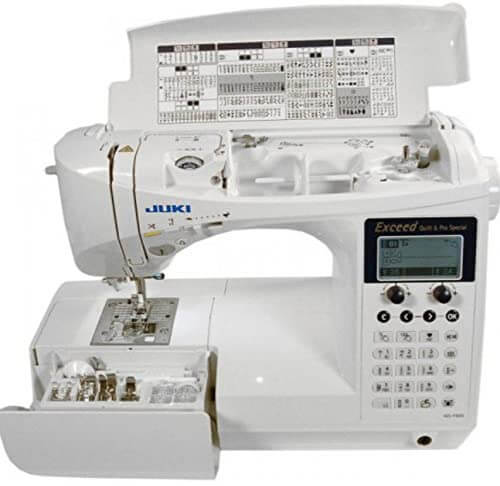 The Juki HZL-F600 machine is a high-tech sewing and quilting machine that beginners will fall in love with without any hesitations. With 225 sewing patterns, this machine is an excellent choice for both sewing and quilting. When it comes to performance, Juki HZL-F600 is an impressive machine that brings a lot of comforts and conveniences to the users. This is one machine that quilters admire because of its large throat space and extended worktable. With a large selection of stitches, fonts and button styles, you can creatively embellish and transform any fabric into fashion art.
If you want versatility, this machine has got enough of it. It is very fast with great precision. You can use it for almost any type of fabrics. Quilters will love the random stitch option that set and stitch randomly without making patterns look the same. This helps in adding variety to any sewing projects.
The machine has a myriad of customization options for different types of fabrics. Some of the options include presser feet which can be adjusted with ease and the right amount of pressure needed can be applied to maintain control with different fabrics. The knee lifting lever is another nice customization option. It allows you to adjust the presser feet without the need to use your hand. There is also the sewing speed which can be controlled by using a foot pedal. It does a hands-free trimming of the needle and bobbin thread.
The in-built LED light helps to properly illuminate your workspace thereby providing visibility especially when it is dark. Juki HZL-F600 is super easy to use. Once you have mastered how to use the control pattern and understand how to change settings, then, you are good to go. The buttonhole cutting width can easily be adjusted to make buttonhole for jeans and button-down for skirts. The machine has plenty of accessories like 12 multiple foot presser which includes blind hem foot, zigzag foot, manual buttonhole foot, zipper foot, edge sewing foot, walking foot, free-motion foot for quilting and more. Accessories include 4 bobbins, 1 screwdriver, and spoon caps of different sizes, twin needle, lint brush, eyelet punch, seam ripper, knee lifter lever and a pack of needles.
PROS:
Large LCD
225 stitch patterns
Durable and long-lasting
Excellent for sewing and quilting
Ease of use
Drop-in bobbin system
CONS:
5 years warranty
May be overwhelming for beginners due to its plenty of options
back to menu ↑
SINGER Stylist 7258 100-Stitch Computerized Sewing Machine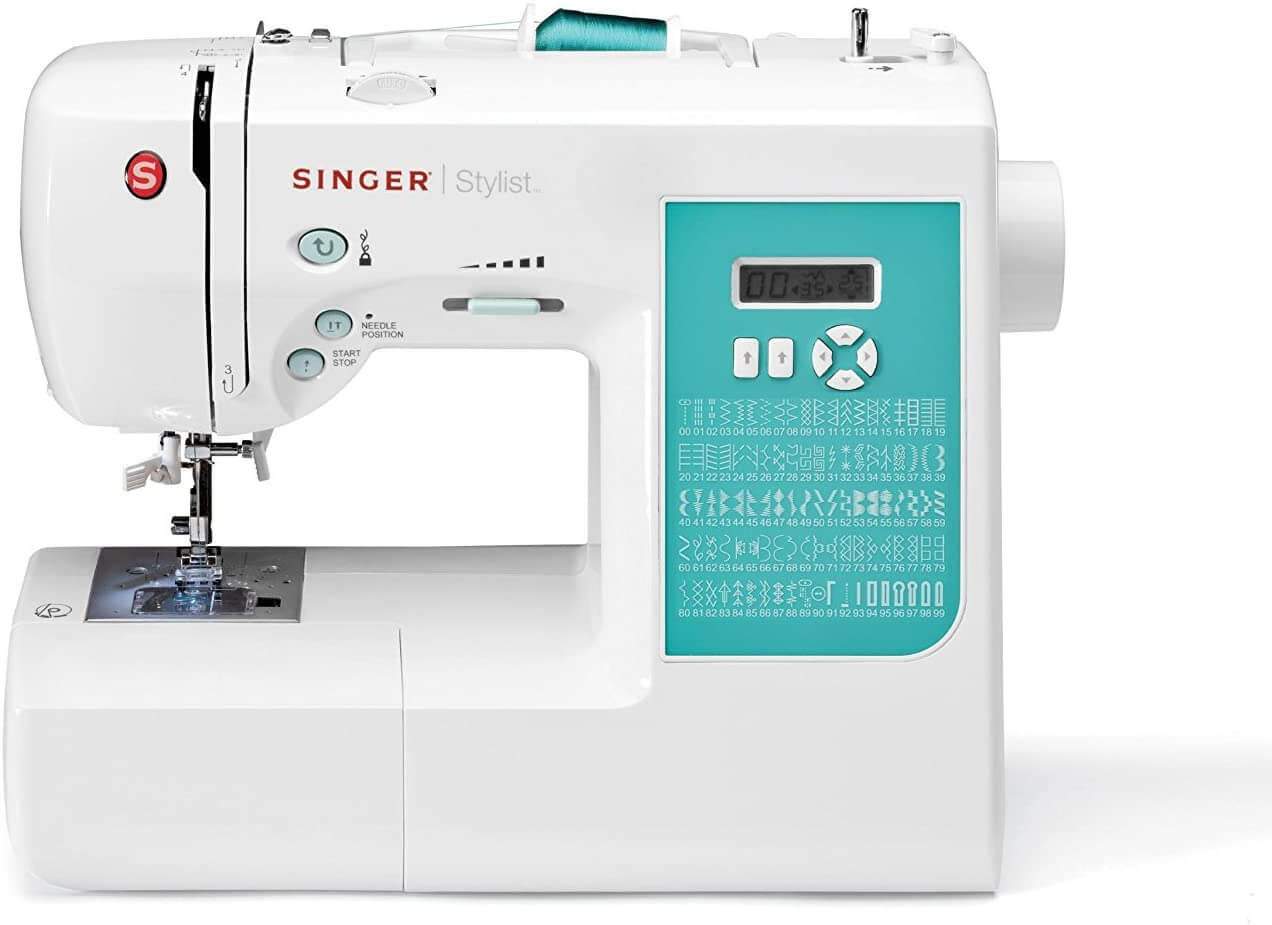 The SINGER Stylist 7258 is an impressive sewing machine with 100 built-in stitches, 6 segment feeding system, snap-on presser, 6 fully automatic buttonholes and a needle threader. This computerized sewing machine comes with the instructional manual and DVD that gets you up to speed concerning the whole operations of the machine. It features 10 presser feet which include Satin Stitch Foot, Darning / Freehand Embroidery Foot, All-Purpose Foot, Overcasting Foot, Buttonhole Foot, Blind Hem Foot, Narrow Rolled Hem Foot, Gathering Foot, Quarter Inch Foot, and Zipper Foot. The machine boasts of a lot of features and functionality.
In terms of price, this mid-range machine is affordable and can be a good option if you want to upgrade.
The overall performance of the SINGER Stylist 7258 makes it one of the most flexible and versatile mid-range machines. The sewing speed is impressive especially if you sew different types of fabrics. It has a wide range of settings with up to 750 stitches per minute. The settings can be adjusted using the little lever placed in front of the machine. Once the lever has been set to the desired speed, you longer need to use the foot pedal to control the machine speed.
The stitching options make the SINGER Stylist 7258 a great sewing machine. There are a total 100 built-in stitches of which about 70 of them are for decorative jobs that help you handle intricate and stylish stitches. There is also a myriad of stretch stitch options to choose from; not forgetting a range of buttonhole stitches.
The LCD screen is one tremendous feature that is very outstanding. The screen shows you in detail about the length and width of the stitch you have chosen and the type of stitch you are using at any point. There is also the LED light that illuminates clearly on your workspace.
PROS:
Ideal for beginners
Easy to use
Versatile and multifunctional
Comes with plenty of accessories
Very affordable
CONS:
The machine becomes noisy after a while
back to menu ↑
Brother CS5055PRW Computerized Sewing Machine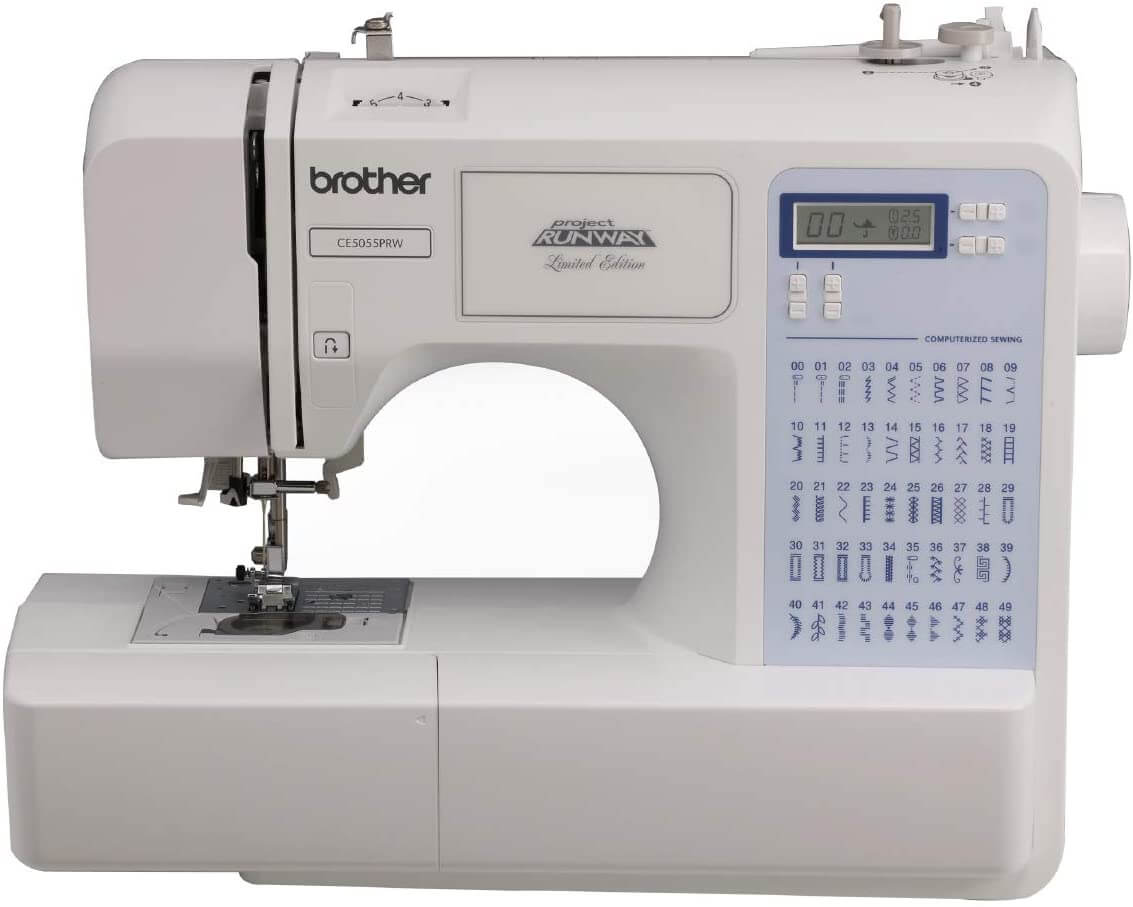 This is a durable and highly functional sewing machine perfect for beginners and experts too. It has an impressive performance on different types of fabrics. This is not a difficult machine to learn with. It is sturdy and versatile with a 25 years warranty. You will find it appealing because it is well crafted to fit the need for beginners and intermediate users. If you love sewing and quilting this machine is made for you.
With 50 built-in stitches, this machine can take care of a variety of sewing needs. It also features automatic needle threading. The stitch chart is conveniently placed right in front of you. So making a selection from different stitches is super easy.
This is not a heavy-duty machine but its functionality covers up for its inadequacies. The assortment of presser feet is why this machine is a good option for beginners. The presser feet include buttonhole foot, button sewing foot, monogramming foot, overcasting foot, blind stitch foot and zipper foot.
You can find the thread cutter at the back of the machine for the easy cutting of needle threads. When you have a grasp of the thread cutter, it becomes extremely convenient to use. The automatic bobbin winding system helps to create even wound bobbin to give you an optimum sewing experience. The bobbin cover gives you a clear view of the bobbin so you know when it is running low.
PROS:
Lightweight and portable
Easy to thread
Automatic needle threader
Excellent for beginners and intermediate sewers
25 years warranty
CONS:
Most of the machine is made from plastic
The LED light is dim
back to menu ↑
Janome 7330 Magnolia Computerized Sewing Machine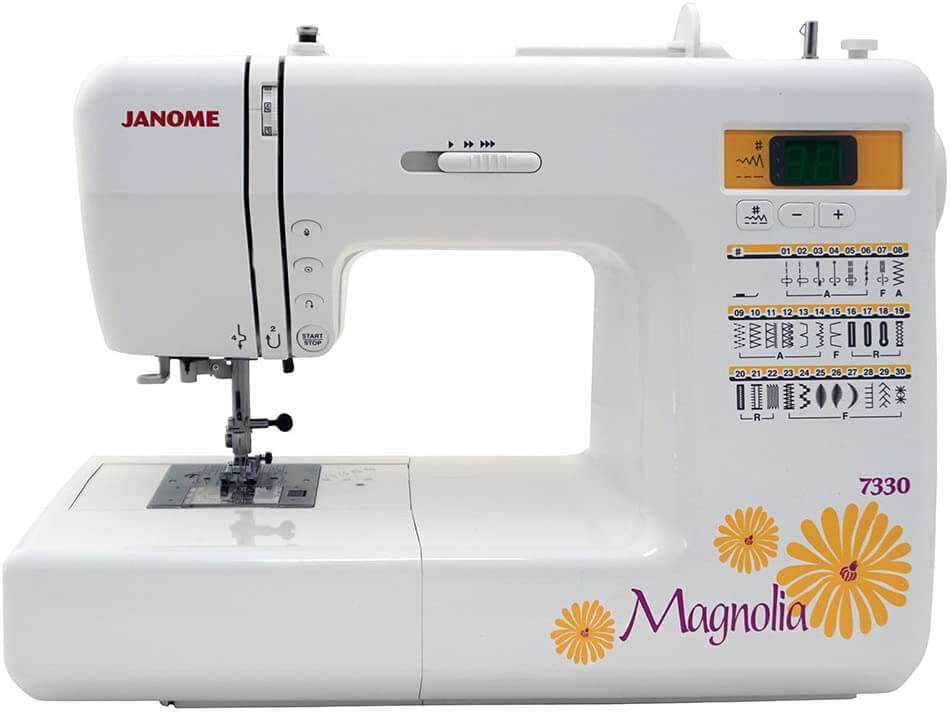 The Janome 7330 Magnolia is surely the most advanced sewing machine in the Magnolia series. It is also a popular option for beginners and intermediate users. This machine is renowned for its reliability, durability and ease of use. Beginners won't have issues learning with the machine. It is easy to set up and there is an LCD screen to let you know the stitch pattern you have chosen. Some of the intuitive features include buttonhole, automatic bobbin winder, automatic threading and feed dog system. Other features are built-in needle threader, free arm, drop feed, easy reverse button, speed control slider, snap-on presser feet and many more.
With 30 built-in stitches which also include 6 styles of a 1-step buttonhole, you are sure of a myriad of stitching options at your disposal. Stitches are displayed on the panel. The stitch width can be adjusted to 5mm while the stitch length is adjusted 7mm.
The machine comes with a basic presser foot. They include general purpose foot, zipper foot, satin stitch foot and automatic buttonhole foot. This machine supports push-button sewing with the start/stop button.
PROS:
Great for beginners and intermediate users
Large workspace
Lightweight and portable
30 built-in stitches
Powerful and sturdy
Easy to thread
Advantages of a Computerized Sewing Machine
Computerized sewing machines have a lot of advantages compared to manual ones. It is perfect especially for people who have difficulties working on manual machines. They help to automate the sewing process which means they make your work easier and convenient. They are more reliable and deliver better results than manual machines.
Computerized sewing machines open you up to a new world of possibilities when it comes to flexibility and versatility. They expose you to quilting and embroidery. They come with different foot petals to make buttonholes and other tasks.
With a computerized sewing machine, you don't have to be on the foot pedals all the time. This is because the start/stop button helps to control your sewing.
The advancement in technology has made it possible for newer versions to be connected to a computer. Once there is access to the internet, you can download the latest patterns from the manufacturer's website. They have important features such as automatic threading and automatic thread cutter. But they can be a bit complicated especially for beginners. Here are the pros and cons of having a computerized sewing machine.
PROS:
Computer connectivity
Embroidery and quilting
Ease of speed control
Screen display
Different patterns and stitches
Overall automation
Automatic needle threader
Automatic needle cutter
Easy to load bobbins
CONS:
It is expensive
Complicated for beginners
Frequently Asked Questions (FAQs)
What Feet are Good for Quilting?
Answer: You would need a quilting foot. The quilting foot evenly works on the three layers of the quilt of your machine. You should go for an open toe quilting foot. A working foot is another great option. It comes with built-in feed dogs
What is the LCD Screen Used for?
Answer: Most computerized sewing machines have an LCD. This screen is typically used for the adjustment of length, width and tension of stitches. Punching your settings on the screen is much easier than doing it manually. The embroidery fonts and stitches can be set from the screen.
Can I Connect My Computerized Sewing Machine to a Computer?
Answer: Yes, you can connect your computerized sewing machine to a computer to upgrade the embroidery software. But it is not all computerized sewing machine that you can use with a PC.
Do All Computerized Sewing Machine Handle Embroidery?
Answer: Not all computerized sewing machine handle embroidery but a majority of them handle embroidery with sewing.
Should I Buy Sewing, Embroidery or Quilting Machine or All-in-One?
Answer: It all depends on your expertise. Are you solely into embroidery? If yes, then, go for an embroidery machine. If you are an expert in quilting, purchase a quilting machine. Are you interested in just sewing? You can buy a sewing machine but if you do embroidery, quilting and sewing, you should purchase a computerized sewing machine that does all these tasks. It is better than buying three different machines.
Buyer's Guide 
It is important to do some basic research before purchasing a computerized sewing machine if you want a product that will serve you for a long time. Here are some of the factors that you have to consider before choosing a machine that will meet your needs.
Built-in Stitches
One of the factors you must consider before choosing a computerized sewing machine is the number of built-in stitches. The more, the merrier. Some machines have more than 200 stitches. Numerous stitches may become confusing for beginners. As a beginner, choose a machine with at least 20 stitch patterns.
Built-in Needle Threader
Threading is an important part of sewing. It is completely unavoidable. Threading a sewing machine is a difficult task but you can save yourself a lot of stress by owning a computerized sewing machine that comes with a built-in needle threader. This is an excellent feature that people who have poor eyesight would appreciate. It is also a good feature for beginners. Even if you have sharp eyesight, a built-in needle threader makes sewing easier and faster.
Drop-in Bobbin
A bobbin system that is poorly designed will cause frustration to the user. For some bobbin system, you have to remove the bobbin cover every time to see if the thread is running low. Save yourself a lot of stress by going for a see-through bobbin system. This allows you to see the level of the thread without removing the cover. Choose a machine with a top-loading bobbin and make your life easier.
Free Arm
The free arm feature allows you to sew any narrow fabrics such as pants, skirt hems and sleeves with ease. This feature is not only beneficial to beginners; it is also great for experts.
Foot Pedal
A computerized sewing machine normally comes with a stable foot pedal. But you have to choose a machine that the foot pedal is not slippery. An anti-slip foot pedal will be a good choice.
Adjustable Tension
Different types of threads and fabrics required variable tension to achieve the desired results. Tension has to be adjusted to meet the requirements. This feature is available in almost all computerized sewing machines. It helps to improve your sewing experience
LED Light
Illuminating your working area is very important especially when working in a dark place. Without clear visibility, there won't be progress when working. This is a very useful feature. So look for a machine with a built-in light to make your work easier
Noise
No one likes a noisy environment. As such, you have to choose a machine that makes less noise. Some machines make so much noise that you think a train is passing by. The average and tolerable noise levels are 66-80 decibels. Anything above this range becomes a discomfort to your ears
Sewing Speed
This is a critical feature if you want to get your job done faster and easier. The sewing speed is in Speed Per Minute (SPM). Some machines run at 1000 SPM and above. This helps your sewing experience in no small ways. It is advised you choose a machine that operates at 1000 SPM and above. The speed can be controlled if there is a need to slow it down
Stitch Length and Width
Every stitch has its actual length and width. The length and width of stitches are measured in inches. Computerized sewing machines will normally display length and width so you can make your choice from the control panel. The measurement is displayed on an LCD screen right in front of you.
Start/Stop Switch
Using the foot pedal always can cause fatigue easily. You don't have to be using the foot pedal every time. Using a machine with a start/stop button helps to drastically reduce stress when sewing. This feature is helpful for both beginners and experts.
Presser Feet
Choosing a computerized sewing machine with multiple presser feet makes it easier for you to work on different types of fabrics. A machine with limited presser feet will limit your creativity. It is better to choose one with a lot of presser feet such as walking foot, darning and embroidery foot, blind hem foot, patch quilt foot, all-purpose foot, zipper foot, satin foot, open toe foot, cording foot, buttonhole foot, overcasting foot, narrow hemming foot and button sewing foot.
Portability and Compatibility
The dimension of the sewing machine should matter to you if you have a tight space. A large machine will always take up valuable space. Bulky machines are now being replaced with portable and compact designs. A compact and portable machine is also convenient when it comes to storage.
Weight
You don't want a computerized sewing machine that is extremely heavy. The machine should be light so it can be easily carried from one corner to another in your home.
Warranty
Everyone wants to invest their money in a product that guarantees peace of mind. This is why a warranty is important for a sewing machine. Some manufacturers give a warranty of 5 years while others provide a 25 years warranty. 25 years warranty is a long time and a good deal.
Ease of Use
There is no point in buying a machine that will be useless for you after a while. This is why you need to go for a sewing machine that is super easy to use. Though most of the machines in our review are user-friendly, going for a low budget machine could be counterproductive. This is why we recommend a more expensive machine with complete features.
Budget/Cost
The cost of a computerized sewing machine can vary. A top-of-the-range machine would cost about $1,000 and above while the ones with fewer features will cost $300-$400. Choose the one that meets your needs and budget.
Conclusion
Have you made up your mind after reading our best computerized sewing machine review? If not, we would love to make some recommendations for you. Whether you are a beginner or professional, you will find the SINGER Quantum Stylist 9960 very useful. With 600 built-in stitches and 13 presser feet, you cannot ask for more. Another machine that comes close is the Juki HZL-F600. It has 225 sewing patterns and 12 presser feet. Any of the options will make your work easier because of their great features.