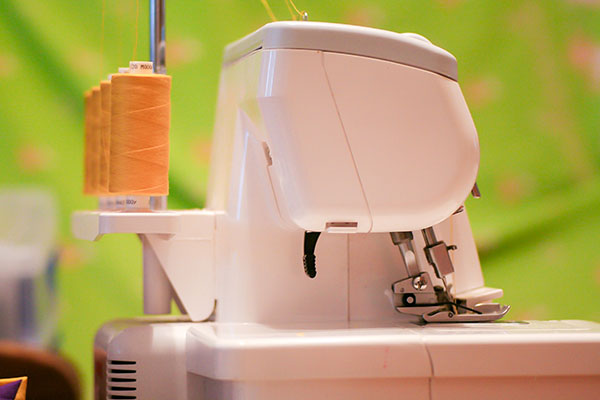 Serging is really necessary if you want to get a wonderful finishing to your sewing project. These best sergers for beginners will help you a lot for that purpose. Nobody wants below the standard level work when they put a lot of effort into their sewing projects. That is why you need to equip yourself with the ultimate machines and accessories. A serging machine is that difference maker that can turn a medium quality work to a high-end product.
Here, you will be presented with the top 7 serger reviews that are handpicked from a large number of them on the market. These machines are the winner that can be a real gem for any beginner level user. So, read the whole article first and make a wise decision to purchase. A detailed buying guideline is also there for an easy understanding of what to look for in a good quality machine.
Reviews of Best Sergers for Beginners and Comparison Table
| Model | Number of Threads | Stitching Speed | Dimension (L x W x H) | Stitch Width | Price |
| --- | --- | --- | --- | --- | --- |
| Brother 1034D | 3/4 | 1300 SPM | 11 x 11.7 x 13.2 | 5 to 7mm | Check Price |
| Brother DZ1234 | 3/4 | 1300 SPM | 15.2 x 13 x 13.2 | 3 to 7mm | Check Price |
| JUKI MO644D | 2/3/4 | 1500 SPM | 10.6 x 13.4 x 11.6 | 2.5 to 4mm | Check Price |
| Brother 1034DX | 3/4 | 1300 SPM | 13 x 15.2 x 14.5 | 5 to 7mm | Check Price |
| Brother 2340CV | 2/3/4 | 1100 SPM | 13 x 15 x 13.4 | 3 to 6mm | Check Price |
| JUKI MO654DE | 2/3/4 | 1500 SPM | 10.6 x 13.6 x 11.6 | 4mm | Check Price |
| Singer 14SH654 | 3/4 | 1300 SPM | 14 x 11 x 11.5 | 3 to 6.7mm | Check Price |
Brother 1034D 3/4 Thread Serger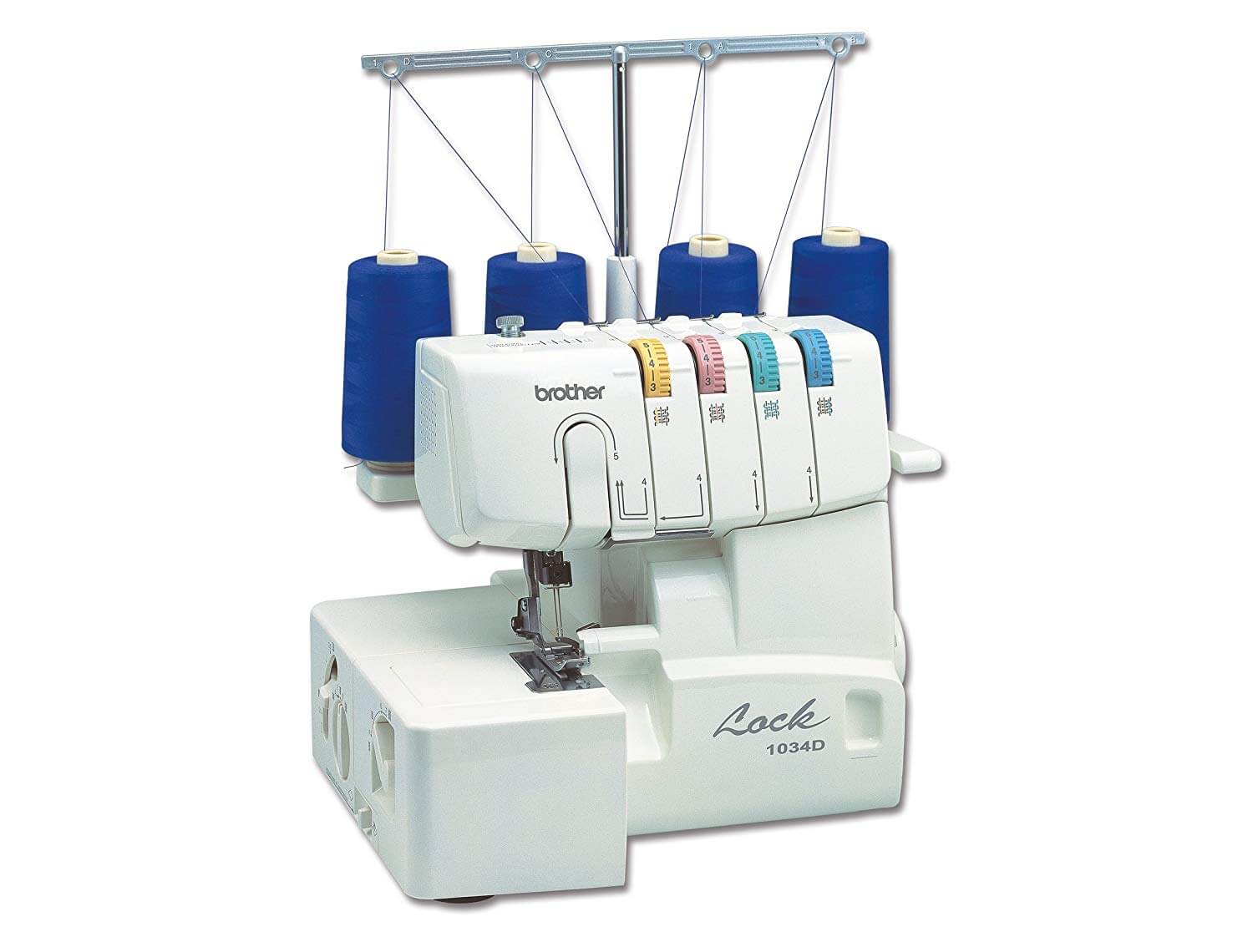 This amazing Brother 1034D serger machine is the most reliable and high-performance machine on the market. It can deliver a pro-level edge finishing on a variety of fabrics like linens, knits, and formal wear. Also, it can create decorative edges, join laces, serge extremely narrow sleeves, and many other functions. You will find that there are 22 built-in stitch functions here with both 4 and 3 thread overlock. Besides, there is a narrow, rolled hem along with a ribbon lock stitches.
It offers a specialty for formal and bridal wear stitching, home decor and crafts, reinforced tape applications, and heirloom. Differential fabric feed is it's another highlight feature. A true professional can be greatly benefitted from this. The stitch quality can be greatly improved on knitted, thin, and stretchy fabrics.
The machine is very easy to learn from the amazing instruction manual. You will also find useful videos from the internet where you can learn the process. An instruction video is included here along with a printed manual. There is a complete upper and lower looper threading which is both color-coded and numbered. It comes with a limited warranty of 25 years and the support service is for the life of the machine.
It also comes with 2 snap-on feet, needles, softcover, and foot controller. A standard sewing machine needle is used here in the machine. The overlock seam width is around 5 to 7 millimeters. One thing to remember that, you should not use this machine where there is no support of 120 Volt AC. Even you have an adapter, you shouldn't do that. Otherwise, the machine will be damaged.
PROS:
Versatile stitch options
Easy threading
Differential fabric feed for better stitching
Fast stitching
Adjustable stitch width
Uses standard sewing needles
Easy operation manual
Brightly lit workplace
Optional feet
Removable stitch finger
Adjustable on/off knife feature
CONS:
Takes some practice to get used to it
back to menu ↑
Brother Designio Series DZ1234 Serger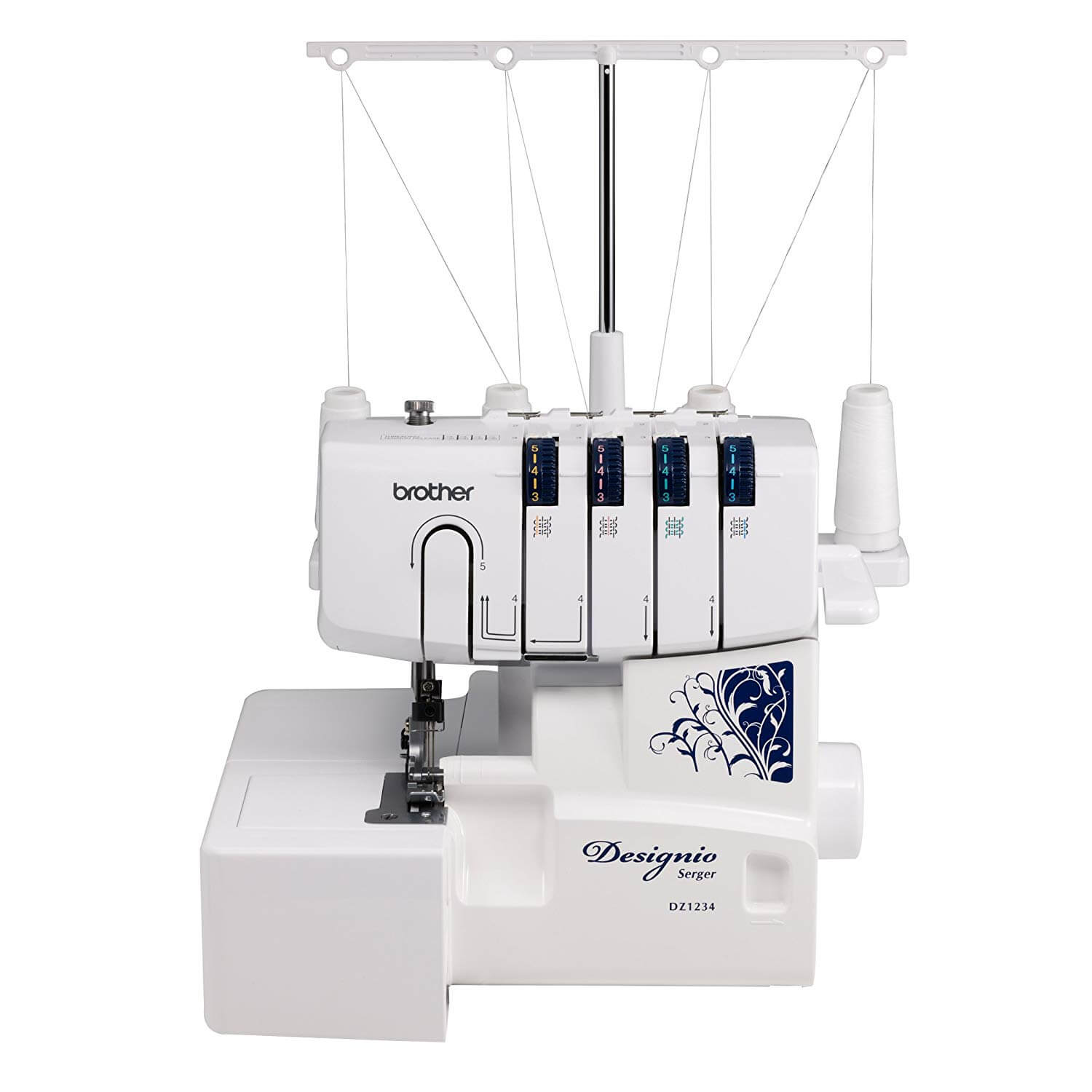 If you ever need to shorten a dress quickly, then the Designio DZ1234 serger is the go-to machine for you. This machine is specifically designed for cutting and finishing any garments quickly and easily. It comes with both three and four-thread configurations. Besides, the machine utilizes a differential feed to get better stitch quality on various fabric quality. The machine has a gathering foot that helps easy gathering and smooth connecting of fabric in just one step with the snap-on foot.
There is also a piping foot that can guide and hold any narrow piping. Furthermore, it can create its own piping by using the fabric strips and piping cord. Not only that, it can hold and guide the zippers in place along with a guide on the underside of the foot. The blind hem stitch foot can create blind hems on a wide variety of fabrics. It is perfect for edge stitching, joining, attaching lace or fabric. Also, the adjustable and open-toed guide makes it a great foot.
It is a very speedy machine with 1300 stitches per minute. Thus it can save you precious time. You can have a couture-level fashion that has beautifully serged seam finish. The color-coded threading is really easy and which provides a simple upper and lower looper threading. You will also see that the thread change of this machine is really quick and easy.
With its free arm convertible sewing surface, you can easily access the areas where it is very hard to reach. You can have magnificent cuffs and sleeves. Also, there is a removable table through which the serging of cylindrical pieces has become quick and easy. The stitch width control is really convenient. Here home sewing needles are used.
PROS:
Both three and four-thread configuration
Easy gathering
Narrow piping
Blind hem stitch foot
Speedy stitching
Easy color-coded threading
Differential feed ratio
Can reach difficult places
Adjustable stitch width
Uses home sewing needles
CONS:
The tension is a challenge to figure out
Instructional CD could be better
back to menu ↑
JUKI MO644D Portable Serger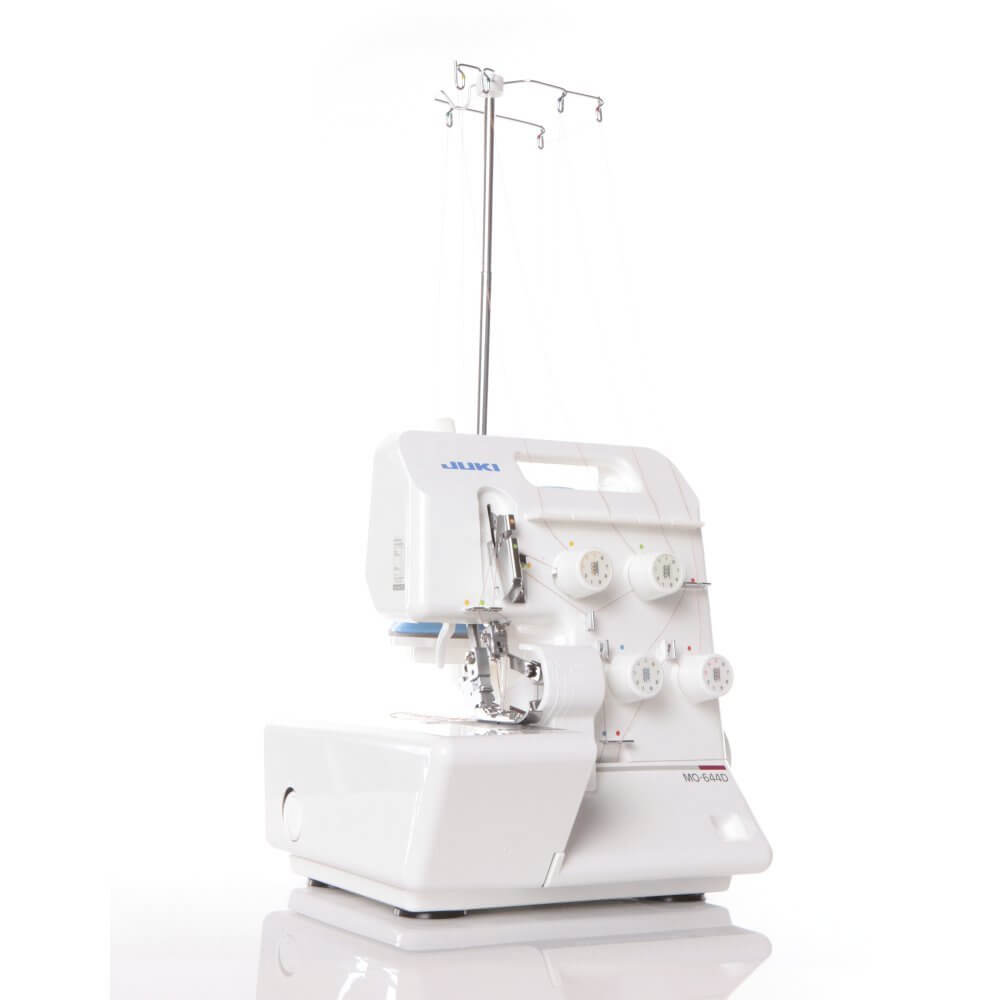 JUKI is a very well-known brand that has excelled at serving customers with magnificent products over the years. And, that is also true for a serger machine too. If you want to put a JUKI product in your home, then this JUKI MO644D is the ultimate choice for you. This awesome product of them has the ability to cut the fabric with dedication and drive. The machine is very easy to use and comfortable for any new user.
You will find a high-quality stitch function in this machine which is very famous for household use. This machine possesses a 2 or 3 or 4 thread serging ability. Also, there is a rolled hem ability that comes with the serger machine. For the ease of use of the customer, the manufacturer has built a color-coded threading system which helps a lot. Besides, the breakaway looper also helps to do the threading easy and correct all the time.
For achieving the safe and easy access of threading, the upper knife can move out of the way really swiftly and easily. You can also find an adjustable stitch length here in the machine which can help to change the design comfortably. Like all other modern and advanced machines, this serger also has a differential feed associated with it. The machine can sew a wide range of stitches and products like tape and elastic through the multi-purpose foot.
There are also some optional presser feet you will find which is for piping, gathering, blind stitch, and cording. The differential feed, stitch length, and serger knobs are built into the machine. These are placed internally in the left part of the machine. This is done when you open the cloth bed. Wonderful machine it is.
You can check out our best beginners embroidery machines review and buying guide here.
PROS:
Automatic rolled hem
Thread serger system 2/3/4
Perfect for light to medium weight fabric
Powerful knife system
Dedicated drive mechanism
Color-coded threading system
Breakaway looper adjustment
Differential feed
Various optional presser feet
CONS:
Setup is a little difficult
No thread included
back to menu ↑
Brother 1034DX Serger, 3/4 Thread Serger with Differential Feed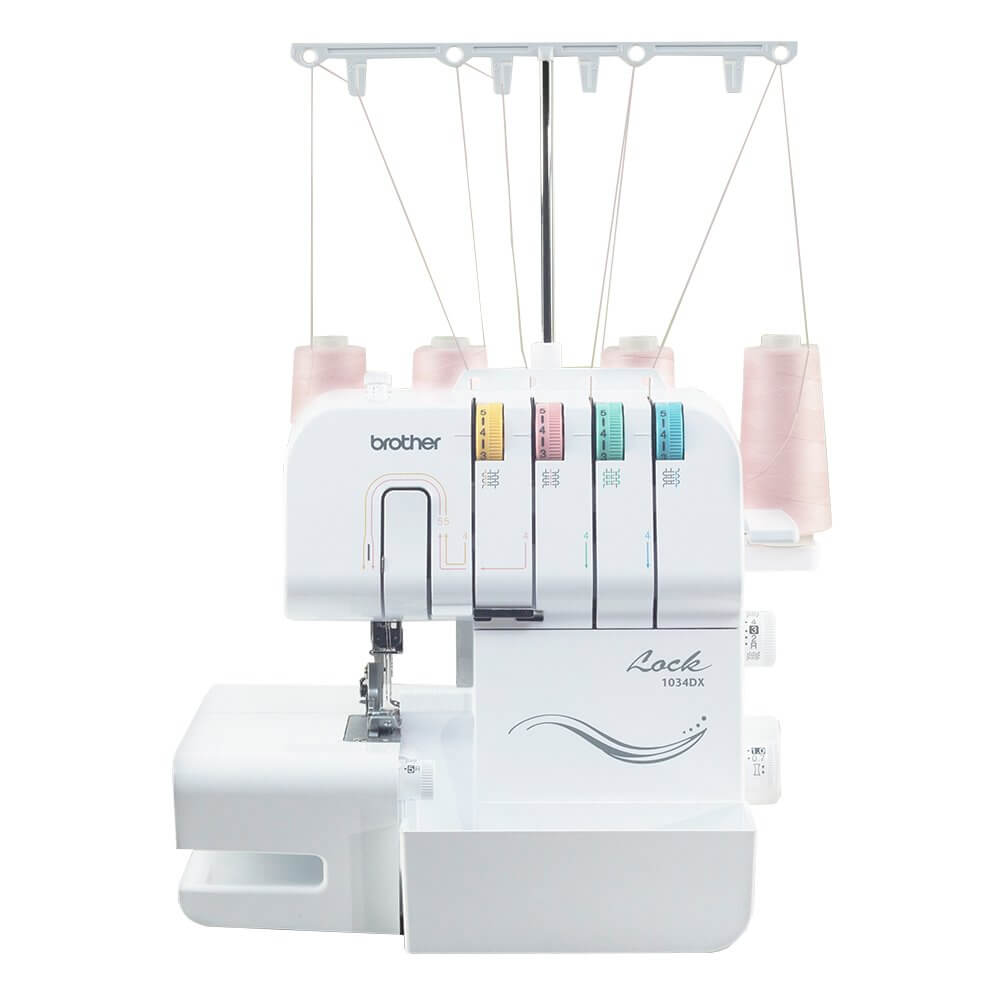 The Brother 1034DX serger machine can expand your options for creativity in the serging world of today. This machine can finish nicely the hems and edges of various kinds of fabrics. In addition to that, the serger can help you create gathers, ruffles, decorative edges, and use any decorative threads for your specific details. It has an added flexibility of working with either 3 or 4 threads. It is very comfortable for getting different stitching on fabrics.
The serger machine is really fast as it has a stitching speed of 1300 stitches per minute. If you want to sew any slower, you just have to put less pressure on the foot controller of the machine. Sew slower according to your comfort level and work. There is an instructional DVD included with the package. You can learn the set-up process of your machine with this helpful item. There is also a hard copy manual included here that is in English and Spanish.
You will get free online and technical support whenever you need as long as the life of the product. The threading guides of the machine are color-coded. So, you can clearly see the place where threads can be put. And because of that, you don't need to pull out the manual every time you want to thread the machine. There is also a trim trap in the machine that collects the trim part of the fabric. You can easily detach the box from the machine.
Besides, it can store the foot controller when in an idle situation. As usual, there is a differential feed here in the machine that has a feed ratio of 0.7 to 2.0. It controls the feed dog movement. That is how you can get smooth and even stitching along with versatility.
PROS:
Speedy stitching
3 or 4 thread capabilities
Instructional DVD for easy set-up
Free customer tech support
Easy color-coded threading
Removable trim trap
Differential feed ratio
Convenient stitch width control
Multiple creative options
CONS:
Not for heavy-duty projects
No cover stitch
back to menu ↑
Brother 2340CV, Cover, Advanced Serger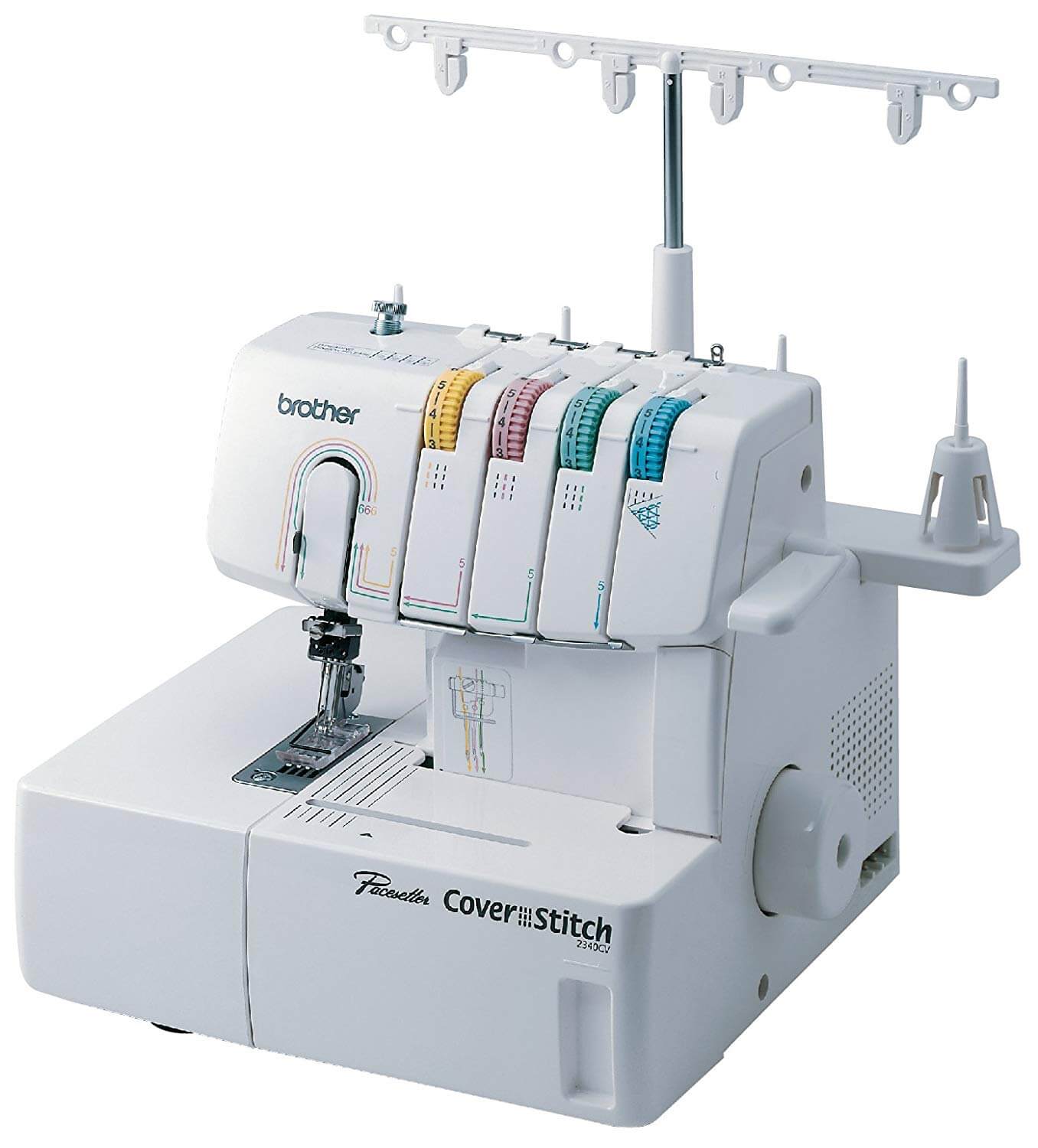 This is an advanced serger that was designed for creating a wide variety of cover stitches. The cover stitches can be put on a numerous number of weights and various types of fabrics. It can give you the flexibility of creating constructive and decorative applications. The serger machine is made with the advanced technology infused into it. There are many advanced features that are associated with it.
There is a narrow cover-stitch in the machine which comes really handy for any user. The tri-cover stitch capability is something every sewing lover fancies to have. Also, there is an easy looper threading system in the machine that makes the threading really quick and simple. It has also a color-coded threading and very useful adjustment dials. Through these wonderful features, you can have high-quality stitching.
Also, the extra availability of a presser foot dial, differential feed, and snap-on feet will monitor the adjusting of length and material flow speed. The cover stitch is made with three needles and one looper thread. It can allow making a high-end chain stitching, hems, and decorative stitching. With the minimum effort, you can make a perfect T-shirt with this exceptional machine. Now, get either a single or dual top-stitching look edge finishing with this machine.
If you want to create a durable strapping with this machine which will be for dance garments and swimsuits, then that can be achieved very easily with minimum effort. There is a 25-year limited warranty for this 2340CV machine which also covers free technical support for the life of the product. There are a lot of accessories that come with this machine. It includes a softcover, a hexagonal wrench, spool mats, tweezers and lot of other items.
PROS:
Advanced technology
Can cover a wide variety of fabric
Easy color-coded threading
Precise stitching
High-quality finishing
Fast and easy looper system
Very speedy sewing
Adjustable dial for stitch length
Multiple accessories
No wavy or stretched look on fabrics
Differential feed
Durable strapping
CONS:
No free arm
There is a learning curve
back to menu ↑
JUKI MO654DE Portable Thread Serger Sewing Machine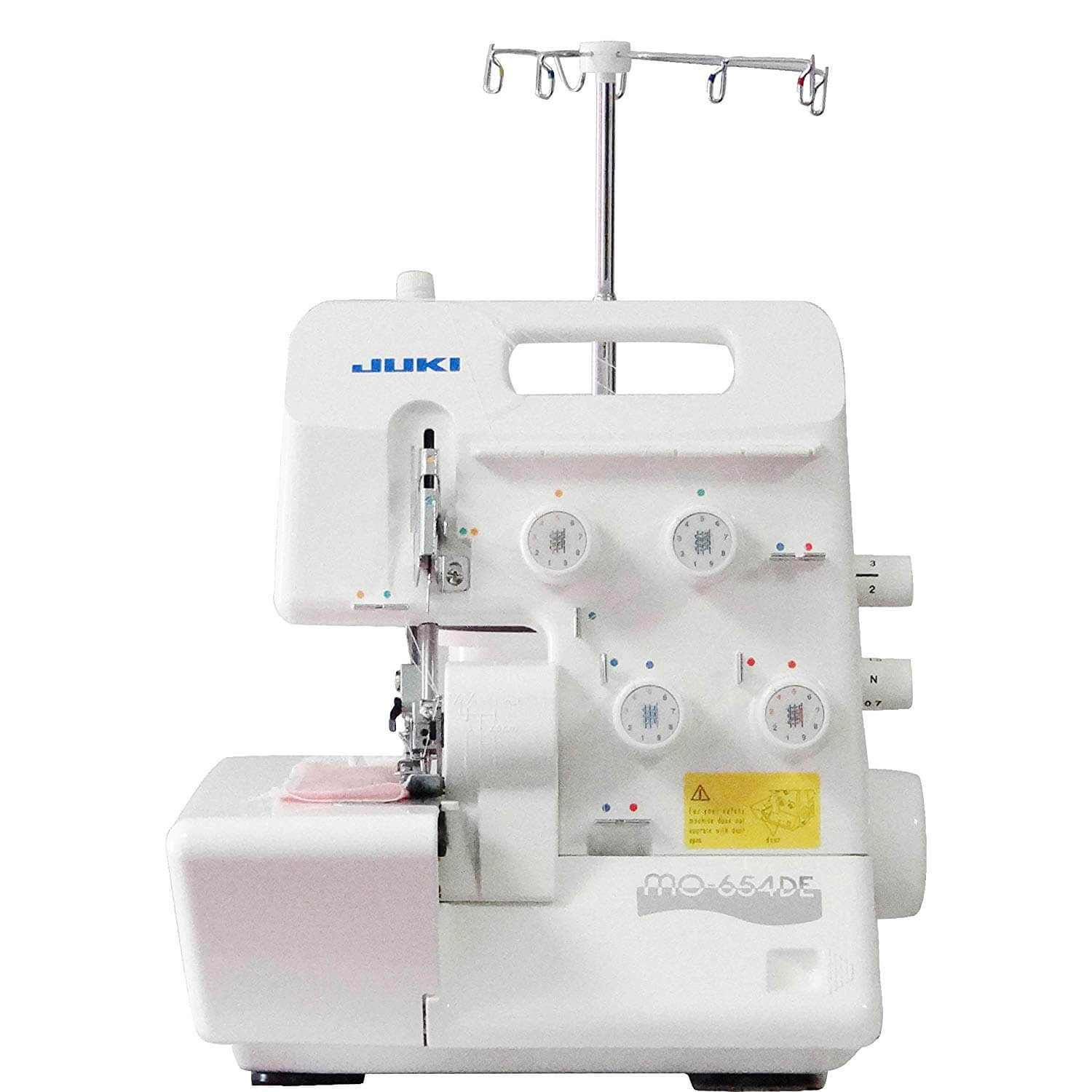 You can put this JUKI sewing machine in your home that will work as a monster. It is an industrial sewing machine that offers a lot of work to be done with maximum comfort and ease. JUKI always comes with the most powerful and dedicated cutting system with the drive also. High-quality stitch formation and ease of use are the highlights of their product all the time. That is why their product is so famous in any household serging operation.
There is a convertible 2 or 3 or 4 thread serging system with an automatic capability of the rolled hem. For the easy and correct threading, there is a color-coded threading system and also a breakaway looper. There is an upper knife that moves away from the machine for having easy and safe access to threading. You will find the differential feed and stitch length adjustments at the outside of the machine so that you can easily do the maintenance.
The nice thing about the machine is that you can calibrate the knife adjustment whenever you want. That is really cool because it really helps from project to project necessity. The machine has a multi-purpose foot that can sew a wide variety of stitches. Also, it can do sewing of different products that include the tape and elasticity.
For the safety of the work, there is a multi-safety switch that can be locked for the machine to be safe and sound. This is done when you uncover the side cover during threading by locking the motor of the machine. Piping, gathering, blind stitch, cording, etc. presser feet are available which are optional. The maximum sewing speed is around 1500 stitches per minute. It can sew light to heavy fabric.
PROS:
Automatic rolled hem
Color-coded threading system
Breakaway looper
Differential feed
Powerful knife system
Dedicated drive mechanism
Speedy sewing
Can sew light to heavyweight fabric
Safety sewing machine
High-quality stitch formation
Optional presser feet
CONS:
Threading a bit tedious
Feed adjustment takes some time
back to menu ↑
Singer Finishing Touch 14SH654 Serger
The singer is a renowned brand for making a wide variety of wonderful machine over the years. This 14SH654 is also no exception to that. The machine is designed with utmost usability and can take a lot of heavy load round the clock. The color-coded threading system of the machine is quite beautiful. You can easily watch the system and make any threading easy and smooth. To do that, you just need to follow the diagram that is printed on the machine.
You will find the stitch length dial located on the outer part of the machine which is really convenient for any user. You can also adjust the dial to get any personalized stitch length. Besides, there is a must-have adjustable tension for you. Every sewing person needs it when they are going to sew a variety of fabric types. The machine is built as a heavy-duty metal frame which adds the durability of the machine for the user. You can use this machine rough for a long period of time.
Like every other top quality machine, this Singer serger has a differential feed which is fully adjustable. It can ensure the even feed for perfect seams on all types of fabric. You will have no puckering or breaking when using one of these. Perfect stitch types are ensured by the various stitch types. Various projects of rolled hems, blind hems, flat locking, and other configurations are possible for you.
It can sew very speedy sewing of 1300 stitches per minute. Thus the machine can save a lot of time when you are in a hurry. Tweezers, screwdriver, and needle set come with the machine as accessories. A built-in rolled hem is there for you. Here, you can do a free arm sewing too.
PROS:
Color-coded threading system
Adjustable tension
Easily adjustable stitch length
Heavy-duty metal body frame
Differential feed
Various stitch types
Speedy stitching
Useful accessories
Built-in rolled hem
Free arm sewing
Moveable upper knife
CONS:
Difficult for beginner
Needs some practice to get-go
back to menu ↑
Buying Guide of Best Sergers for Beginners
Most of the sergers will offer you the basic functionality that you may need when sewing. But there are also some differences between the available machines you will find on the market. That is why you need to focus on the main features that must be there for your machine. Here, we will discuss the most important features for a serger that determines whether it is a top-quality product or not!
Weight and Size
One of the main things that need to be checked is whether the machine is weighty or not. The size and weight of a machine are very important as you will need to place it and move it. If the machine needs to be moved quite a lot, then the person who will use it must be a strong person. Otherwise, it will be difficult for him as the machine can be a heavy one sometimes.
Besides, the size of it is also important as you want to place it where you want. Some may want to place the machine in a place where it will be fixed and some may want to move it from one place to another. So, check the size and weight of the serger.
Thread Types and Threads
Sergers have multiple threads in general. And, that depends on what type of machine is there. If the machine is a residential one then there would be 2, 3 or 4 threads. Most of the famous brands are offering these types of machines. But the commercial type machines are having 5 or more threads with it. These are not suitable for beginners though.
On an important note, sergers are very difficult when it comes to threading the machine. The experienced persons like the all-time seamstresses or professional tailors will take up to 15 minutes or more to re-thread the machine. That is because the machine needs to be threaded in a complex order and the reaching of these places is not that easy too. Because of that, many persons are opting for a more advanced option machine that has automatic threading options.
Differential Feed
Commonly a serger machine has two feed dogs. Those feed dogs push the fabric accordingly through the machine. And, these are controlled by a differentia. If you want to control the differential ratio, which can be easily done by giving either an even finish to the seam or a ruffled edged decorative finish. It's up to you what kind of finish you want.
Speed and Noise
People normally want a serger not just to have a good edge finishing but also for speedy sewing. A serger will give faster sewing than a regular type sewing machine. In general, the machines have around 1300-1500 stitches per minute sewing ability. Most of the modern sergers will give you a good speed normally.
Noise is also a necessary part to be checked before you buy one. As you will be using the machine inside your house, it needs to be ensured that the machine isn't too much noise. Although you will find that most machines are not that loud. If there is excessive noise from the machine it is an indicator that the serger needs to be cleaned soon. Oftentimes people switch to other models because of the noise the previous model produces.
Length and Width of the Stitch
Controlling the length and width of the stitch is a technical aspect of the machine. Stitch length is called the distance between two corresponding stitches. It is not different than the actual sewing machine we use. And, the stitch width is the distance controlling where the blade will cut the fabric.
Normally the thread remains on the fabric tight enough for the seam so that it can sit flat. Also to ensure that the seam doesn't hang off the edge. Most of the serger machines can be adjusted if you want to change the length or width.
Tension of Thread
Thread tension is of massive importance as you can control the final look of the project by giving direction to the threads. You will normally find the dials of the thread tension setting on the face of the serger machine. Each of the machines has a different setting. That is why it's important to check the manual carefully and find out how you can adjust the thread tensions for different fabrics.
Cutting Blade
The cutting blade of a serger does the making of the edge either narrower or wider. If the edge is too narrow, that can be problematic by being unstable. Also, the wide edge can be curled down the stitching because of the extra length.
That is why you need to position the blade perfectly. Most of the well-known brands offer the complete disengagement of the knife when you need them.
Accessories
Having the important and necessary accessories is really vital as that can help you to make a good stitch. You can also take care of the machine by availing all the valuable parts whenever you need them. Sometimes there is a softcover for your machine which can protect your machine from dust and other things.
You can also buy a carrying case if you need any. All the accessories from the manufacturer add some value to the customer as it saves some cash for them. Also, you should buy some accessories on your own as that can help you make a good sewing result for you. It enables you the freedom to make your own design.
Warranty
When you are buying a serger machine you are doing a major investment. That is why you need the warranty to be good for protection against any defects or malfunctions. Most of the manufacturers offer a limited 25-year warranty. That is good for prolonged use for any customer. Some may offer a less warranty period. It is basically your choice whether you will go for a particular brand or not.
Power
A serger machine normally deals with rolled hems and seams. That is why they need to be powerful and strong to stitch through the fabric. The choice of the machine is dependent on the seam thickness and fabric toughness. That is why a powerful machine is very compulsory for any serger machine.
Cost
It is certainly the most important factor for you to choose any product. But sometimes for having a good product you need to forget about the price and concentrate on the quality of the item. Although you must compare the available options from the market and choose from them. Sometimes two machines have the same features but different prices. Brand value sometimes costs you more. The ultimate target is that you want to buy a machine that is worth the price.
Ease of Use
For a beginner, a serger machine must be anything but difficult to work. You don't need so many complex features and facilities. Just the regular process will ensure good practice for you. That is how you can become an expert after beginning with a user-friendly machine.
back to menu ↑
End Words
In the sewing world, there are many wonderful machines out there. But, the sergers are really unique and can be very effective if you can use them well. The best sergers for beginners are for those sewing enthusiasts who want to be the best in the sewing department. That is why you need to be very choosy when you are buying one. Don't be too picky and also don't be too naive. A good decision will help you a lot and make your work really effortless and easy.
Let us know if the article is helpful for you. If there is any suggestion you want to make, please do tell us in the comment section below. Which machine do you like the most on our list? If there is any machine that you want us to have a look, you can also tell us that. Hope you have a great time with sewing!