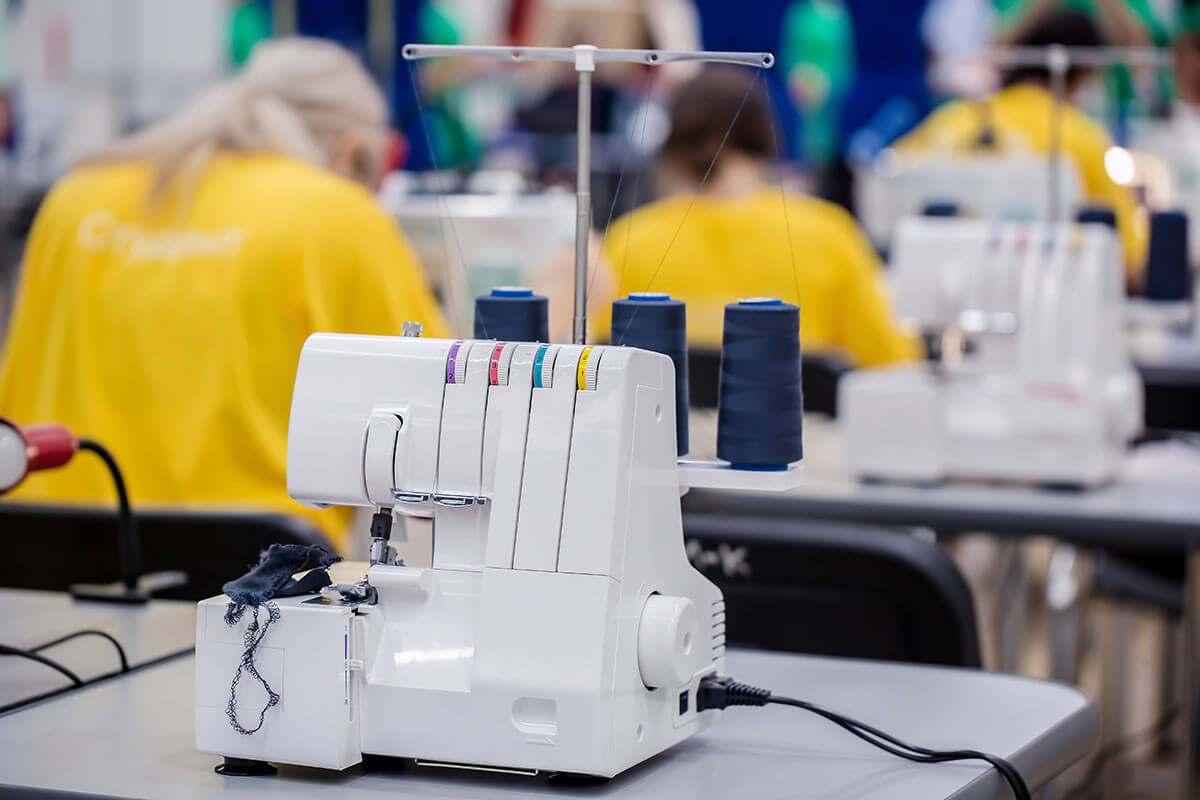 If you are new to the world of sewing machines, you must understand what an industrial serger is. An industrial serger is a sewing machine with advanced features beyond the regular industrial serger machines that you sew everywhere. This type of machine runs at a higher speed of between 1,000 and 9,000 SPM. It is easy to mistake industrial serger machines for regular sewing machines because of their resemblance but they have a lot of functions that regular sewing machines don't have.
Some of the features on an industrial serger are meant to give you a professional finish. These advanced functions are why they are called industrial serger machines. An industrial serger can bind fabrics together to create overlock stitches. Three or more stitches are needed to create overlock stitches so you can have the same finishing you see in most readymade garments.
To put it better, an industrial serger is a sewing machine that specializes in hemming, seaming and edging of a large variety of fabrics. They can be found in furniture upholstery factories and clothing manufacturing companies.
7 Top Industrial Serger Sewing Machines
There are plenty of industrial serger sewing machines in the market. This makes it a bit difficult to make a perfect choice that is worth your investment. You don't have to worry because we have done the hard job for you. After our 72 hours of research, here is a review of the best industrial serger sewing machines based on durability, sturdiness, functionality and performance.
JUKI MO-6714S
Are you looking for a noiseless industrial-level overlock machine? If the answer is yes, look no further than the JUKI MO-6714S. The JUKI MO-6714S is a straight overlock sewing machine. This machine is meant for professional use for the finishing of garments and other projects at a high sewing speed. With 7,000 stitches per minute, large projects can be accomplished in no time. It comes with 2 needles and 4 threads to deliver impressive performance.
This model is built with a quiet servo motor that offers great speed. The JUKI MO-6714S is a semi-automatic machine that guarantees increased productivity, flexible stitches and unparalleled quality finishing. The stitching options are incredible. It has an SC-510 stitch control box that offers even and tight stitches on any project. There is a stitch indicator on the front panel of the control box for the ease of making adjustments and chain-off lengths. The stitch length can be adjusted between 0.8 mm and 4 mm while the stitch width adjustment ranges between 3.2 mm, 4.0 mm and 4.8 mm.
Apart from the fact that the motor operates quietly, the servo motor is also light and uses 90% less energy compared to clutch motors that suck energy. The motor can easily be reversed by pressing a switch. You can change and set stitch speeds with ease. Once the speed is set, the machine will operate at that speed no matter the amount of pressure applied to the petal. There is the adjustable differential feed that has an internal adjustment system that is connected to external control. These adjustment features give you control over the feed dogs, feed ratio settings and the fabric you are sewing.
For gathering, the differential ratio can be adjusted between 1:2 mm and 1:4 mm. For stretching, the adjustable ratio ranges between 1:0.7 mm and 1:0.6 mm. The variation of the settings and the blinding speed of the machine allow you to produce perfect stitches on any project. Other functions include dual thread tension control which makes adjustments fast and easy even if you are using the serger in the chain-off thread and normal stitching modes
PROS:
The fast sewing speed of 7,000 SPM
User-friendly and quiet operation
Versatile and excellent performance
Reliable and consistent
Sturdy and heavy-duty
Durable and powerful
Comes with a sewing table
CONS:
It is expensive
Supports only DC X 27 needles
Not colour-coded
back to menu ↑
JUKI MO654DE 
Meet and exceed expectations with the JUKI MO654DE serger. JUKI is known for making high-quality and powerful machines that come with outstanding ease of use. The JUKI MO654DE is not an exception. This machine has 2-3-4 thread capability and rolled hemstitching with different adjustable features to give customized results. It comes with a multi-purpose foot so you can easily handle speciality stitches. There is also a wide range of added presser feet which can be used for piping, cording, gathering and blind stitching.
This serger can create a lot of stuff on skirts, necklines and sleeves. Threading is a breeze since it is color-coded in addition to a breakaway looper. There is differential feed adjustments and stitch length to give you unfettered control while you are sewing. The built-in tape guide on the presser foot lets you deliver the perfect seam on stretchy fabrics helping your fabrics not to lose shape during the stitching process. It supports the fabrics by holding the edges together. When it comes to speed, the serger has 1,500 stitches per minute to help you delivers projects pretty fast. The powerful knife system helps to provide enough flexibility for the easy and safe direction of work when it comes to maintaining consistency. The operation of the machine is quieter than most serger machines out there.
Regular maintenance keeps the machine healthy and also extends its life span. It is easy to clean. The side and front covers can easily be opened allowing you to clean the inside with a lint brush. This machine comes with a lot of accessories such as a box of needles, dust cover, screwdrivers, tweezers, and a needle threader. Others include a cleaning brush, foot controller, oiler, lower knife, nets and an accessory bag. The package comes with an instructional DVD and electronic workbook so you can easily figure out how to use the machine.
PROS:
The quick sewing speed of 1,500 SPM
Hassle-free threading with a color-coded system
Lightweight and portable
Extremely versatile presser foot
Multiple stitch selections
Plenty of adjustment features
Built-in seam guide for perfect seam allowances
CONS:
A bit pricey
Issues with threading
back to menu ↑
Brother ST4031HD
The Brother ST4031HD comes with five different stitches. It is super easy to set up and use. There is an extension table to help handle larger projects conveniently. The thread stand is all-metal. There are a needle stand and needle plate. This serger is packed full of features such as the carbon steel cutting blade, 5 stitch options and metal thread stand. The serger comes with the following items – 4 thread nets, foot control, 4 spool caps, 4 thread spools, foot control, a wide table for the handling of heavy-duty projects, a dust cover for keeping the machine's components free from dust, a trim trap that gathers all the excess trim in one place and 3 feet options that include standard, gathering and blind. The Brother ST4031HD can tackle heavy-duty projects such as denim, canvas and layered knits.
When it comes to design quality, the serger is made with a durable and heavy-duty metal frame. With the metal frame construction, the machine can withstand heavy use and the weight of the serger also creates a balance to make the machine stable. The blades are made from highly durable carbon steel. It has exceptional controls and capabilities which makes it perfect for the handling of heavy projects such as denim, canvas and layered knits. Threading the serger is done with utmost ease since it comes with a color-coded threading system. It comes with a printed color-coded guide so you can easily figure out where each thread can be placed.
With the foot control, you can sew at a speed of 1,300 SPM. For beginners, they can always sew at a slower speed while for the professionals, projects can move at a faster speed. There is a free arm for you to manipulate fabrics very easily. Cuffs and collars become easy to handle with a free arm. You have the differential feed to give you the ability to control the feed dog movement by adjusting it. The range is from 0.7 mm and 2.0 mm feed ratios. To familiarize yourself with the serger, you can watch the instructional DVD that helps you to get started with the serger without wasting much time.
PROS:
Color-coded threading guide
Durable and sturdy construction
Extremely easy to setup using the instructional DVD
Versatile and highly functional
The excellent sewing speed of 1,300 SPM
Extensive table for easier control of heavy projects
Heavy-duty carbon steel cutting blade
CONS:
Thread strength can break the machine at high speed
Unable to perform 2-thread serging
back to menu ↑
JUKI MO644D
This is one of the most affordable sergers you can find anywhere. It doesn't diminish its functionality and efficiency. This is a convertible 2-3-4 serging machine with the capacity to do an automatic rolled hem. When it comes to design, the JUKI MO644D stands out from the crowd with its white body design. It is the perfect serger for beginners who are interested in making overlock stitches for the first time. For ease of threading; the machine comes with a color-coded threading system with a breakaway looper for accurate threading. To give you easy and safe threading access, the upper knife moves out of the way to grant you access.
There are multiple stitch options such as the 3-thread overlock, 3-thread narrow overlock, 3-thread rolled hem, 3-thread flatlock, 2-thread rolled hem, 2-thread overcast and 4-thread overlock. Other options include curved pearl foot, cording, beading, piping, blind stitching and adding elastic. There is nothing to complain about when it comes to speed.
At a sewing speed of 1,500 SPM, projects can move faster at the speed of light. The speed is more than 200 times faster than most sergers. The multifunctional presser foot allows you to install plastic, tape, sequins and other materials into the projects you are handling at any point in time. A lot of things can be customized to suit the user's need. You can adjust the tension to place the thread properly according to the speed of the machine. Adjustments can also be made to the differential feed to make elaborate fashion styles. By turning a dial, adjustments can quickly be made to the fabric width while the machine is still in operation to deliver perfect seams.
PROS:
Easy to thread thereby making it user-friendly
Color-coded threading guide
Perfect for beginners
Stitch length adjustment
Multipurpose foot to handle different stitches
Pressure foot comes with pressure adjustment capabilities using a knob
Well-built and long-lasting
CONS:
No free arm
No on-board accessory storage
back to menu ↑
SINGER 14CG754
The SINGER 14CG754 Pro-Finish is another 2-3-4 threading system serger from SINGER. This machine apart from being portable looks attractive and user-friendly. Both beginners and professional sewers will feel very comfortable using it. One greatest advantage of the SINGER 14CG754 is that it can sew heavy fabrics and multi-layered fabrics too. There are excellent features that come with this serger.
Projects will be finished pretty fast with its sewing speed of 1,300 stitches per minute (SPM). It comes with a free arm that makes it easy and convenient for you to work on collars, sleeves and other tight areas on a fabric. The free arm is a feature that helps you when you have a small working area. There is the upper knife that assists you to cut through fabrics with the utmost ease. It cuts the thread neatly. Color-coded threading is a great feature, especially for beginners. It makes threading very convenient. Just place the threads according to the color indicators and you can relax. There is also a printed diagram to support the color-coded threading system. You have the presser foot that allows you to insert the fabric and press it down to firmly hold the fabric in place. It can also be raised higher in case you want to sew multiple layered fabrics.
When it comes to built-in stitches, there are 6 built-in stitches in total. There is a 3-thread overlock stitch which is mainly for decorative beautifications, 4 built-in rolled hems, 4-thread mock stretch stitch for working on knit fabrics, 3-thread mock stretch safety stitch that handles stretchable fabrics, 2-thread overlock stitch for lightweight seam finish and flatlock stitch for a spectacular beautification of fabrics. Tension can be adjusted with ease by just turning a knob. This helps you to handle a wide range of fabrics effortlessly. The best part is the automatic needle threader. If you find yourself sewing in the dark or working on dark fabrics, the bright LED lights will provide illumination. The SINGER 14CG754 comes with some accessories which include a screwdriver, dust cover, spreader, needle net, tweezers and all-purpose foot. There is a 25-year limited warranty.
PROS:
The wonderful sewing speed of 1,300 SPM
Automatic needle threader
Portable and lightweight
Versatile and durable
Low maintenance cost
Bright LED light
Color-coded threading system
CONS:
It is noisy
Not ideal for very thick fabrics
back to menu ↑
JUKI Industrial MO-6814S
The JUKI MO-6814S is a powerful overlock/safety stitch machine that is well designed for increased ease of use and reliability. It accommodates a wider range of materials to deliver high-quality and soft-feeling seams finish. There is 4 thread overlock altogether. This serger has reduced operating noise and increased durability since it is designed with optimal balance in mind. It comes with an electronic DC motor and a sewing table. The servo motor uses 90% less power making it better than clutch motors that are not energy-efficient. It is also light in weight than clutch motors.
Users find the machine easier to use because the servo speed can be easily controlled. By just flipping a switch, you can have the motor in reverse motor rotation. The JUKI Industrial MO-6814S has a great speed to help get the job done very quickly thereby saving you a lot of time. 7,000 stitches per minute are extremely fast and quick. The serger is easier to use and very cost-effective. No matter the type of fabrics, whether light or heavyweight fabrics, the machine can handle it with a lower application of tension. This makes it a highly responsive serger.
The main feed dog height and the differential ratio can be adjusted with ease from the front side of the machine with the help of a screwdriver. When it comes to the differential ratio, 1:2 and 1:4 is the range for gathering while 1:0.7 and 1:0.6 is for stretching. The JUKI Industrial MO-6814S comes with different functions so you can make different adjustments that best suit the materials you are handling at any point in time. One nice thing about this serger is that lubrication is automatic. It makes use of DC 27 needles.
PROS:
The high sewing speed of 7,000 SPM
Lower operating noise
Versatile and eco-friendly
Highly functional and easy to operate
Very flexible with the elasticity of the fabrics
An adjustable differential feed mechanism
Comfortable and easy to operate
No assembly instructions
CONS:
It is very expensive
It comes unassembled
back to menu ↑
JUKI MCS-1500
The JUKI MCS-1500 takes sewing to a whole new height with a combination of cover stitches and chain stitches. It is the darling of many seamstresses. This machine has a combination of thread-cover and chain stitching facility that enhances chain-stitching by helping to create strong and even stitches on stretchy fabrics. The versatility of thread-cover stitches makes it easy to handle cuffs, necklines and sleeves. With the JUKI MCS-1500, you can work with both 3-thread and 4-thread cover stitches. There is the adjustable differential feed that helps to achieve excellent finishes. This allows the machine to comfortably work on stretchy fabrics and knits just as you do with normal fabrics. This built-in thread cutter is one of the finest features of the JUKI MCS-1500. It saves you a lot of time. With this feature, threads are well-trimmed helping you to finish more efficiently and satisfactorily.
To have a lot more control over the fabric you are sewing, the serger has presser foot pressure adjustment. This allows you to adjust the pressure on the presser foot as you like. The feature makes it easy to handle a variety of fabrics. It eliminates the stretching of fabrics. Inserting your fabric to start sewing is one issue that can be avoided. This is why the JUKI MCS-1500 is fitted with the presser foot lifter. If you have multilayered fabrics, you can lift the presser foot above the height of the layered fabric. It can be raised between 8 mm and 10 mm so you can easily insert even thick materials. Then, there is the presser foot guide. The presser foot guide presses down on both left and right sides and when it is combined with the extension plate seam guide, what you get are perfect straight stitches.
When it comes to sewing speed, the JUKI MCS-1500 is very fast. It sews at 1,350 stitches per minute. This means projects will be completed on time. Some of the accessories include a hexagonal screwdriver, needles, thread nets, needle inserters, spool caps, softcover, electronic foot control, cover stitch and chain stitch presser foot.
PROS:
Made with durability and sturdiness in mind
Sews at a fast speed of 1,350 SPM
Designed with built-in thread cutter
Very user-friendly and easy to use
Operates quietly during operation
Comes with 3 needles
There is an extension plate with seam guidelines
CONS:
A bit pricey
At 20 pounds, the machine is a bit heavy
 Buying Guide
A serger is a long-term investment. As such, care must be taken when choosing one. There are plenty of options with a myriad of features in the market. Never make the mistake of choosing a serger based on price. There are critical considerations to make when choosing a serger. Here are the factors to consider before purchasing a serger.
2-3-4 Threat Stitches
This allows you to create more stitches like a 2-thread rolled hem, 2-thread mock flatlock and 2-thread overlock. With these options, you can create different types of stitches.
Color-Coded Threading
It is not every serger that comes with automatic threading. In the absence of that, color-coded threading is a great feature. It eliminates confusion. It provides easy threading guide to avoid mistakes. This is a very helpful guide, especially for beginners.
Adjustable Thread Tension
Adjusting the thread tension according to the fabric you are sewing gives you an upper hand. It gives you complete control. This also helps you to deliver a smoother line stitching that looks very professional.
Differential Feed
This is an outstanding feature for any serger machine. It allows you to adjust the feed dogs which helps to keep knits and other stretchy fabrics from stretching out or worn out. This feature is important if you want to produce professional-grade edges and ruffles.
Heavy-Duty Knife
This is a cutting tool that offers clean and even cut across multiple fabric layers.
Comprehensive Manual and DVD
This guide helps you to get started pretty quickly. It shows you the function of different parts and how to operate the machine. It puts you through the learning curve so you can master the functionality of the machine.
Automatic Needle Threader
Putting the thread through the eye of the needle is not an easy task especially for people with bad eyesight. It can also strain the eyes. The automatic needle threader feature eliminates all these headaches. This feature threads the needle automatically.
Built-in Spreader
Switching to sewing two thread stitches is faster with the built-in spreader. This allows you to run two thread stitches on a piece of fabric at the same time.
Looper Air Threading
Threading the fiddly looper is done with ease with the push of a button using the looper air threading feature.
Free Arm
A serger without a free arm can be hellish. It is extremely difficult to sew stuff like cuffs and sleeves without a free arm. The free arm allows you to do these tasks conveniently.
High Presser Feet lift
This is an ideal feature for serging thick fabrics especially multilayered fabrics of about 5 mm or 6 mm.
Rolled Hem Conversion
Switching from overlocking to rolled hem is quick and fast with this feature. It is an excellent consideration for buying a serger.
Motor Power
Avoid a serger with that comes with a clutch motor. Apart from the fact that it is very loud, it also consumes a lot of energy. Go for a servo motor. It is quieter in operation and uses 90% less energy.
Extension Table
Don't miss this feature for anything. This is perfect for sewing large projects like curtains and dresses.
Sewing Speed
This is important when you handle large projects all the time. Fast speed sergers save a lot of time. A serger with 1,000 and above stitches per minute are highly recommended whether you are a beginner or professional.
Oiling and Lubrication
Industrial sergers require oiling and lubrication. Some are self-lubrication while others have to be done by the owner. Proper lubrication also translates to the proper functioning of the machine. JUKI Industrial MO-6814S is made to lubricate automatically.
Noise Level
This is about the motor that comes with the machine. Clutch motors are noisy. This is why you must choose a serger made with a servo motor if you want to enjoy sewing without loud noise.
Weight
Consider the weight of the machine before you purchase it. You may have to move it from one point to another. If it is too heavy and bulky, moving it may be difficult.
Warranty
Warranty is something you must pay deliberate attention to. Manufacturers offer a different warranty period for their products. A manufacturer like SINGER offers a 25-year limited warranty on the head of the machine and 2-year on other parts.
Price
There is no doubt price is a vital consideration when you want to purchase a serger. Make sure the product you want to choose will meet your needs and at an affordable price. The JUKI MO644D is very affordable and will surely meet your needs. It is perfect for beginners too.
FAQs
Why do I need a serger/overlocker?
A regular sewing machine can do almost everything a serger can do. But the problem is that a regular sewing machine is slower in doing these things. A serger accomplishes these tasks faster. The finishing of a regular sewing machine is not as professional as that of the serger. Serger machines deliver great rolled hems and stronger seams. So, you will need a serger if you want to get things done pretty fast. If not, you can continue to use the regular sewing machine if you don't handle large projects.
How do I have to clean my serger machine?
The serger should be cleaned after completing a project for the day. If you are handling a large project, it makes sense to clean it several times throughout the time you are working on the project.
Does a serger also mean an overlocker?
Yes, serger and overlocker are interchangeably used but are the same term. The word "overlocker" is mostly used in Europe while "serger" is used in North America.
How can I stop the thread from looping off the edge of the fabric?
First of all, look at the differential feed status. If there is no need to put it on, then, put it in a neutral position. Ensure you set the cutting blade to the right width. Also, check the tension of the lower and upper loopers. Check to be sure that machine is well threaded with the thread well placed with the right tension.
What is the cost of a serger?
The prices of sergers can vary depending on features and capabilities. Some sergers with limited functionality can cost between $300 and $400 but the high-end machines cost more than $1000.
Conclusion
Our pick is the JUKI Industrial MO-6814S. The machine is extremely fast at 7,000 stitches per minute. It is impressive when it comes to handling light and heavier fabrics. With low noise and vibration, this serger is comfortable to use. It comes with plenty of features and functionalities to help get the job done with ease. The only problem is that it is expensive. If you are on a budget, we recommend the JUKI MO644D or Brother ST4031HD. These two are excellent for beginners that just want to go get started with serging machines.