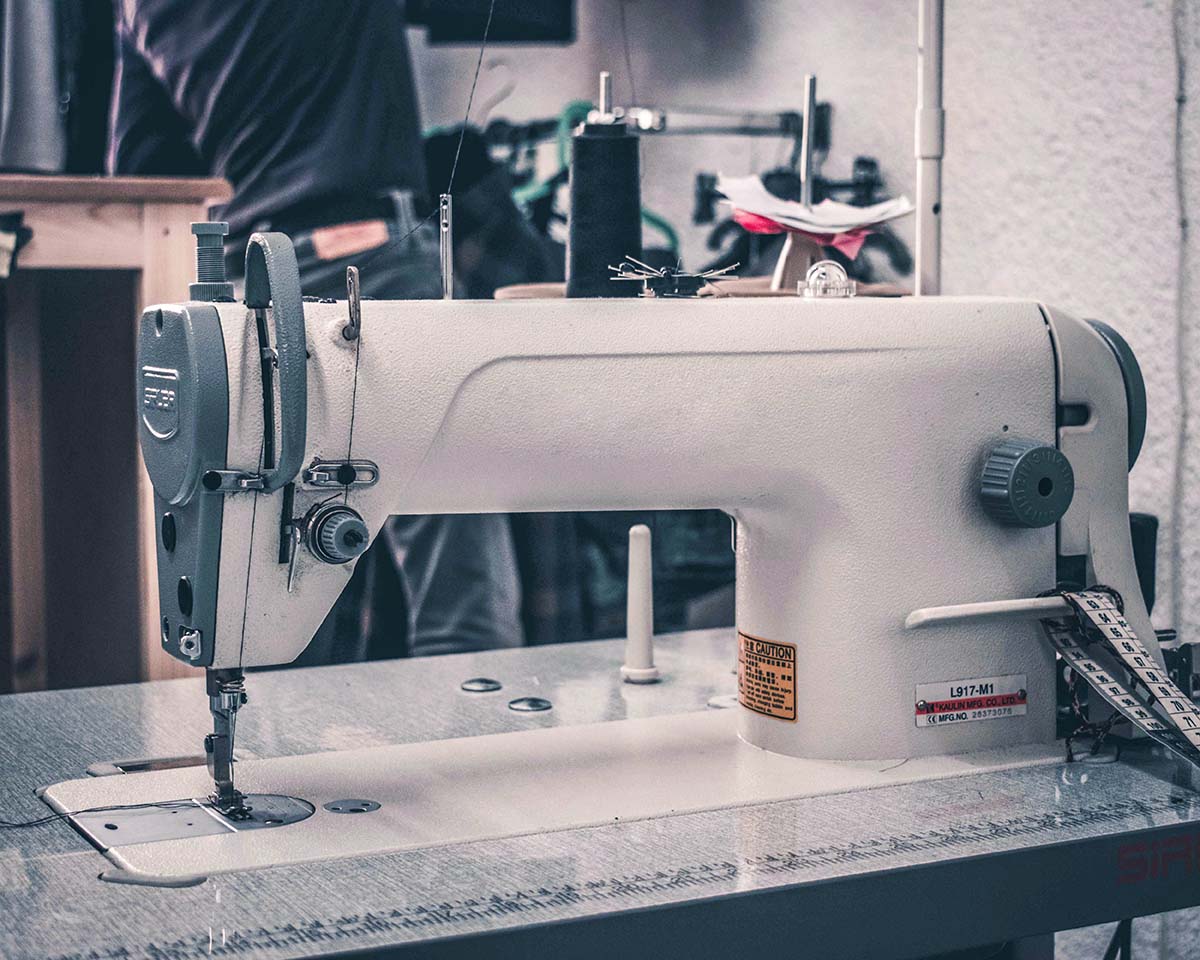 If you intend to do some heavy-duty sewing, you would need to get a heavy-duty sewing machine. Making upholstery projects for furniture or auto cannot be achieved with regular sewing machines. This is where choosing the best sewing machine for upholstery becomes germane. These types of machines can handle thicker materials thereby giving you a lot of versatility and great performance when working on any upholstery projects.
In this post, we have made a list of the best upholstery machines. We have spent the last 72 hours selecting the top models after considering many factors including warranty, number of built-in stitches, weight, sewing speed and a host of others.
They all come at different prices so you can find one that is budget-friendly and also meets your needs.
Check out the comparison table below to see our findings. You will also find reviews on each of the products, their pros, cons, buying guide and our recommendations in the concluding part of this article.
We are sure you will make an informed decision at the end of it all. So, let's get started!
Image
Our Top Picks of the 7 Best Sewing Machines for Upholstery
Consew 206RB-5 Walking Foot Industrial Sewing Machine
The Consew 206RB-5 is a heavy-duty industrial sewing machine capable of handling almost all kinds of materials. It can handle light and heavy fabric, suede of various weights and thicknesses, leather, canvas, upholstery, fabric, vinyl of different weights, faux fur, twill and many more.
Sewing with this machine is extremely comfortable and fast. With more than 3,000 sewing speeds per minute, you are sure of completing every project even before the deadline.
The extra-large bobbin along with the heavy-duty walking foot means you can work for longer periods without bothering yourself about the constant changing of the bobbin.
One added advantage is that you can wound multiple bobbins while sewing. This is an excellent feature that ensures you have enough threads to complete your task.
The Consew 206RB-5 is a reliable sewing machine that would turn out to be a great investment in the long run. It can fit into any workroom even if it is a private home.
If you are interested in making luggage, shoes, handbags or upholstery whether for automobiles or furniture, the Consew 206RB-5 would meet your needs. The fact that it is perfect for the sewing of sailcloth, leather of various weights, vinyl and suede is a great advantage.
It operates quietly with the whisper-quiet Servo motor. This means there is no noisy distraction. One interesting thing about this machine is its centralized lubrication. Self-lubrication ensures your machine is well oiled to enhance its performance.
The package comes with different accessories such as extra bobbins and needles, oil dispenser, spool pin, extra screws, 2 Hex keys, 3 screwdrivers, knee lifter, parts manual and owner's manual.
PROS:
High speed of more than 3,000 SPM
Highly versatile to handle different materials like leather, suede, vinyl, etc
Operates quietly
Comes with a table and Servo motor
Large and easy to change the bobbin
Centralized lubrication and safety clutch
Feed dog and needle plate are changeable
CONS:
A bit heavy at 200 pounds
The owner's manual is difficult to understand
back to menu ↑
Consew P1206RB Industrial Sewing Machine
The Consew P1206RB is built to be as tough as a war tank and it is capable of handling heavy cloth, medium-density leather, webbing, vinyl and other materials.
It is built with an adjustable reverse lever, a distinct locking stitch length dial and a 550 watts servo motor, an industrial table and a k-leg frame made of steel. The servo helps you to conserve up to 90% of energy.
The machine can be used to sew upholstery, denim clothing, coats, belts, seat covers, leather garments, bags, trailer covers, umbrellas, tarpaulins, book covers, wallets, camping equipment, tents and many more.
You would love the oil pumping system that comes with an oil pan, pump and adjustable oil flow. With the 3,000 sewing speed, users can accomplish any project right on time. The walking foot feeding mechanism feeds the machine smoothly and excellently.
The adjustable speed remains the same no matter how hard you press the pedal. There is also a speed controller so that you can sew at a speed you are comfortable with. This makes the machine ideal for beginners and also perfect for some projects that don't require high-speed stitching.
The Consew P1206RB has a nice under the foot clearance of 14mm. With a large bobbin, the machine can hold more thread. It is backed by a one year warranty.
PROS:
Ease of setup and operation
LED light for visibility at night
Easy to assemble with heavy-duty stand
The high sewing speed of 3,000 SPM
Walking foot feeding mechanism
Built-in bobbin winder
Reverse stitching
CONS:
Assembly instructions are difficult to understand
It vibrates with so much noise
back to menu ↑
REX 607Z Portable Walking Foot Machine
If you are looking for a portable industrial sewing machine, the REX 607Z is well recommended. No matter your level of skill, you will find the machine easy to use and operate.
The machine is extremely portable with heavy-duty construction. It also allows you to sew in reverse position.
It is an all-metal frame machine that is durable and reliable. It sews both straight and zigzag stitch. With a sewing speed of 1,200 SPM, the machine makes your sewing projects easy to accomplish on time. The walking foot is exceptional for the sewing of leather.
The machine is highly efficient and sews through thick materials like a knife cutting through butter. It is ideal for different materials like the sewing of upholstery, vinyl and canvas. It comes with built-in foot control and a motor to ensure users have a great sewing experience.
The REX607Z is a powerful machine that can handle four layers of leather or upholstery fabric with the utmost ease. You can choose to use the machine on a regular table or stand.
You don't have to worry when it is getting dark or if you are sewing in a dark area. This is because the REX 607Z comes with a LED light to perfectly illuminate your work area.
One drawback of the machine is that it is not compatible with some needles and threads. Check the manual for the right needle and thread suitable for it.
PROS:
Extremely sturdy and durable
Portable, light and heavy-duty
Performs both zigzag and straight stitching
Highly affordable with reverse stitching
1,200 SPM sewing speed
LED light for visibility at night
Comes with built-in foot control and motor
CONS:
Not compatible with some threads and needle
There is no knee lift
back to menu ↑
Consew CP206RL Portable Walking Foot Machine
The Consew CP206RL is a workhorse. It is capable of sewing light to heavy materials such as upholstery, leather, synthetics, vinyl, canvas and different coated products. The machine is mostly made with iron for sturdiness and durability.
You can use it to make products like covers, tarpaulins, umbrellas, luggage, bags, canvas shoes, handbags and tents. It can also handle boat, furniture and auto upholstery.
The machine is extremely portable and has a longer arm to easily access difficult to reach areas like cuffs, hems and collars.
It features a powerful built-in 110vac motor to ensure that you have the best experience anytime you are working with the machine.
The maximum sewing speed is 800 SPM. This is a good speed for beginners.
It sews with a single needle and allows you to sew in reverse position. You can support the machine with a table or stand. It comes with a foot pedal and carrying case.
PROS:
Light and portable
Reverse stitching
Strong motor
Well-built with metal to last for many years
Longer arm to easily work on hems and collars
Affordably priced
Ideal for beginners
CONS:
Makes loud noise
The motor gets hot so fast
No straight stitching; only zigzag
back to menu ↑
Consew CP206R Portable Walking Foot Machine
The Consew CP206R is a portable walking foot machine with a lot of versatility and dual feed. It is an exceptional machine that can help you produce professional results all the time. It can sew light and heavy-weight materials like leather, vinyl, canvas, upholstery and other laminated products.
It is a sturdy and reliable machine that can handle a wide variety of applications such as handbags, luggage, tops, umbrellas, tarpaulins, slippers, tents and wearing apparel. The machine can also handle the boat, auto and furniture upholstery.
It has a stitch quality that can be compared to that of large industrial sewing machines. The machine is also affordably priced.
It is designed with a strong and dependable built-in 110vac motor for great performance. The machine uses a single needle with a highly functional walking foot to give you a wonderful sewing experience.
With a sewing speed of 800 SPM, you can get any kind of sewing task done in no time.
PROS:
Extremely light and portable
Built-in powerful servo motor
Strong and dependable
Perfect for beginners
Reverse stitching
It uses a walking foot feeding mechanism
Includes foot pedal and carrying case
CONS:
No zigzag; only straight stitching
No free arm to conveniently sew sleeves and hems
back to menu ↑
Juki DNU-1541S Industrial Sewing Machine
Juki DNU-1541S is one of the fastest industrial sewing machines you can find out there. It comes with an impressive sewing speed of 2,500 SPM. This is the perfect machine for you if you want to get your projects done pretty quickly.
If you would be working with heavier materials, the Juki DNU-1541S will perform incredibly. It has a large bobbin that makes it ideal for the making of items like bags, tents, outdoor clothing, canvas shoes, sports and camping equipment.
You can also use the machine for other applications such as slippers, luggage, handbags, tarpaulins, denim and covers. Other applications are furniture, boat and auto upholstery.
The machine has a centralized oiling system. This makes lubrication super easy. You will love the reverse stitching feature of the machine which makes it possible for you to go back over the seams in case there are mistakes.
The Juki DNU-1541S comes with a sewing machine table and an electronic DC servo. With the servo, you can save up to 90% energy. Servo speed can also be adjusted and it is silent.
Some of the accessories that come with the package include a bobbin winder, knee lifter, V belt, oil pan, machine oil, thread stand, instruction manual, etc. The machine requires assembly.
PROS:
The high sewing speed of 2,500 SPM
Quiet servo motor
Centralized oiling system
LED lamp for visibility
Reverse stitching
Durable and sturdy
Adjustable feet lift
CONS:
No assembly instruction
A bit expensive
back to menu ↑
DENESTUS SM 6-9 LockStitch Industrial Sewing Machine
The DENESTUS SM 6-9 lockstitch industrial sewing machine enhances work efficiency, saves time and reduces labour. It is suitable for the sewing of medium and thick fabrics.
With an automatic lubrication system, the sewing performance of the machine is greatly improved. It is constructed with metal all around for durability and sturdiness.
The machine uses the double-threaded large rotary hook to enhance sewing efficiency. It is suitable for the sewing of tents, jeans, leather products, etc.
At a sewing speed of 3,000 SPM, you can get your projects completed on time. The machine uses the connecting rod type of feeding system to feed it. This is a unique and smooth feeding system that improves the performance of the machine.
Some of the accessories that come with the machine include a set of bobbin winders, knee control, screwdriver, support pillar, belt and oil cans. The operation of the machine is stable with less noise.
It is only the head and the accessories that are sold. The motor and table are not included in the package.
PROS:
Heavy-duty steel construction
Automatic lubrication system
Improves sewing efficiency
Stable operation
Portable and durable
Excellent customer support
Perfect for medium and thick material
CONS:
Comes with no table and motor. They are sold separately.
back to menu ↑
What is the difference between an industrial sewing machine and a regular one?
They are a lot of difference between an industrial sewing machine and a regular one. Here are some of the differences between the two:
They can be used for a longer period
An industrial sewing machine can work for hours without the breakage of needles while the regular machine breaks needles frequently. This means industrial sewing machines have a lot of stamina.
They can sew heavier and tough materials
Industrial sewing machines can handle multiple layers of fabrics. Though, this capability can vary depending on the model. But the regular sewing machines cannot handle multiple layers of fabric.
They last longer
Industrial sewing machines last longer than normal machines. They are dependable even under pressure. They can complete more tasks in less time than the normal machines. The regular sewing machines usually break down under intense pressure.
They are faster
Industrial sewing machines are faster than regular machines. They have a speed range that is between 1,000 and 5,000 SPM. You can complete your jobs faster with industrial machines than the regular ones.
They provide higher quality stitching
Industrial sewing machines are made for pros. They provide near-perfect stitching that cannot be beaten by the regular sewing machines.
They require more space
Industrial sewing machines are larger and heavier than regular sewing machines. They need more space since they come with a table to accommodate the servo or clutch motor.
They are specialized machines
Industrial sewing machines are specialized machines that are built to handle heavier materials like leather and upholstery. The regular sewing machines cannot take up these tasks.
back to menu ↑
Buyer's Guide
When you are contemplating purchasing an industrial sewing machine, there are a couple of things you just have to consider.
If you want to avoid making a wrong choice, you must have a list of features at the back of your mind.
Most of the considerations have been explained in this buying guide. This will help you to make an informed choice. The considerations are as follows:
Speed
Speed is an important consideration when choosing the best sewing machine for upholstery. It means you are going to get more jobs done within a short time. In most cases, the speed range is between 1,000 and 5,000 stitches per minute (SPM).
Machine speeds would depend on the speed of the motor and the type of motor. Some stitching machines that come with high speed ensure that medium and thick fabrics are sewn faster.
However, speed is nothing without control. You must be able to control the machine's speed since there are thick fabrics and leather materials that require slower stitching speed to have a tight and perfect stitch.
Motor
A powerful motor is needed to complete difficult sewing tasks. As such, there are two types of motors – clutch and servo motors. Clutch motors make a lot of noise while the servo motors make less noise.
Clutch motors are powerful. They are usually built into machines that handle leather, canvas and thick or tough materials.
Servo motors are designed for home use sewing machines and you can constantly adjust the sewing speed. They are great for the sewing of light and medium fabrics.
Size
Size matters when you want to purchase an industrial sewing machine. You have to check the available space in your home or shop to be sure the machine would fit in well. Accessing the available space is important since some machines are shipped completely assembled.
Bed Type
You may be wondering if the bed type matters when choosing a sewing machine. Yes, it does matter. And there are three types of bed types – post-bed, cylindrical-bed and flat-bed types.
Post-bed types – This type of bed type has a high and small surface under the needle which helps you to get focused on stitching, mostly decorative stitching.
Cylindrical-bed types – This type of bed type is mainly designed to reach difficult areas like the inside of a purse.
Flat-bed types – This is the conventional bed type. It is used when the post-bed and cylindrical-bed are not available.
Lubrication
Lubrication is an important aspect of machine maintenance. Most industrial sewing machines come with a self-lubrication feature. Manual lubrication is not ideal since there are times you may not remember to lubricate the machine. But self-lubrication machines lubricate consistently to ensure the machine runs smoothly. Avoid a machine that requires manual lubrication.
Feeding Type
This is about how you feed the machine. There are various ways of feeding the machine. Some of the feeding methods include drop feed, needle feed, manual feed, walking feed and puller feed. Most of the industrial sewing machine comes with a drop feed type of feeding machine.
Reverse Stitching
You should be able to go back on your stitches if there are mistakes. This is one great advantage of the reverse stitching feature.
You can find this feature in REX 607Z but most of the portable industrial sewing machines come with reverse stitching.
The adjustment range is between 1mm and 5mm when you are sewing in a zigzag stitch.
If the machine has a well-designed mechanism, it would be able to support between 5 and 10 stitches per inch if you work on a straight stitch.
Winding Bobbin
Most industrial sewing machines can wound the bobbin while you are sewing. This can speed up the project you are currently working on since you would have enough thread to complete the project.
Different industrial sewing machines come with different instructions for the winding of the bobbin. So, ensure you read the instructions carefully before using a machine you are not familiar with.
Needle Set
An industrial sewing machine doesn't use the regular needle. It requires a set of big needles to perform stitching. These sets of needles are the type that can handle denim and multiple layers of fabrics. Always check the instruction manual for the appropriate needles.
Noise Levels
You don't need a sewing machine that disturbs your neighbors. This is why you should avoid loud models. The tolerable noise level should be between 66 and 80 decibels.
Durability and Sturdiness
A table-mounted machine offers durability and quality. It allows you to sew comfortably. The machine itself must be made of steel for sturdiness and durability.
Price
There is no doubt price plays an integral role in the type of machine you purchase. But ensure you go for a model that meets your needs and budget.
Extra Accessories
Extra accessories save you a lot of money if they come with the machine you want to purchase. Some of the accessories you may need include a sewing table, screwdrivers, belt, drawer and instruction manual.
Warranty
Don't overlook a warranty when purchasing a machine. It allows you to return the product when anything happens to it due to no fault of yours. Choose a machine with at least one year warranty.
back to menu ↑
Frequently Asked Questions (FAQs)
Is a self-lubrication machine better than the manual lubrication one?
Yes, a self-lubrication machine is better since it oils the machine periodically.
What is the best walking foot industrial sewing machine for leather?
The best walking foot sewing machine is Juki DNU-1541S
What is the advantage of purchasing a walking foot sewing machine?
It has a large pressure foot that offers more power while sewing.
back to menu ↑
Conclusion
It is a daunting task choosing the best industrial sewing machine for upholstery due to the plenty of models on the market.
Firstly, you will have to specify your requirements to help you narrow down the possible models that are available for you to choose.
To maximize the value of the machine you want to choose, you must consider the features and capacities. All the sewing machines reviewed above are made to last with high functionality and performance.
You can choose any of the models so you can stand out with your clothing designs. But if you are looking for a recommendation, we recommend the Consew 206RB-5 Walking Foot Industrial Sewing Machine