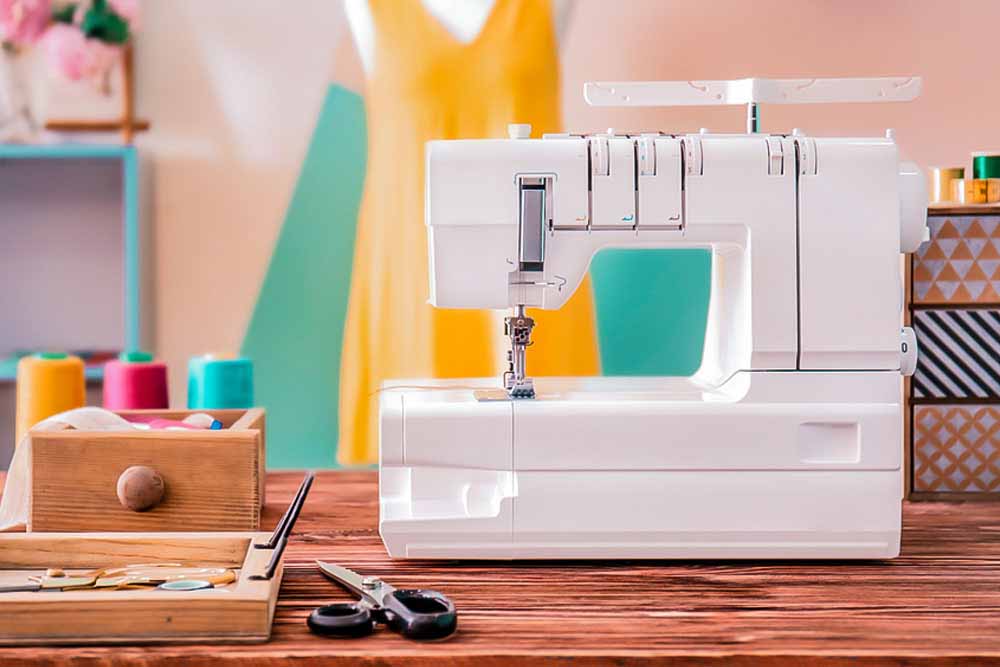 Do you want to stitch garments like a professional? If the answer is yes, you need a coverstitch sewing machine to handle your projects.
Coverstitch sewing machines are durable and accurate machines for hemming T-shirts, stretchy dresses and other knit fabrics. Coverstitch machines have grown over the years. They are used in both home and industrial settings. These machines provide great finishing for different stretchy materials such as jersey, rayon, lycra and spandex. Apart from hemming, these machines also do binding attachments, necklines, foldover elastic, decorative stitches and finishing edges on activewear.
It can be difficult choosing a durable and long-lasting coverstitch sewing machine if you don't know what to look out for. This is what we are going to cover in this review. We have done thorough research and selected 7 best coverstitch sewing machines that are fast, efficient, sturdy and with high performance. There is also a buyer's guide in this article. Reading this article will help you make a well-informed choice. So let's get started.
Top 7 Coverstitch Sewing Machines
Brother 2340CV Coverstitch Serger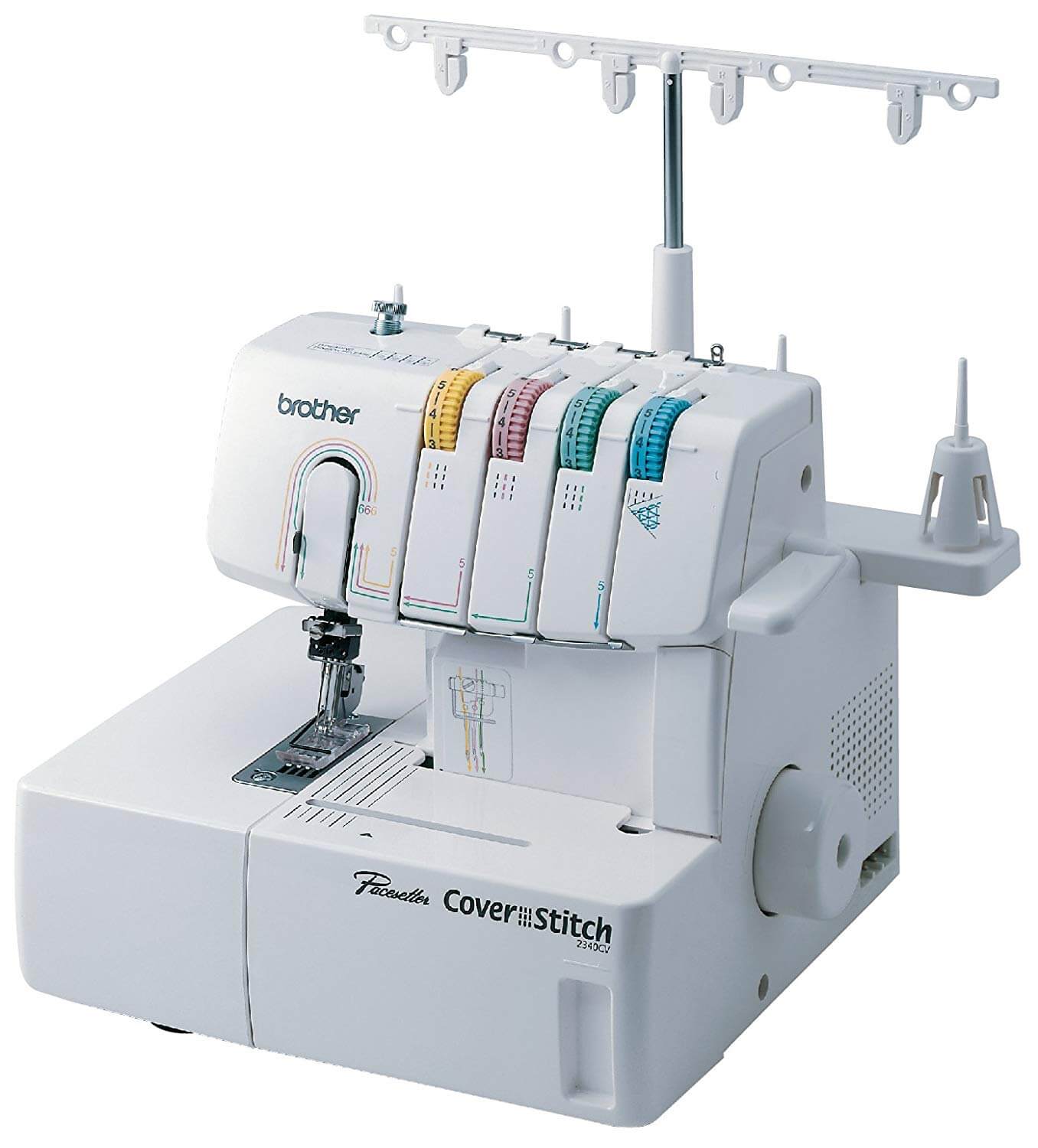 If you are looking for the best coverstitch machine, the Brother 2340CV Serger is highly recommended. Made with a metal frame, this machine is sturdy and strong for lasting use. With a sewing speed of 1,100 stitches per minute, you can complete any projects in good time. The advanced serger is designed to create a variety of coverstitches on different types of fabric. This machine is flexible enough to create decorative and constructive applications due to its advanced technology.
It comes with advanced user features which include narrow and wide coverstitches, tri-coverstitch advantage and the easy looper threading system. To provide high-quality stitches, the machine offers adjustment dials and color-coded threading. With a snap-on foot, presser foot dial and the differential feet, you have the permission to adjust the speed and stitch length of the material flowing through the machine. The standard foot and gathering foot plus blind stitch are also included in this machine. If you intend to create professional hems, decorative and chain stitching, the Serger comes with three needles to accomplish any of these tasks. If you handle a lot of T-shirt projects, the Brother 2340CV allows you to get the job done with minimal effort.
You can professionally finish edges with a single or double topstitching look with the different available utility and decorative stitches. With this machine, you can make durable and long-lasting strapping for swimsuits, dance garments or a chain stitch finish for belt loops and hems. This machine comes with an accessory bag that contains a set of needles, tweezers, 4 spool caps, 4 spool mats, 4 thread nets, a softcover, a hexagonal wrench, a cleaning brush and an instructional guide. A 25-year limited warranty makes this machine a complete peace of mind for the user.
PROS:
Creates professional finish for different types of fabric
Easy to thread and use
Sturdily made with metal frame
Sews at a fast speed
Comes handy with user-friendly features
Versatile and lightweight
Quiet operation with color-coded guide
CONS:
Comes with no free arm
Manual tension control
A bit pricey
back to menu ↑
Janome 1000CPX Coverstitch Machine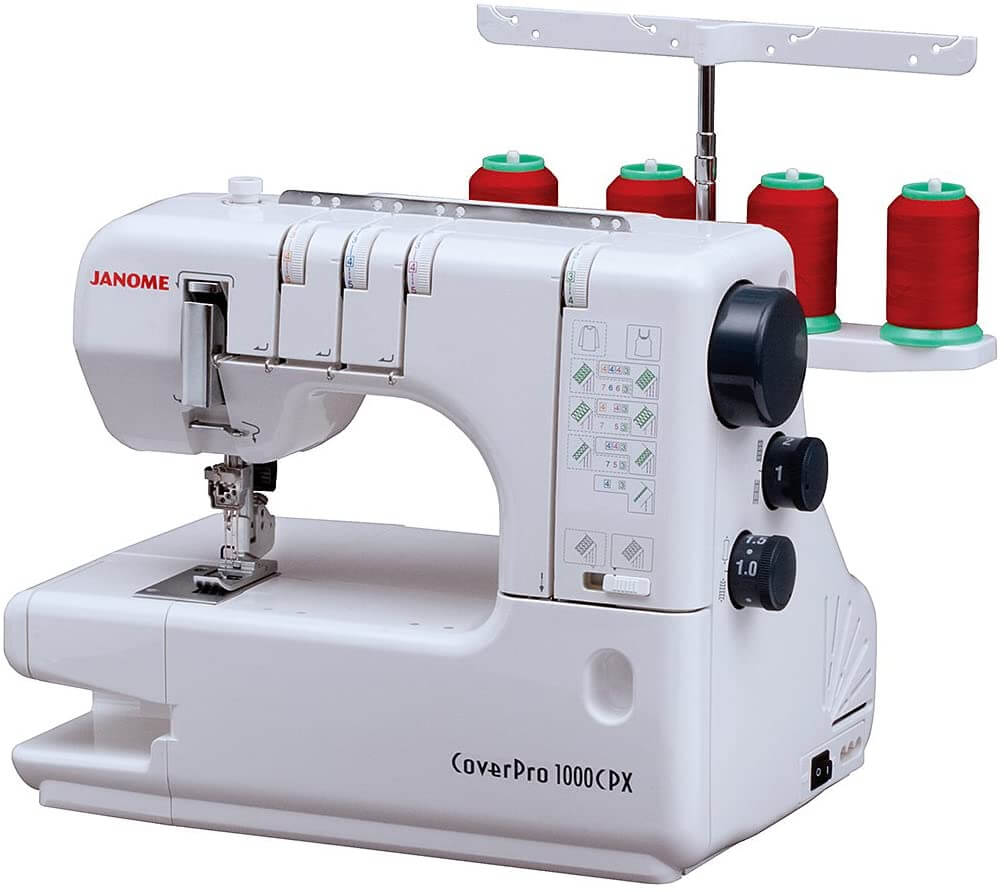 The Janome 1000CPX is designed for you to enjoy both worlds of an industrial-style cover hem machine plus an impressive home sewing machine. The result of this union is a high-speed, heavy-duty machine with a long arm that functions like a sewing machine. With the Janome's Seam Tightening System (STS), free arm configurations and wide trip cover hem stitch, there is no doubt the Janome 1000CPX is one of the most advanced machines you can find in the market.
When it comes to sewing speed, the machine is fast enough to help you complete any projects on time. It has a sewing speed of 1,000 stitches per minute and the performance is impressive too. The machine has excellent features such as easy looper threading which is a color-coded threading system that makes threading easy. Variable differential feed is a nice feature that is controlled by different dials. To make smooth stitches on stretch fabrics, you can choose a range from 0.5 to 2.25. With the free arm, you can make the professional finish on sleeves and cuffs.
There is the presser foot lifter that makes it convenient for you to feed the fabric to the machine. The vertical needle drop helps to provide enough space under the needle. With the extra space created, it becomes easier to change the needle position.  This is a dedicated cover hem stitch machine that does not cut material while you are sewing. It comes with different accessories such as the adjustable seam guide, size 14 needles, DVD and a needle threader. The Janome 1000CPX is made for sewists who want to give a professional finish to every project. This machine comes with a 25-year warranty and a 2-year warranty on parts.
PROS:
Easy threading
Fast speed stitching
Built-in thread cutter
Large workspace
Ease of use
Free arm configurations for working with sleeves, cuffs and difficult-to-reach areas
Great stitch quality
CONS:
Skips stitches
Suitable for experienced users only
Works with size 12 needle only
No automatic needle threader
back to menu ↑
Juki MCS-1500 Cover and Chain Stitch Machine
If you are looking for a specialized coverstitch and chain stitch machine, your best bet is the Juki MCS-1500. This machine takes sewing a notch higher. It is the ideal machine for different applications such as sleeves, cuffs, simple hems and necklines. The sewing tool is suitable for fabrics that stretch a lot. It produces a strong stitch making it the perfect machine for stitching side and waist seams of pants. Making a switch from chain stitching to hemming is easy and convenient.
The machine is designed with impressive features. When it comes to decorative stitching, the Juki MCS-1500 stands out from the crowd. It handles decorative stitching for necklines creditably. It comes with a higher presser foot lifter that makes it super easy to feed fabrics to the machine at the start of sewing. You can adjust the presser foot pressure accordingly depending on the type of fabric you are sewing at a point in time. The machine has a speed of 1,350 stitches per minute. This is an excellent speed to complete any projects on time. The presser foot alongside a guide that presses down on both the right and left sides has been provided as part of the accessories that come with the machine.
With the adjustable differential feed, you can make exceptional finishes, even if you are working on stretchy fabrics like georgette and knits. The simple looper threading allows the looper to be threaded with utmost ease and it can be lowered by just pressing a button. No problems when it comes to cutting threads. The exterior thread cutter cuts the thread with ease when you want to remove the fabric after lifting the presser foot at the end of sewing. One of the downsides of the Juki MCS-1500 is that it has no free arm but that does not stop it from making beautiful stitches. There are bulbs for visibility and these bulbs can be changed to LED.
PROS:
Sews at high speed of 1,350 SPM
Sturdy construction
Easy to use
Comes with multiple needles
Easy to comprehend manual
Thread cutter
Impressive performance
CONS:
No free arm
It is expensive
back to menu ↑
SINGER Professional 14T968DC Serger Overlock
The SINGER 14T968DC Serger Machine is designed with 2-3-4-5 thread capability. This makes it the ideal machine for you if you are looking for something that provides a wide range of selection of stitches for cover hems, decorative edges, rolled hems, seams and hems. It is suitable for a myriad of projects with professional results at all times. The machine offers you a 3-in-1 step option since it can trim access allowance, sew seams and finish seams. With the creative stitch options, this machine helps to widen your creativity. It sews at a speed of 1,300 stitches per minute making it almost effortless to complete tasks in no time.
It comes with a color-coded system that brings a lot of ease to your life. With the color-coded threading system, you can thread a path for each thread using an exact color. The combination of the stitch length control, color-coded thread, adjustable cutting width and self-adjusting tension system, you have more than enough creative freedom and ease of setup. Other features include the double chain stitch that is ideal for decorative stitches. The 4 built-in rolled hems provide more hem options for most lightweight fabrics. Switching to this option is effortless. With the coverstitch capability, you can choose from a triple coverstitch, wide coverstitch, or narrow coverstitch.
It comes with a 25-year warranty on the sewing head while other parts have a 2-year warranty. It supports 110 volts only. Some of the free accessories include spool caps, brush, dust cover, spreader, tweezers, needle set, and cone adapters.  The extra presser feet are blind hem, shirring, taping, cording, elastic and beading. This machine allows for a learning curve with manual guides that make it easy for you to get used to the machine straight from the box.
PROS:
Very user-friendly
Operates quietly
12 built-in stitches
Automatic tension control
Adjustable stitch length and width
Heavy-duty metal frame
Color-coded threading system
CONS:
No free arm
No automatic thread cutter
back to menu ↑
Bernette b42 Funlock Coverstitch Machine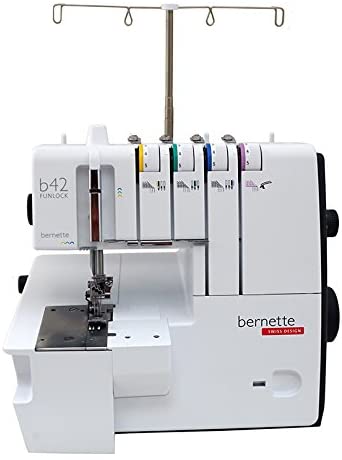 The Bernette b42 is a compact coverstitch machine designed for the finishing of edges on different sewing tasks. It also comes with a chain stitch option that handles decorative stitches. There are 4 threads and 3 needles that effectively help to produce strong and beautiful stitches. It is a specialized serger that is highly recommended for beginners.
With the Bernette b42, you can create professional stitches for hems, cuffs and sleeves. It is suitable for stretchy fabrics and thin knitted fabrics too. The looper threading system with the separate needle threader makes threading a piece of cake.  To have visibility while sewing, the machine is illuminated by the built-in LED light. The machine sews at a speed of 1,300 stitches per minute. Some of the features of this machine include color-coded threading, adjustable differential feed and large working area. Threading with Bernette b42 is smooth and easy. You just need to follow the color-coded threading paths. This makes it the ideal machine for beginners. It is a great departure from other complicated coverstitch machines that are difficult to thread. The color-coded threading system makes this machine extremely user-friendly.
With the adjustable differential feed, you can easily control the speed of the machine when handling delicate fabrics such as satins and laces. Once you can control the speed at which the feed dogs move, then, you are completely in control. This is another advantage beginners have with this machine over other models that are difficult to control. The Bernette b42 comes with a large working area for convenience and ease. With a generous working area, you don't have to struggle with space. It has almost four inches space for the easy handling of larger sewing projects such as bridal gowns, curtains, quilts and drapes. One of the disadvantages of this machine is that it comes with a 10-year warranty while some other models have a 25-year warranty. This does not take anything away from it. The machine is no doubt a workhorse amongst sergers.
PROS:
Lightweight and compact
Excellent sewing speed
Easy threading system
Large working area
Bright LED lights for visibility
Perfect for stretchy fabrics
Exceptional performance
CONS:
Absence of free arm
Limited stitch options
back to menu ↑
Janome 900CPX Coverstitch Machine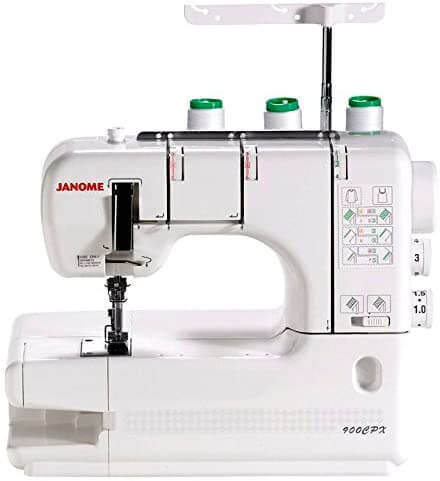 The Janome 900CPX is a professional-grade machine made for professional sewists in mind. It is designed to deliver clean and beautiful sewing projects repeatedly. With the proprietary Seam Tightening System (STS), there is a minimal slack on fabrics thereby giving you firmer, tighter and sturdier stitches. This machine produces superior results on hems, cuffs and seams. The threading system is free of frustration. With a decent sewing speed of 1,000 stitches per minute, you can achieve more in less time. The features of this machine include vertical drop needle, presser foot lifter, comfortable working space and differential feed. With the vertical drop needle feature, the swapping of needles is done with the utmost ease.
The presser foot lifter makes it easier to operate the machine with either hand since it is conveniently placed behind the needle housing. You cannot complain about the working space with the Janome 900CPX. The area is spacious enough to perfectly hem on garments of different types. Use the easy-to-read dial to control both the differential feed and stitch length. You can set the variable differential feed ratio to between 0.5 and 2.25. The setting helps the user to achieve smooth and perfect stitches whether you are working on smooth or stretchy fabrics. When it comes to usability, the Janome 900CPX Coverstitch Machine is easy to setup. For convenience, the machine makes use of the standard needles. It runs smoothly and can take up many projects for busy seamstresses.
This is an extremely heavy-duty machine built with durability and sturdiness in mind. Some of the accessories include softcover, needle threader, spool nets, large and small screwdrivers, and set of needles. Others are lint brush, tweezers and accessory box. The machine comes with a 25-year warranty on mechanical parts. If you are running a home-based business, there is no doubt purchasing this machine will make a worthy investment for the long-term.
PROS:
Provides professional finish
Extra-large working bed area
Sews at a good speed
Runs smoothly and quietly
Easy to thread
Great for stretchy fabrics
Affordable compared to others
CONS:
No narrow hems
Limitation of stitches
back to menu ↑
Juki MO-735 5-Thread Serger and Cover Hem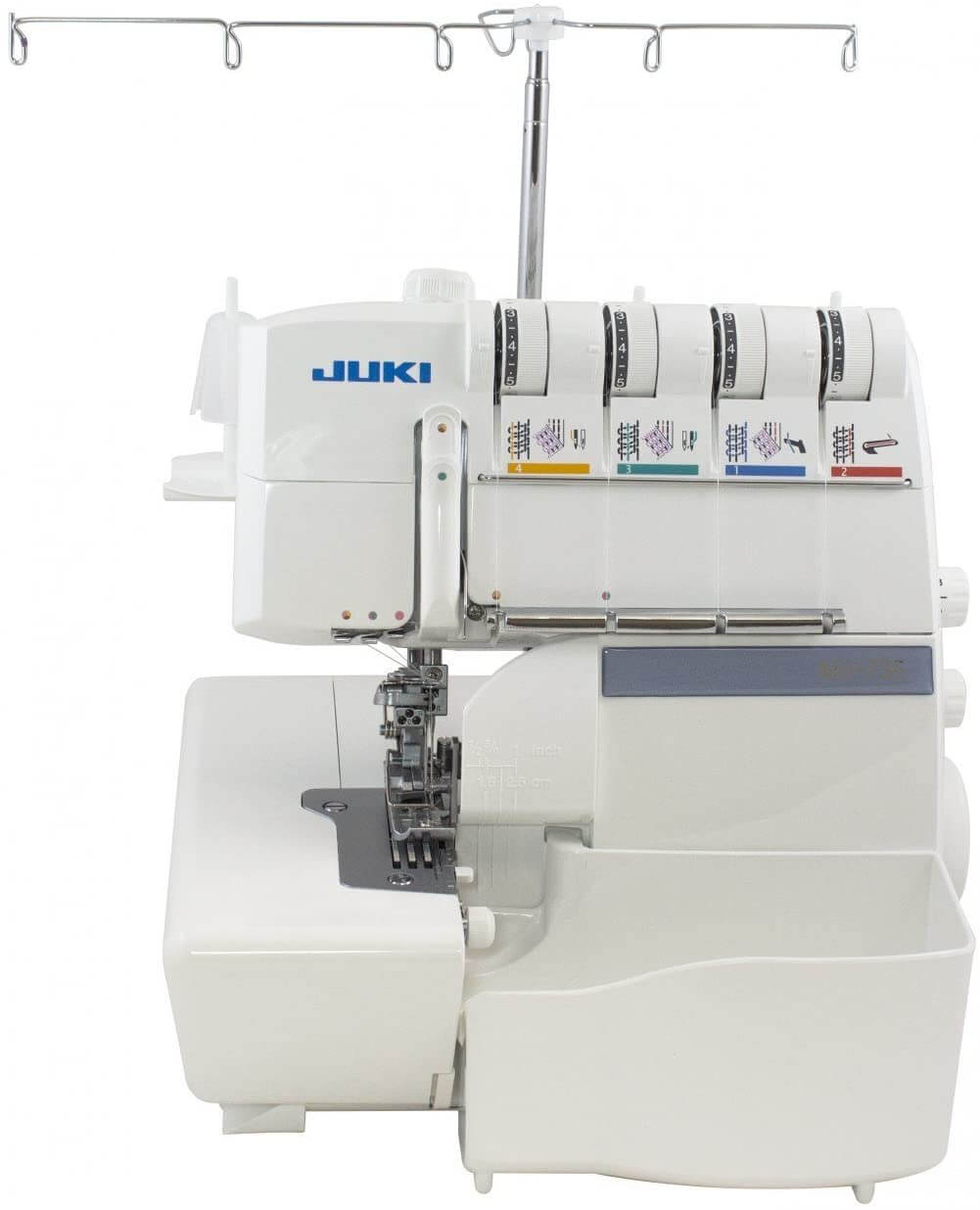 Juki MO-735 stand out from the crowd as one of the best sergers and cover hem machines. The superior design with the easy-of-use features makes this machine ideal for both amateurs and professionals alike. It is a great tool for different sewing projects and stitching tasks. This machine comes with a lot of improvement that makes it more advanced than other brands.
Juki MO-735 is packed full of features. Some of the features include lay-in stitching which allows you to thread quickly and easily too. There is no guessing with the color-coded threading system. With the automatic looper threading, it is simple to thread. Drop the thread into the slot to snap the looper into place. The 2-3 needle bottom cover-stitch makes it super easy to convert the machine for hemming and serging. By making the conversion, you can handle different knit garments such as T-shirts, elastic and decorative seaming. The safety stitch helps you to create professional seams.
Juki MO-735 has 2-thread chain stitch and 3-thread overlock to give you a perfect seam. Using safety switches provide additional safety while working on any sewing projects. There are safety switches located on the side and front. With the chain stitch mode, you can create durable seaming, binding and sewing on woven fabric. Converting to chain stitch is super easy. The multiple functions of the presser foot is a standard feature used in the creation of overlook stitches or ribbon. It is a snap-on feature that can be changed from multi-purpose to other specialities of the machine. The extra foot lifter allows for extra clearance to let you conveniently work on layers of fabrics or thick fabrics. Handling any fabrics is easy by adjusting the foot pressure with just a dial. Automatic rolled hemming helps you to do rolled hemming with the touch of a button. This is specifically made for delicate fabrics.
The stitch width and length adjustment is another nice feature. With 1,500 stitches per minute, a lot can be done in a short time. There is a video guide to help beginners to easily get started. This machine has 24 stitch options. The machine has a bunch of accessories that include tweezers, waste collector, 5th spool holder, coverstitch presser foot, oilers, nets, upper looper converter, brush or needle inserter, lower knife, small screwdriver, spool caps, electronic foot control, needle set, instruction and parts manual.
PROS:
Easy threading
Even and consistent stitches
Video guide for beginners
Quiet operation
Fast sewing at 1,500 SPM
Durable and long-lasting
Handles multiple layers of fabrics and thick fabrics
CONS:
Switching from one mode to another takes time
Beginners may struggle with it
Buyer's guide
As a professional sewer, there are important features that you must look out for when you want to purchase a coverstitch machine. You may be limited if any of these features are missing. All of the models we have reviewed have excellent functions to complete your task. But you may find it difficult to make a choice. This is why we have made this buyer's guide. Here is what you must look out for when purchasing a coverstitch machine.
Coverstitch Capability of the Machine
The capability of the coverstitch machine translates to the number of stitches that the machine has. For instance, the Juki MCS-1500 handles 3-thread or 4-thread wide. It is the stitch length that determines the durability of the garments. Stronger stitches are achieved with shorter length of stitches. Long stitches are ideal for sewing heavy fabrics. A machine with adjustable stitch width and length gives you the latitude to accomplish the design of a project. When it comes to coverstitch capability, SINGER Professional 14T968DC is the best. The machine has an option of 1 to 5 needles making it ideal for narrow, wide and triple stitches.
Thread Capability
This means the number of needles or threads you can use as you sew. Coverstitch machines can either have one, two, or three needles and a looper under it for chain threading. With the number of needles, you can easily create multiple rows of parallel seams with ease. Two rows are adequate in achieving strong stitching in most hemming tasks. Three rows are enough to achieve solid hemming on swimwear. For an aesthetic design, four rows would be fine. Again, the SINGER Professional 14T968DC comes on top as the best when it comes to thread capability. It has a varied number of threads from 1 to 4. This makes it suitable for most projects.
Sewing Speed
Many hobbyists are not interested in the sewing speed of a machine because they just sew for joy and pleasure. Speed is a critical factor for professionals. Accomplishing tasks in time determines financial returns for professionals. The fastest coverstitch machine is the Juki MO-735. The machine has 1,500 speed per minute making it appropriate for heavy-duty projects. If speed is not of much importance to you, you can choose the Janome 900CPX or Brother 2340CV.
Threading
For beginners, threading can be worrisome. This is why a coverstitch machine with an excellent looper system is well recommended. You can choose the Juki MCS-1500 or Brother 2340CV if you desire an easier threading system.
Tension
Tension adjustment is another challenging issue for beginners. It is no longer a worry for the professionals. Controlling tensions manually is a lot of headaches for the novices. If you are looking for a self-adjusting thread tension machine, go for the Brother 2340CV or SINGER 14T968DC.
Free Arm
Free arm is inevitable for sewing pants, cuffs and sleeves. If the machine does not have a free arm, you cannot do coverstitch on long fabrics like a curtain. It will also be difficult to do a blind hem. Professionals don't joke with a machine with a free arm. A machine with a long free arm is the Janome 1000CPX. You can work with it with ease.
Adjustable Presser Foot Pressure
Feeding the machine with heavy fabric can be a big headache if there is no adjustable presser foot pressure. So, an adjustable presser foot pressure ultimately makes the life of a sewist super easy. Most of the models we have reviewed in this article come with this important feature. With it, you can handle both light and heavy fabrics with ease.
Noise Level
Coverstitch machines are a bit noisy and loud. If you value your mental health, you will choose a machine that operates quietly. The noise of machines is measured in decibels. The tolerable noise falls between 66 and 80 decibels. Anything above this is abnormal. Look out for the label. The decibel is written clearly on it.
LED Light
The illumination of the work area is important when making use of the machine. As such, choosing a coverstitch machine with LED lights helps to provide visibility especially when working on dark fabrics. The light must shine brightly to avoid the use of additional light. So, make sure to look for a machine with built-in LED light.
Sewing Speed
How much can you achieve without speed? Speed is important to the quick turnaround of projects. As such, look for a machine with a good speed. As a professional, a machine with 1,500 stitches per minute (SPM) is ideal while something around 800 to 1,000 (SPM) is perfect for beginners. The speed must also be easy to control and the speed controller must be easy to use.
Cost
Coverstitch machines cost differently depending on the features. But if you are looking for something budget-friendly, you can go for the Brother 2340CV or Janome 1000CPX. These two machines are very affordable and offer value for money. If you want to make a worthy investment in a sturdy and durable machine, we recommend the SINGER Professional 14T968DC. This machine will serve you diligently for many years.
Warranty
When you want to buy a coverstitch machine, you must not overlook the importance of a warranty. The long-term warranty gives you peace of mind. Do not buy any coverstitch machine that the warranty is less than 25 years. Manufacturers can like Janome, SINGER and Brother provide 25 years limited warranty while Juki offers a 5 to 10 years limited warranty.
Frequently Asked Questions (FAQs)
What is a coverstitch machine?
A coverstitch machine does the job of creating two, three, four, or five rows of stitching. It is ideal for decorative stitches and functional stitches such as the application of elastic, pintucks and hemming knits.
How regularly can I clean my serger?
It is highly recommended that the serger be cleaned after every project. If you usually work on large projects, you have to clean the serger many times while you are working due to the buildup of lint. You can use the vacuum cleaner and air compressor.
How do I prevent skipping when I am making seams with cover stitch?
There are a few things to do if you find yourself in this kind of situation. In case the seam is not a serged seam, just make sure it is open and pressed flat but if it a serged seam, ensure that it lying flat. Also, try to reduce the sewing speed when you are getting close to the seam.
Conclusion
If after reading the review you are still undecided on the right cover stitch machine for you, don't worry. Our final recommendation will help to clear the confusion in your mind. The best coverstitch machine is the Brother 2340CV. It comes with exceptional features like the thread capability and the cover stitch.
If you want something heavy-duty, the SINGER Professional 14T968DC is perfect for its sturdiness, sewing speed, productivity and durability. The Janome 1000CPX is great for its long free arm. As a beginner that is on budget, we recommend the SINGER Professional 14T968DC. Any of these machines won't disappoint you.